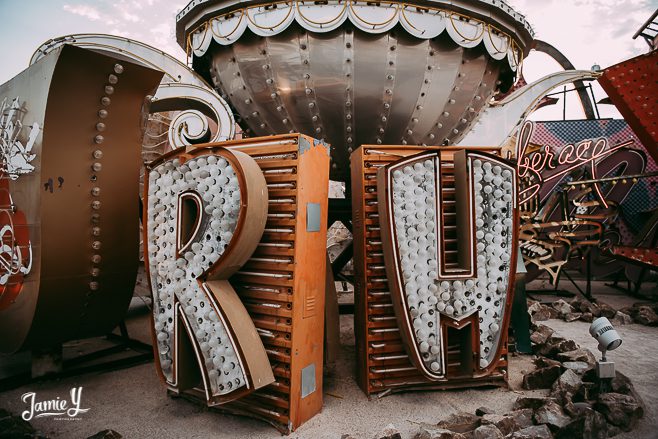 So thrilled to share the Rock N Roll Wedding of Riley & Heather with everyone today.  This wedding was full of love, fun, unique details, and plenty more.  First, lets hear their story as told by Heather: "Riley and I met in 2013 in Kandahar, Afghanistan while we were deployed with our respective country's Armies. Riley is in the Australian Army and I am in the U. S. Army. After remaining friends for 3 years we decided to give this long distance thing a shot and the rest is history!! We truly believe we have found each other's soulmate and Riley will move to the U. S. later this year to start our new adventure together! Neither of us ever imagined we would be able to make this crazy distance work but it just goes to show the power of love. We have matching tattoos that say love > distance– this is our mantra ❤️"
Next, here is a summary of their wedding day.  I will go into more detail about some photos below.  We started out at The Venetian where Riley & Heather got ready for the day.  When I arrived to the room, Heather was finishing up with hair and makeup and ready to put on her fabulous sequin glitzy dress.  I captured some of the special details that she had for the day as well.  After she was all done up and looking flawless, we all headed to the Little White Chapel.  Thankfully the Little White Chapel does allow outside photographers so I was able to remain with them and photograph the day.  Heather was walked down the aisle by Elvis as he sang a song before uniting her with Riley at the end of the aisle.  The officiant was a close friend of theirs and was able to perform the ceremony for them.  Riley had one of the best vows ever.  I don't remember all the details but he had everyone laughing, especially Heather when he brought up his sculpted shoulders.  After the ceremony was all finished and we took some family and group photos outside, we headed to the famous Neon Museum.  The Neon Museum is the perfect spot for that old Vegas glam that was just made for Heather on this day.  Then, Riley, Heather and I headed to Downtown Tattoo in downtown Las Vegas.  They wanted to get matching tattoos to commemorate their wedding day.  They both got a heart with the word Las Vegas and then the date of their wedding which happens to be lucky number 7, 7/7/17.  The final stop of the evening was Taco Bell Cantina on the strip for their reception/dinner.  They are huge fans of tacos, Heather even had a Taco purse, so this was perfectly fitting.  After everyone finished eating, we headed around the corner so that they could have a first dance to their favorite song and then lit some sparklers with Riley's parents.  It was a fabulous day and evening.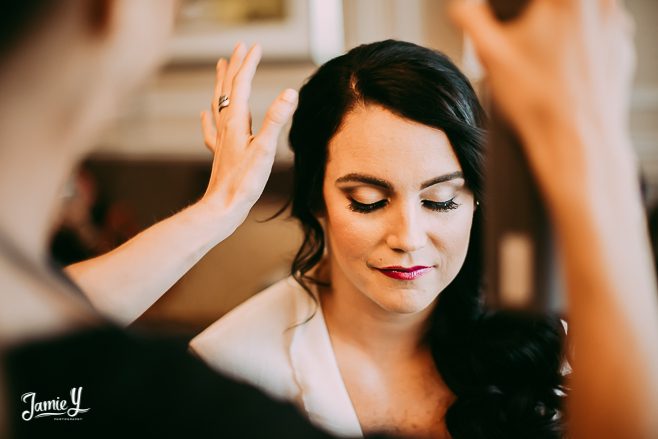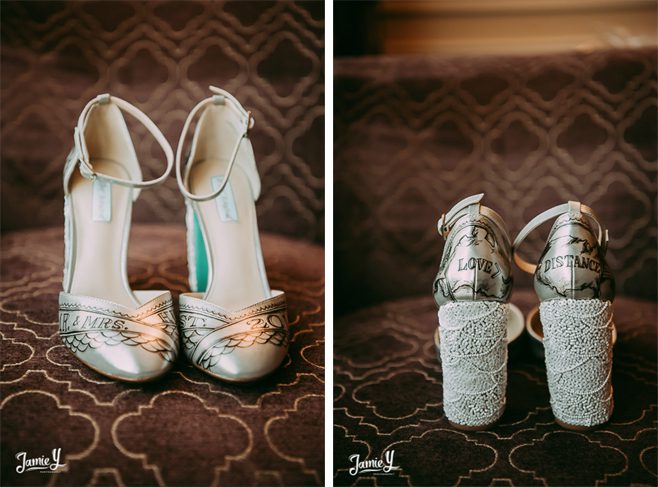 Normally I wouldn't post so many pictures of the shoes but O-M-G.  These shoes were amazing.  They are a pair of Betsey Johnson heels that Heather had personalized from an artist on Etsy.  There are so many special moments and details hand painted on these shoes including the white bead work on the heel.  Even the sole of the shoe has where they met as well as where they got married.  Fan freakin tastic.  She also had a pair of customized jeweled Chuck Taylors for when these shoes became too uncomfortable.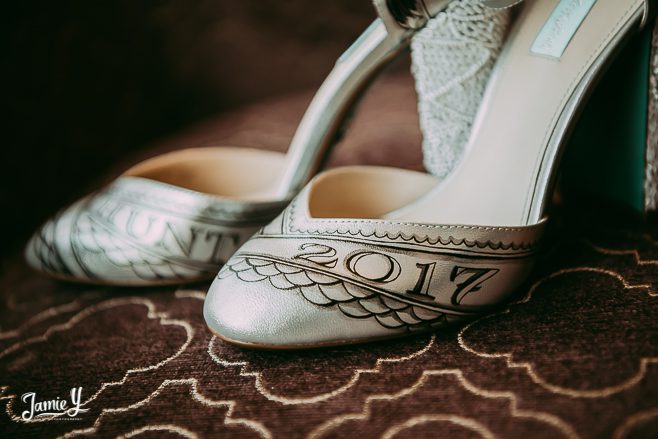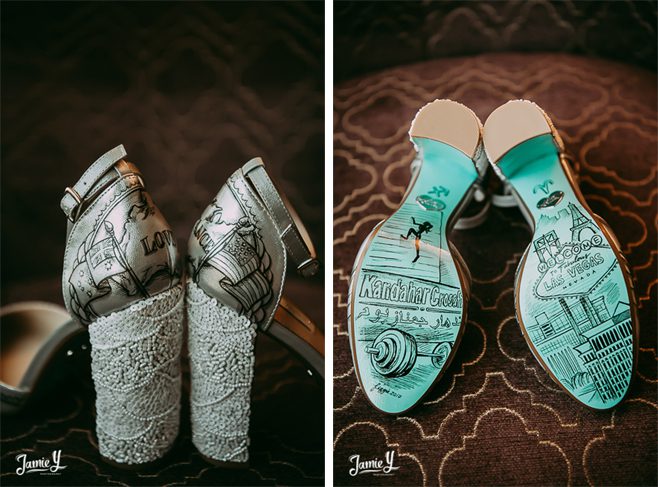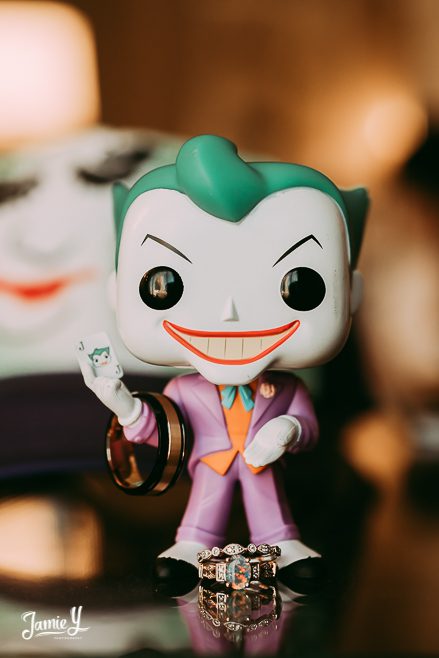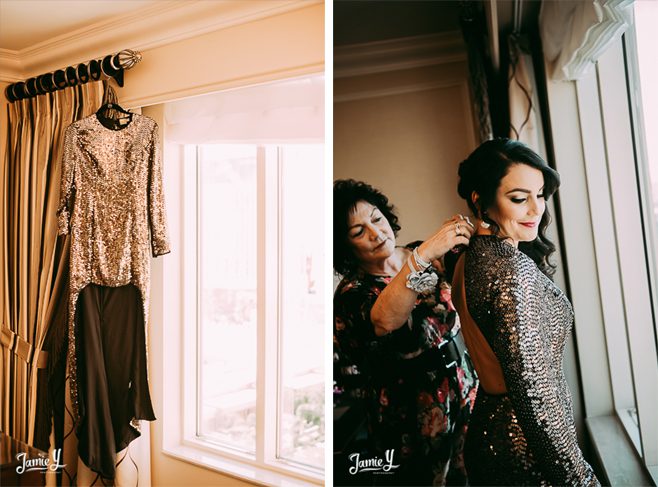 Heather's metallic sequin dress was from ASOS.  She had a seamstress add some liner and make some adjustments so it fit just perfectly.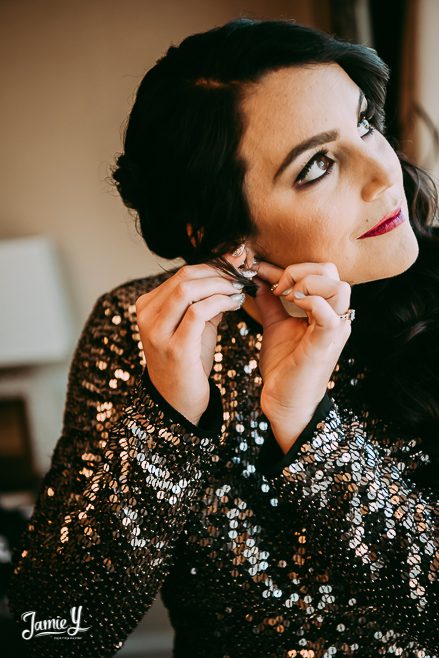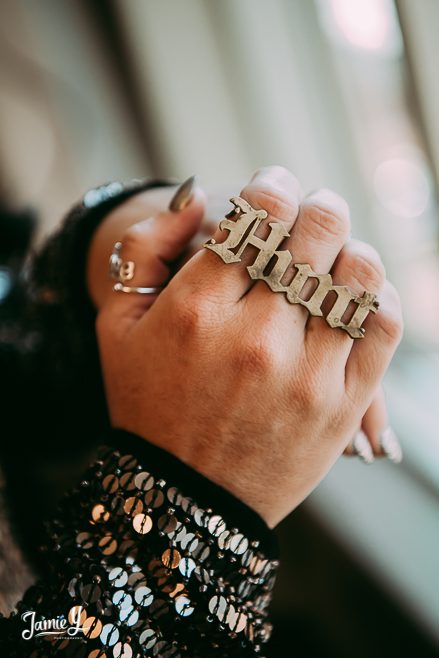 Heather's new last name is Hunt and she had a knuckle ring made to match!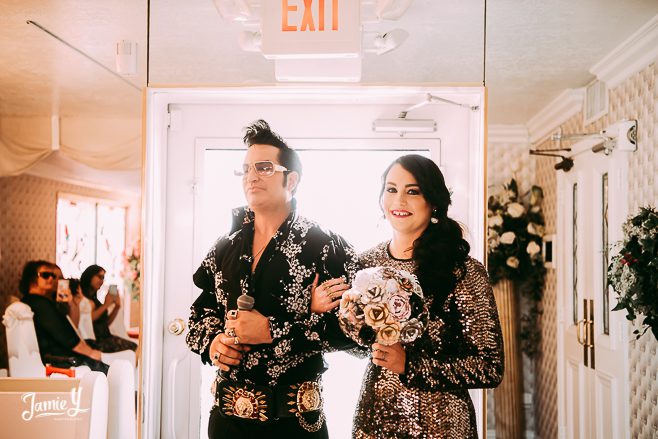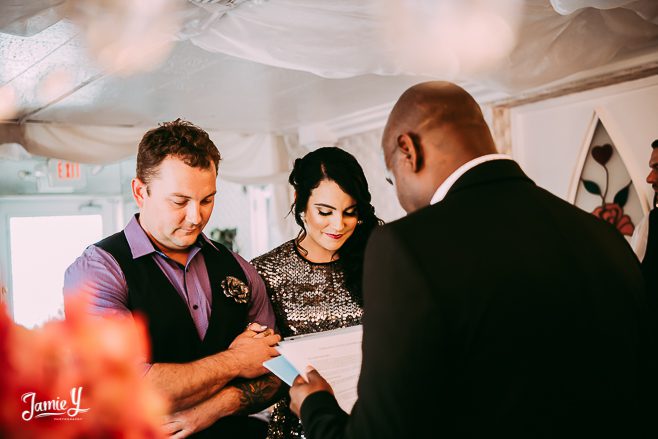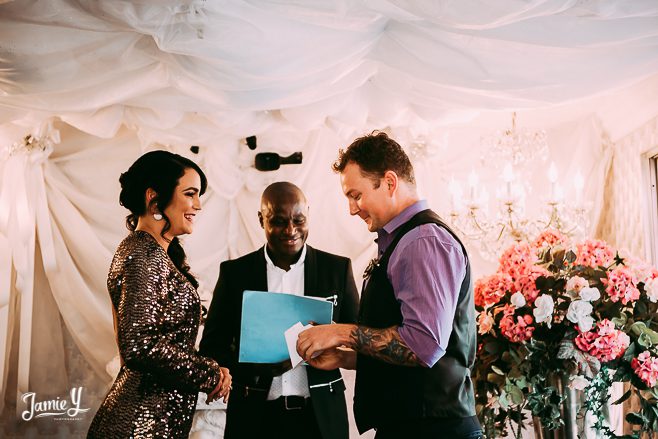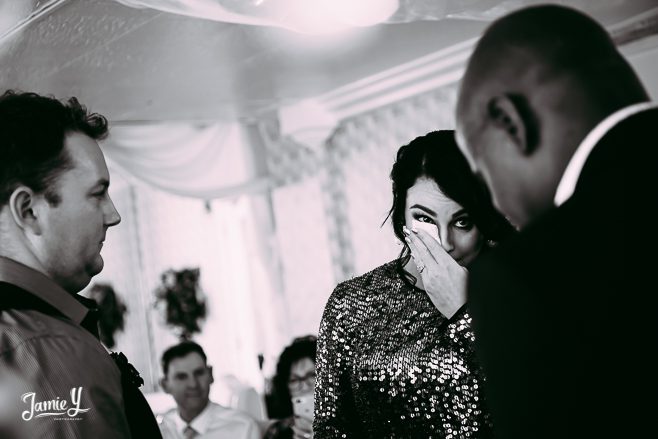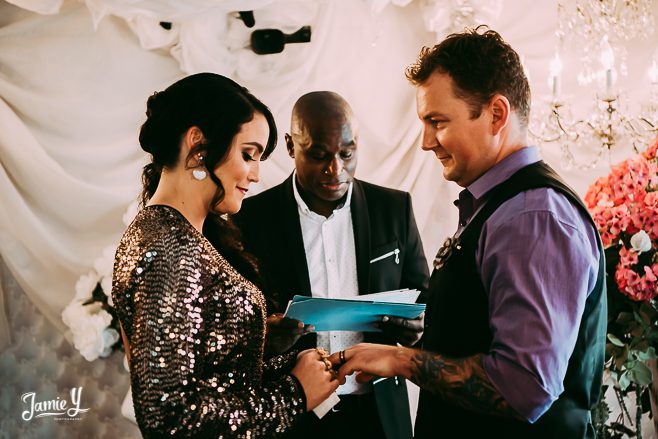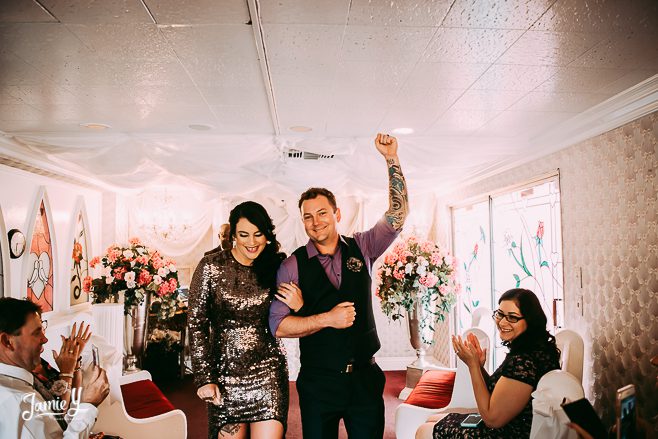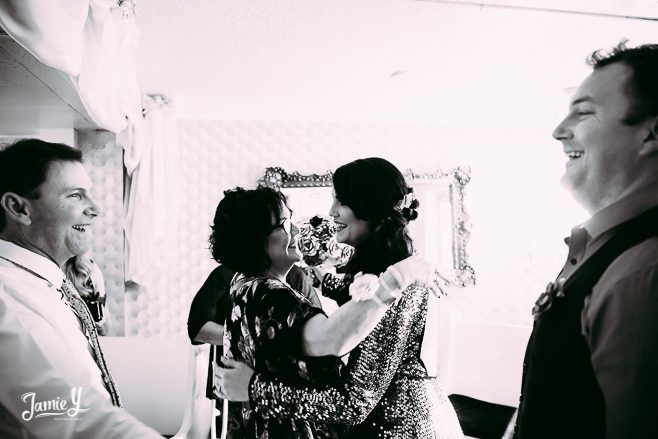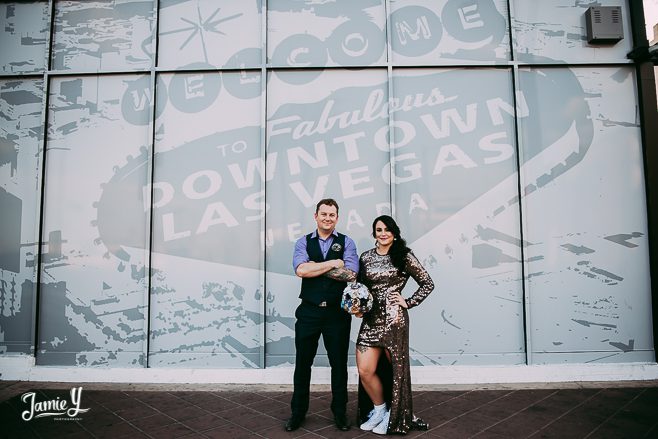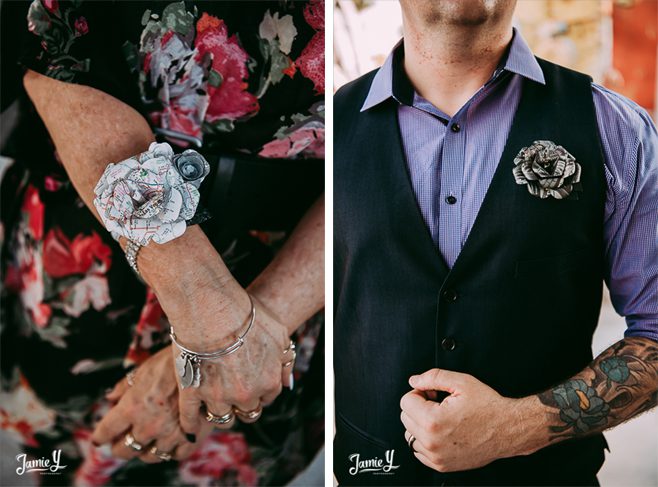 All of the florals were made of paper and all of the paper had special meaning as well.  The mother of the groom had a floral corsage made from a map of Las Vegas.  Heather's bouquet had various things like the lyrics to her song, tacos, and more.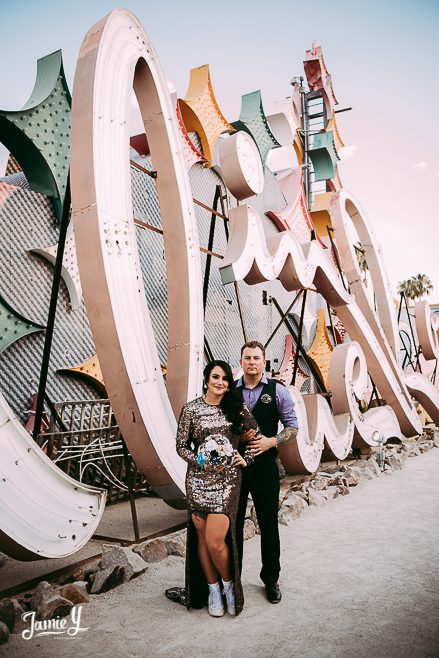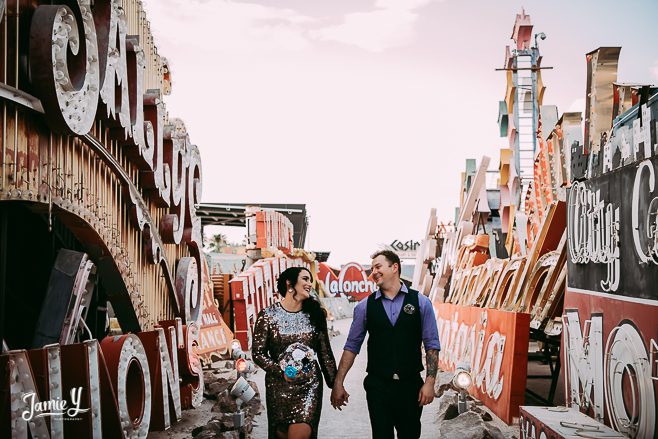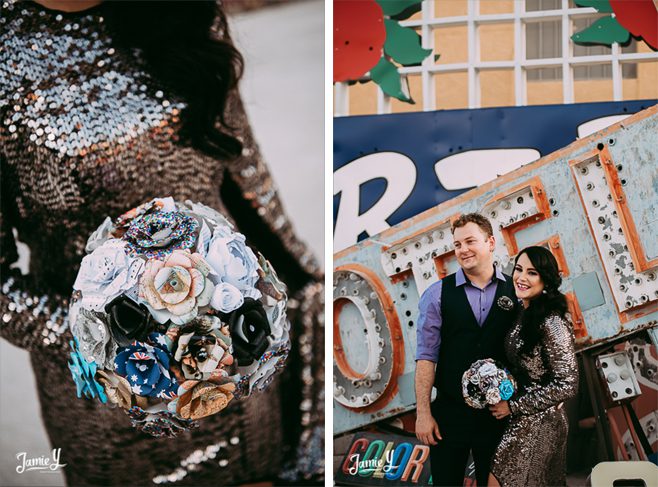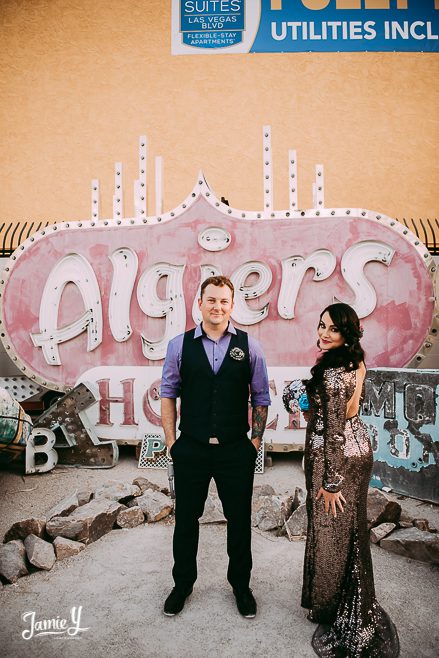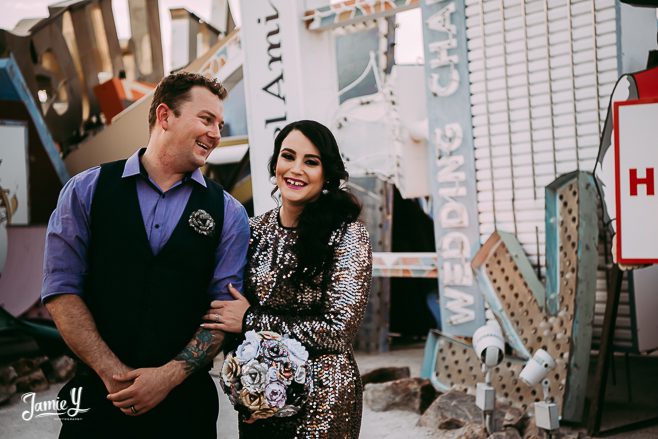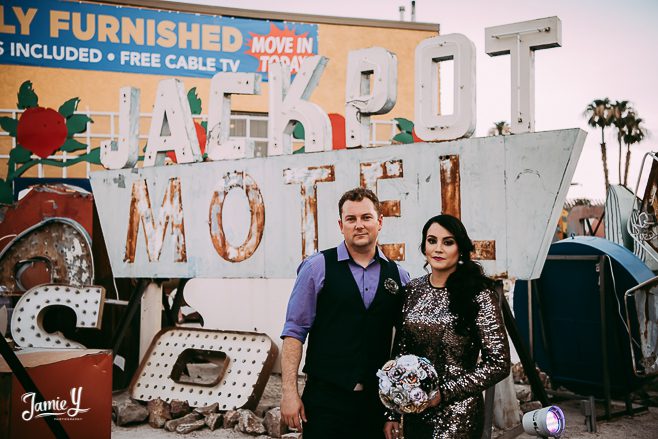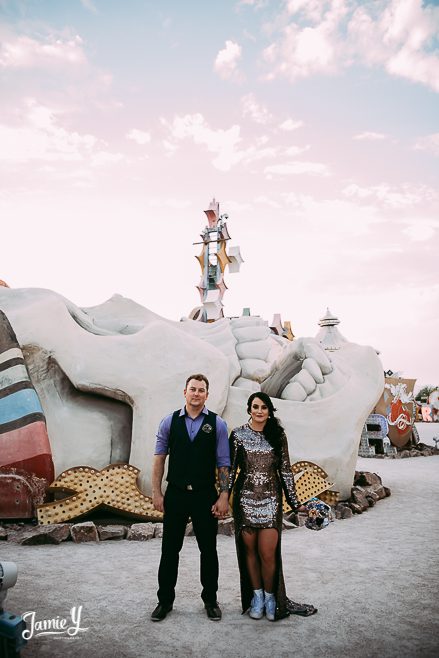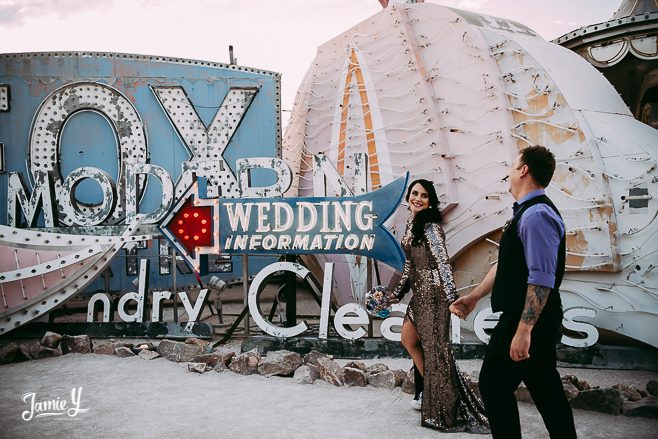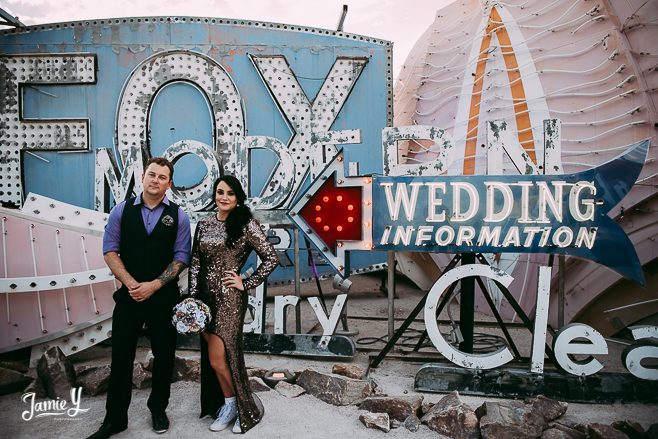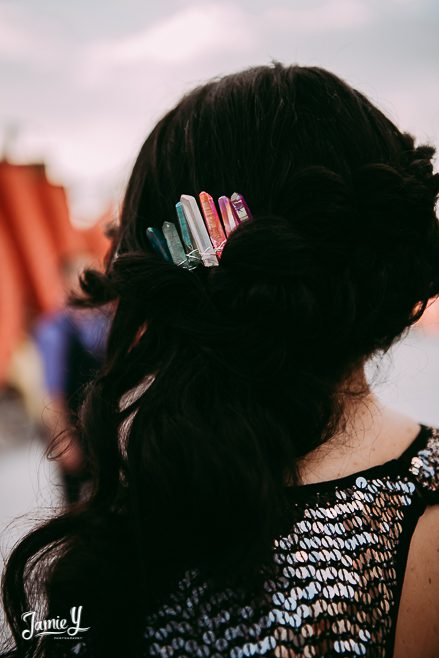 Look at that multi colored crystal hair piece!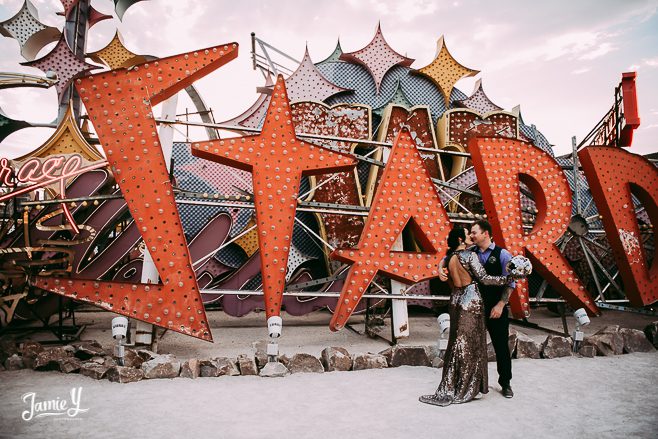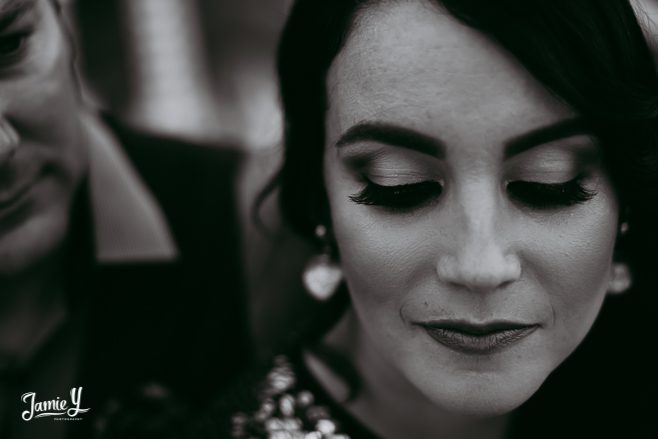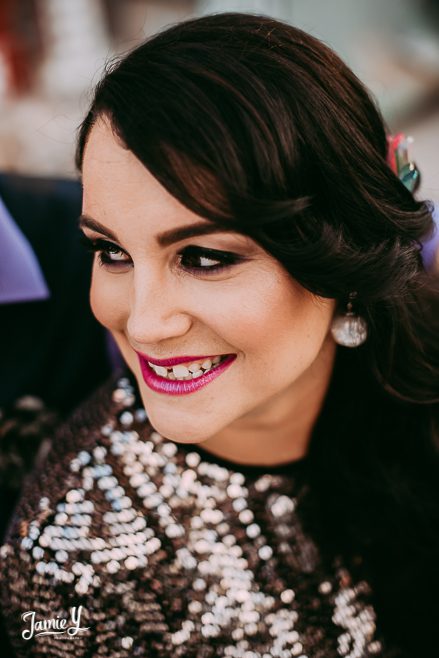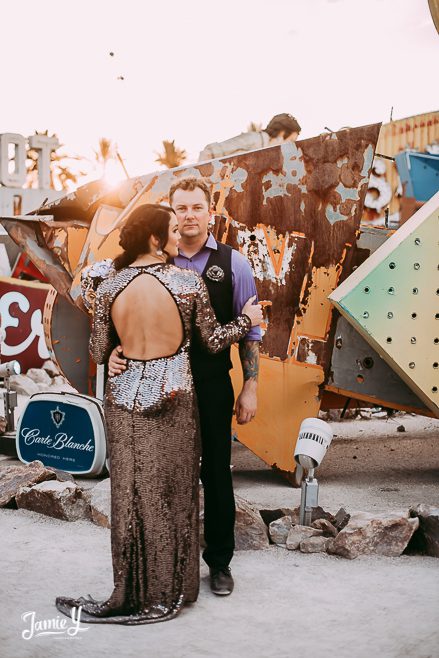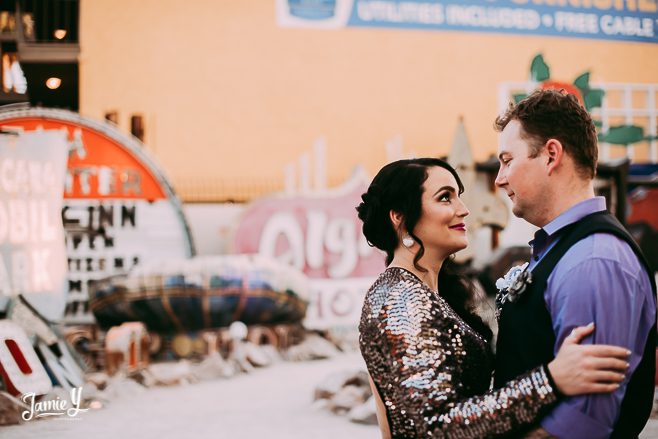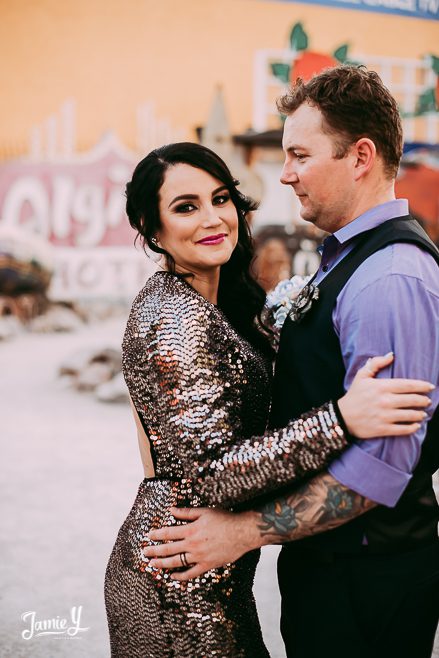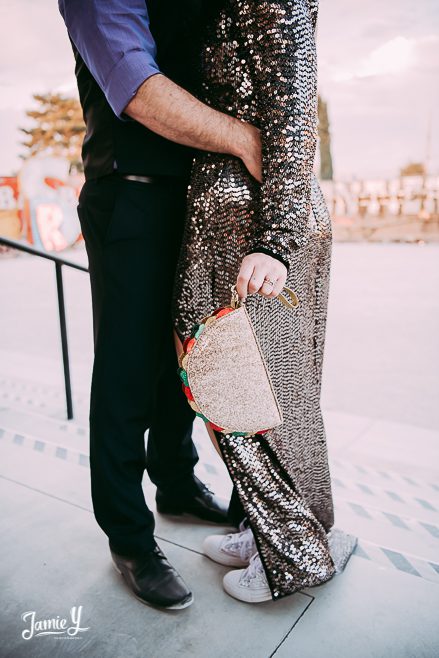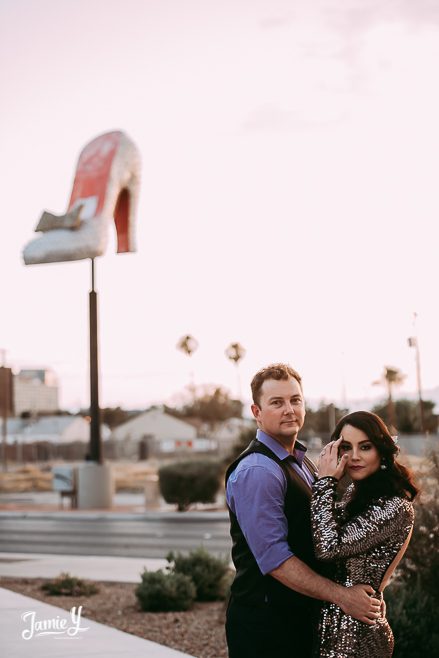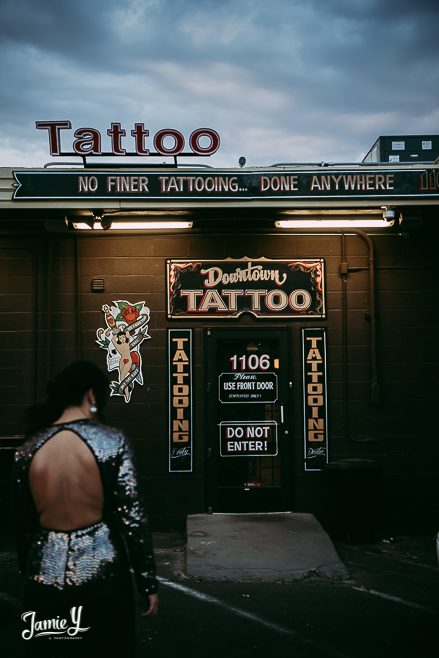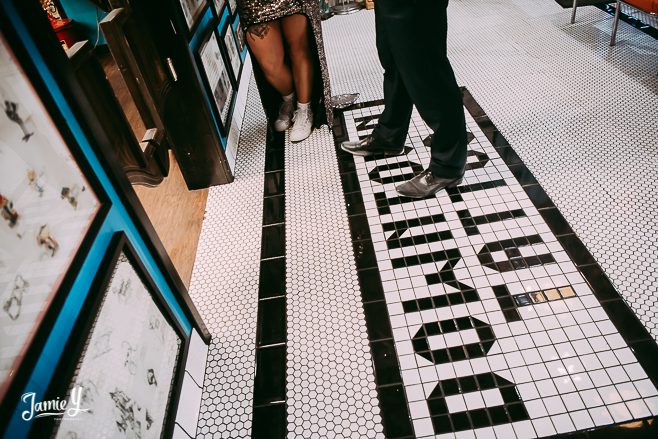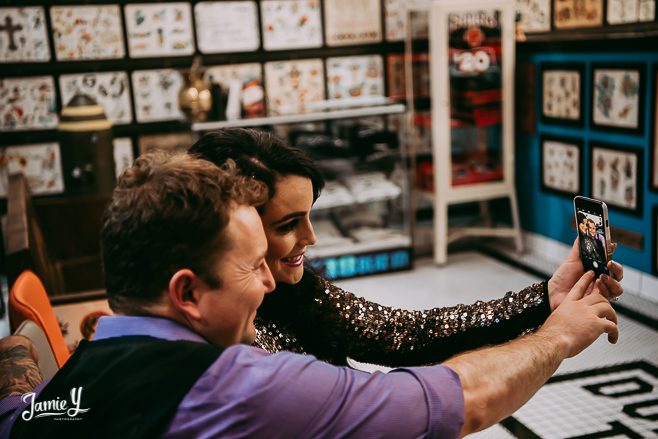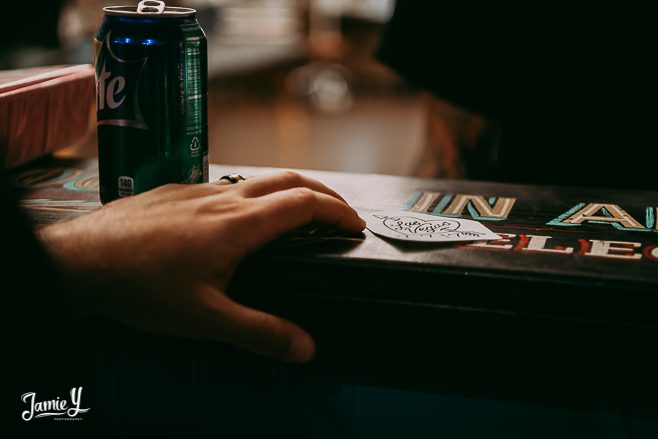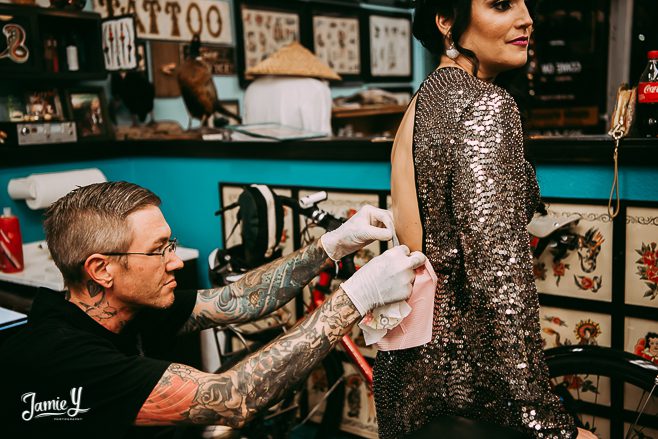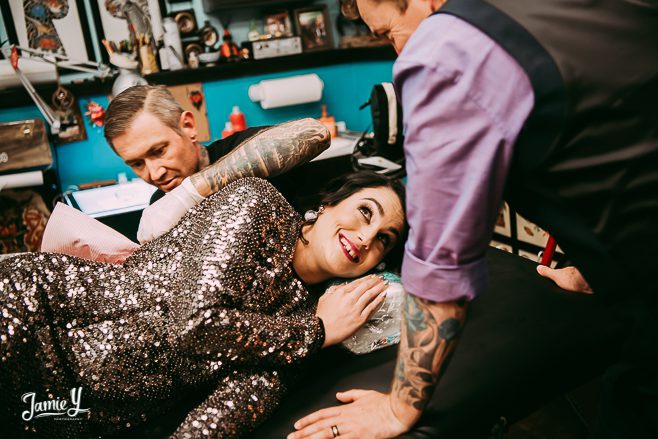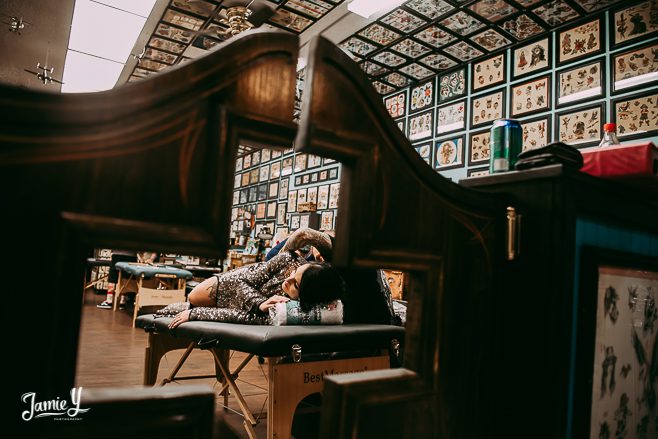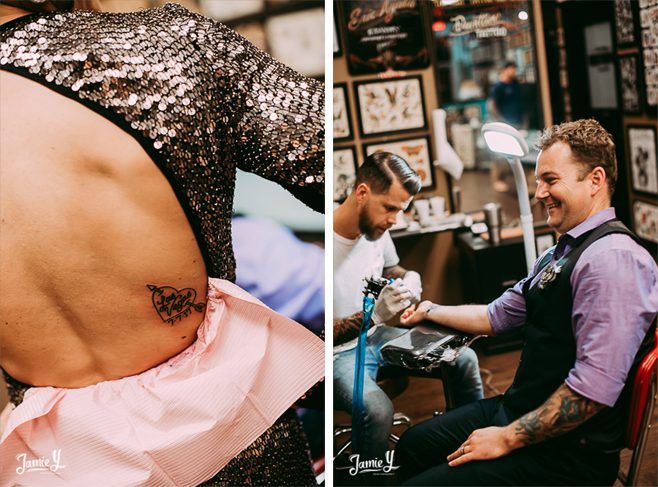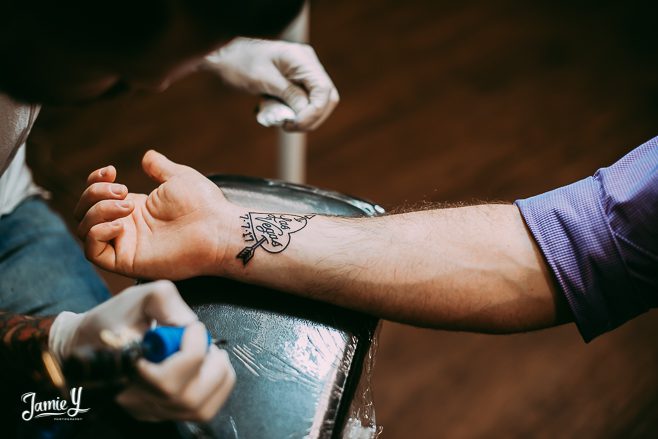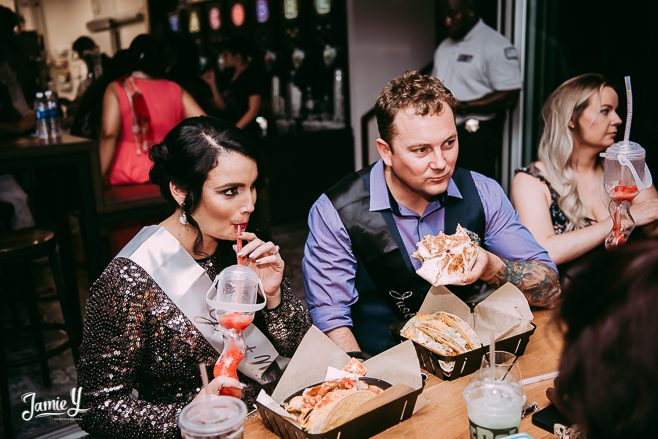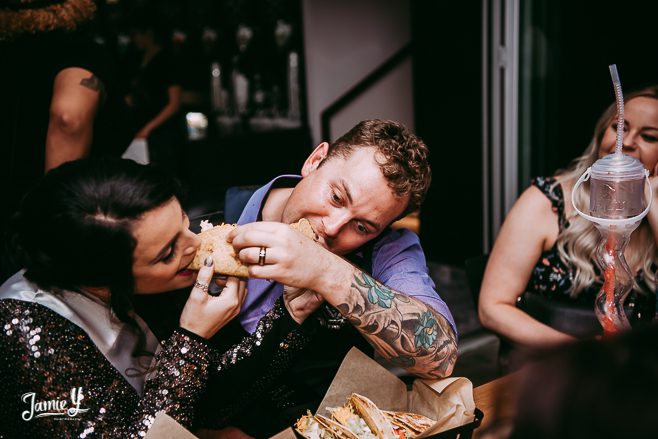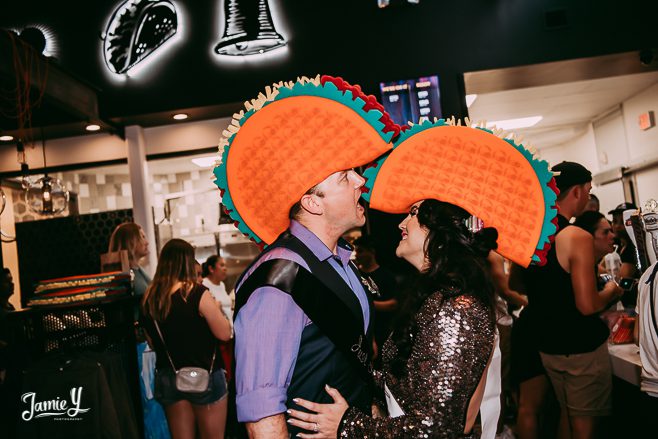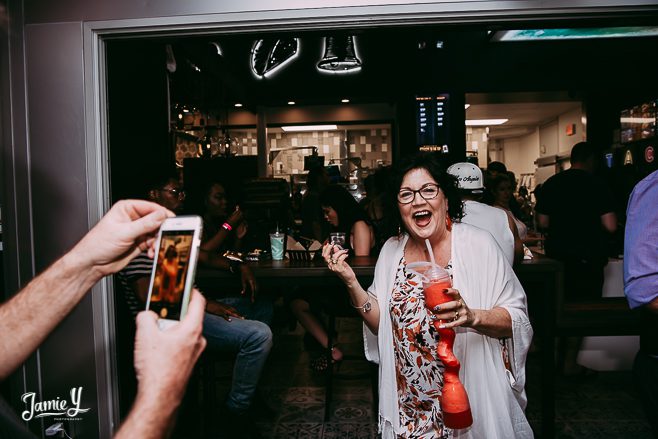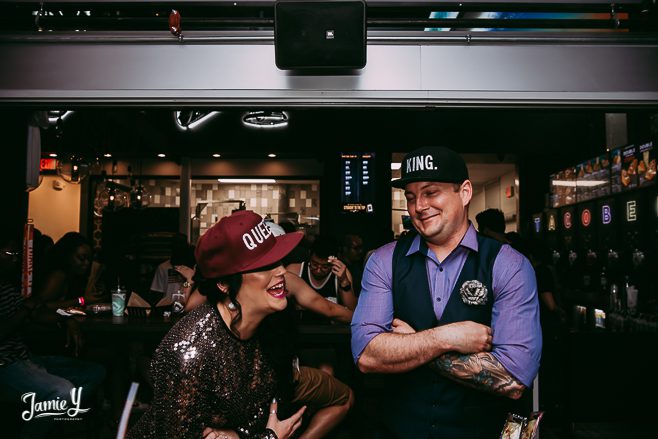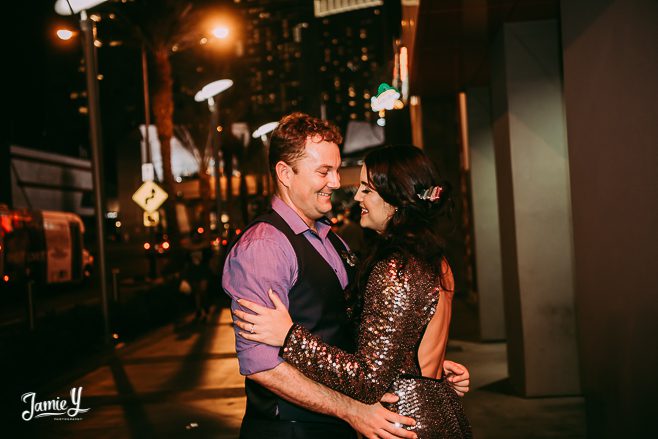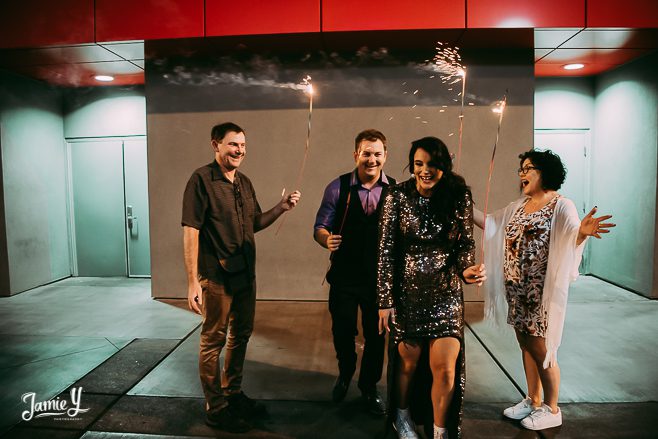 We may have gotten stopped by security for lighting sparklers on the strip but we got the shot so who cares.
This was truly an incredible wedding with some incredible people who did what they wanted to do and made the day about them.
To see even more from their day, watch the slideshow at the bottom.  Also, if you didn't see their engagement shoot, check that out here.
Vendors:
Hair/Makeup: Makeup In The 702
Ceremony: Little White Chapel
Tattoo Shop: Downtown Tattoo
Wedding Dress: ASOS
Shoes: Figgie Shoes
Photographer: JamieY Photography
XO-Jamie
Rock N Roll Vegas Wedding Slideshow
Riley & Heather Wedding from JamieY Photography on Vimeo.