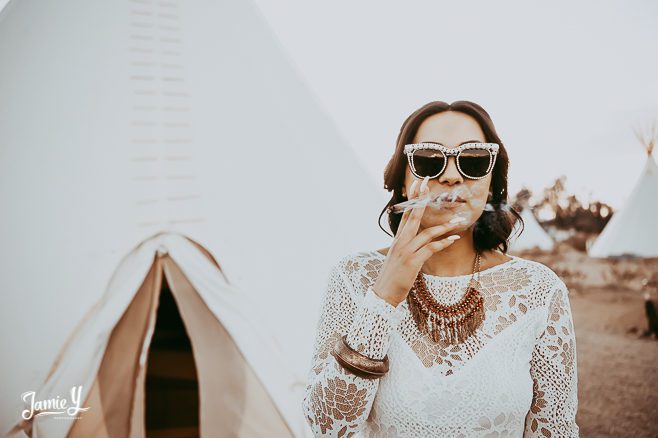 Cannabis Weddings In Las Vegas and Southern California. With the legalization of recreational marijuana, weed weddings are becoming more and more popular. From the simple elopements, to full blown weddings with marijuana bars, there are many ways to incorporate cannabis.
Currently, there are not many options on locations that allow cannabis consumption. In the near future, there will most likely be more locations. Such as, the lounges that have been approved and in the works. Currently, if you want to have a marijuana themed wedding in Las Vegas, you have to find private property that will allow it.
The only place nearby that I have heard of that allows cannabis use on their property, is the town of Nipton.
Cannabis Weddings At Nipton
Nipton is such a cool town. It is very small and was recently purchased by a cannabis company. They have a general store that sells lottery tickets and cool souvenirs and snacks. They also have a bar/cafe with beer and food. There are several tee-pees on the grounds that they rent out. There are some other accommodations as well as a hotel, named Hotel California of course.
All around the tee-pees, you are surrounded by an 80 acre outdoor art gallery with lots of amazing pieces. Many of the art pieces are from burning man. You can rent out the entire town for your big wedding day blowout. Or, you can just take a short 52 minute trip from the strip, for an intimate elopement. You can choose to stay the night, or just come out for the wedding. Your choices are endless.
There are no locations that allow you to purchase and consume marijuana on the property, so you will have to supply your own. That is not a problem considering the town is filled with various dispensaries.
Nipton is not only for those living in Las Vegas, but since it is technically in California, it is great for Southern California couples as well. You don't even have to have cannabis as part of your wedding, but can just enjoy it afterwards in the freedom that you have on property.
As I become aware of more cannabis friendly wedding venues in and around Las Vegas I will definitely update this page.
I am currently offering Cannabis elopement packages which are the same cost as our Red Rocks packages. If you would like something bigger, I can put you in touch with a great planner. Either way, if you want to discuss having your own Las Vegas Cannabis Wedding, contact me here.
Cannabis Weddings In Las Vegas