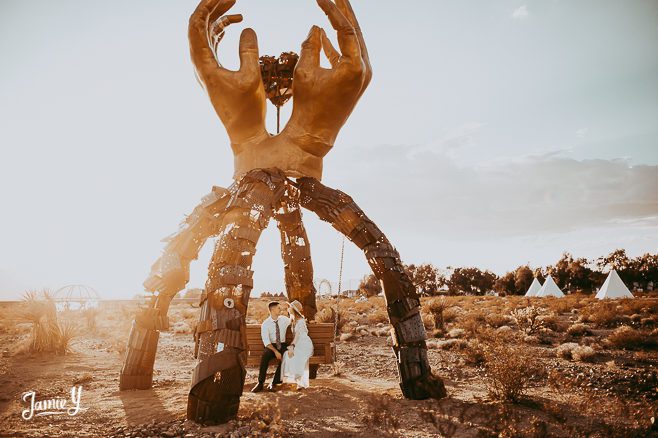 Weddings At Nipton California. My new favorite wedding and elopement venue close to Las Vegas.
Located adjacent to the Mojave National Preserve, 50 miles southwest of Las Vegas, Nipton is the perfect desert escape from Las Vegas or Southern California. Accommodations include the Historic Hotel Nipton, full-service RV park, private eco-cabins, furnished teepees and updated vintage Spartan trailers.
Nipton can be rented out as a whole for your wedding, or you can rent what you need for a smaller wedding or elopement.
Nipton is also home to an 80 acre outdoor art gallery with pieces from many talented artists. Many of these pieces were displayed at burning man in years past. Not only do they make for cool photo ops, but you can actually use them as a ceremony backdrop for your unique wedding.
Nipton is such a cool town. It is very small and was recently purchased by a cannabis company. They have a general store that sells lottery tickets and cool souvenirs and snacks. They also have a bar/cafe with beer and food..
Among other things, they have their own craft beer at the bar. At night, you can see the milky way! There is also a blue lagoon which is currently under construction.
Nipton is truly the next best kept secret for desert weddings. It is close enough to town, yet far away for lots of privacy. They are a pro cannabis town and allow smoking freely in the outdoor public areas.
Joshua trees, teepees, burning man art, and mountains all around. A true gem for the bohemian brides and more.
They call it Magical Nipton and it truly is. I witnessed a magical sunset and the most gorgeous light.
If you are interested in Weddings At Nipton California, contact me here. I am proudly offering fully planned elopement packages to Nipton with rates starting at $2,900. Or if you want to plan it yourself, I offer just photography as well.
To check out their site directly, visit them here.
Check out weddings and elopements at Nipton here.