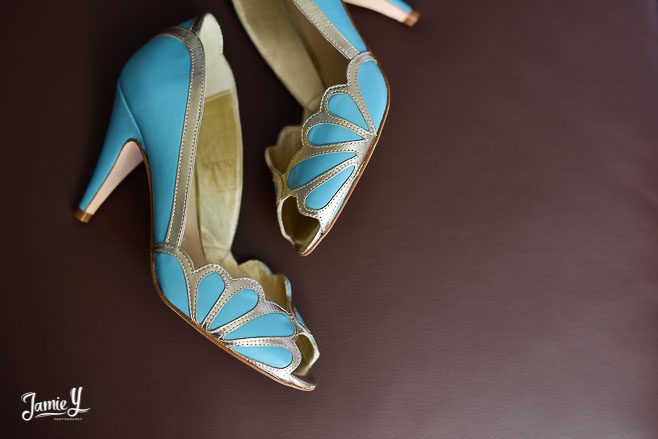 I don't even know where to begin with this wedding.  It was one of my absolute favorites that I have been to and photographed for so many reasons.
First things first though, the story of Alyssa & Erik as told by Alyssa:  "Erik and I met on OkCupid and connected through our mutual love of Coen Brothers movies and being transplants here in NC (I am from New Jersey and Erik is from Oregon). And, hey, I liked that he had a beard and tattoos. Our first date was going out to downtown Raleigh for First Friday to get a drink at see an art opening at a tattoo shop. Erik was on time (punctuality is important to me haha) and wearing a shirt that had little anchors on it (I have an anchor tattoo that he saw in my OkCupid photos), so it got off to a great start. After having a drink, we went over to the tattoo shop but they were already closed (Ummm… I thought tattooers were cool and stayed up late), but we weren't ready to end the night and so we went to a couple local dive bars and stayed until closing (despite the fact that I had a car appointment the next morning at 7 am). We really connected talking about early 2000's punk/hardcore/emo bands that we used to (or still!) listen to. There was something familiar about Erik to me. Fast forward about a year and a half, and Erik proposed at one of our favorite places to go in Wilmington NC when we are at the beach — The Blue , a bar/arcade. Whenever we've gone there (including our 3rd date!) we've taken pictures together in their photobooth. So it was just business as usual when we went in there one time… I sat down in the booth, turned to the left to put my sunglasses down and when I turned back around, Erik had a ring out and proposed! And then we had the most awesome set of photo booth photos, of the proposal. We just want out wedding to be cool and fun. Overly corny and sentimental stuff, especially in front of a group of people, makes me pretty uncomfortable. So a traditional wedding was out of the question! When deciding where to get married, we realized that anywhere we had it, a lot of people would have to travel aaaaaand I really wanted Elvis to officiate (I'm big into Elvis and also have an Elvis tattoo) aaaaand we both really like retro kitsch. So we figured, let's just travel like everyone else and get married in Vegas. Themes for the wedding are vintage, tropical, bright, and rock & roll."
I met Alyssa & Erik a few nights before their wedding for an engagement type session which you can view here.  I could tell after meeting them that I was in for a treat, but I really had no idea how amazing of a day and of a couple they really were.  I met up with the bride in her hotel room at the Linq while she was finishing up hair and makeup with the amazing team at Heads Will Roll salon.  She looked amazing and her dress and every little detail was just adorable amazing and awesome all rolled up into one.  I mean a pink shell ring box, how fricken amazing is that.
I left Alyssa just for a short bit and went to see Erik while he finished up getting ready as well.  They both wrote each other special personal vows/messages that they put into a bottle that they each read at their first look.  Their first look was pretty touching, I think I teared up.  They were so happy and teary eyed and just excited, it was contagious.  We then headed over to the Flamingo where their ceremony was to take place and we took portraits along the way.  The ceremony was held at the Flamingo garden chapel and Elvis officiated, of course.  He sang some songs and really got everyone into the spirit.  After Alyssa & Erik were officially a married couple, Elvis had them join in on some of the dancing and songs.  Such a perfect touch to a perfect day.
The reception was held at the Flamingo Garden View Terrace.  An open aired patio location with views of the Flamingo and surrounding hotels as well as the High Roller Wheel.  They had pineapple center pieces and flamingo bottle openers as gifts.  The music was a mix of 80's as well as some of their favorite punk/emo/etc. songs.  They danced almost the whole entire time.  Alyssa & her sister rocked out pretty hard to some Bon Jovi and other songs.  Everyone had such a great time.  They played exactly what they wanted to hear instead of trying to please everyone else and that is something that I regretted about my own wedding.  It was so much fun to watch and photograph!  One of the last songs was a favorite of theirs by the Get Up Kids and they had a few other couples on the dance floor with them singing.  I am so so thankful that I got to photograph and document this amazing couple and their fantastic wedding.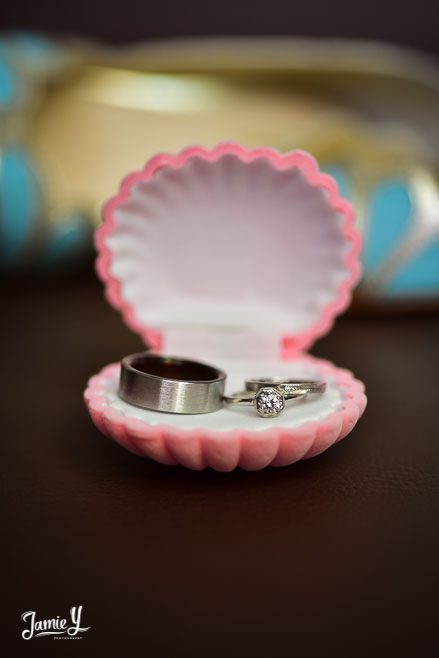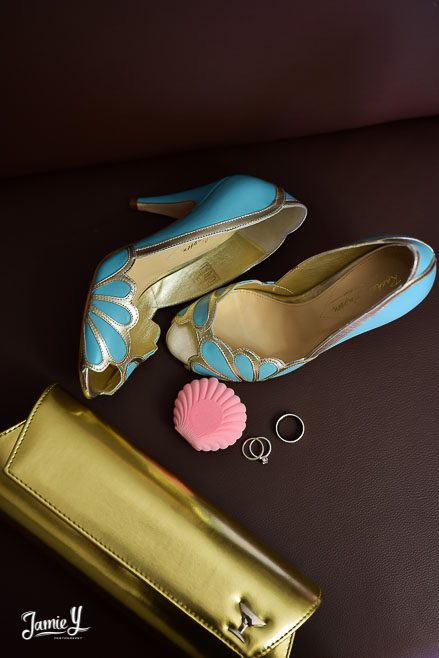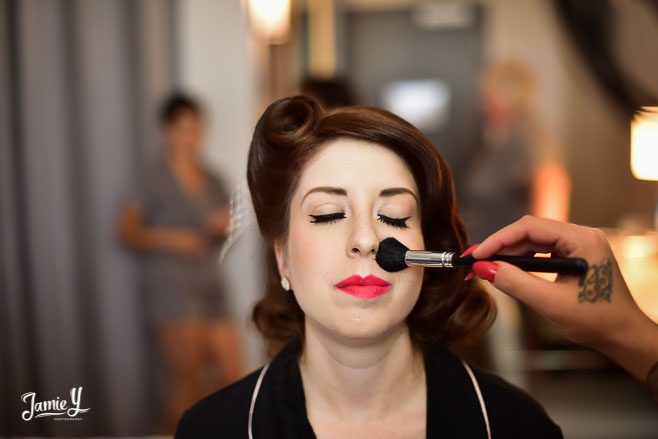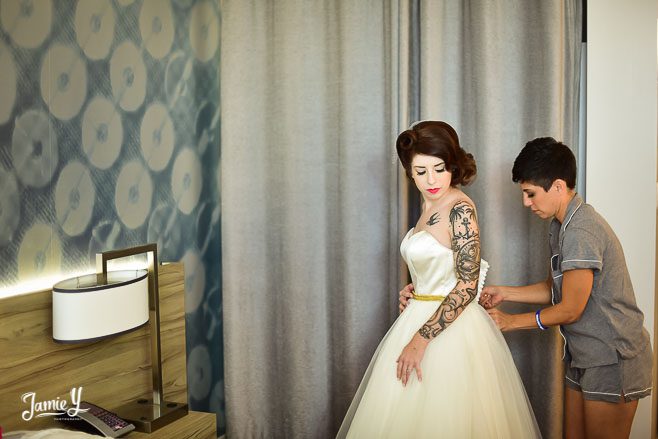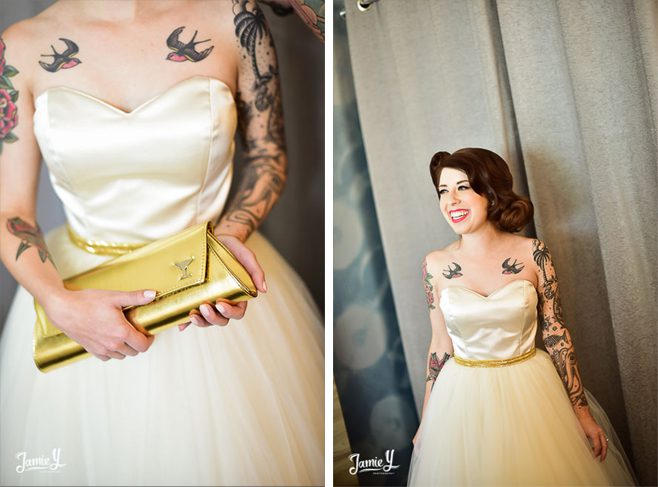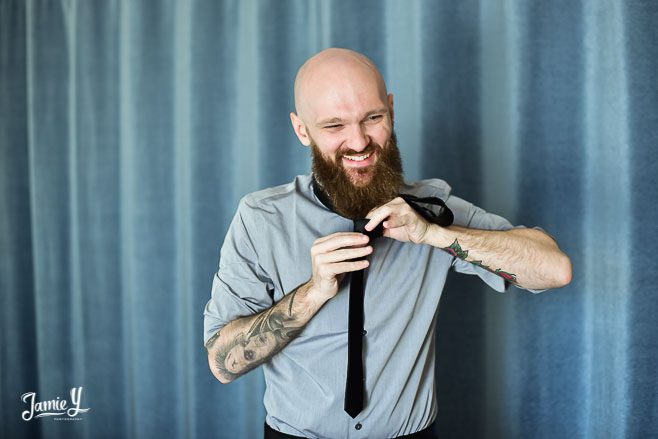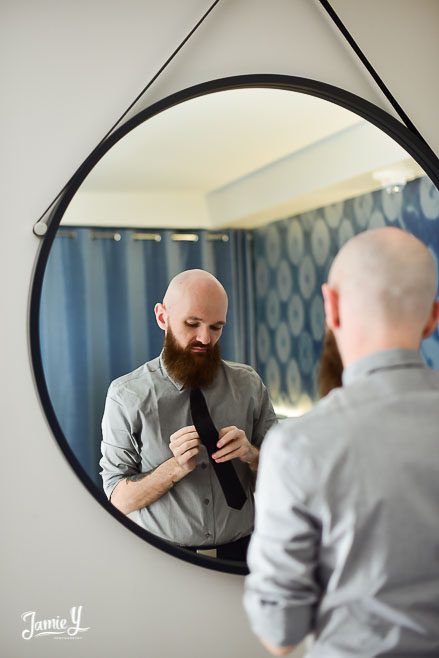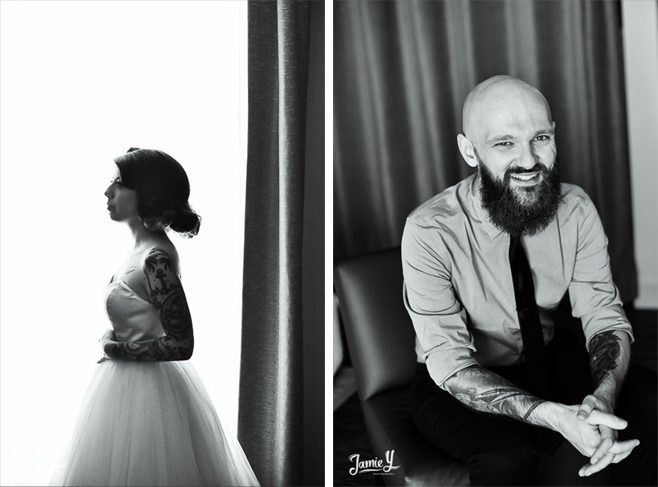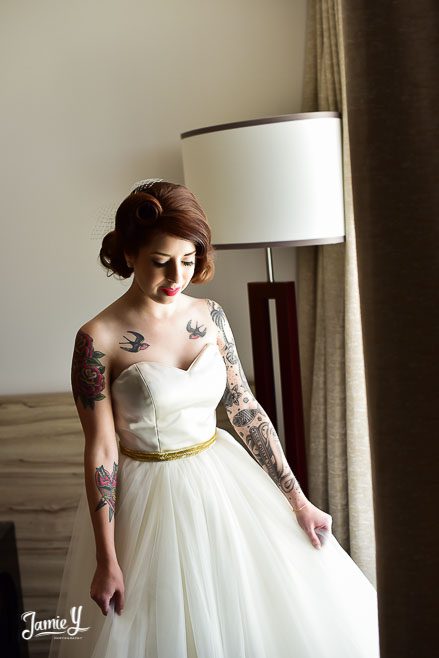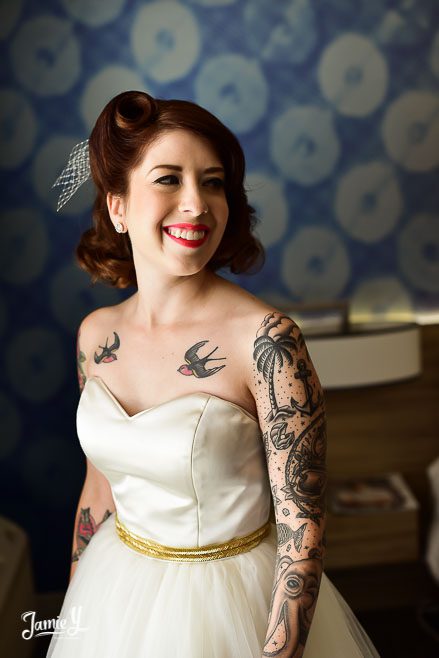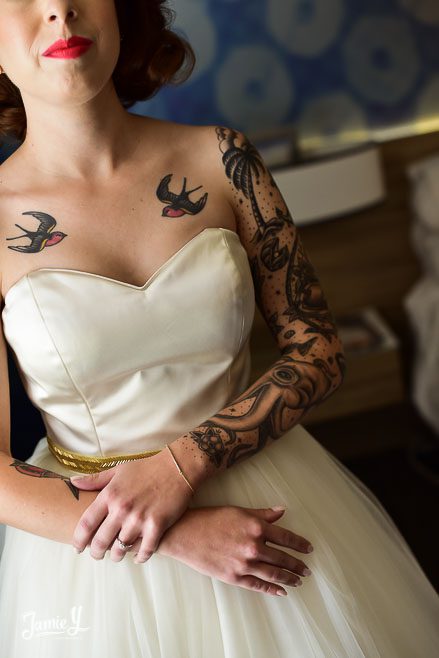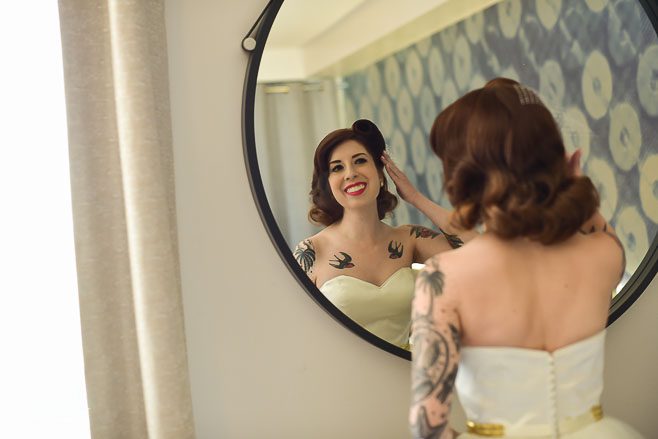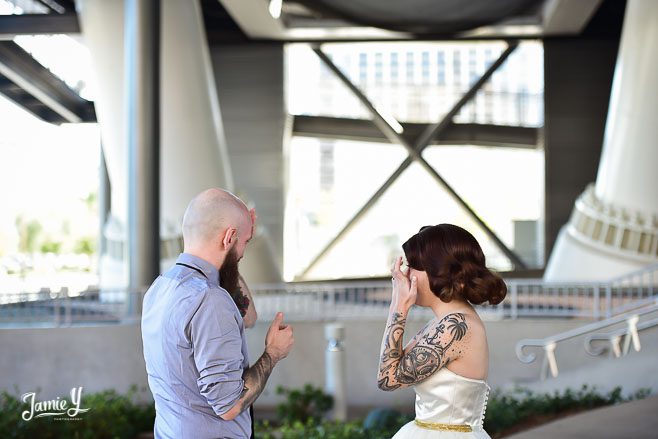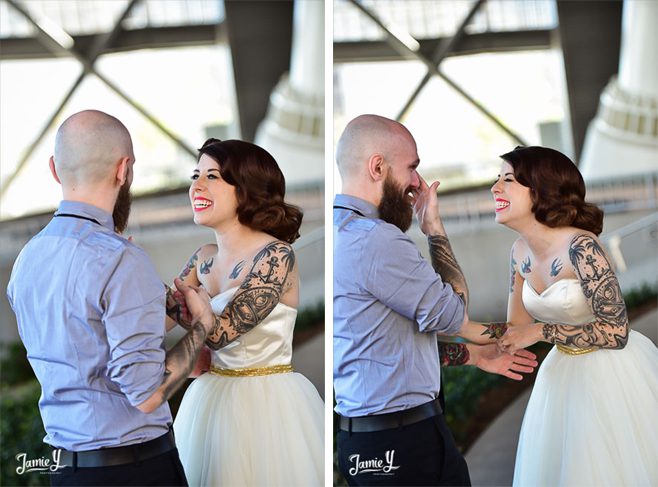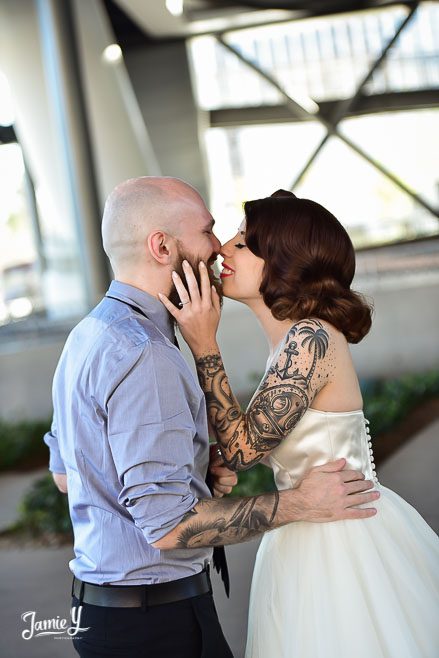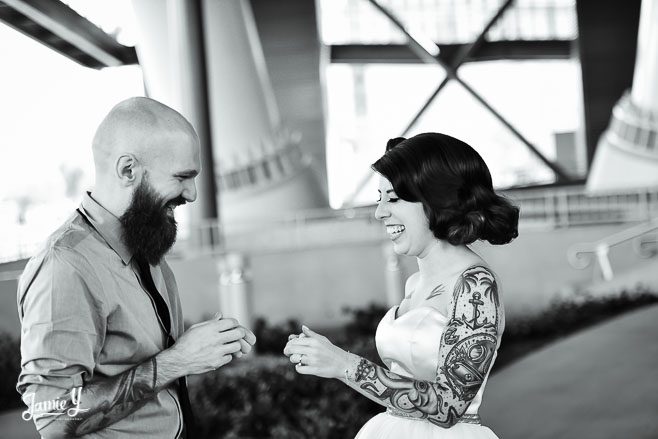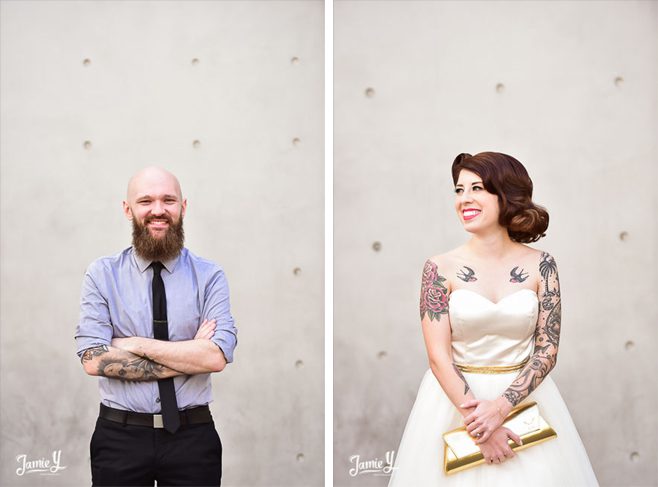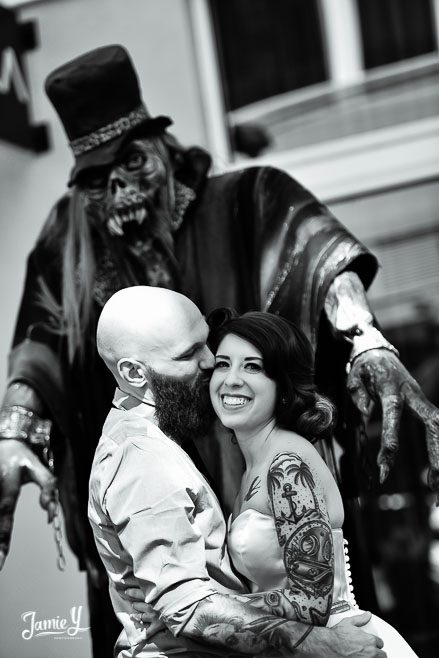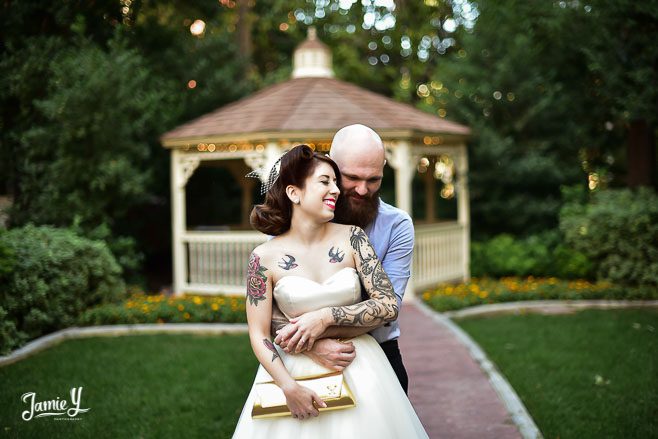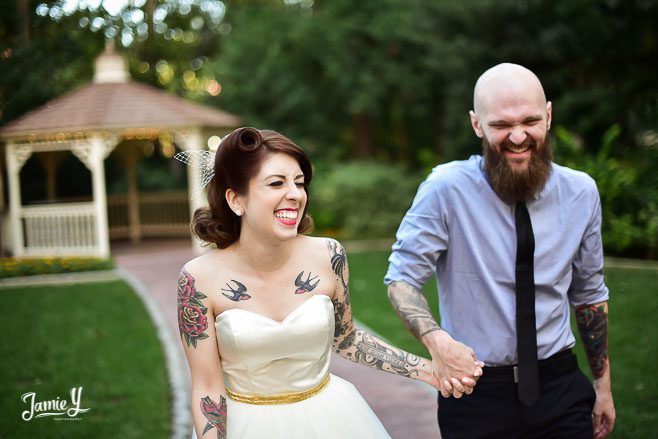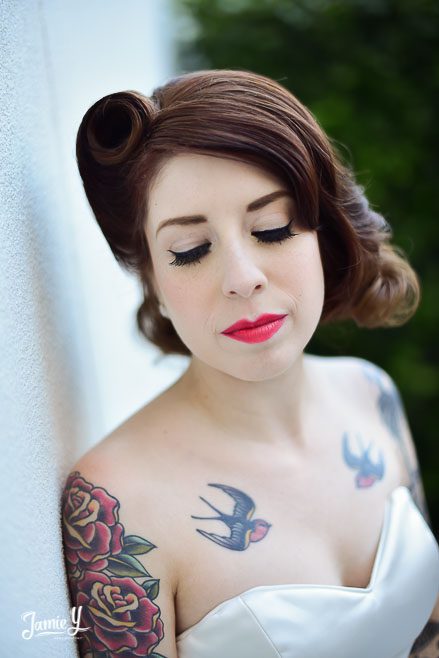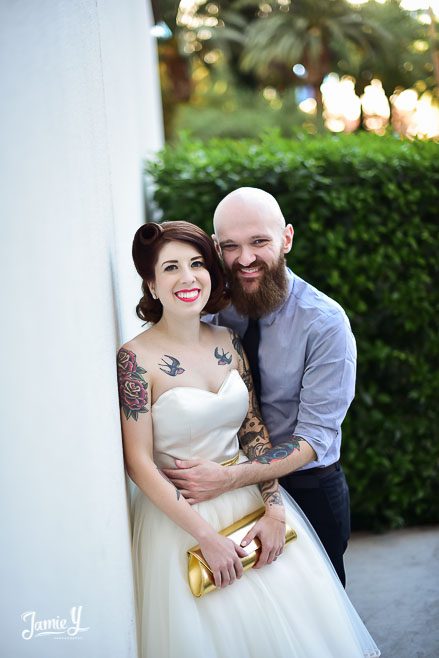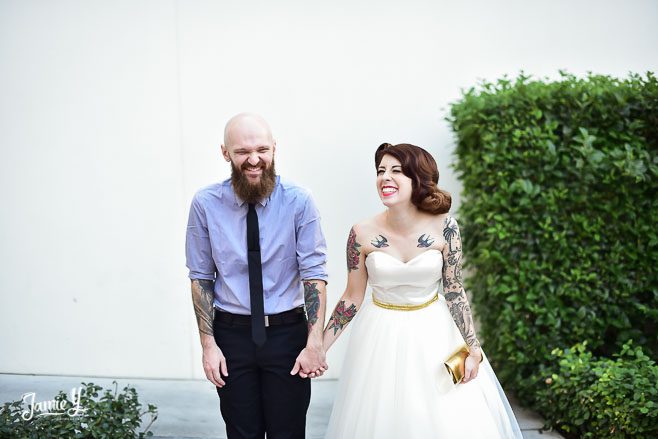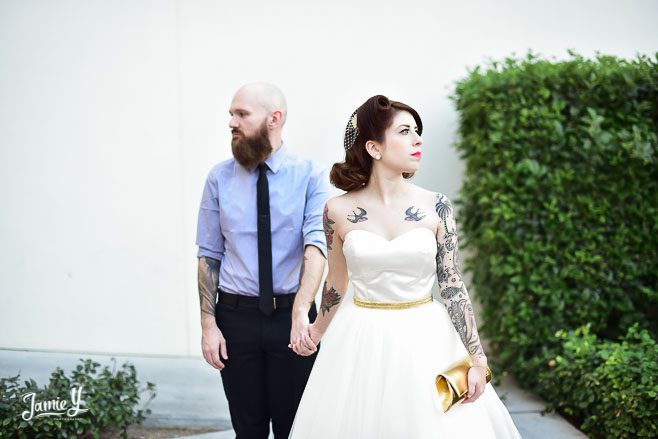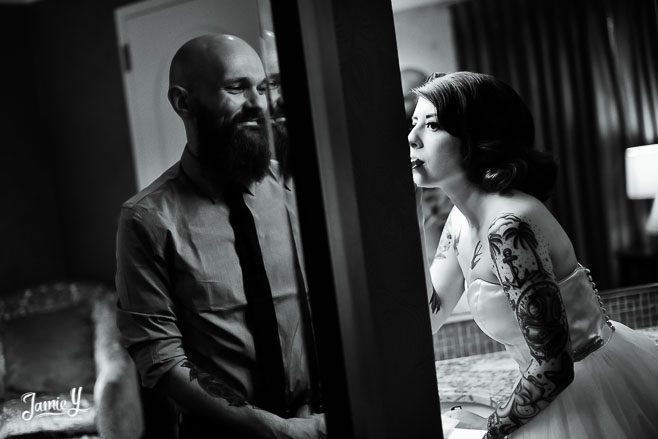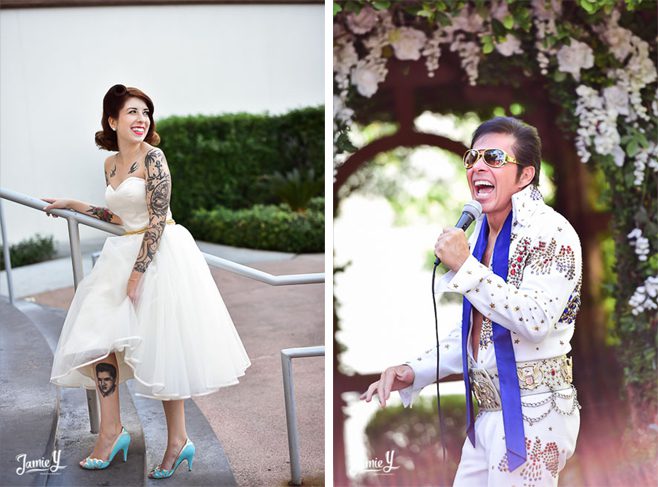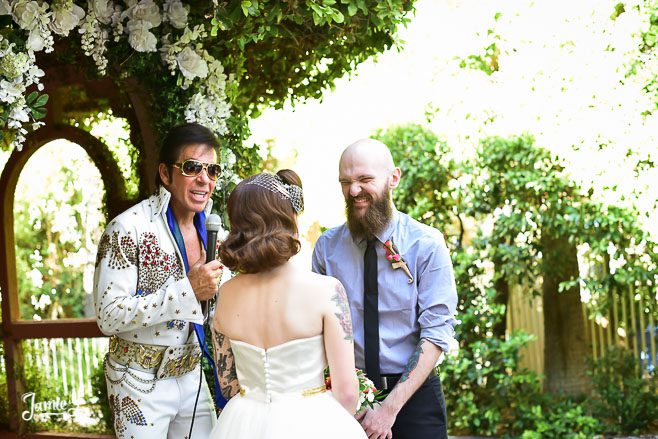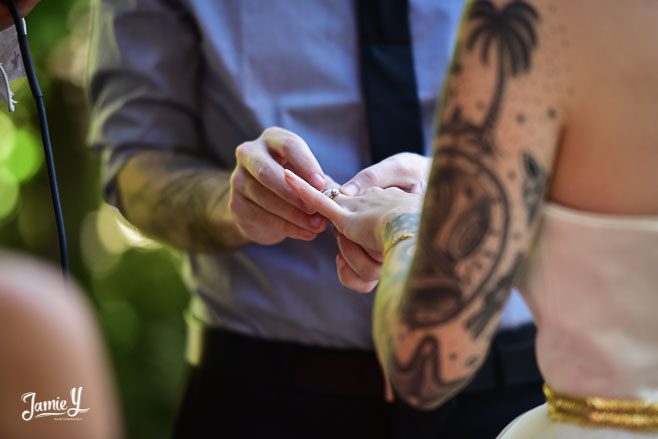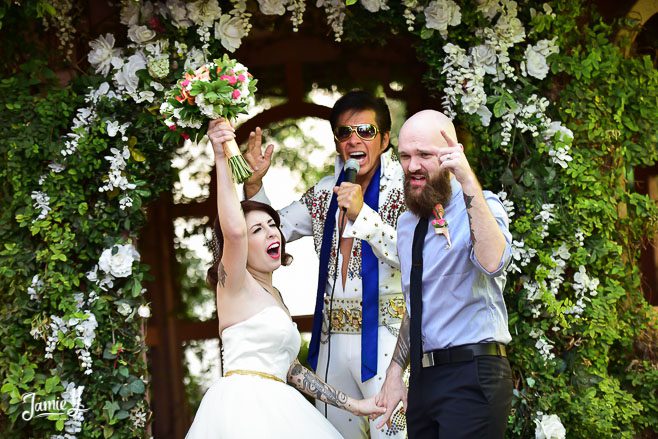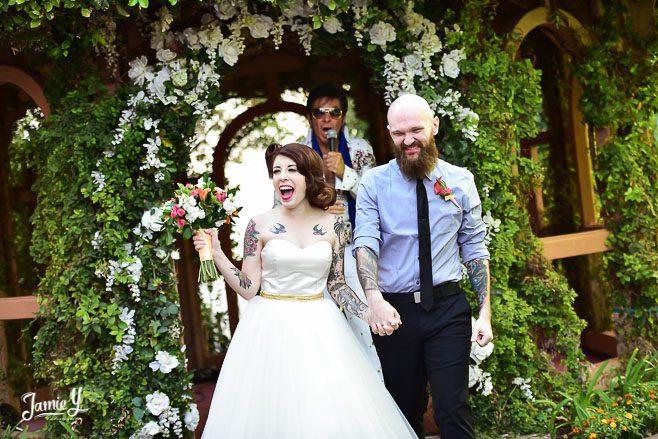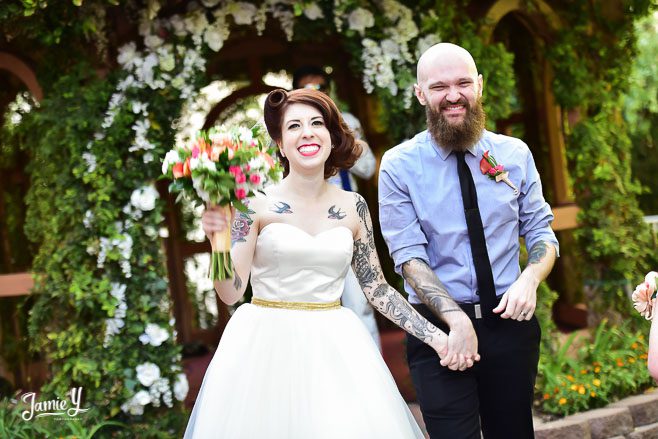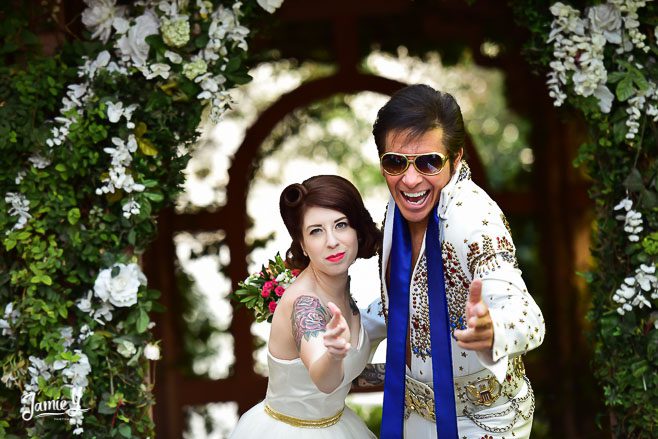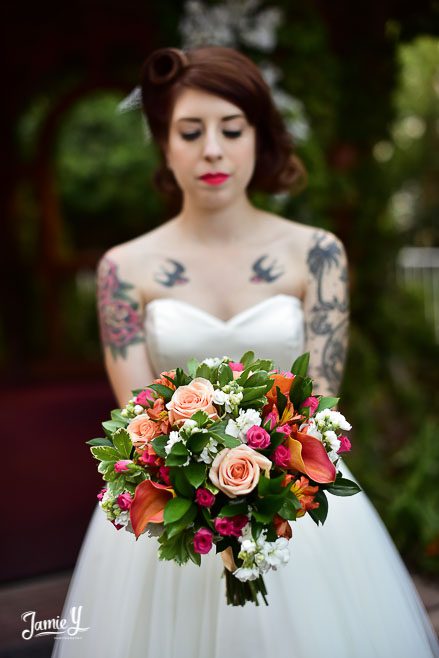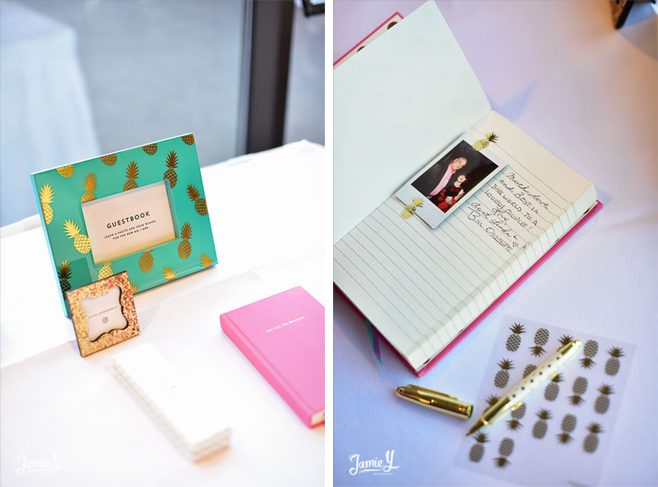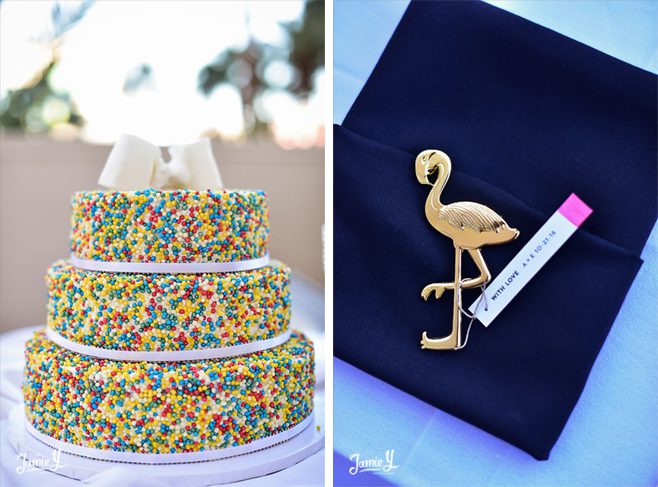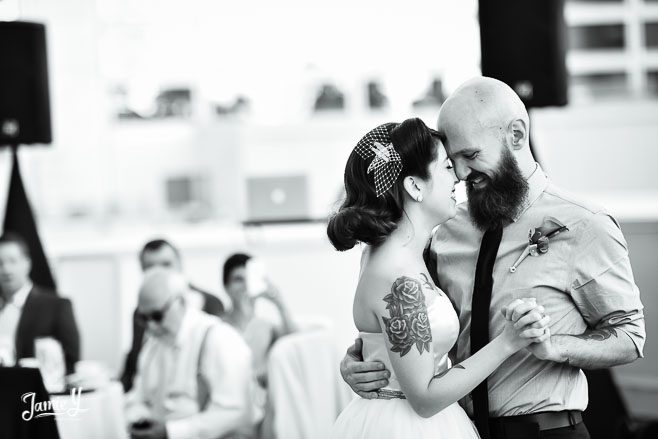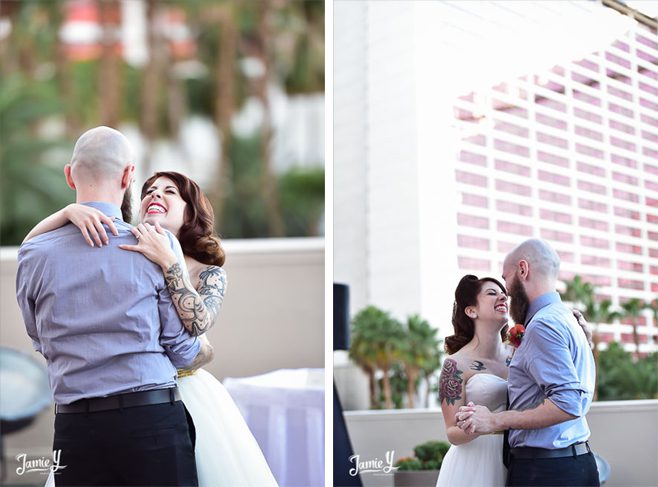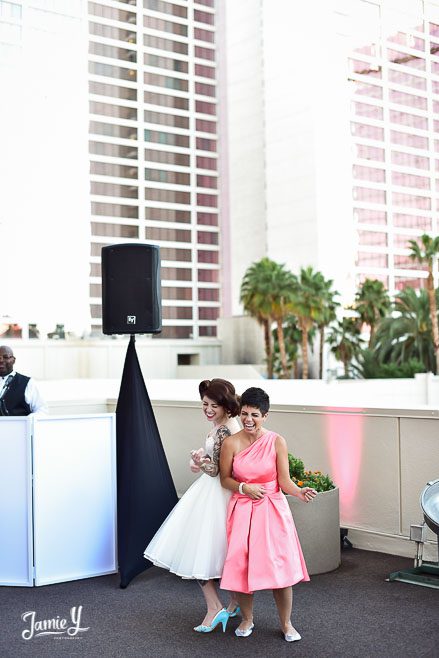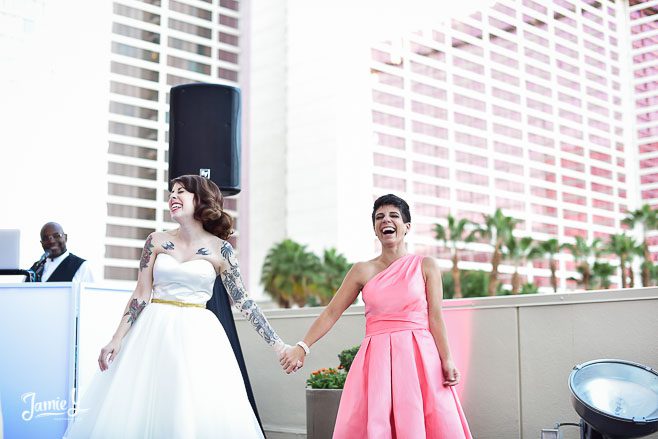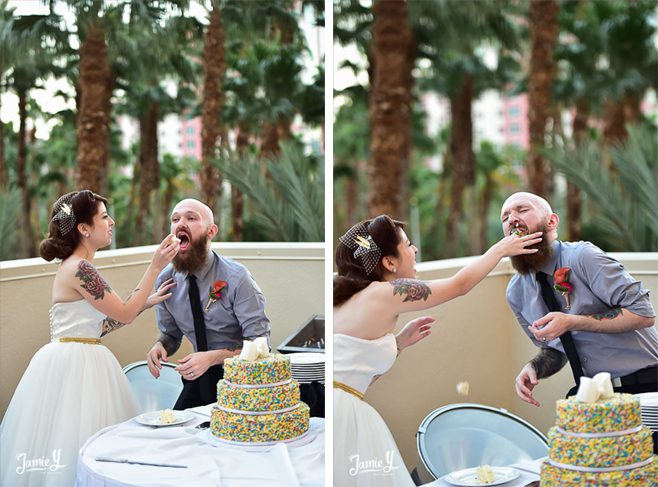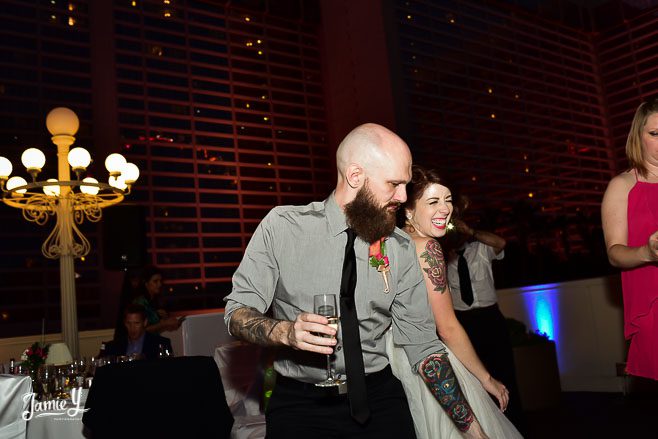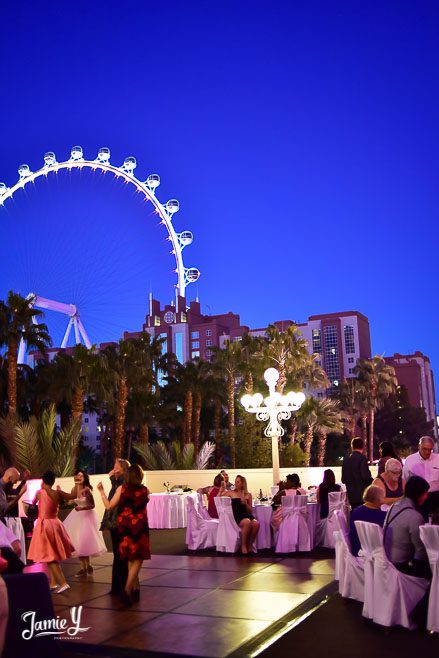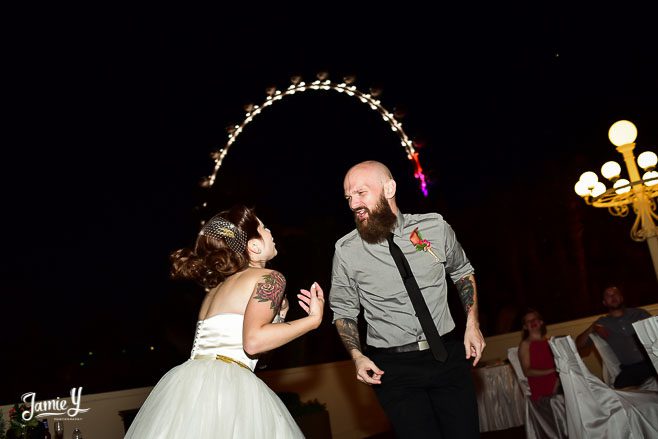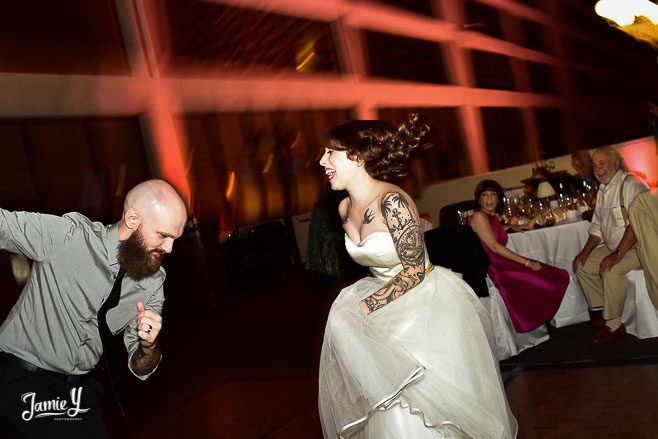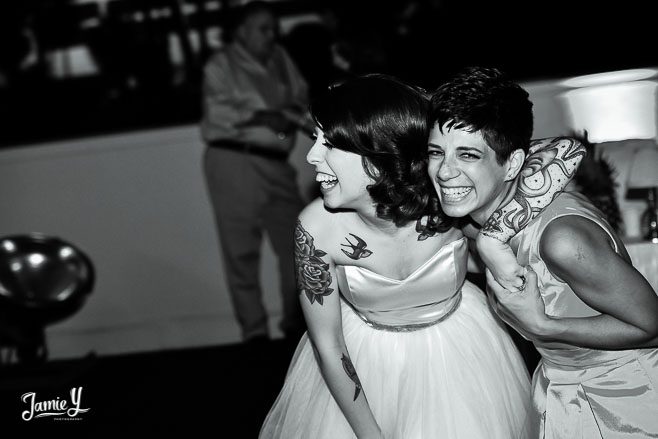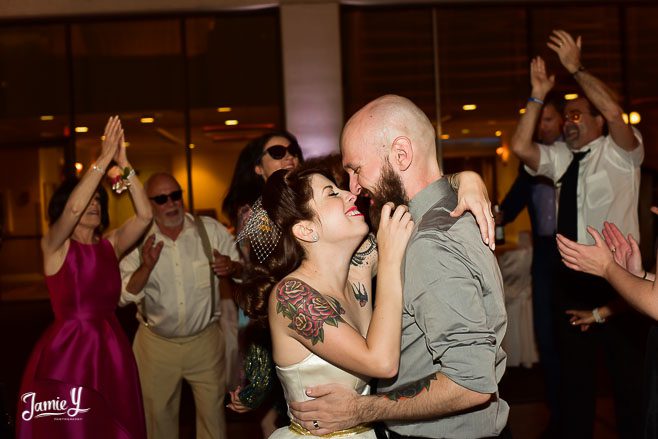 To see even more images from the wedding, watch the slideshow at the very end.
Getting Ready Rooms: Linq
Chapel: Flamingo Garden Chapel
Reception: Flamingo Garden View Terrace
Florist: Flamingo
Officiant: Roland August / The Mobile Minister
Hair & Makeup: Heads Will Roll Salon
Dress: Justin Alexander
Shoes: Rachel Simpson
Photographer: Jamie Y Photography
XO-Jamie
Alyssa & Erik from JamieY Photography on Vimeo.