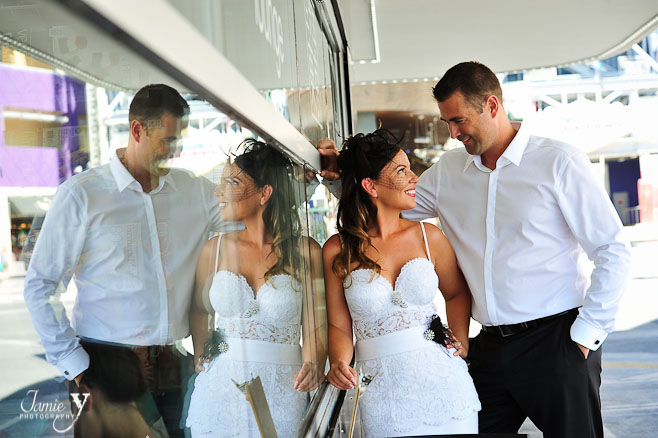 Christy & Nick traveled to Las Vegas for their destination wedding from Australia.  They brought along Christy's parents and sisters for the big day.  Christy & Nick wanted something fun, not stuffy, kitschy, and memorable.  We started out the day at Nelson ghost town, a great vintage rustic setting.  Christy's sister made her beautiful dress using lace that her mother has had for the last 60+ years.  For the flowers, Christy bought a bouquet and then separated out smaller bunches for her sisters to give that just picked from the garden look.  They were inventive with Nick's boutonniere.  They took some plastic flowers they found in his hotel room and used them.  They had so many personal details.  Nick has a lamb named Wilbaaa that he has brought with him everywhere he has traveled.  So, of course, Wilbaa was his little lamb (instead of best man).  The sister also made some cuff links and a tie for Wilbaa so he was dressed for the occasion and was able to hold the rings.  They also have a cat named Sumo at home and he was represented by a brooch on Christy's bouquet.
Nick is an aeronautical engineer and has dreams to build his own plane.  Christy is not to excited about that happening.  I wouldn't be either.
They brought a bunch of props to incorporate into the session.  Instead of having mainly posed pictures, they opted to do fun pictures with themes and include their family in them.  They brought some wild west themed clothes.  They had a fake roulette game set up and had the dad playing for the girl.  Nick won of course.  Christy's parents even put on some Property of Las Vegas jail shirts for some fun pictures of Nick capturing them as the sheriff.  There are lots more from these scenes in the video at the end.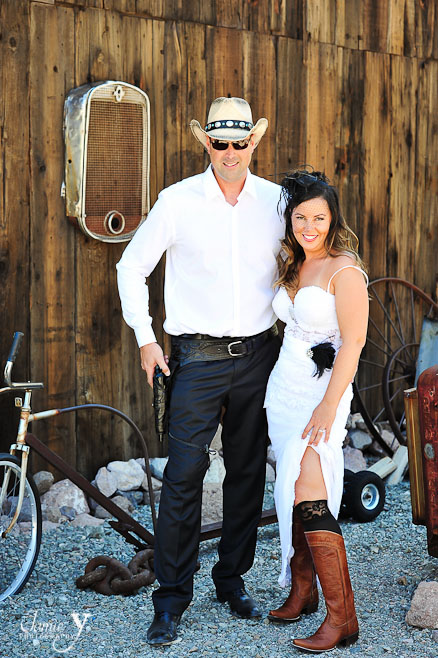 After Nelson, we went downtown to Freemont street.  We took a few pictures of the newly married couple alone before we headed to their second wedding ceremony of the day.
Their Vegas wedding day wouldn't be complete without Elvis!  They had a second ceremony officiated by Elvis in the drive thru Tunnel of Love.  Everyone had such a blast.  Elvis sang some songs, performed a ceremony, gave Nick some Elvis sunglasses, and included the whole family in the fun.
We made a final pit stop at the Welcome To Las Vegas sign.  Everyone wore a retro Vegas visor and had portable hand fans that said Vegas.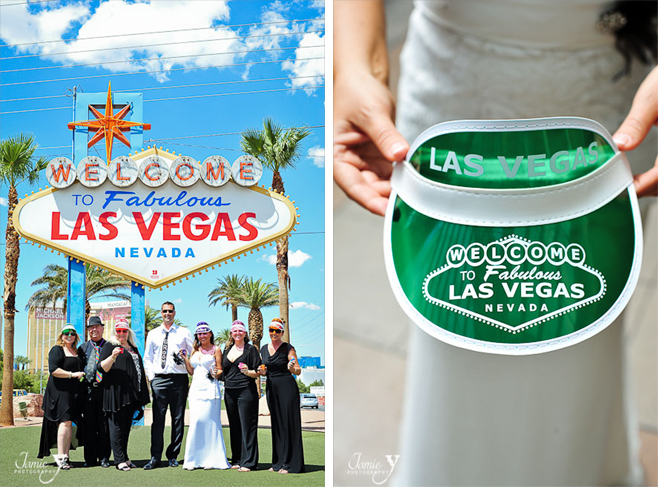 A tradition of Christy & Nick's is that for special occasions they get pizza and some French Champagne and celebrate just the two of them.  It started one day and they have kept up the tradition.  Christy & Nick, I hope you enjoyed your pizza & Champagne!  Congratulations!
To see even more from their day of fun, watch the video below.
XO-Jamie
Christy & Nick from JamieY Photography on Vimeo.