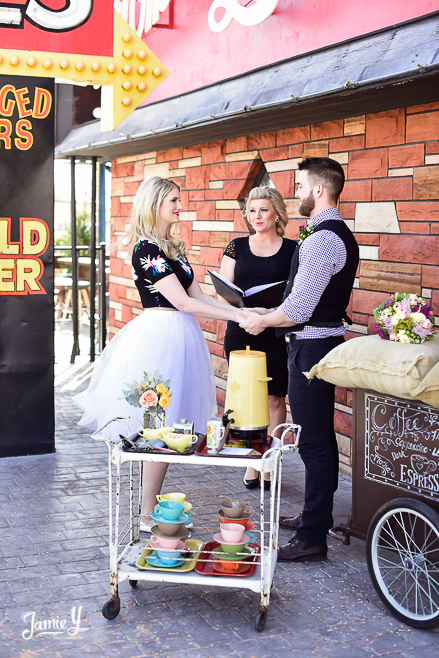 This post is 1 of 2 posts that I will be sharing over the next few days from a styled shoot I co-hosted this week with several talented ladies and an all star group of vendors.  WPPI was in town (Wedding & Portrait Photographers International convention) and my co-hosts and I decided to set up a styled shoot.  It was lots of work and we could not have done it without the amazing vendors, models, and everyone else who participated in the shoot.  We had a small group of amazing attendees that participated in the shoot with us.  Mckenzi with Taylored Photo Memories, Veronica with Nostalgia Resources, and I pulled it all together in about a month's time.
We had two themes and I will be posting them seperately.  The shoot took place at Atomic Liquors which is the first bar in Las Vegas.  For this theme we had the beautiful Chelsea and her boyfriend Andrew.  They were amazing models and really helped make the shoot come to life. This theme was a vintage coffee brunch.  Angie, with peachy keen unions performed a mock ceremony with a coffee unity element.  We had a lovely styled bar cart with Vintage coffee elements, including sugar cubes and milk for the unity portion.  In the background we also had a coffee bike cart provided to us from Sambalatte.  Chelsea & Andrew wore non-traditional wedding attire.  Chelsea wore a tea length tulle skirt with a black floral crop top from Forever 21.  Andrew wore black pants with a black vest and checkered shirt.
Since the theme was brunch, I thought it would be a fun touch to do a fruity pebble grand exit.  We used the pastel sherbert flavor and the pop of color looks great in the photos.
We took the models to some of the art murals in walking distance of Atomic Liquors for some portraits.
The pop tart station above is a special touch that I thought up.  I wanted to have unique elements to the shoot that we have never seen before.  Pop tarts are super cute and they went perfect with the vintage look.  We had sprinkles, cherries, and frosting as toppings.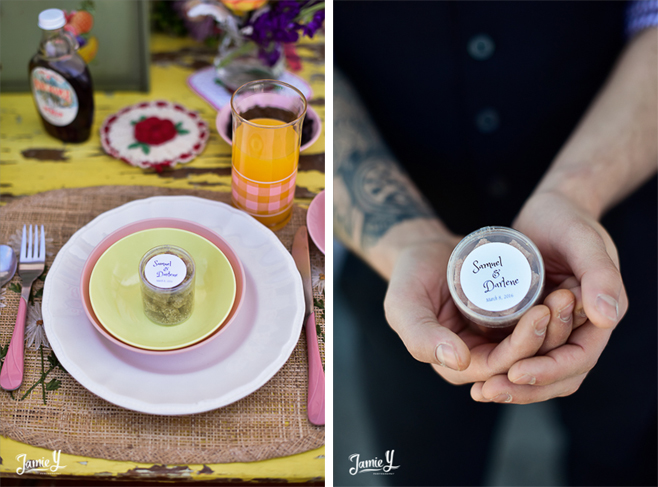 Another of my favorite elements were the personalized sugar cub favors.  When I saw these on etsy, I was so excited.  They fit in perfectly.  Lavender was a perfect flavor to go with coffee.  Check the bottom of this post for a link to all of the amazing vendors, including this etsy store.
Pancakes as the wedding cake from Mad Batter Cafe.  So cute!!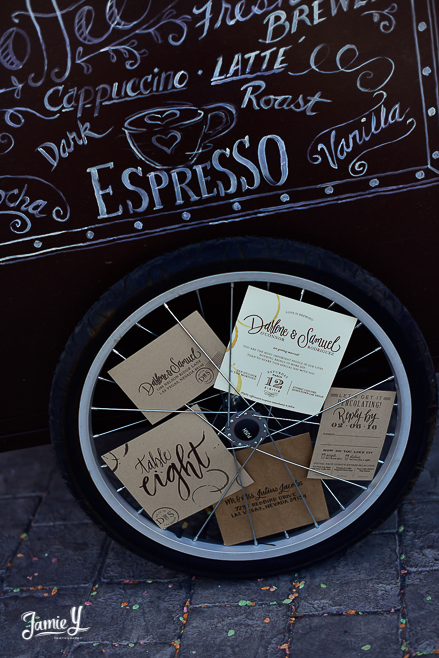 The invitation suite above is from the amazing team at Paper & Home.  There are so many awesome parts to these invitations that I will do a full blog post on just them.  One thing you may notice is the coffee cup stains on them, such a great idea.
I will be posting photos from the other theme in the next few days.
This shoot would not have been possible without this amazing group of people:
Photographer/Host: Jamie Y Photography
Photographer/Host:  Taylored Photo Memories
Stylist/Event Planning/Vintage Rentals:  Nostalgia Resources
Florist:  Miss Daisy
Paper:  Paper & Home
Cake:  Mad Batter
Hair/Makeup:  Makeup In The 702
Officiant:  Peachy Keen Unions
Venue:  Atomic Liquors
Sugar Cube Favors:  A Mess Of Good Etsy Shop
Coffee Bike:  Sambalatte
His/Hers Glasses:  Blu Marble