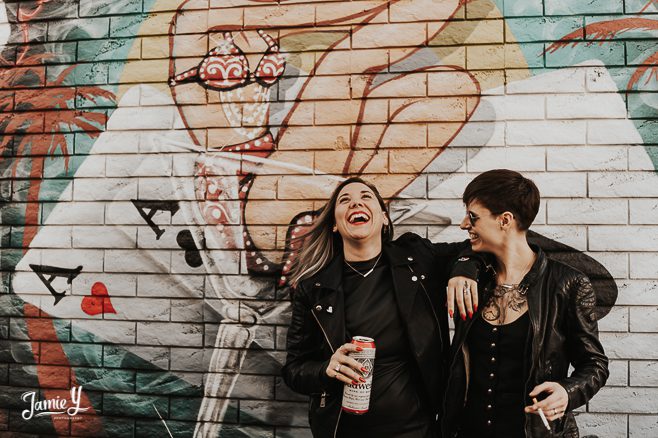 So excited to share this Two Brides Rock N Roll Vegas Elopement of Monya & Erika. These two came all the way from Switzerland to get married in Vegas. They actually had their ceremony a few days before we did this session.
I met up with Monya, Erika, and their friend/translator at the neon museum. I was immediately in love with their all black attire, painted leather jackets, and basically everything else about them. We tried to communicate some things during the shoot, but most of all they had fun and just loved each other.
After the neon museum, we had a few minutes left for some more photos. So we went over to a favorite Las Vegas themed mural.
I have had these foam rock n roll hands in the trunk of my car for months just waiting for the right couple to debut them with. I have had a few couples prior to this that I actually just forgot to get them out. So I was very happy to have remembered for these two.
To see even more from their Two Brides Rock N Roll Vegas Elopement, check out the slideshow below.
Monya's dress was made by her friend who is a seamstress. The patches were perfect.
XO-Jamie
Two Brides Rock N Roll Vegas Elopement
Want to book me for your special day? Click here.