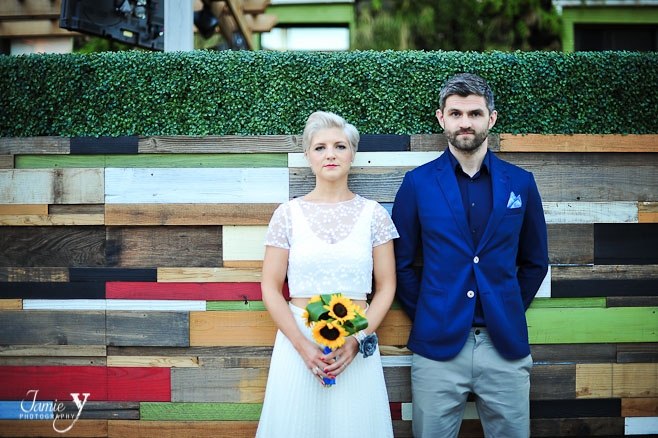 As I am composing this blog I am totally taken back to this amazing day that I shared with Stacey & Al.  They traveled to Las Vegas to elope (only their parents knew about it).  They came here from the UK.  They had quite the morning planned for their wedding day.  We started with the sunrise at 6am and they were married soon after.  We started the day at Freemont street in Downtown Las Vegas to get a few photos before the ceremony.  Then, we traveled to Symphony Park at The Smith Center for the intimate ceremony.  The ceremony was held right in front of the beautiful colorful pipe art installation at the park.  It provided the perfect backdrop.  After that, we went to the famous Neon Boneyard Museum for more photos.
Stacey & Al have some serious style.  Stacey wore a crop top with a skirt for her wedding attire.  Her bouquet was made with sunflowers and the colors popped.  Her shoes were amazing and blue.  Al wore a blue coat and some stylish blue shoes as well.  Stacey's hair and makeup was done by the team at Amelia C.  It was so much fun to be a part of their day and we got some super fun and amazing pictures.  Congratulations Stacey & Al!
To see more from their day watch the video below.
XO-Jamie
Stacey & Al from JamieY Photography on Vimeo.