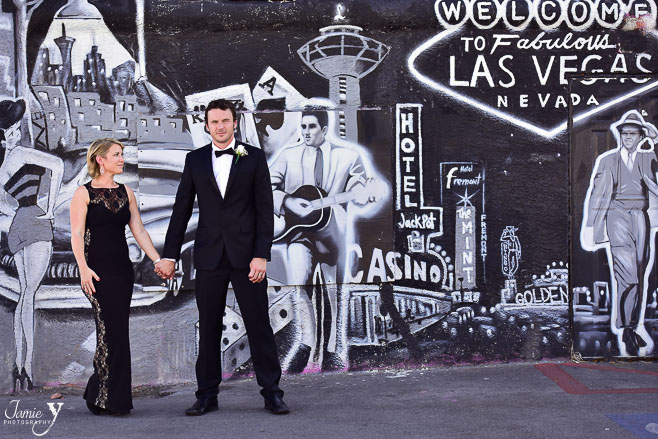 Check out this super duper beautiful couple and their fun wedding day session in Downtown Las Vegas.
Andrew and Rebecca met in Uganda, when they were both travelling around Africa.  Their families found this very funny, because they actually grew up in villages about 10 miles away from each other in Yorkshire in the North of England.  Their relationship is best summed up by travel and adventure.  After they met in Africa, they returned to the UK to do Masters programs (Andrew in Land Reclamation and Rebecca in Marine Environmental Management).  They then went off on a 6 month round the world adventure visiting places such as Eastern Europe, Russia to China on the trans-Siberian express, the Philippines, Ethiopia, Argentina, and Chile.  They now live in Canada where Andrew is working in his field and Rebecca is getting her PHD.
They came to Las Vegas with 7 of their close friends and family for a wedding ceremony at the Wee Kirk chapel.  I met up with them afterwards and we drove around the downtown Freemont Street area for lots of fun portraits with all of the art and interesting backdrops that are in abundance down there.
As you can see by the photos, they were tons of fun to photograph and their love is written all over their faces.  So freakin adorable!!
Andrew did his Masters thesis on soils and lichens and ever since then they have joked that he is the "fungus" and Rebecca is the "algae", together forming a "lichen".  Andrew had custom cufflinks made which said Fungus and Algae.  They also had their rings custom made, and as you can see they totally fit the theme.
To see even more from their day, watch the video below.
XO-Jamie
Rebecca & Andrew from JamieY Photography on Vimeo.