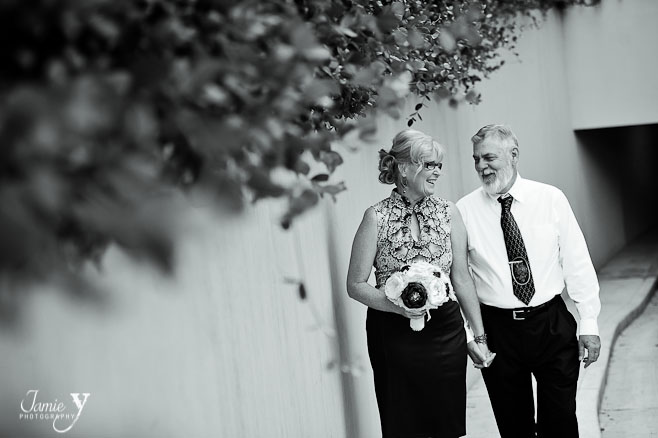 Hershel & Stephanie met on Plenty of Fish online, exchanged a few emails, and met up one day for drinks on a Saturday afternoon.  They ended up talking for hours and taking a motorcycle ride through downtown Columbus Ohio.  A year later they had happily moved in together.  They never had imagined that they would be getting married, but quickly discovered that it was just the right thing to do.  Hershel surprised her by taking her on a motorcycle ride to the very restaurant where they had their first date two years earlier and proposed to her.  They had been to Vegas a few times and both felt it was the perfect place to have their destination wedding and kick off the next chapter in their lives.
I am so glad that Vegas is where they decided to get married and I was the lucky one to photograph it.  Everything about them, their love, their guests, and the amazing details was just perfect.  We did an engagement session the night before so I was able to spend some time with them the night before their wedding.
The wedding took place in one of the beautiful Villa suites at the Red Rock Hotel in Las Vegas.  The suite was the perfect size to host the wedding and their special guests.  The ceremony took place on the outdoor patio around sunset and was officiated by one of Stephanie's good friends and co workers.  Their closest friends and family were their to witness the love of these two amazing people become official.
Stephanie says she went a little crazy on Etsy getting everything for the big day and everything was just perfect.  Her non traditional dress made by Michal Negrin perfectly matched to Hershel's custom tie.  There were paper flowers adorning the lamps and tables, custom hershey chocolates, the most amazing Day of the Dead cake topper, and much much more.  Their rings were also custom made by a local jeweler from Ohio.  After the ceremony they enjoyed the cake and cupcakes champagne, and toasts before heading out for a group dinner at one of the restaurants.
To see even more, watch the video below.
XO-Jamie
Stephanie & Hershel from JamieY Photography on Vimeo.