This neon museum wedding ceremony & reception, oh boy, it will for sure go down as one of my favorites of all time.  Before I get into the details, here is Alexis & Nathan's story, as told by Alexis: "From the very beginning, our relationship was untraditional. For our first date, we planned to meet at a local high-end Italian restaurant. We didn't bother making a reservation since it was a weekday. After we were quoted an hour wait, we ended up getting McDonalds down the street and splitting a bottle of wine from a nearby corner store. We've been inseparable ever since and return to that same Italian restaurant every year for the past four years to celebrate the date that never was. Only now, we make sure to have reservations.
Nathan and I are both adventurous and love to visit kitschy, off-beat spots of a bygone era. In May 2015, we attended the Punk Rock Bowing festival in Las Vegas. I previously went to the Neon Museum with my best friend and maid of honor. I knew Nathan would love the museum. We went to a night tour and casually talked about how fun it would be to get married at the museum. Flash forward to September 17, 2016. Nathan and I spent the day hiking near Lake Tahoe at Squaw Valley. Nathan planned on proposing while we were hiking but nearly everything went wrong. Of the three potential proposal spots, nothing worked out. The waterfall site unexpectedly ran dry due to California's drought; a men's prayer group took over – and never left – the lakeside; and the trail to the summit was closed.
While I suspected he was going to pop the question while hiking, I gave up when we started heading back towards the car. Nathan surprised me that night with an Airbnb in downtown Nevada City. Nevada City is a quaint old gold mining town in the Sierra foothills. Our AirBnb was perfect – it was an old store front decked out in Asian motif, and smelled of delicious waffle cones from the ice cream shop around the corner. He popped the question before we went out that night. My response was "Of course!" We spent the night celebrating over dinner and drinks in Nevada City.
We discussed potential venues that night and the Neon Museum came up again as our number one choice for our wedding venue. I'm originally from Olympia, Washington and he is from Ft. Worth, Texas. We both live in Oakland, California so we knew the bulk of our guests would be flying in for the wedding, regardless. We really wanted our guests to have fun at our wedding and couldn't think of a better place to celebrate our relationship and marriage. It's a great representation of our relationship – untraditional, fun, and full of life."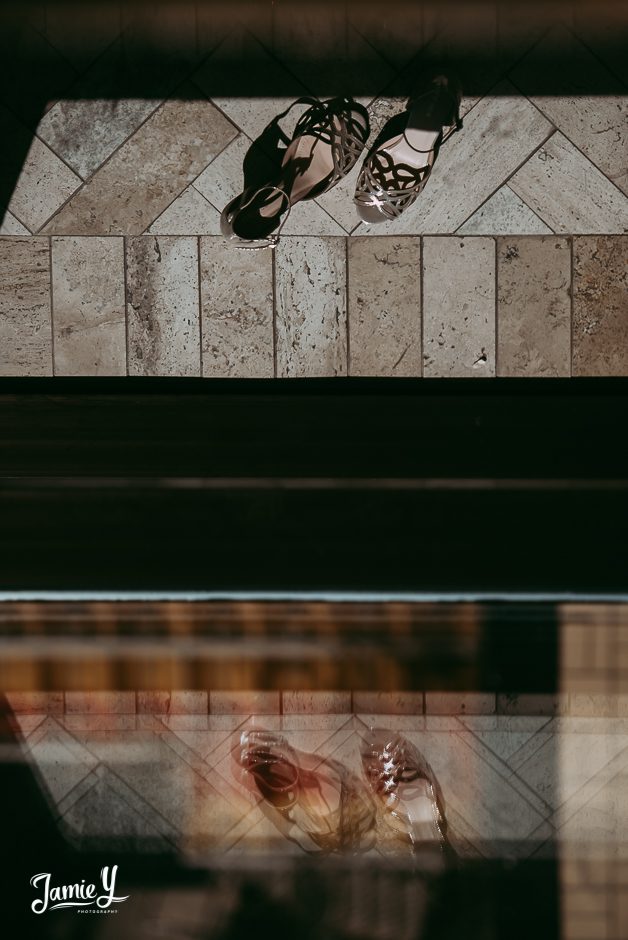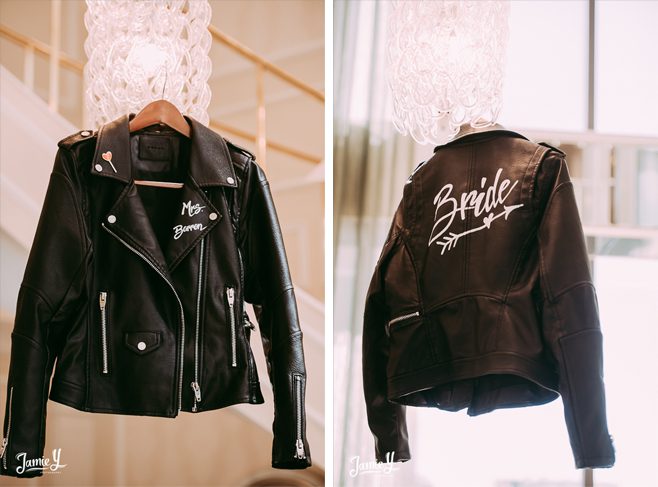 The day started out with both the bride and groom getting ready at their hotel rooms at the Golden Nugget downtown.  Alexis had a beautiful two story room with a spiral staircase, pretty much bridal suite heaven.  All of the details were just amazing.  Her princess style Hayley Paige dress was quite the show stopper.  She also had a hand painted bride leather jacket and the most adorably awesome Kate Spade purse of a stegosaurus that she added a veil to.
The first look was coordinated at Symphony Park at the Smith Center.  Which was followed with group photos and couples photos.  We headed down to the Freemont East area as well for some photos in front of all the awesome art murals.  Alexis envisioned gold and lots of color for her wedding and that is exactly what we got at these colorful locations.
The ceremony and reception were held in the main lot of the Neon Museum.  After the ceremony, a cocktail hour was enjoyed by all as the tables and decor were set up for the reception.  The Neon Museum is such a great outdoor venue for a wedding.  With the gorgeous weather of October, it couldn't have been a more perfect evening.  Some fun additions to the reception were the Snap Bus photo booth and Twirl, a mobile cotton candy station.
Everyone had an amazing night and it was clear how much the bride and groom are loved and adored by all of their friends and family.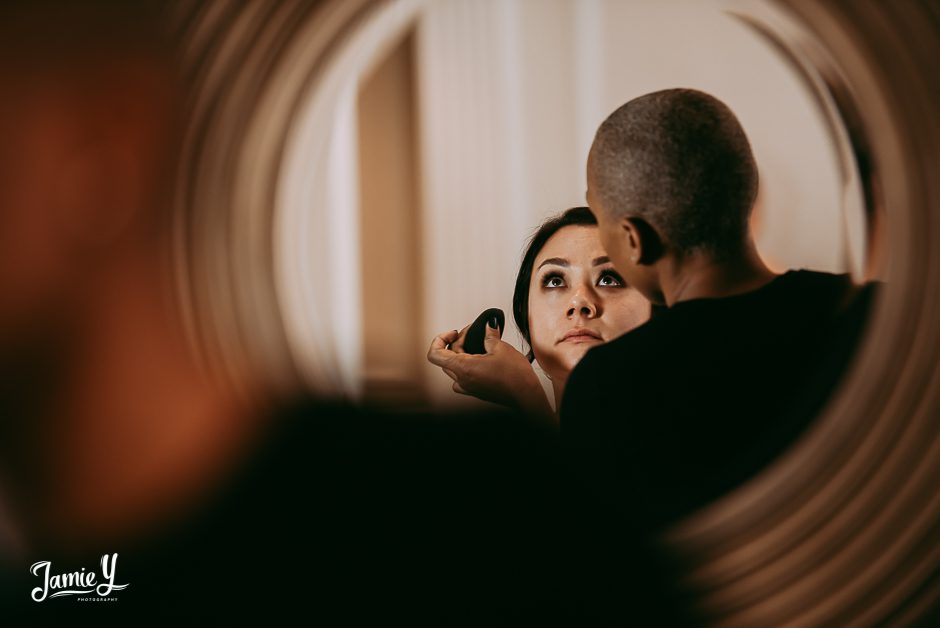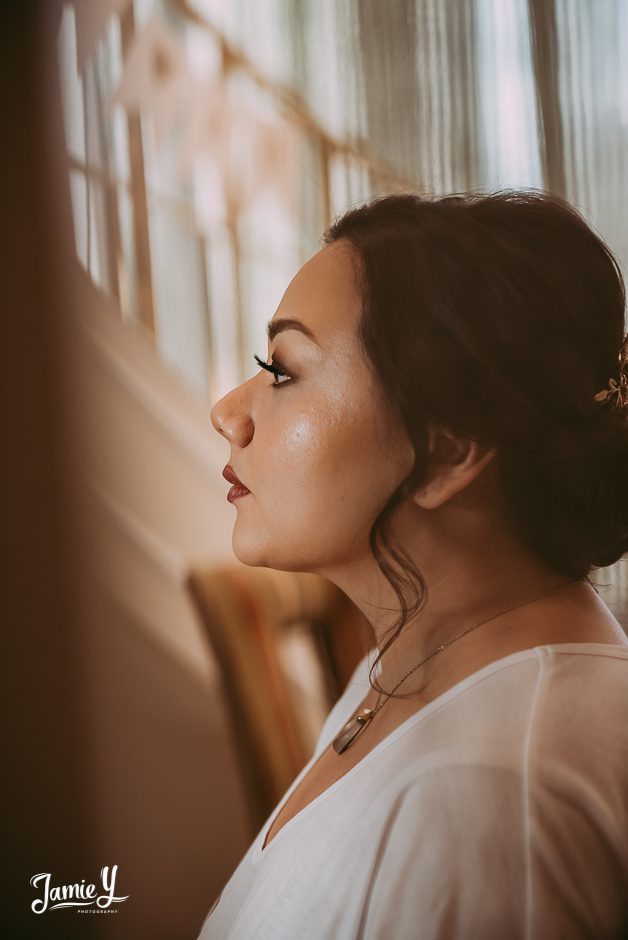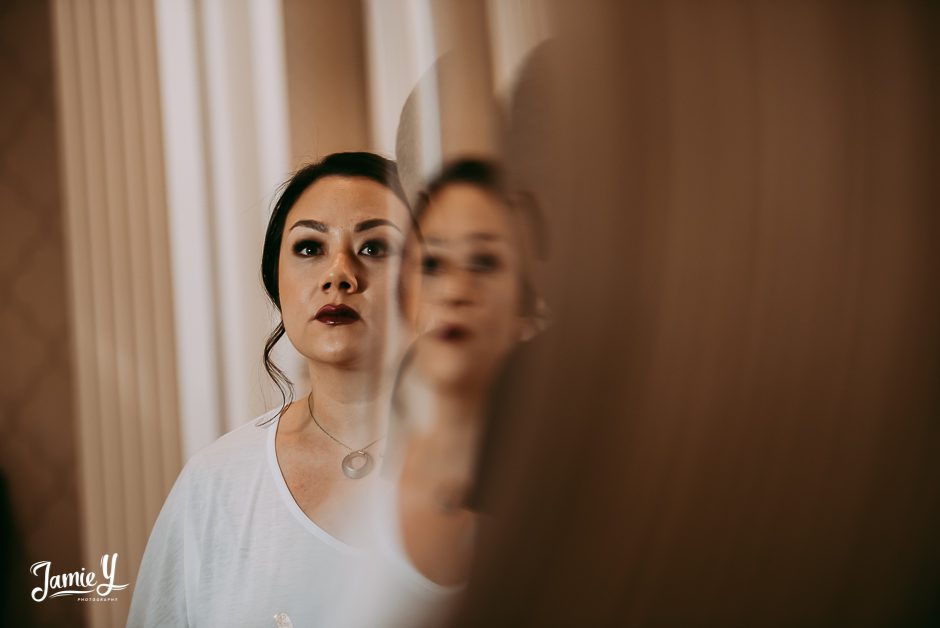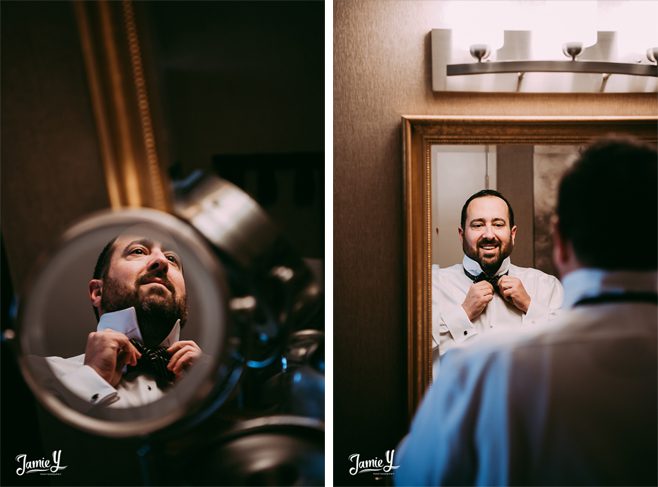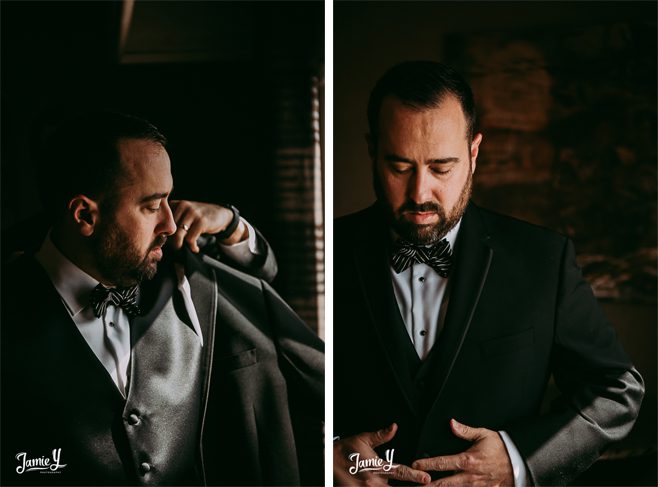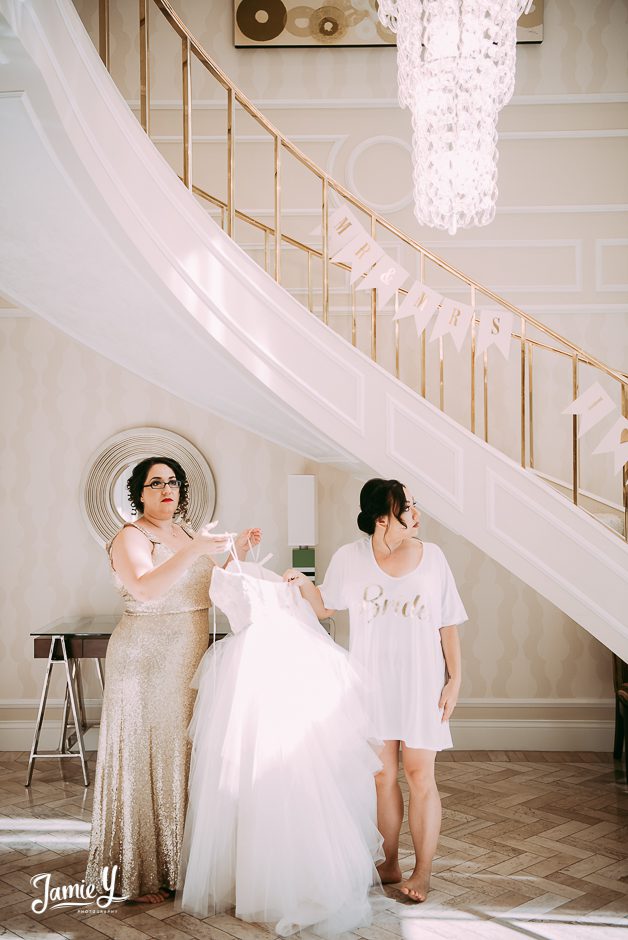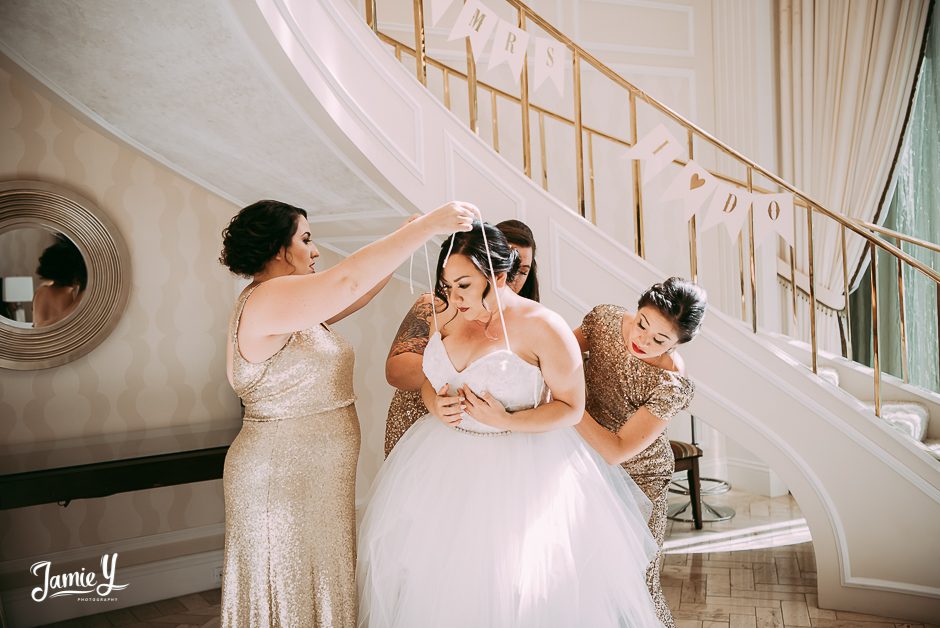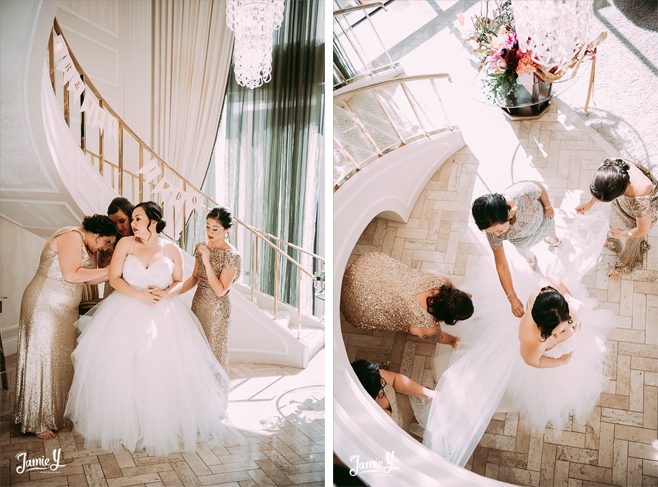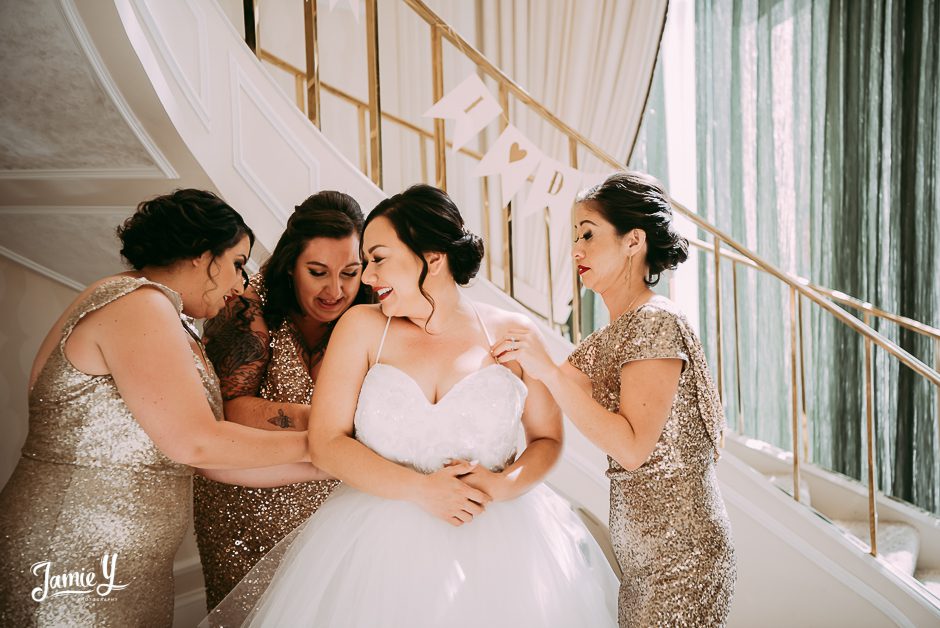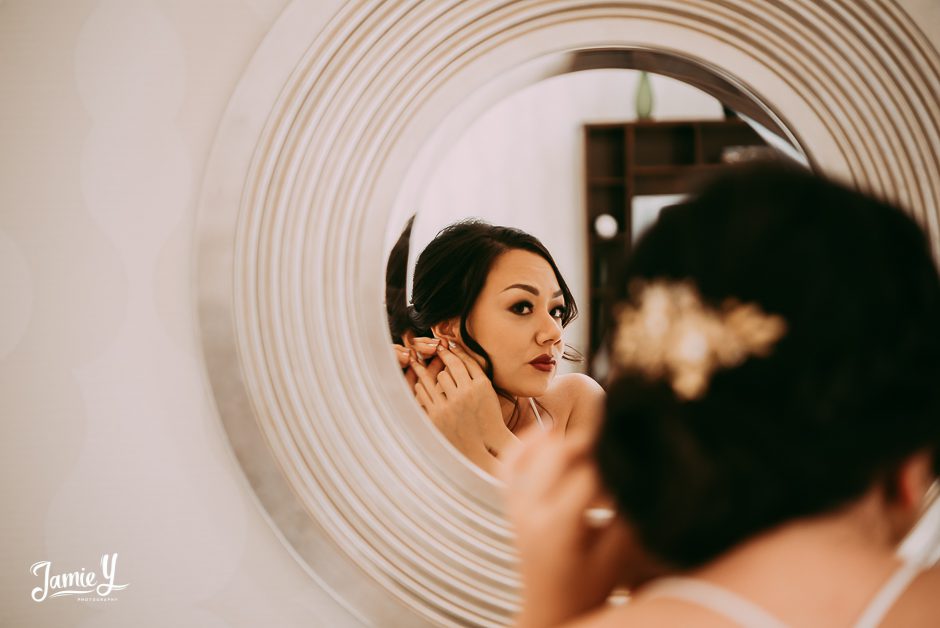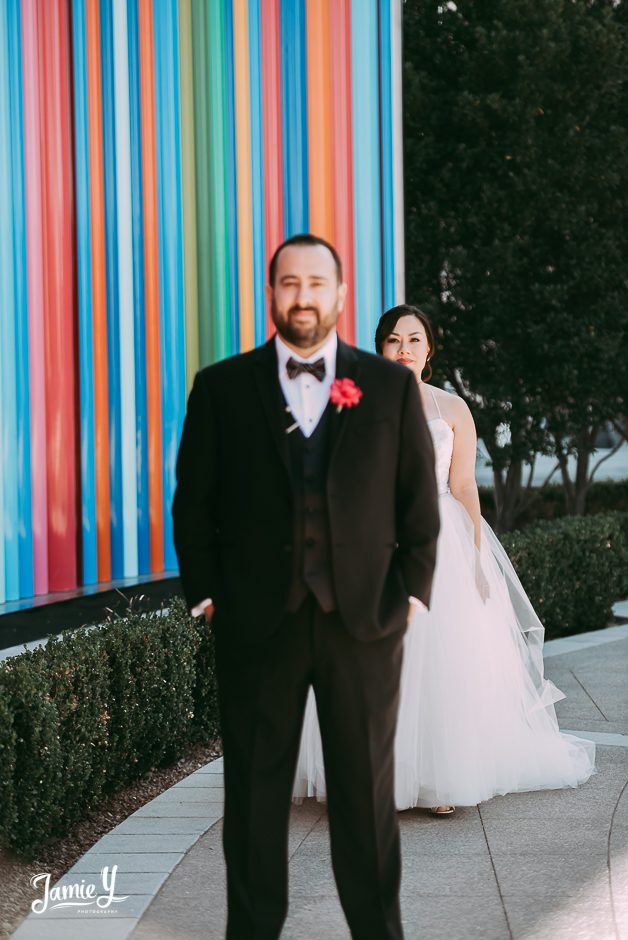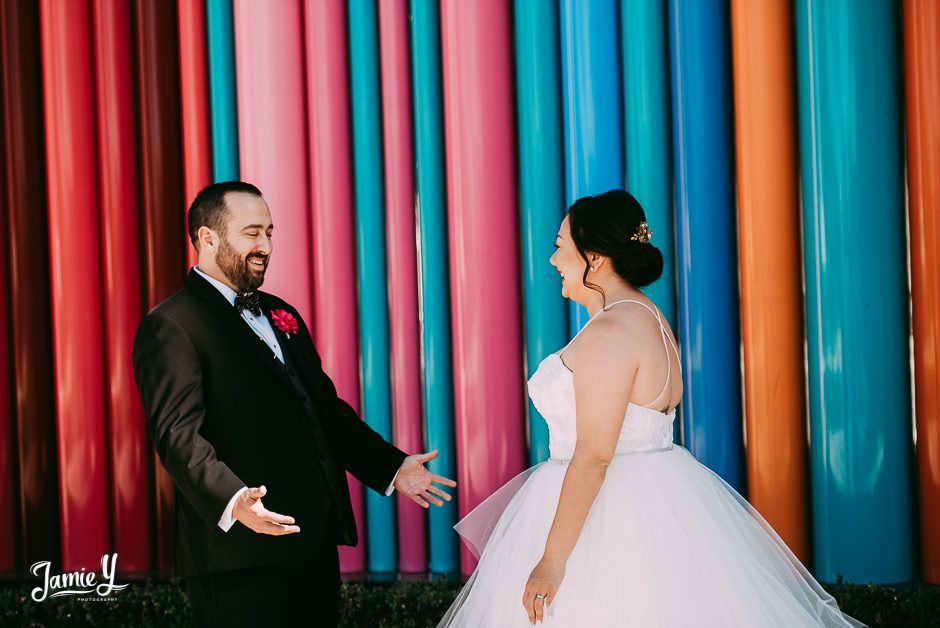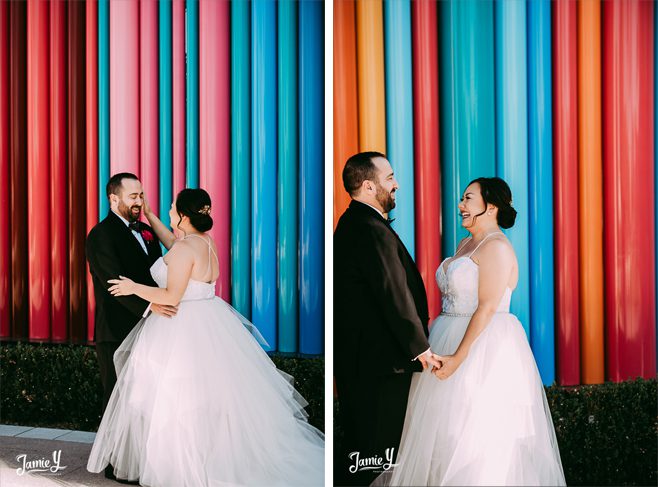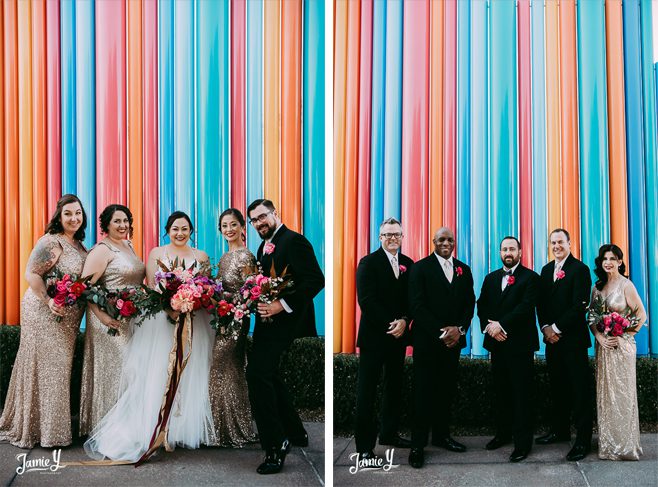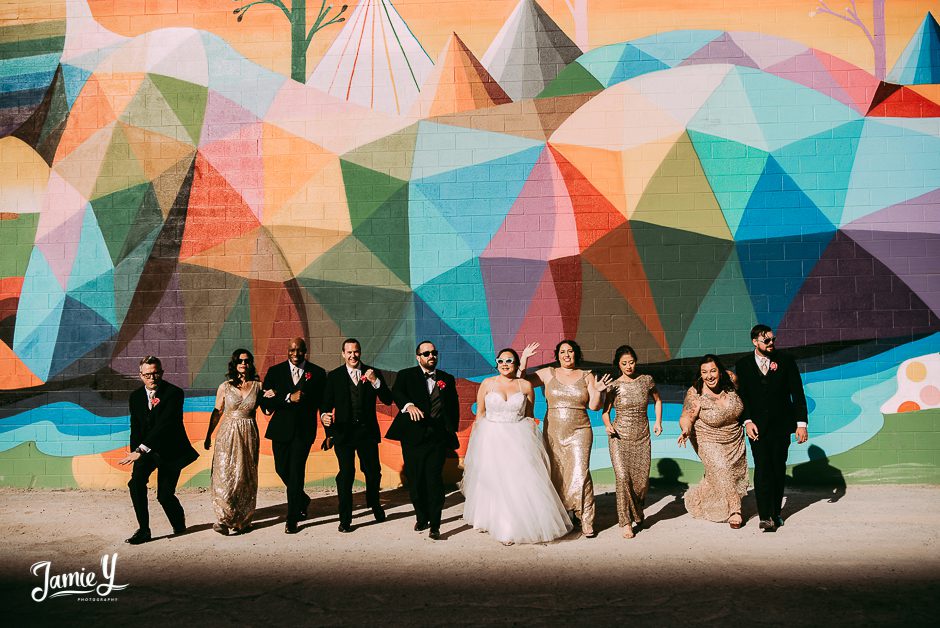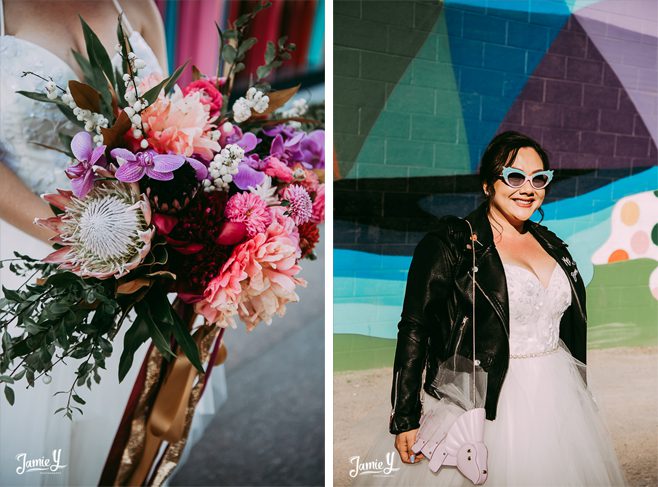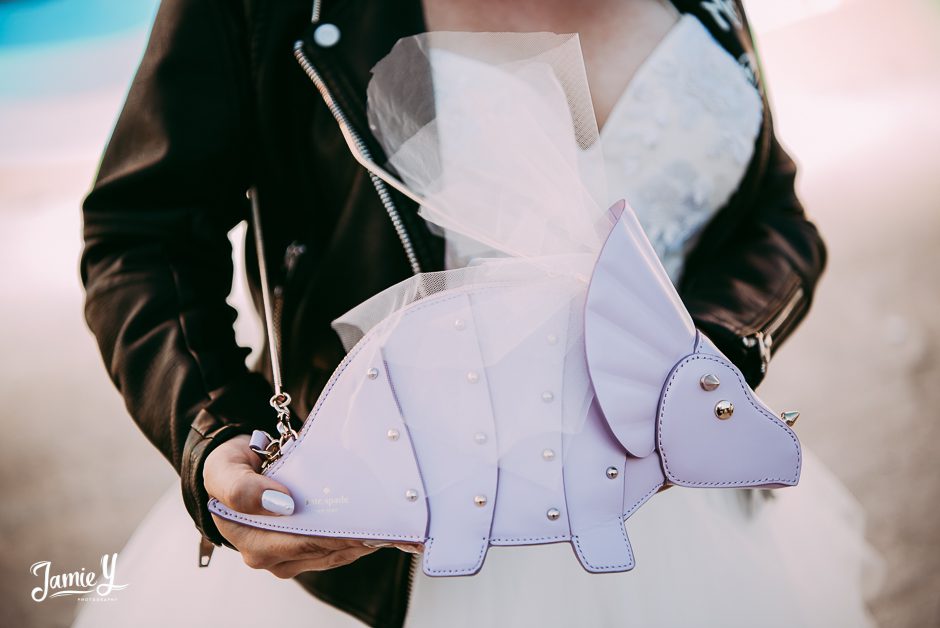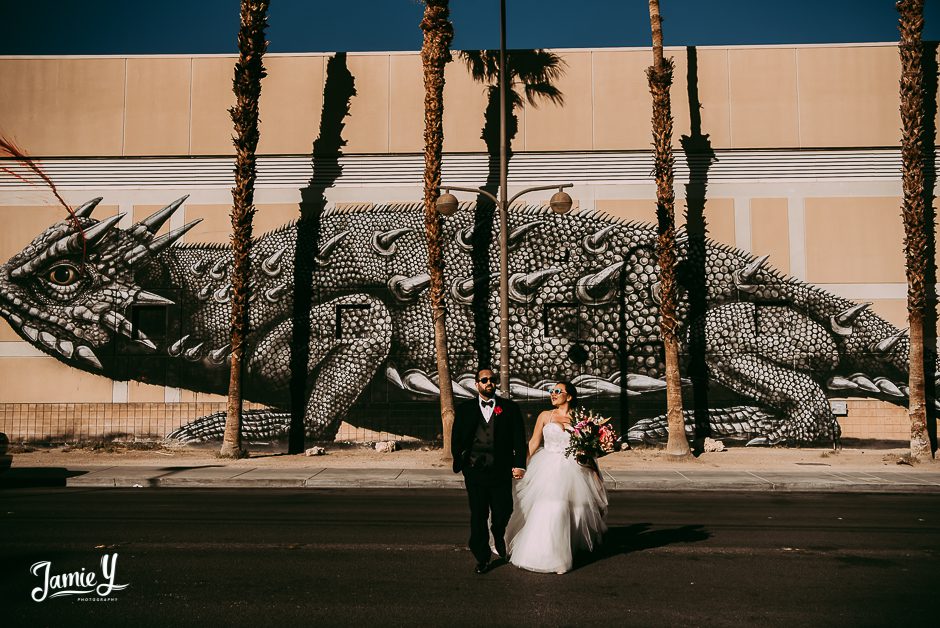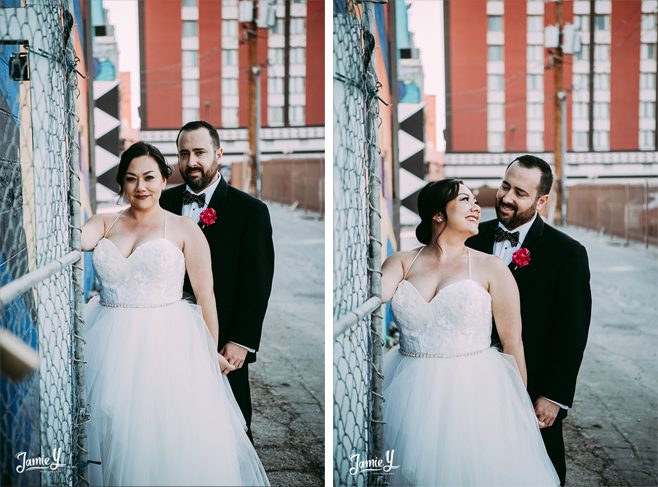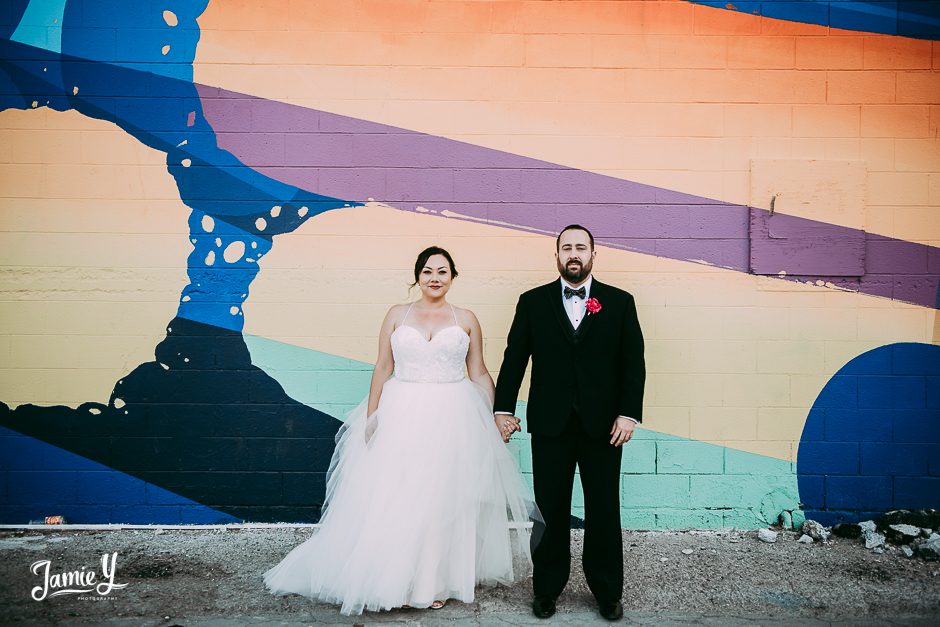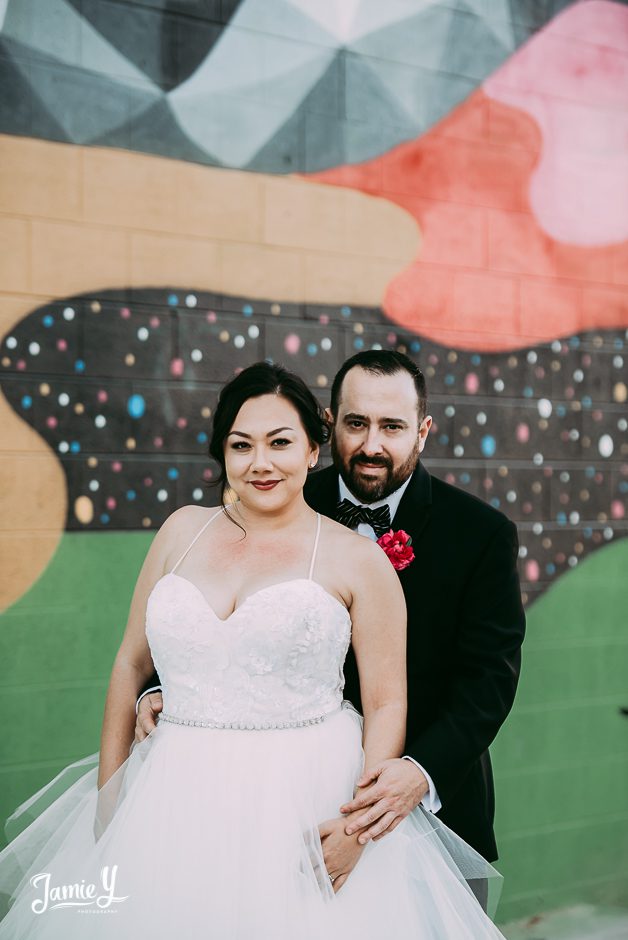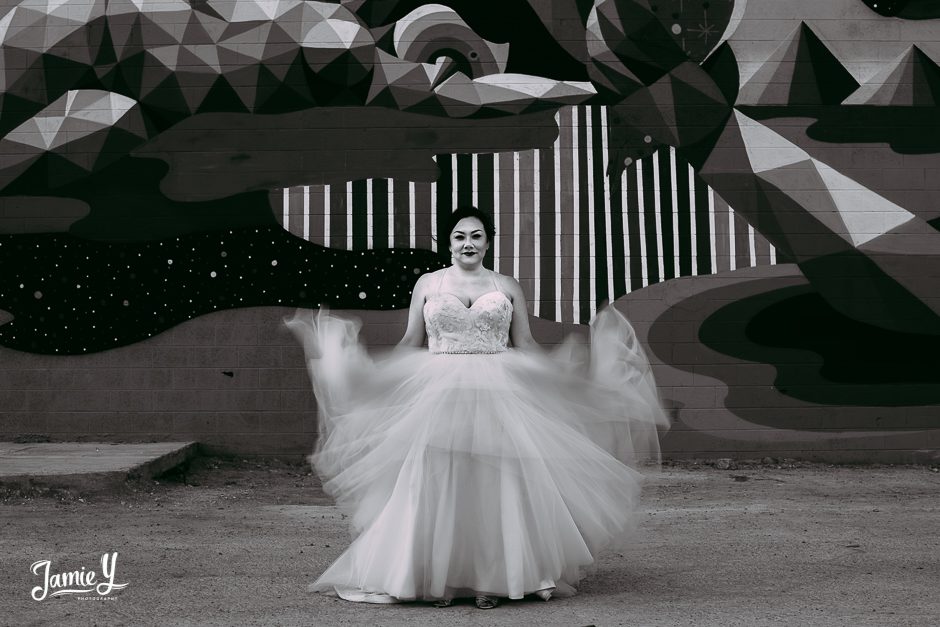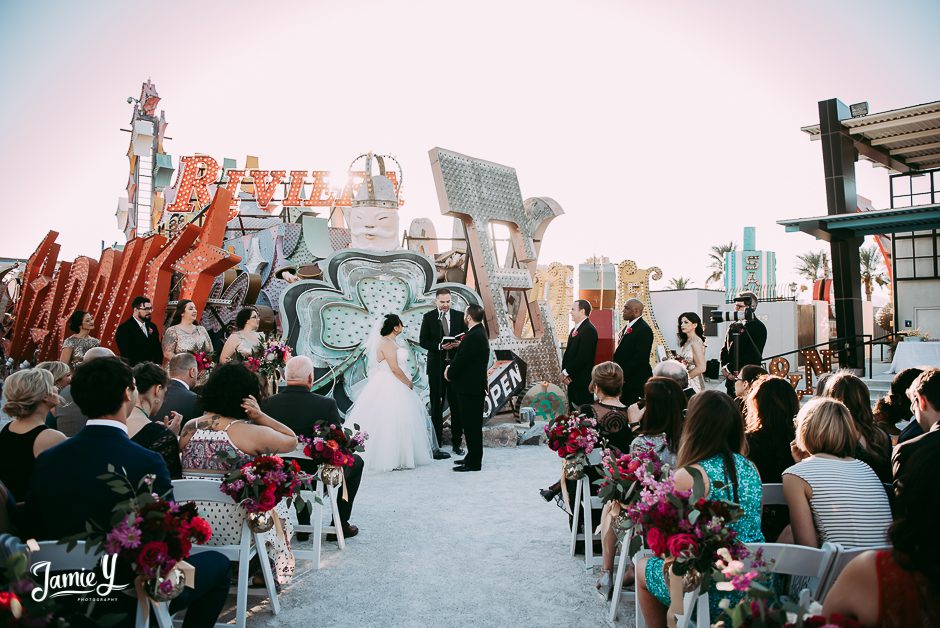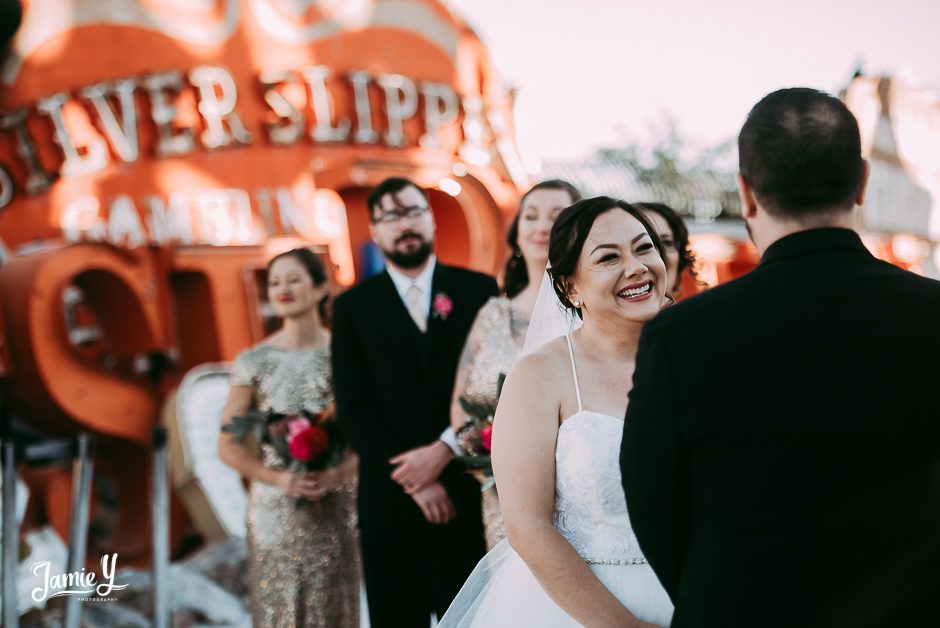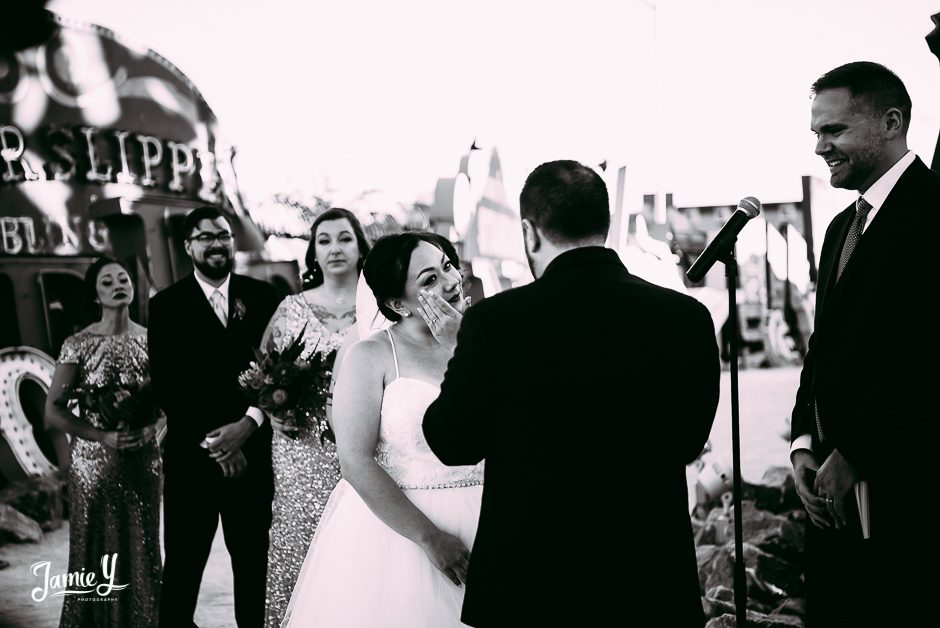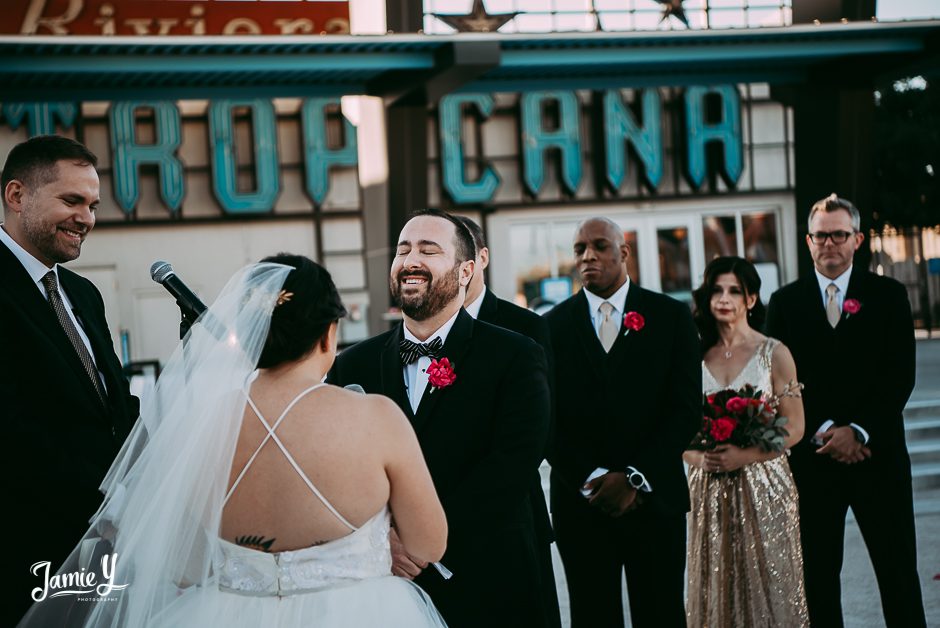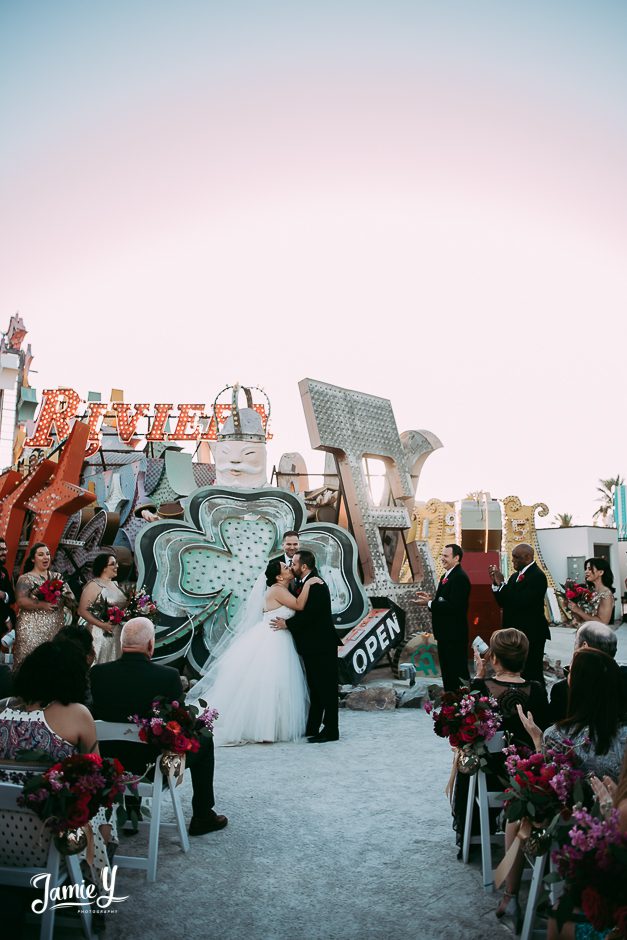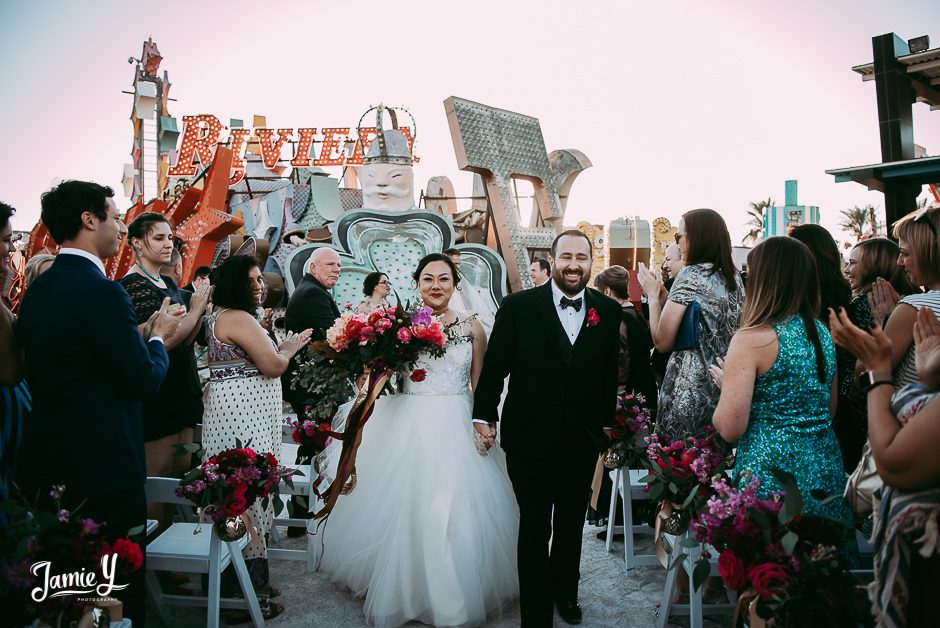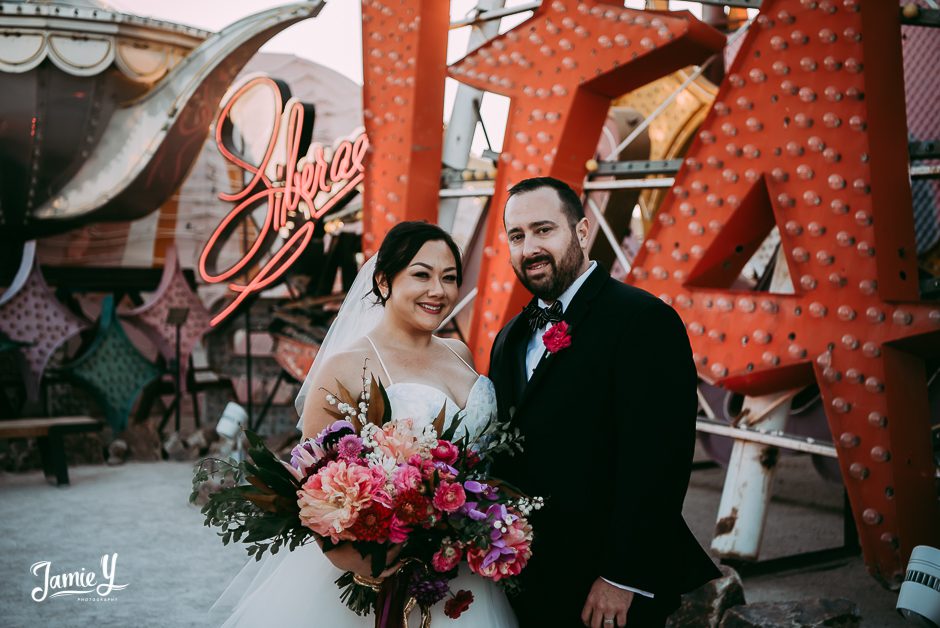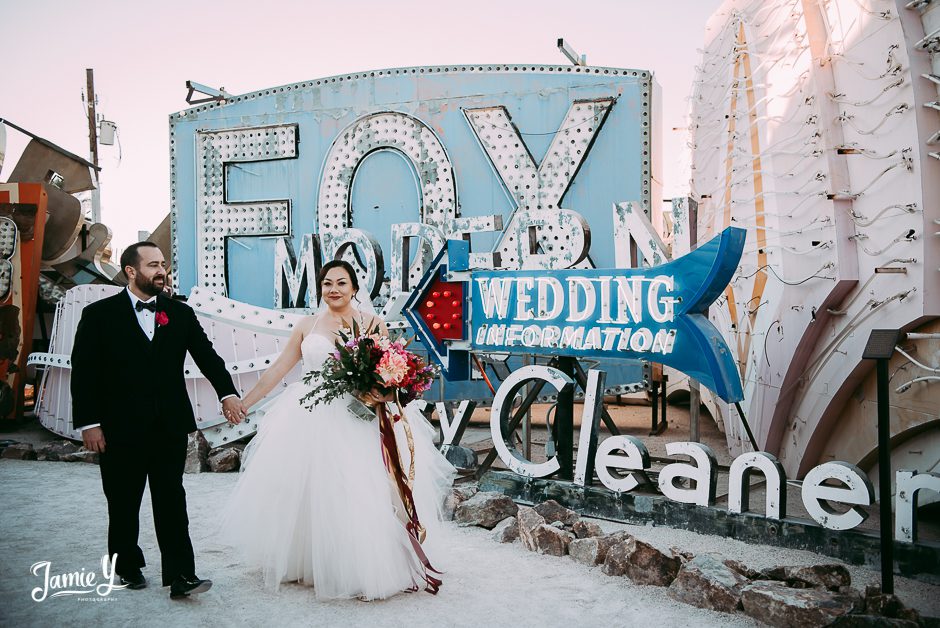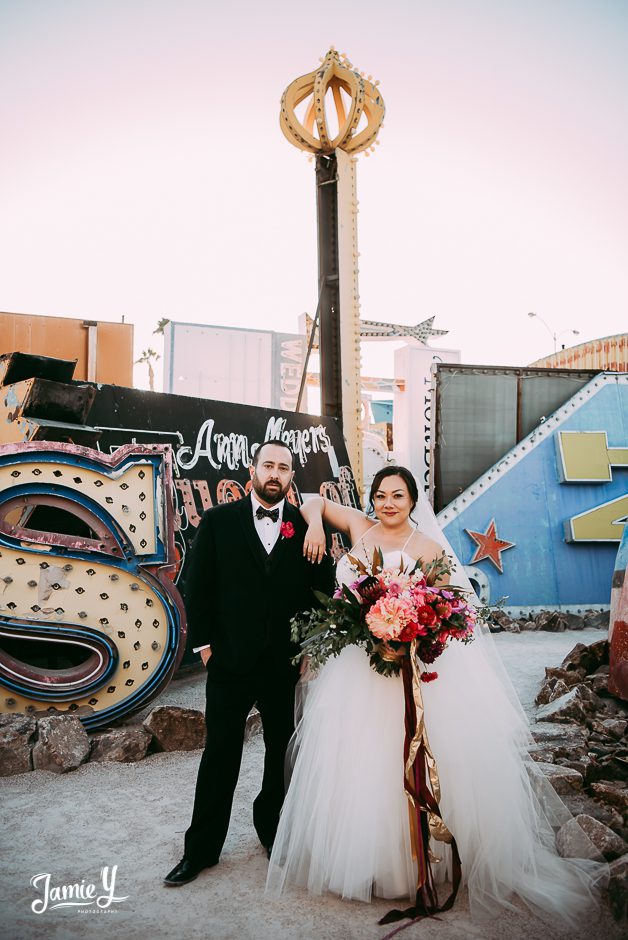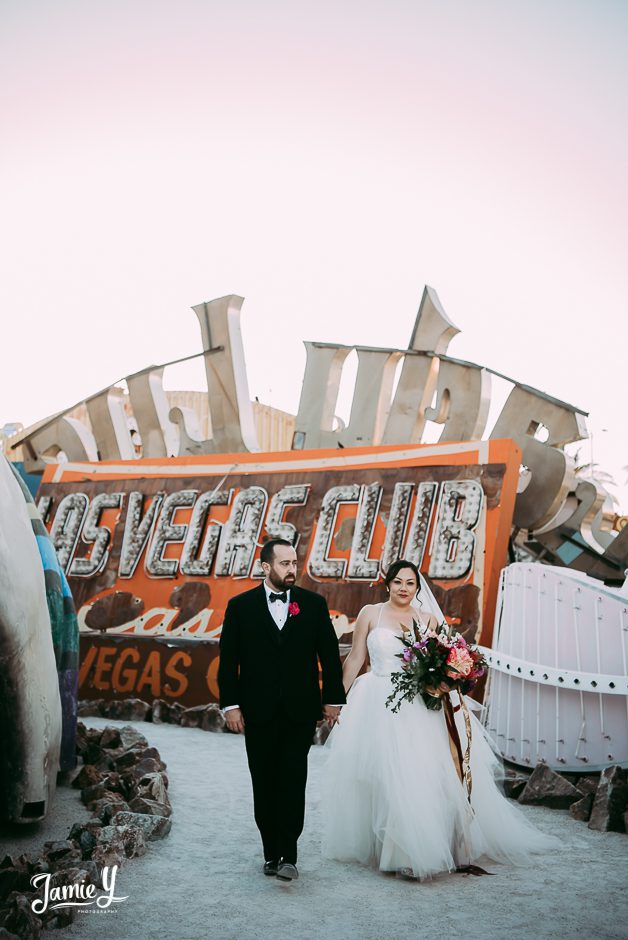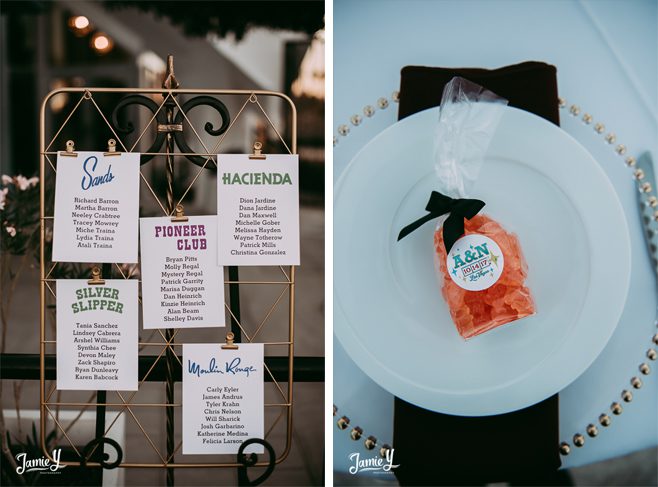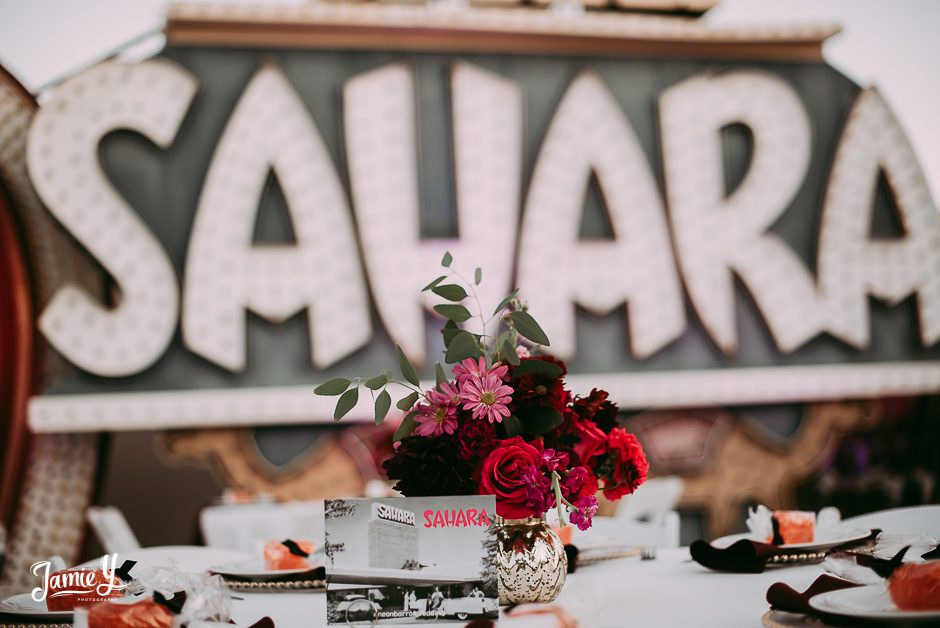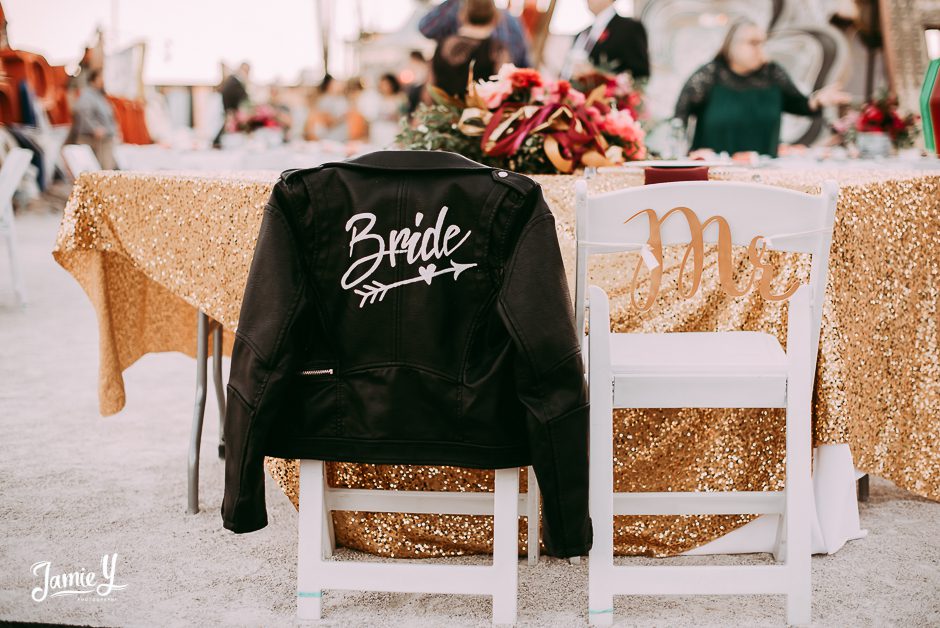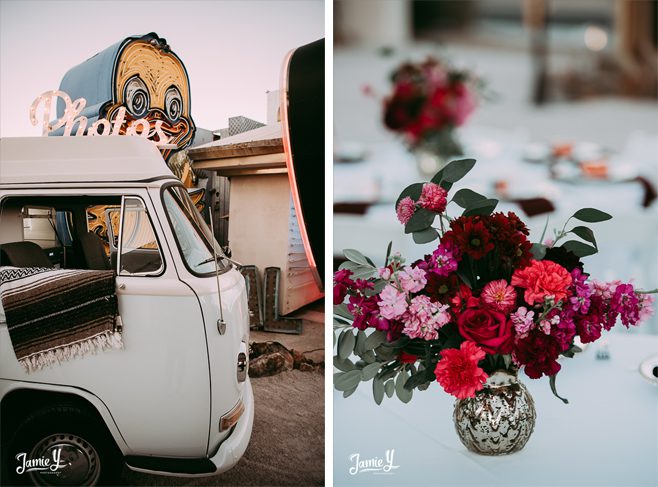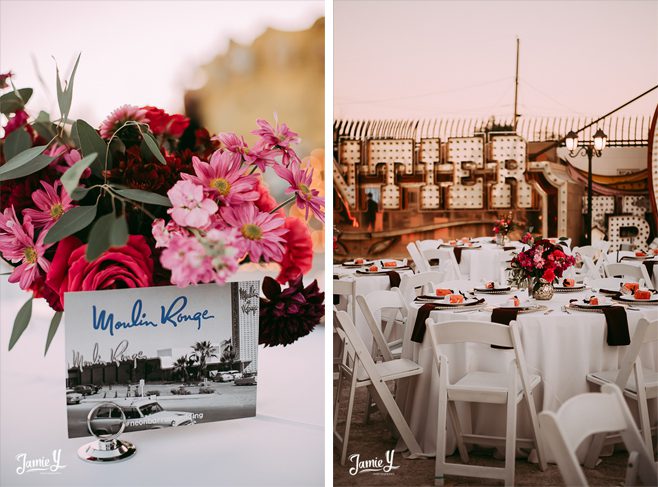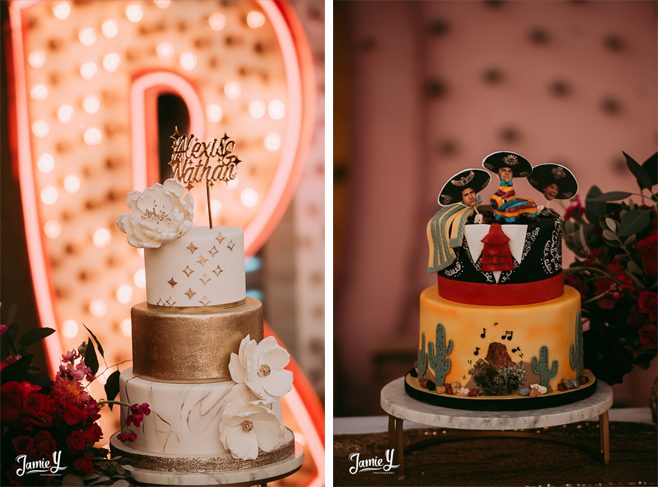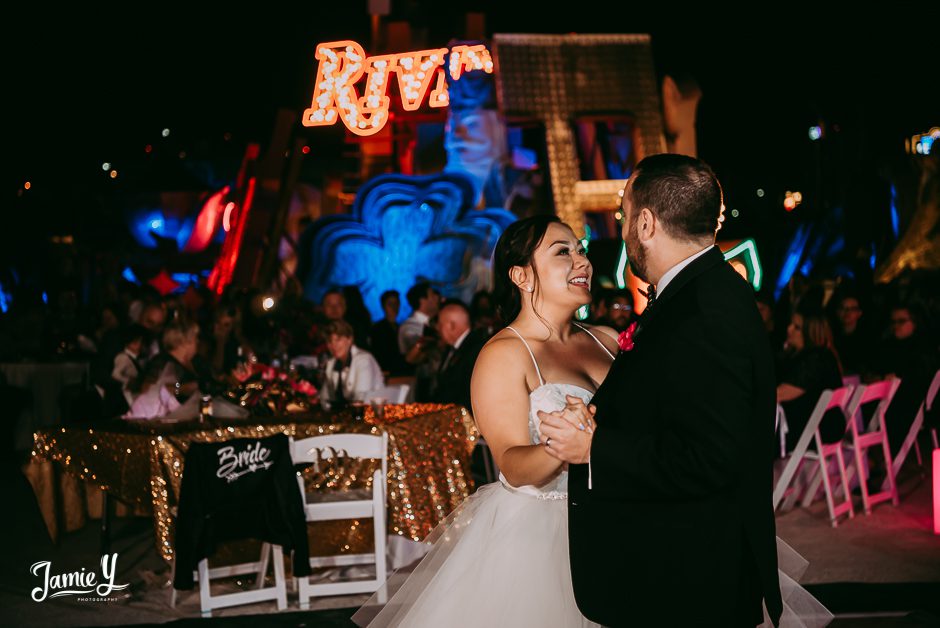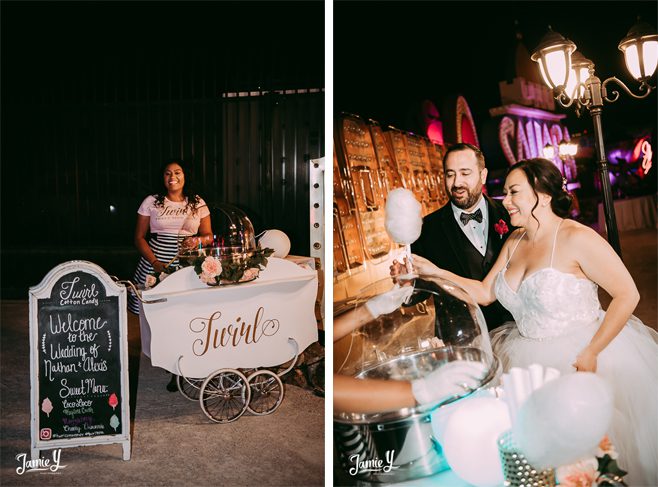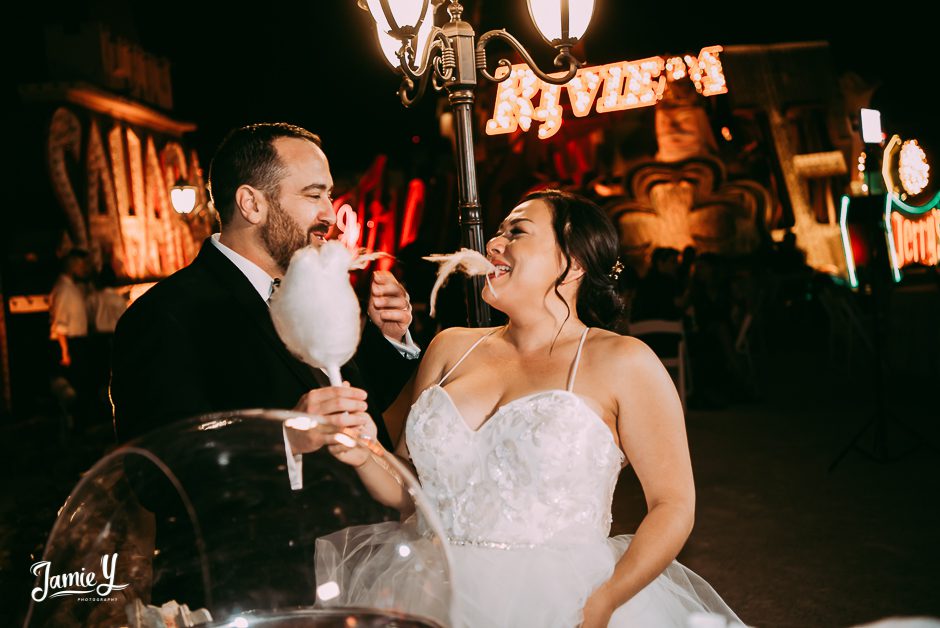 I was truly so honored to have been the photographer for this momentous occasion.  Alexis & Nathan are pretty damn amazing.
The all start cast of vendors made this wedding just as fabulous as Alexis & Nathan envisioned.
Planner:  Paulina Clute Events
Videographer: Lighten Films
Photographer: Jamie Y Photography
Venue: The Neon Museum
Florals: Mylofleur
Hair & Makeup: Amelia C & Co.
Catering: Renaissance Catering
Lighting: LED Unplugged
Cakes: Peridot Sweets
Cotton Candy: Twirl Cotton Candy
Photo Booth: The Snap Bus
To see even more, watch the slideshow below.
XO-Jamie
Neon Museum Wedding Ceremony & Reception
Alexis & Nathan from JamieY Photography on Vimeo.