Being a wedding photographer in Las Vegas, I have seen ceremonies held in a variety of locations.  Back when I got married, I pretty much thought the only option was a chapel or an all inclusive location where the ceremony and reception were held at one place.  A lot of times this may be the best option for a wedding that has a large number of guests or for a bride who wants the process to be simple and easy.  Chapels can be great and a perfect fit for many people, but one thing that many brides and grooms are not aware of is that most chapels in Las Vegas will not allow your hired photographer to take pictures of your ceremony.  If having your chosen photographer capture this important part of the day is a priority for you, a chapel wedding may not be the best choice.  Also, if you are having a small elopement or want something unique and different for your wedding, you have many options besides your typical chapels.
The wedding above was held at the Nelson Ghost Town just outside of Las Vegas.  It was an intimate elopement with two guests.  The bride and groom wanted portraits taken at Nelson, so we were able to photograph their portraits right after the ceremony.  Nelson is a great place to hold a wedding.
For both of the above Nelson ceremonies, Angie with Peachy Keen Unions was the officiant.  She is my favorite officiant that I have worked with in Las Vegas and I thought she would be the perfect person to interview regarding this topic.
1. First how about you introduce yourself and give a brief explanation of what you do and how
you got started in the field.
Hi everyone, it's Angie from Peachy Keen Unions!
I became a wedding officiant after the planning of my own wedding. I didn't feel comfortable
with a stranger blessing my marriage that merely read from a script, asked one or two questions
about my relationship, or was distracted by their own beliefs. In Vegas I encountered a lack of
creativity and open beliefs system of the officiants, which soon had me representing those who
march to a different beat! Through this, I discovered a passion for representing the everyday
love stories amongst us.
2. Next can you list a few of your favorite places in Las Vegas for wedding ceremonies and/or
elopements and why you love them.
As industry professionals, we are always tasked with offering ideas for couples, especially when
they ask "Where should I have my ceremony?" Vegas is famous for its Strip lined with walk-in
chapels and Casinos offering cookie-cutter packages. But if it's intimacy you are looking for, my
favorite is the Private Dining Room at Mozen located within the Mandarin Oriental Hotel. You
can't get more private than this and the staff offer supreme service. They dim the lights and
transform a small room into a classical ceremony spot including a candle lit altar that begs for an
acoustic guitar. The intimacy of the atmosphere alone is a tear jerker!
Many destination brides arrive with the plan of having a simple family-only ceremony followed
by dinner. A recent discovery is the restaurant Sunset and Vines over in Lake Las Vegas. It's a
great location to show guests the diversity of our city and management provides ceremony
space within the dining area or on the waterfront patio. Oh, and I must mention that they have a
nice staircase for a bride's grand entrance!
3. What are some challenges in choosing a unique non-traditional ceremony location?
Unconventional spaces do not allow for a couple to walk in and have everything at their
fingertips. It takes leg work to contact the owner of a awesome graffiti wall or to call the State
Park Department and apply for a permit to wed at Red Rock. If your venue is the Historic Fifth
Street School, Eldorado Canyon, or an avant-garde abandoned lot, you must be willing to put in
effort to make it a prime experience – or hire someone to help you! Hmm…how will we plug in a
mic? How will we light the area at dusk? I am an officiant yet I also work in ceremony design to
assist couples with these challenges.
4. Is there a place in town that you have been wanting to officiate a ceremony at that you
haven't done yet?
YES! Will someone PLEASE hire me for a Neon Boneyard Wedding!?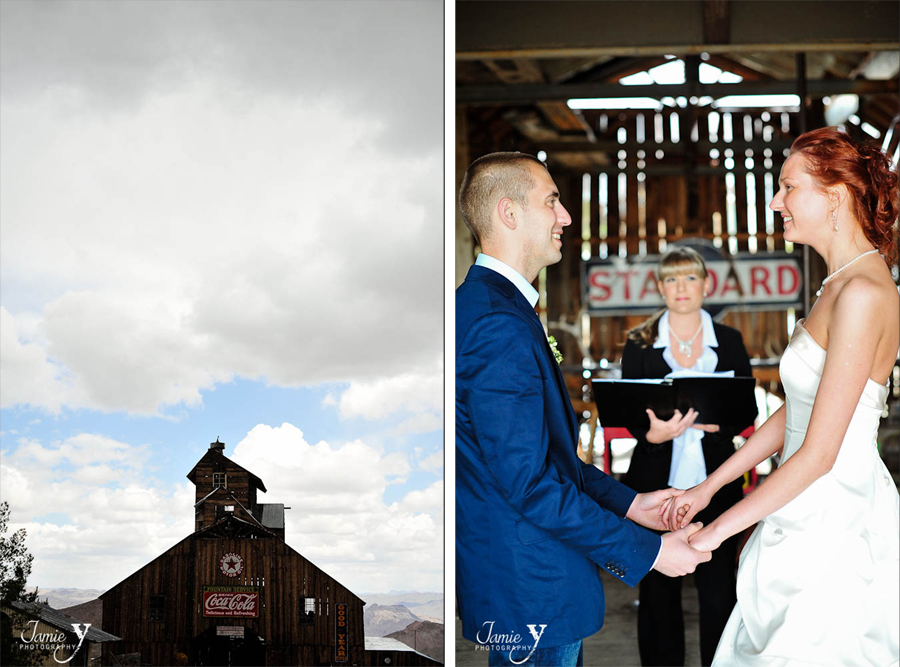 As you can see from her fabulous interview, the sky is the limit when choosing where to have your special wedding ceremony.  Sometimes, it may be a little extra work to get that special location, but you can always hire Angie or another wedding planner to help with this part of the planning process.
Below are a few of my other favorite locations for wedding ceremonies.  One of them was a beautiful yacht on Lake Las Vegas and another was a balcony on one of MGM's terrace suites overlooking the las vegas strip.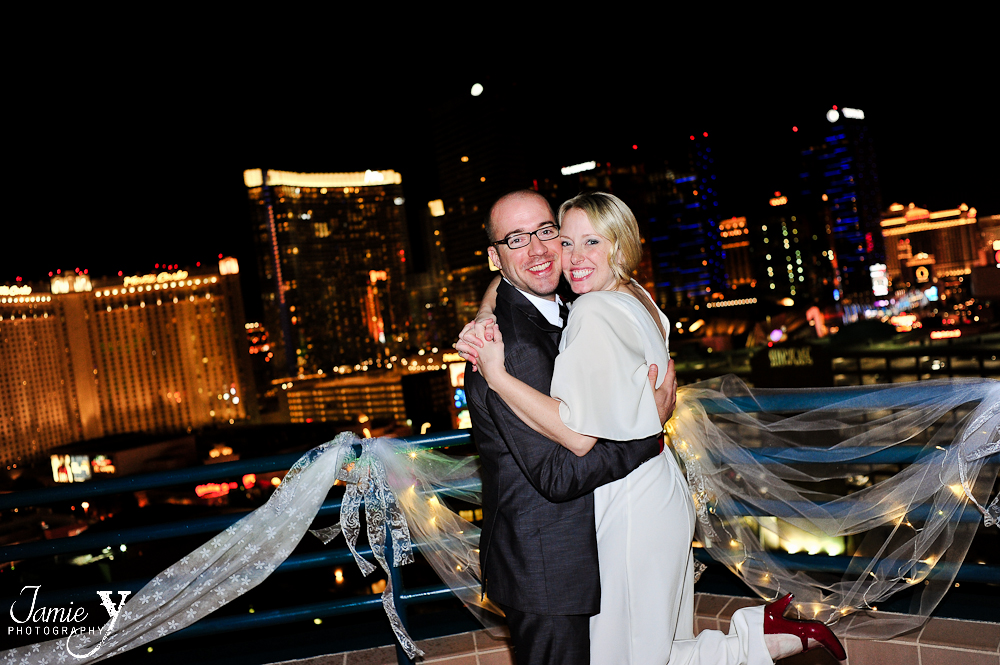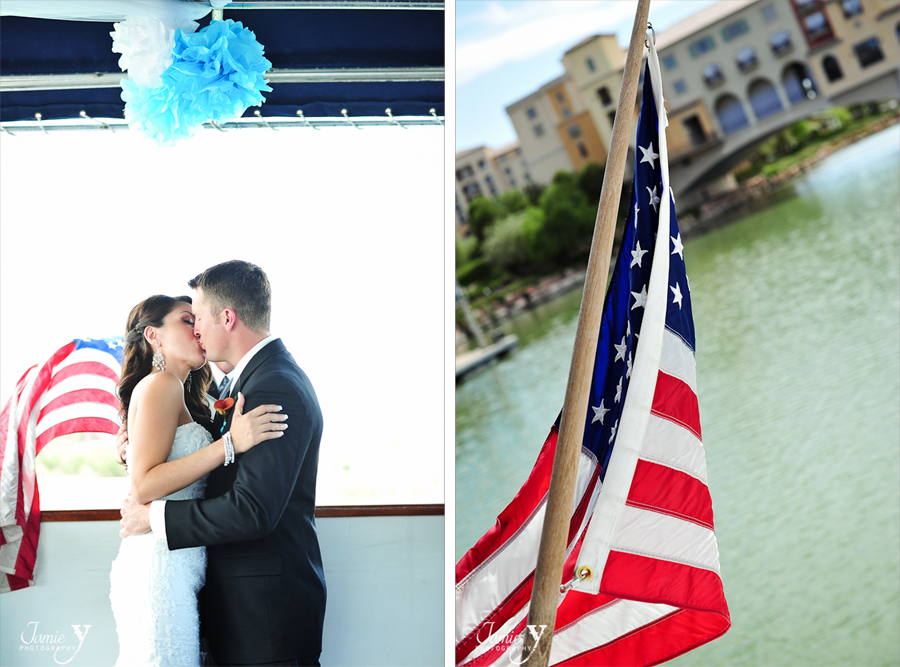 I hope you found this post helpful and perhaps it may even inspire you to do something a little different and more you.
XO-Jamie