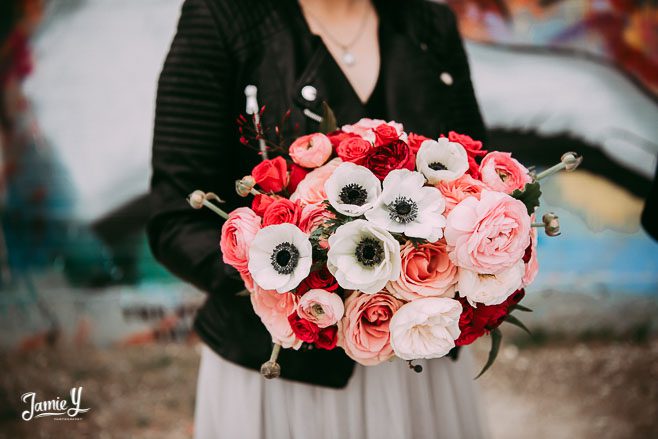 Last week I had the absolute pleasure of photographing Megan & Will as they said "I do" in front of an amazing art mural in the arts district of downtown Las Vegas in front of a few close friends and family.
Their story as told by Megan: "Will was born & raised in Brighton, England. I was was born & raised in Pittsburgh, PA, and living Baltimore, MD and attending music school at the time we met. We met in 2000 in an online chat room (remember when those were a thing?!) discussing electronic music. We remained close online friends for 9 years before meeting in person in 2009 when I visited England for the first time on vacation with my then-husband. We hit it off so well we spent several days together in Brighton and London seeing the sights, meeting Will's friends, and having fun. We met up in Europe two more times over the years – 2012 in Amsterdam, and 2015 in Rome. In 2016 we both went through sudden & dramatic separations from our respective significant others. We leaned on each other via our strong friendship. We've been inseparable since early fall and Will moved to Portland in December. We've never been happier or more in love and are so looking forward to becoming husband & wife!"
I met up with Megan and Will in the arts district just before the ceremony.  They chose the hands in the shape of a heart art mural for the backdrop of their ceremony.  Megan looked very rocker-chic in her bridal outfit.  She had purple in her hair and black eyeshadow with a black birdcage veil.  She wore a grey tulle skirt with a black leather jacket and black heels which she later changed out for some chucks.  Will wore a black suit with black doc martins.  His suit had a floral pattern which looked pretty cool.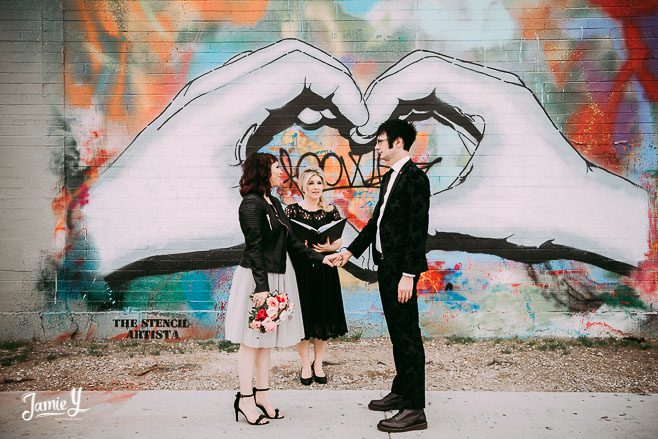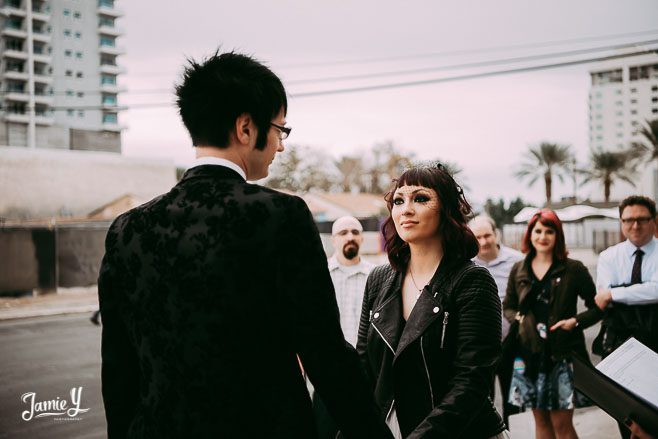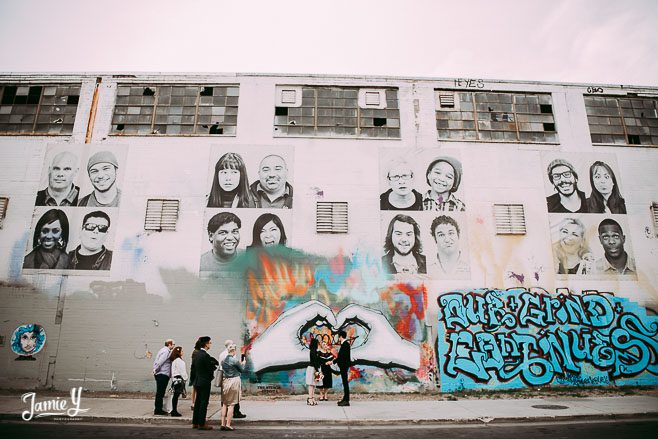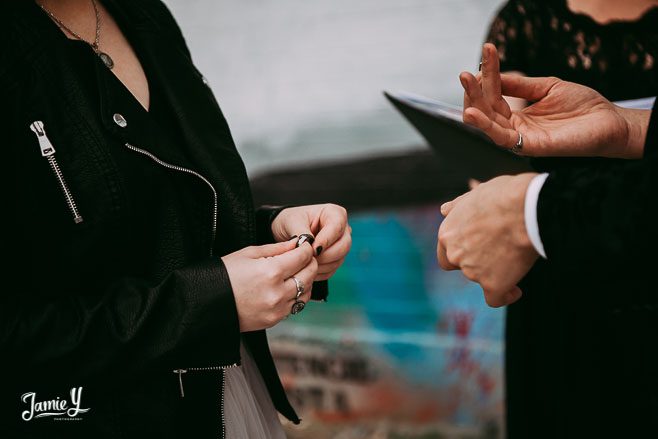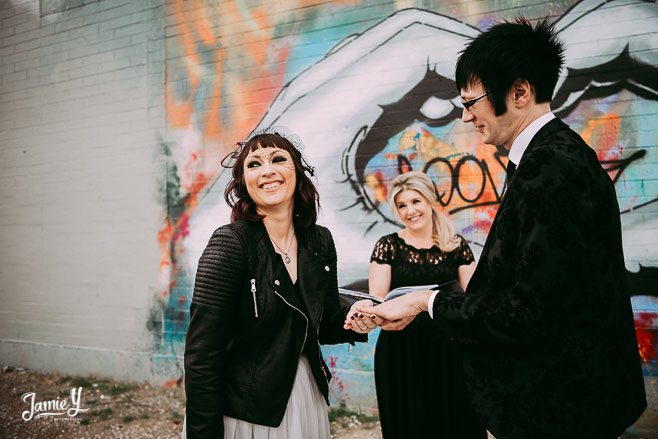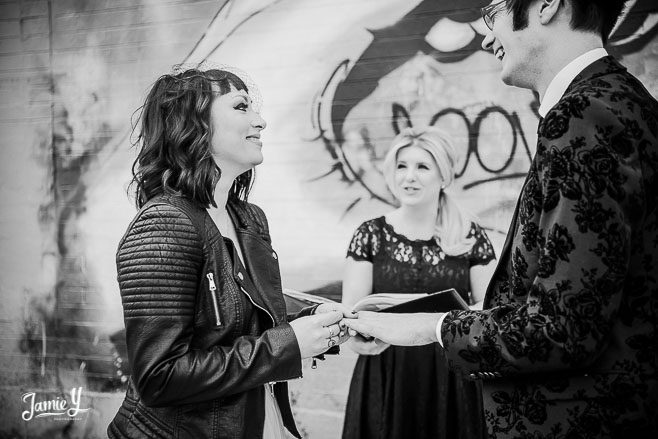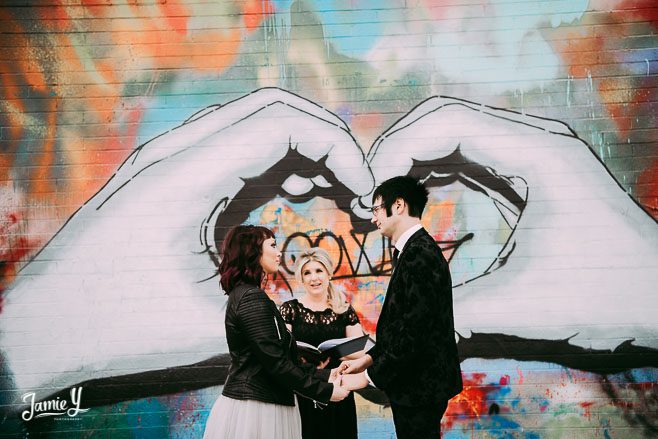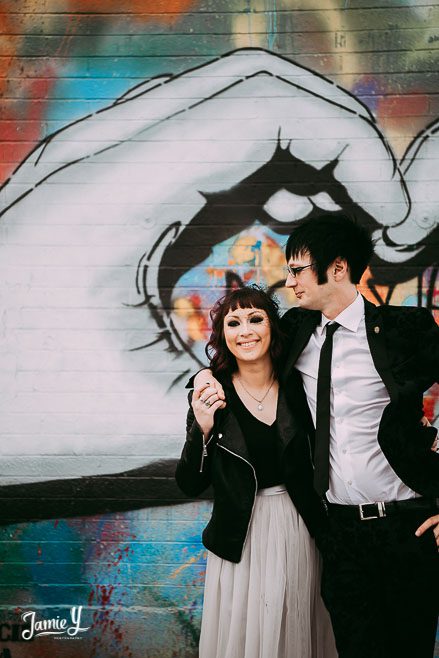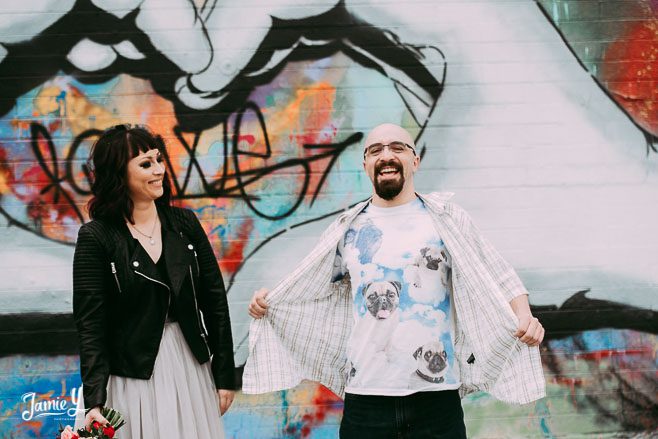 Megan has a pug dog at home and her brother wore his pug shirt just for her.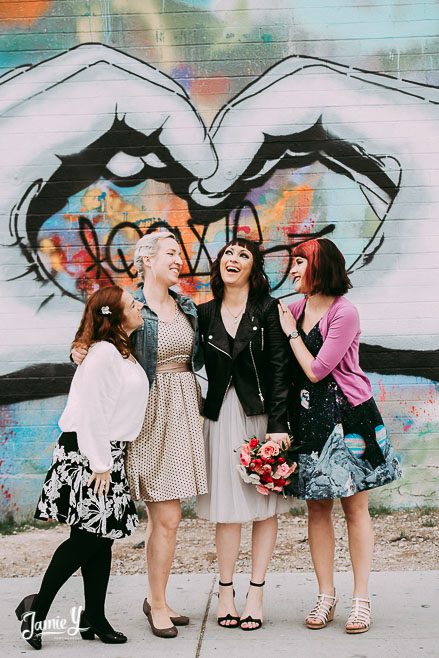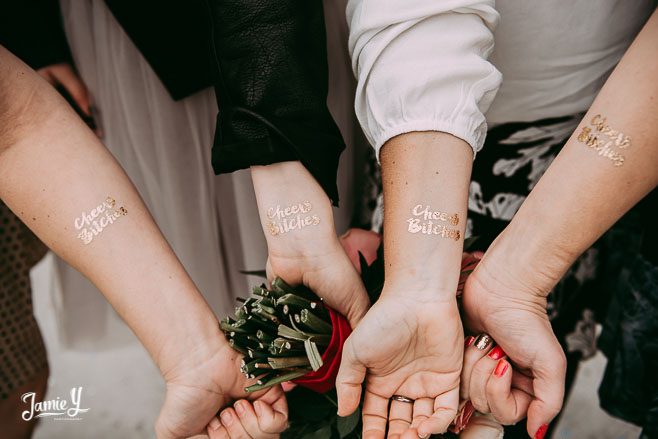 All the guests had gold metallic tattoos that said "Cheers Bitches".  So fun!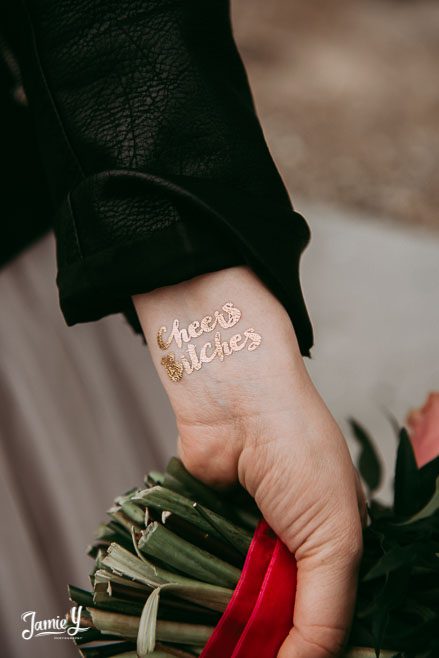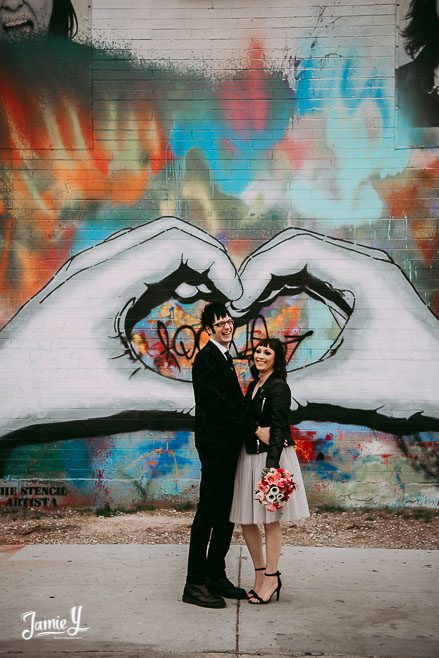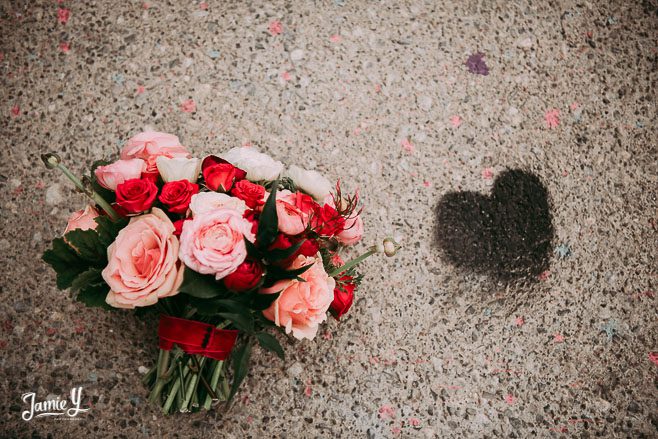 After the ceremony, the guests took off to the downtown Freemont area and me and the newlyweds walked around the arts district for lots more portraits among all of the amazing art down there.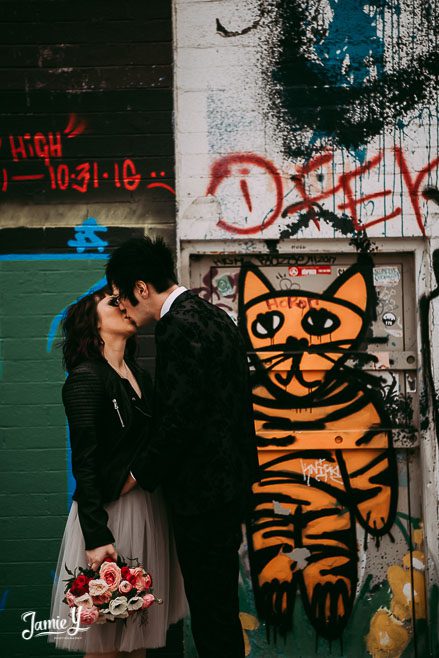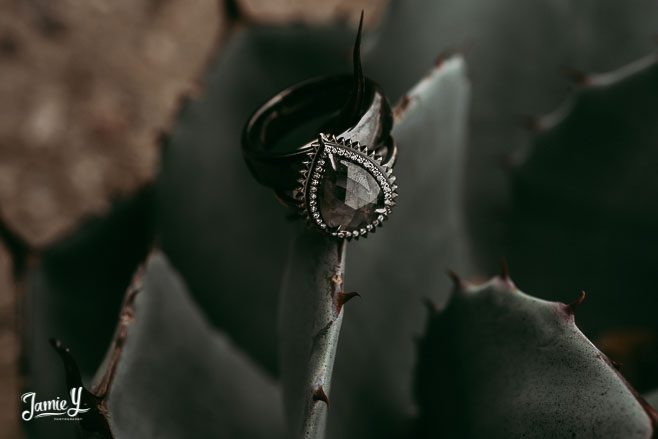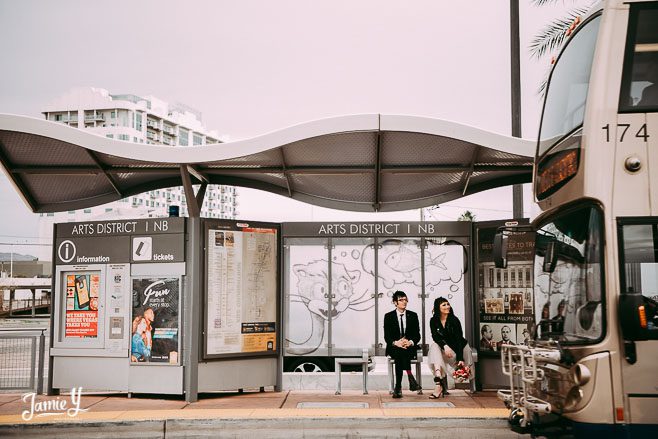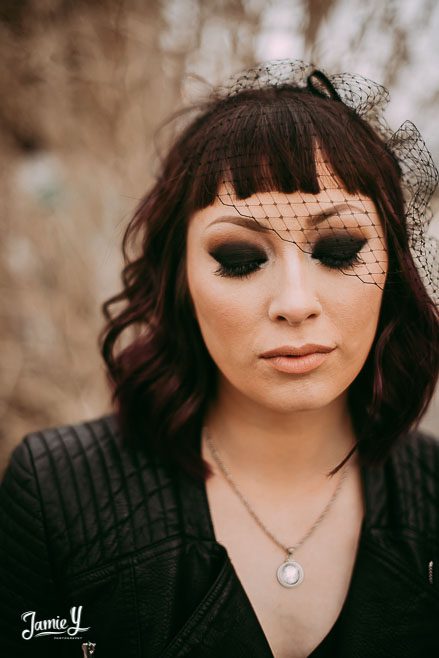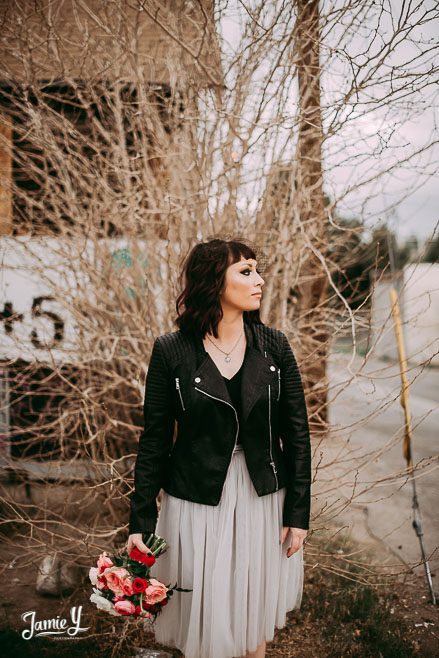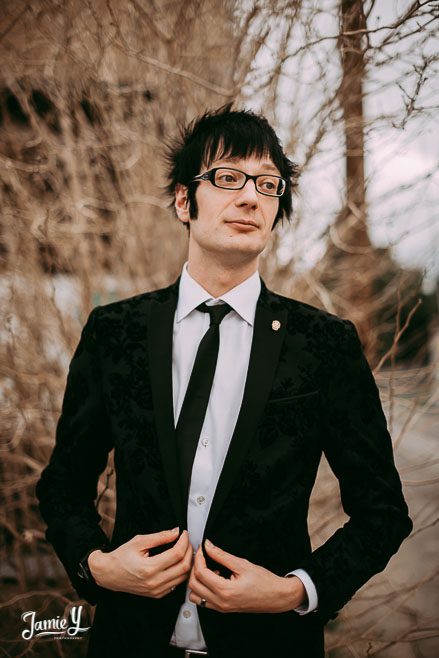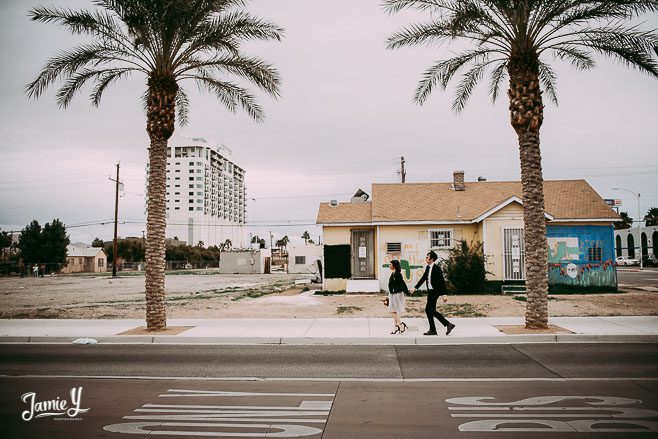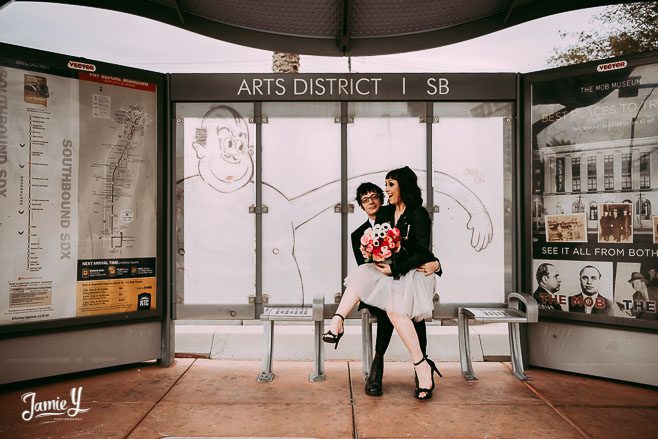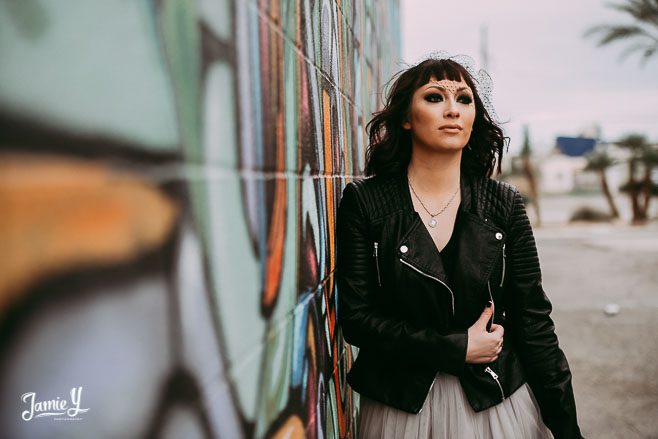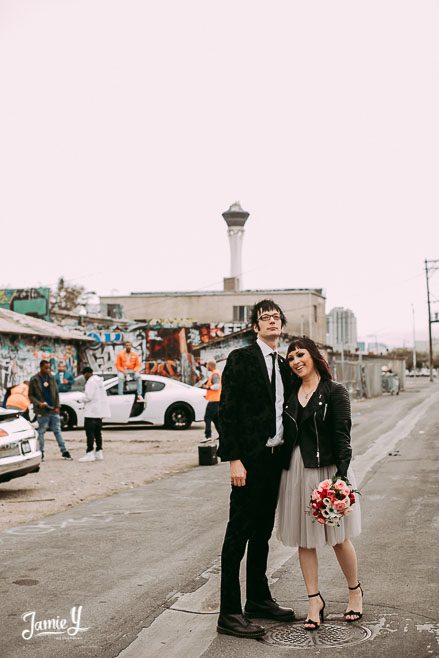 While walking around we came across a rap video being made with some fancy cars.  All the guys were super nice and we just had to have them in the background of some of the photos.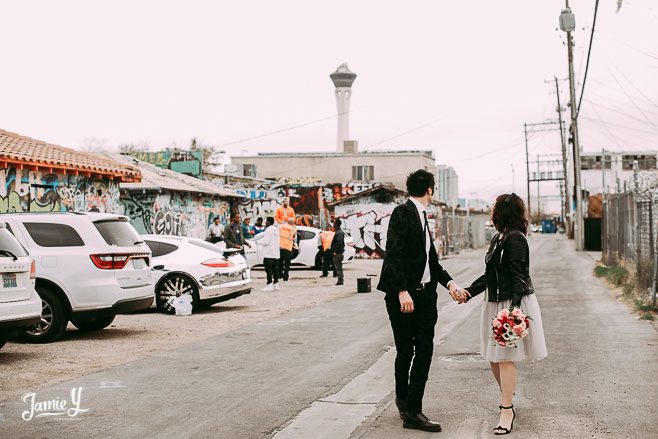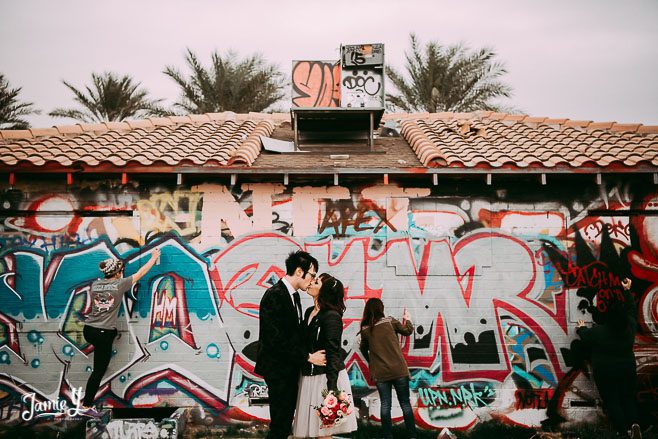 I noticed a few kids hanging out with spray paint near some very heavily painted vacant homes.  I asked them if they could help us out for a photo and pretend to spray paint in the background.  They were super friendly and up for it and we got some cool photos.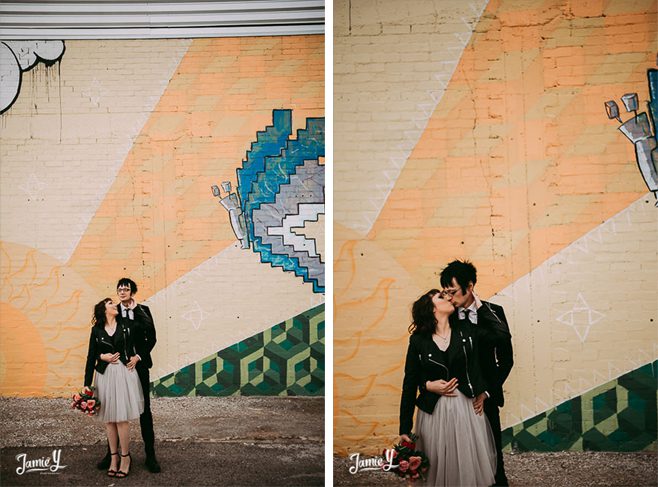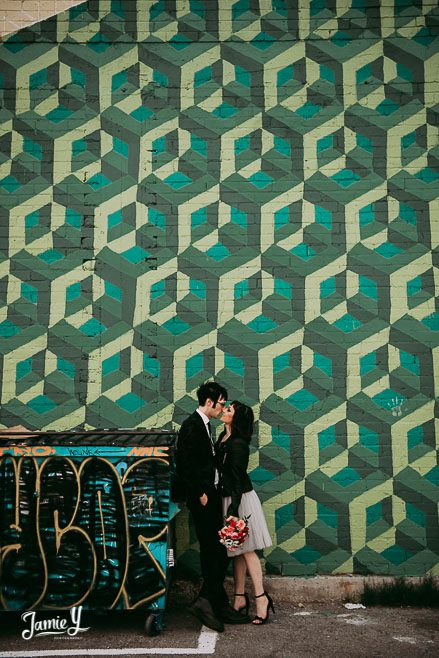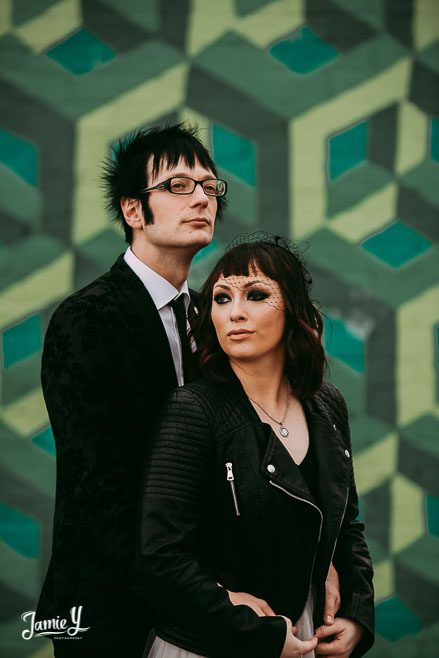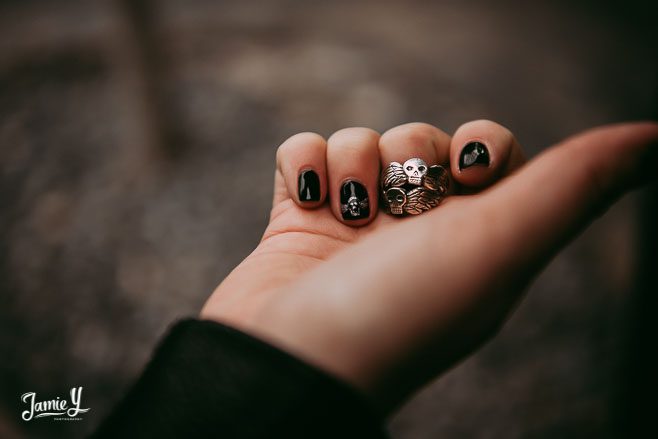 Megan & Will have matching skull rings that are special to them and Megan had a similar skull painted on her nails for the wedding day.  Such a fun detail.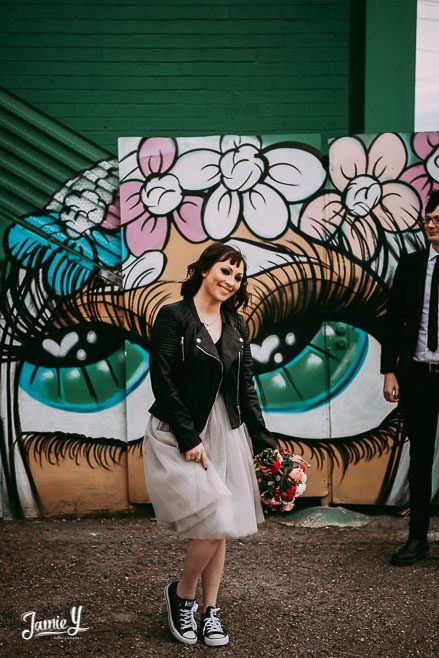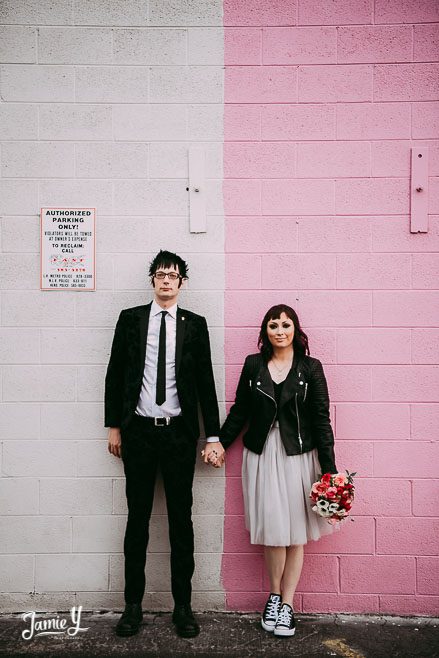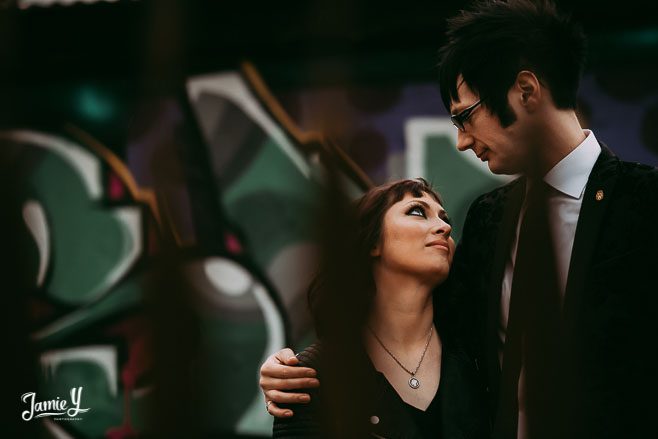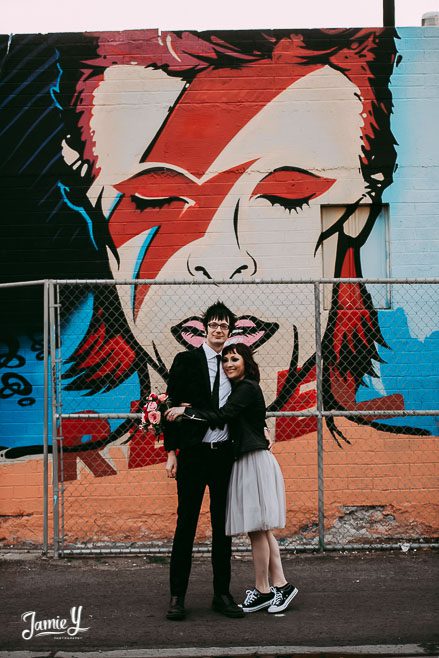 To see even more from their wedding day, watch the slideshow below.
Officiant:  Peachy Keen Unions
Photography: Jamie Y Photography
Hair & Makeup:  The Salon At Aria (Kylee Norder – Makeup / Valerie Burmeister – Hair)
Art Mural (ceremony location): The Stencil Artista
Florals: City Blossoms LV
XO-Jamie
Megan & Will from JamieY Photography on Vimeo.