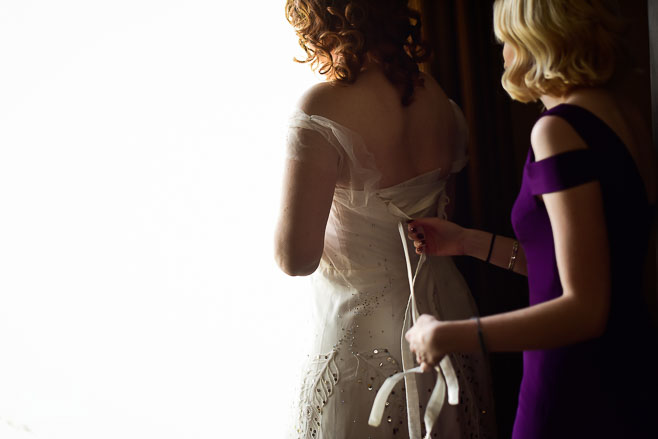 I am so excited to share these pictures from Lisa & Mark's elopement a few weeks ago.  Lisa & Mark traveled all the way from the UK for an intimate elopement wedding with their 4 children.  They started the day getting ready in their room at Planet Hollywood.  Lisa made her dress that was inspired by Kate Moss's wedding dress.  The gold leaf detailing looked amazing and so much like the dress Kate wore.  Lisa has impeccable style.  She had a fluffy purse as well as a feather shrug to pull it all together.  Everyone else looked pretty great as well.  The men wore blue suits with gold suspenders and Vegas inspired cuff links.  The girls wore purple dresses with fantastic shimmery coats.
Their ceremony was held at a local chapel and I met with them again afterwards.  They had their wedding day lunch at the famous Peppermill Cafe which is right on the Strip.  After they cut the cake, we headed to the Las Vegas sign for some group photos and then finished up at the Neon Museum.
It was truly a lovely day.  Everyone had a great time!
To see even more, watch the slideshow below
XO-Jamie
Lisa & Mark from JamieY Photography on Vimeo.