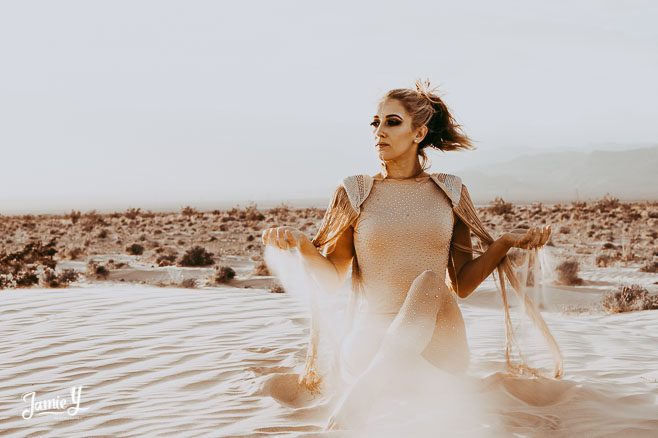 Where to begin with this Dancer In The Sand Dunes photo shoot…. This is my third editorial type creative shoot that I have done all on my own. After taking several workshops and hearing from mentors about the importance of creating for yourself. I really have pushed myself to try and do more shoots just to play and have fun.
The last two shoots I have dreamed up, all came to me during a yoga class at my gym. At the gym, especially in yoga, when I try and quiet my mind, I often have creative ideas come up. My last shoot, which you can view here, actually came to my head through a guided meditation that the teacher ended the class with.
Coincidentally, both shoots involved a yoga theme, the color gold, and a woman. The more I practice yoga, the more I try to learn and explore the spiritual side of it as well. The aim of this photo shoot was to try and showcase some of that spiritual side, which is where the mirrors came in.
I knew I needed an experienced yoga/dancer to provide the shapes and movements that I wanted to capture. I am so thankful for Becca who put me in touch with Chelley. Chelley performs in one of the shows on the strip and made this whole shoot what it is.
I sourced all the clothing and ideas for the makeup and warrior look. Francesca with Bobbie Pin Beauty worked her magic and made it come to life.
The day of the shoot, we were faced with extreme winds. Gusts of up to 60 mph. I didn't want to reschedule so we just went and did it anyhow. The wind and blowing sand made some things impossible and some things much harder to do. I wasn't able to make some of my ideas happen. But, we made magic anyhow.
Thank you, thank you, to the strong warriors of women who helped me make this shoot happen.
To see even more, and with some music, watch the slideshow below.
XO-Jamie

Dancer In The Sand Dunes