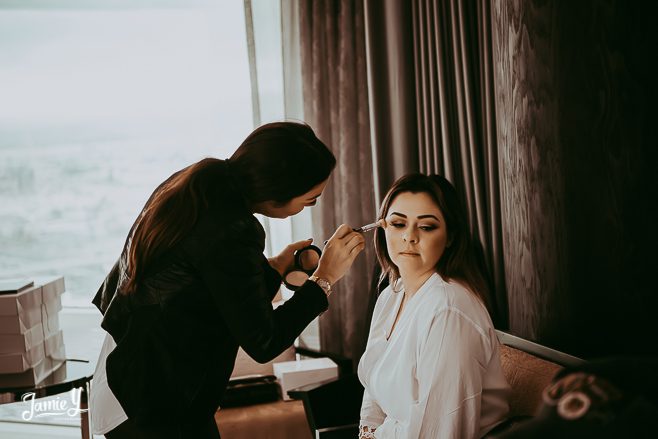 Today's wedding is a special one. Melina & Robert were the winners of a free elopement package sponsored by several local vendors. We set up an instagram contest, and these two lovebirds won!
The contest included, hair/makeup, ceremony decor, flowers, and the officiant, all planned and coordinated by Desert Elopements Las Vegas. The bride added lots of fun details and elements and also planned a full sized reception for after the ceremony.
Here is their love story, as told by Melina: "
I feel like Robert and I have a classic Las Vegas love story that was all based on fate. Robert is originally from Los Angeles, I was born and raised in Las Vegas. I had moved around a bit and then ended up back home after life chewed me up and spit me out, to say the least. Robert was living and working in LA and was laid off causing him to apply for every and any job he could find, including Las Vegas. He landed a front desk position at Vdara Hotel and Spa, sold his condo and moved to the desert not knowing what the future held.
We both ended up in Las Vegas at the same time, working in the same industry and actually worked relatively close at neighboring hotels not even a mile apart from one another. Fate brought our paths even closer when Robert got a promotion at Bellagio, where I was already working for a little over a year. What's funny is the way our paths crossed. In the hotel industry, especially here in a city with things open 24 hours, it is all about gaining seniority in your work shift to get the best work schedule. And I, was set. I had a day shift, with weekends off and was living the local nightlife scene with industry perks galore. But like most things, too much of a good thing ends up being bad. So I decided to give up my day shift and go to the grave yard shift to keep myself out of trouble. Because nothing good happens after 1AM. Nothing.
So when Robert started at Bellagio, all new hires are scheduled on the grave yard shift to learn the operations when things are slower at the front desk. So low and behold, we met on the grave yard shift. And that is the one and only time something really, really good happened to me after 1AM. Of all the places we could have lived, of all the hotels we could have worked at, we ended up at the same one, spending the same 8 hours a day, 5 days a week together. We had a lot of time to really get to know one another. We talked, laughed and helped each other get through the tough grave yard life that people in the hospitality industry never wishes on anyone. It was tough because of how much you go through physically and emotionally living on the opposite time as the rest of the world. But it was nice for us because we created our own little world together on that time.
When most people were dreaming, I was living my dream of getting to know this person that not only became my closest friend, but my soul mate. 3 years later we now have a home, an amazing 2 year old daughter and a beautiful life together as a family.
We did things a little ass-backwards but with the way we started, it proves that fate doesn't care about plans. It gives you exactly what you need when you least expect it. And if you ask me, that is the way the most beautiful things in life happen."
The day started off in one of the best getting ready rooms I have ever photographed in, The Sky Suite at Aria. It was a dream of a room, surrounded by floor to ceiling windows and white and grey floors and walls which provide the perfect lighting for portraits. Melina had hair and makeup and then put on her dress and accessories before having a first look with Robert in the room.
We hid Melina in one of the bedrooms and set up the first look in the main living room. Family and friends were able to watch from the background as they had their intimate first moments together.
Next, we were supposed to be heading out to the ceremony site. However, rain was forecasted for the day. Showers had already been on and off most of the morning and the whole city was surrounded with rain clouds. So, the decision was made to move the ceremony indoors to the reception location they had booked.
We knew it was raining, but hoped for the best as we traveled out to the desert for portraits. However, when we got there, it was pretty crazy. It was extremely windy and the rain looked like hail. I tried to get out at the first spot but the umbrella almost broke and everything was flying all over. So, we drove back to a spot that seemed to have a little protection from the wind. It did, but not by much.
Thankfully Melina & Robert were willing to try and shoot. We only had limited time and this was possibly our only shot for portraits. I am so glad they braved the wind and rain and cold because we got some great shots. It was something we will all remember.
After heading back to the Aria to grab their limo, they met up with all of us at Bad Beat Brewing. We were able to grab a few more portraits outside of the building. Since most of the desert shots had little visibility of their faces.
Originally only immediate family was going to be able to witness the ceremony. However, now, everyone was able to watch. A fun bar was set up for the couple to make old fashions and after the ceremony, their daughter even got to take part in the cake cutting.
To see even more, watch the slideshow below.
Wedding Vendors:
Hair/Makeup: Brianna Michelle Beauty
Officiant: Wedding Vows Las Vegas
Planner/Coordinator: Desert Elopements Las Vegas
Florals: City Blossoms
Dress: BHLDN
XO-Jamie