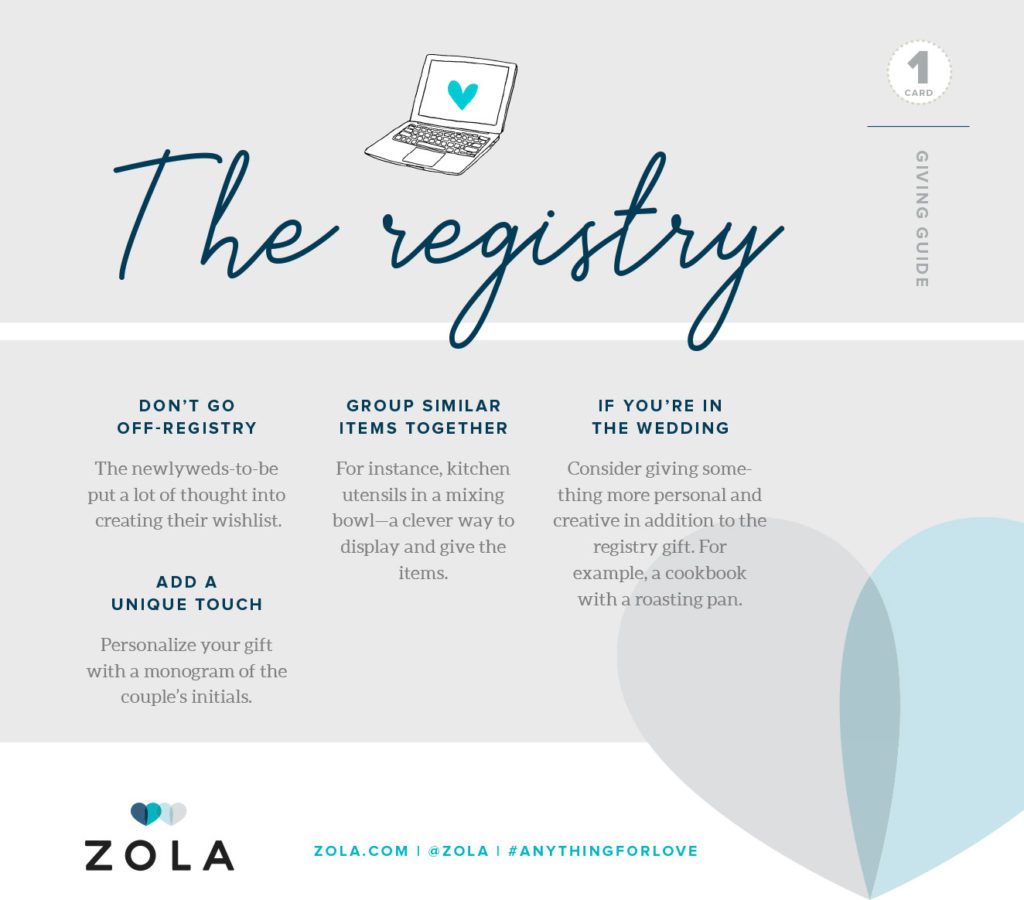 Times, they are a changing. And with that, wedding gift giving has changed as well.  Back in the day, it was pretty easy to buy gifts for weddings.  Gifts were typically always purchased from a registry or cash was given.  In this changing world, more and more couples are living together before marriage and possibly even becoming homeowners before they say I do.  If the engaged couple already has a home, there isn't as much need for most of the original registry items.  These are just some of the reasons why wedding guests often have trouble figuring out what to buy for wedding gifts.
Setting up a wedding registry is a fun experience for soon to be married couples.  They often put a lot of time and thought into picking out the perfect items for their home and new life together.  Always check and see if there is a registry set up.  If so, and you want to buy a non-cash gift, opt for something on the registry.  This way the couple gets some of those coveted items they spent time deciding on.  If you want to buy something different and personal, please do.  Just keep the registry in mind and don't buy a different version of something they picked for the registry.  Most registries allow for the items to be shipped directly to the couple so you don't have to worry about carrying anything extra to the wedding.  This makes things much simpler for the couple the night of their wedding.  Zola is a great site where they can register for anything from household goods to honeymoon experiences.
Cash gifts are always a great idea.  They can be given in advance, or put into a card box on the night of the wedding inside an envelope.  Many couples still choose to have a money dance, so make sure to save a little cash for that part of the night as well.  Cash gifts give the couple the option to help pay for the honeymoon, the wedding itself, or purchase any of their registry items that they didn't receive.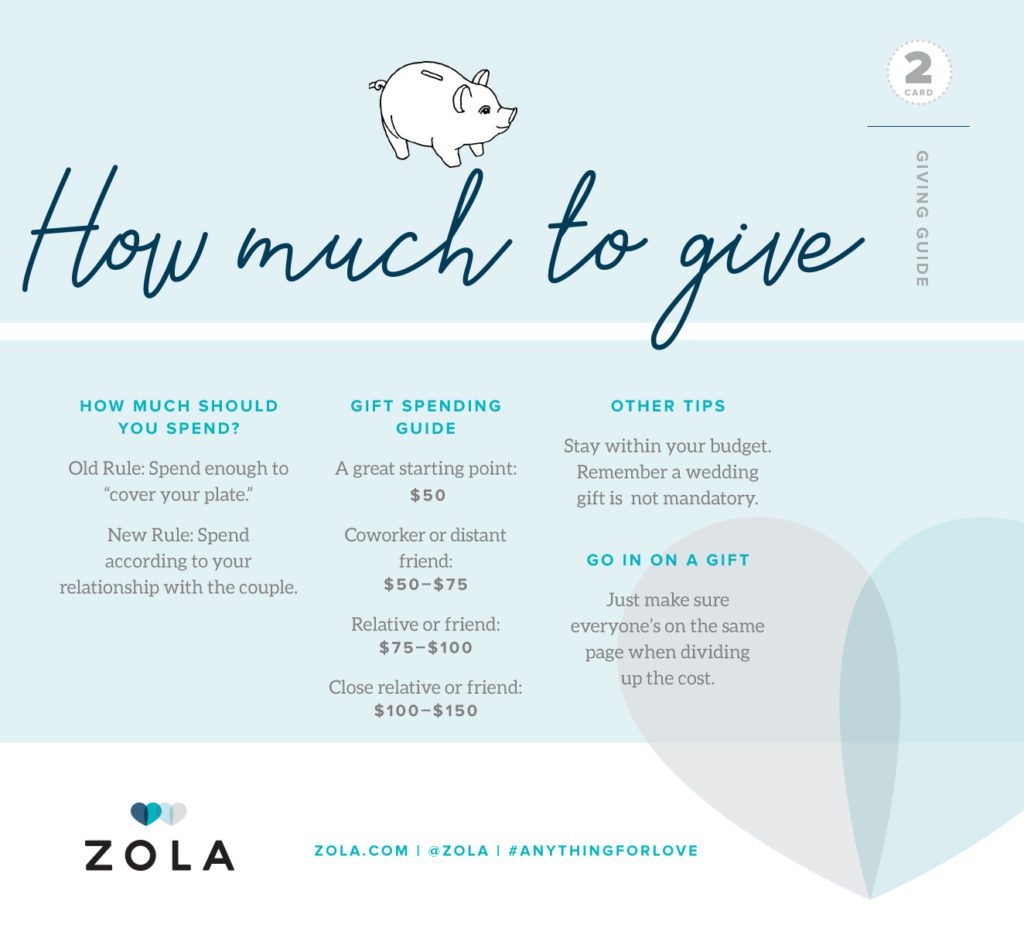 The next big question is how much should you spend on a wedding gift.  One of the best current guides is based on your relationship with the couple.  $50 is a great place to start.  You don't want to spend beyond your means, so don't go broke buying a wedding gift.  But, you should keep in mind that the couple is spending money to have you there.  You could look at it like a nice night out with dinner and dancing and drinks.  How much would you spend on that?  The closer your relationship with the couple is, the more you should consider giving.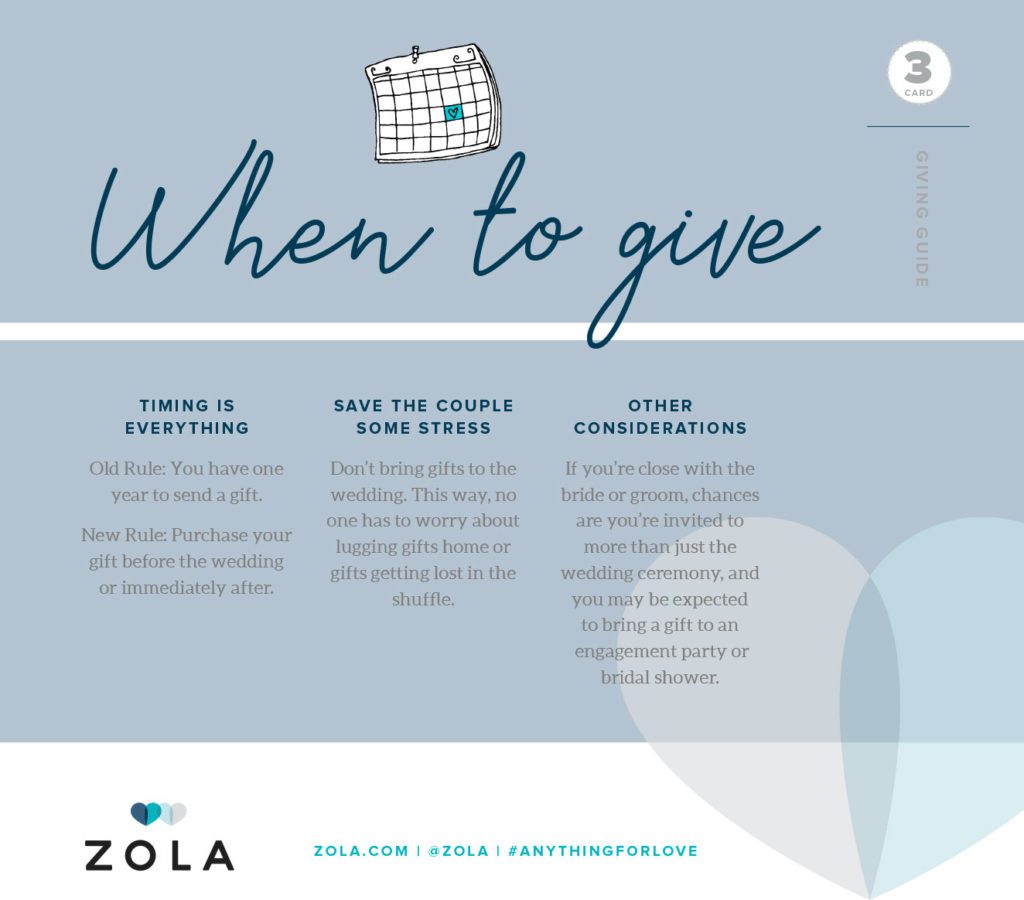 When should you send or give the gift?  In my opinion, as close as possible to the wedding date.  If you are attending the wedding, you should bring your gift that day or have it sent from the registry.  Some couples like to work on thank you notes right away.  They also might be anxious to buy some of their registry items.  If for some reason you can't get their gift to them in a timely manner, contact them to let them know.  Most couples will assume you did not get a gift if you don't have it to them before they return from their honeymoon.
You may be invited to an engagement party, bridal shower, or bachelorette party.  These events will usually require some sort of gift as well.  Engagement parties are usually a little more relaxed and not much is expected.  You could bring something small like a bottle of wine or liquor, some flowers, or some sort of congratulatory gift.  Bridal showers are an opportunity to purchase registry items or something for the bride specifically.  Lingerie and pampering gift cards are great options.
Hopefully this information will help you out next time you get invited to a wedding and aren't sure what to buy.
XO-Jamie
Wedding Gift Giving Guide