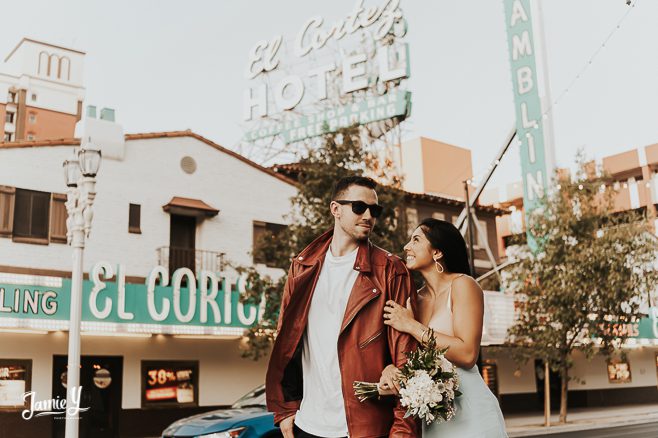 So super excited to share this Vintage Las Vegas Elopement with everyone today. I always say shoots are my favorite and this one surely is an all time fave.
Here is their story as told by the couple:
"The day of our elopement will also be our 6 year anniversary. We met 6 years prior in Vegas one EDC weekend. Rich lived in the UK, Sara in California and since the moment we met we were stuck at each other's hip, always jokingly promising to come back to Vegas and marry properly.
We spent two years long distance, 1 year traveling around England and a few more years throughout the US. We just like to be anywhere and everywhere, together. Both of us are obsessed with video games, anything "futuristic" and movies/TV shows. We have even remodeled our brand new house to resemble walking into a "futuristic bar/underground lair".
That is why we chose 1) Vegas to run back to and 2) Jamie Y, because her photos/style are everything we are crazy about. Rich gave Sara a note the night we met before we both had to go back to our respective homes that read "Believe in magic, Wifey. Not sure why we met, maybe one day we'll see why". We have been chasing that "why" for years and it has always pointed back to each other."
These two were the cutest and with such serious style I even had friends ask me if I hired them for the shoot.
They drove their car out from Utah and wanted to incorporate it into some of their shots. It also worked out great that they had their own easy transportation so we could go to some spots I have had my eye on that are sometimes too far to walk with the allowed time.
Sara custom made her veil by attaching the veil and rhinestones to her Gigipip hat.
Ceremony took place in the tunnel of love at The Little White Chapel.
To see even more, check out the slideshow below. I had the hardest time narrowing down which images to share.
Vintage Las Vegas Elopement
XO-Jamie