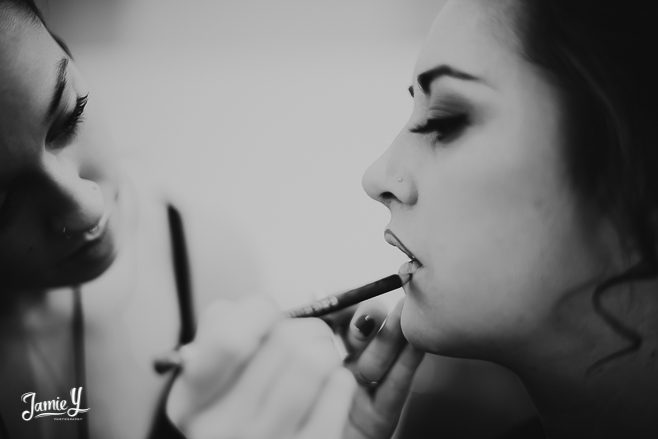 Excited to share today's Valley of Fire destination wedding with Everyone. Here is Claire & Alex's story as told by Claire:
"We met in Jersey in the Channel Islands where Alex is from, when I was over visiting a friend from university. We got talking because he had a really good watch 🙂 (Claire actually had this watch refurbished and presented it to him on the wedding day as a gift) We went on our first date the next week and Alex extended my stay in Jersey so we could spend more time together.
For the first two years we were going out we were travelling between Jersey and the UK to see each other, and had lots of dates on msn messenger 🙂 We lived in quiet a few dives in London before moving to the house we have now where we've been for 5 years, 3 of them with our adopted cat Kylo.
Alex proposed to me on holiday in Sri Lanka. He'd been a bit funny about the holiday, so I had suspected a bit that something might be going to happen but on the morning that we drove towards the Botanical Gardens in Kandy I had no idea it would be then. Until Alex kept fiddling really nervously with something in his bag. When he proposed he was so nervous and worried looking I wanted to hug him and make him feel better straight away, and didn't realize until he said that I hadn't said yes yet! Which of course I did.
We had a bit of debate about where to have the wedding, but decided pretty quickly on Vegas rather than London when our close friends and family said they'd be happy to join us. We've been so happy to see how many people we've invited have been able to come too.
We've been to Vegas twice before – once for Alex's 30th birthday, and the second time as a bit of a last minute trip, and we've had such a good time both times. The first time we split the trip between the strip and downtown, and the second time stayed downtown for a week. We really love the feel of the area – all the independent restaurants and bars, graffiti and lights.
I'm vegan and the food scene downtown is really exciting – our caterer is from the Container Park and we'd had lunch there a few times. We're keeping the wedding as vegan as possible – all the food and drinks will be, and my dress, shoes and felt flowers! We're also making a lot of the decorations and details ourselves – we designed our website with a games feel we are bringing into the reception too – we play a lot of video games, apps and board games (and love the Circus Circus arcade!), and we've made the invites and order of service ourselves which we're pretty proud of 🙂
Apart from games, the details of our wedding are teal and turquoise colors which I love and have painted most of our house in, and we're going to be having a few agate details as well to bring the color in and to keep the geology feel from the ceremony venue. I studied geology at university and am pretty rubbish at it now, but the idea of getting married around some amazing rock formations was what helped us choose Valley of Fire over some of the other amazing venues in Vegas.
We're hoping the wedding is going to be really fun for everyone, and bright and colorful! And a really good party!"
A good party it was.  So many amazing elements throughout the day.  I spent 10 hours with them all, but they kept the party going for a few hours after I left.
The day begun with Claire & Alex getting ready at separate locations.  Claire got ready at the fun retro Atomic Style lounge downtown.  Alex got ready at his hotel and met up with all of the guests who would be riding in a full sized bus to the ceremony location. The ceremony was held out at Valley of Fire.  Claire and some of her girls and parents rode down in a limo.  The bus actually got into an accident right after leaving downtown.  Thankfully everyone was ok and they made it in time.
The reception was held in front of the 7 sisters location at Valley of Fire.  There were vintage chairs and furniture set up by Dogwood Party Rentals.  The guests were given a program which doubled as a fan and on the back side had the lyrics to two songs which were sung by all during the ceremony.  The songs were Stand By Me and So Happy Together.  It was such a fun element to add and made everyone a part of the ceremony.
After the ceremony, everyone enjoyed some champagne and snacks before heading back to town for the reception.
The reception was held at Place on 7th in downtown Las Vegas.  The tables and chairs were set up in the outdoor patio area surrounding the stage where the Lucky Devils Band played for the evening.  Inside the roll up doors, there was seating and various fun things for guests to do.  One thing they had was a glitter bar.  I have never seen one, but apparently they are big in the UK.  Guests added glitter to their faces and facial hair and had a great time with it.
As Claire mentioned, she is vegan and everything at the wedding that could be vegan was.  She also chose pretty much all women owned businesses for her wedding vendors.
I loved getting to know Claire & Alex and witness their love for each other, see them and all of their guests have a blast at the wedding, and capture some amazing photos of it all.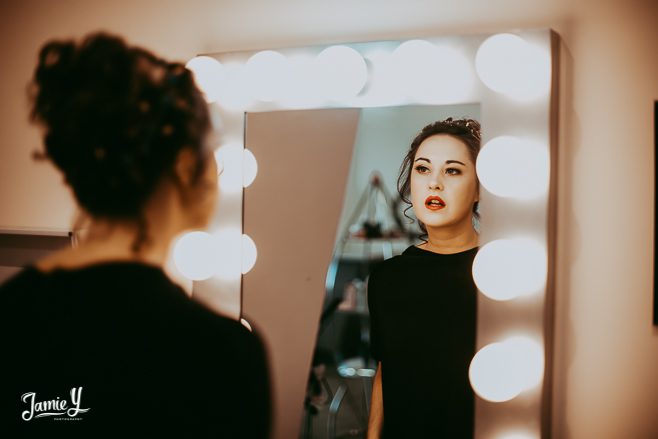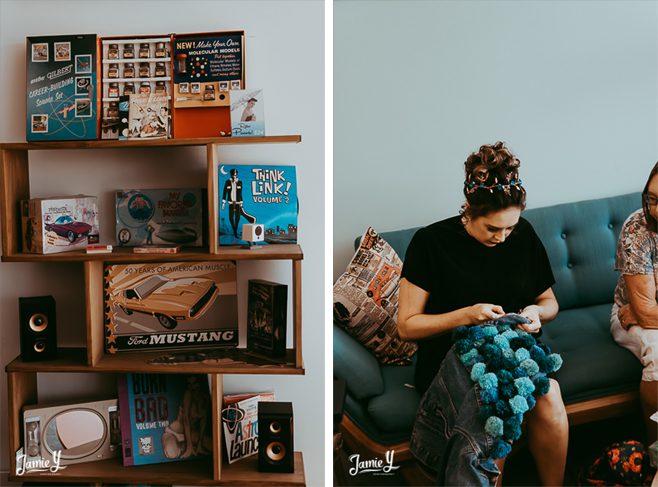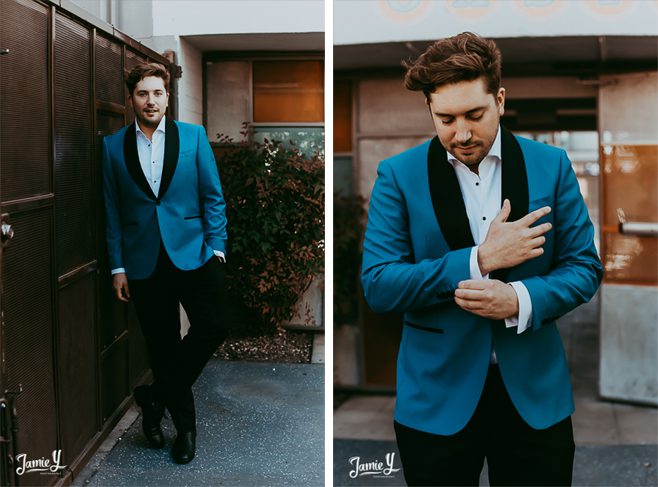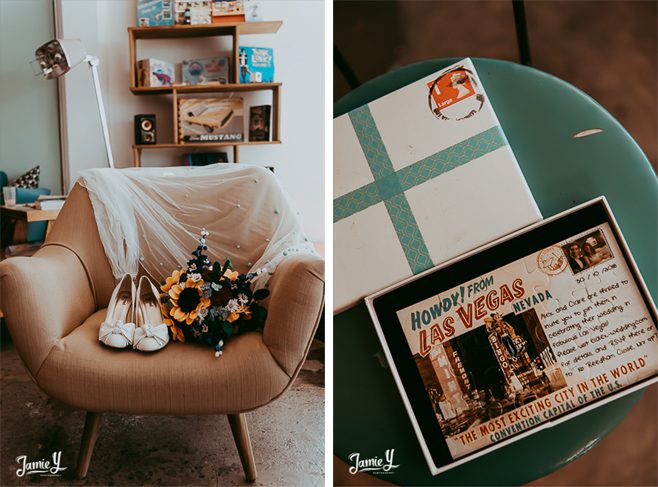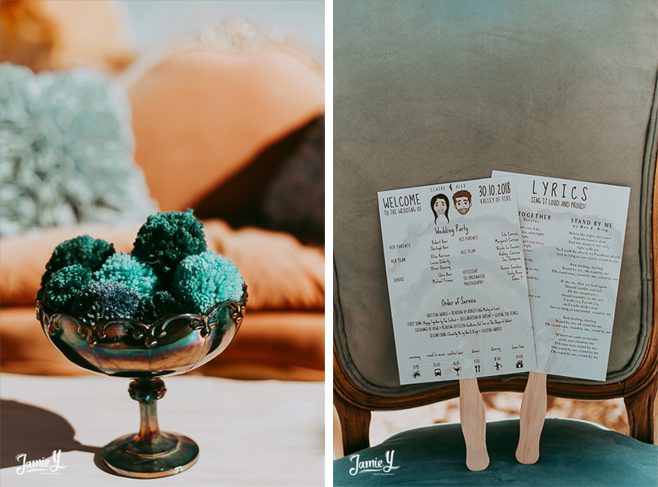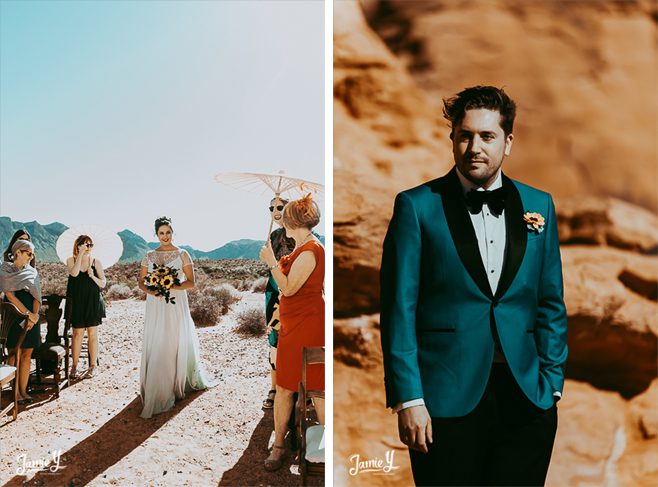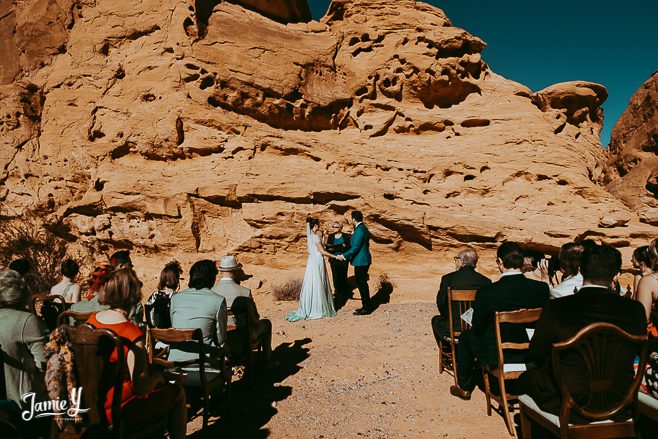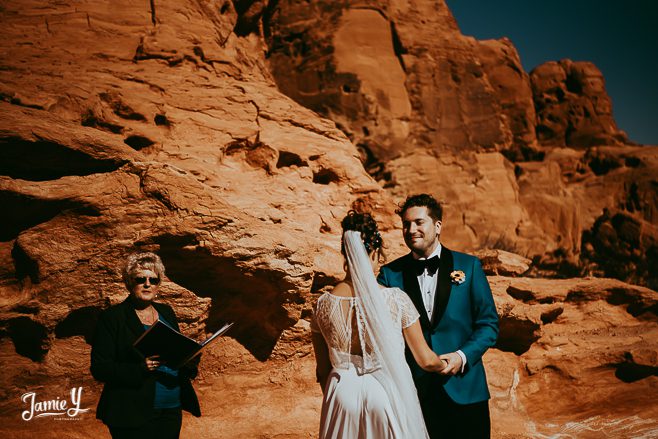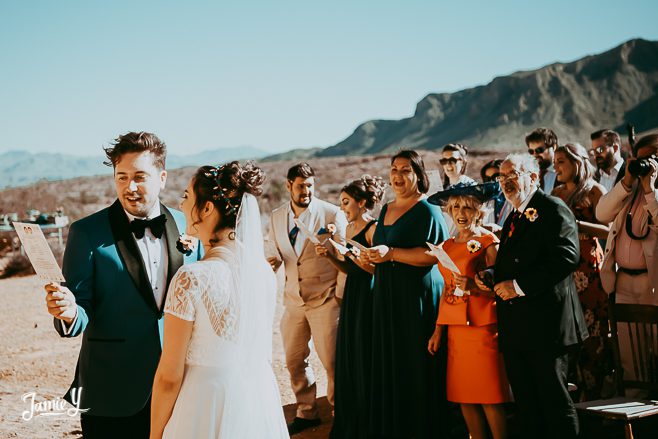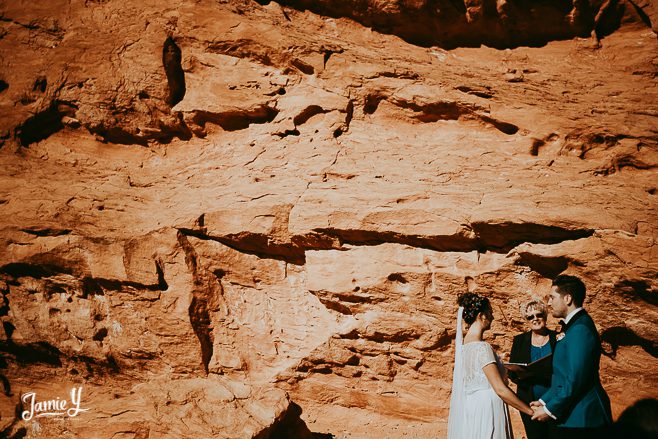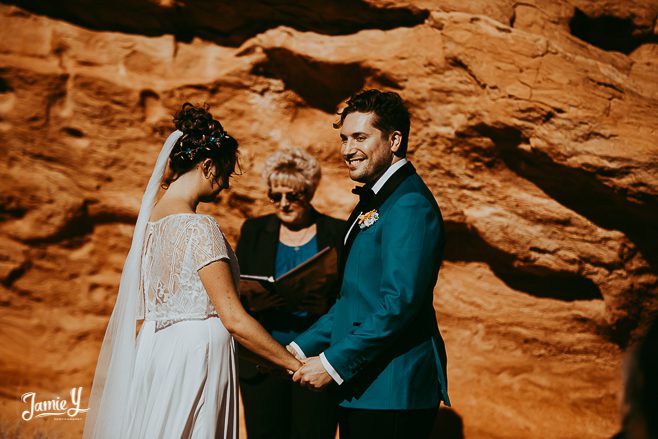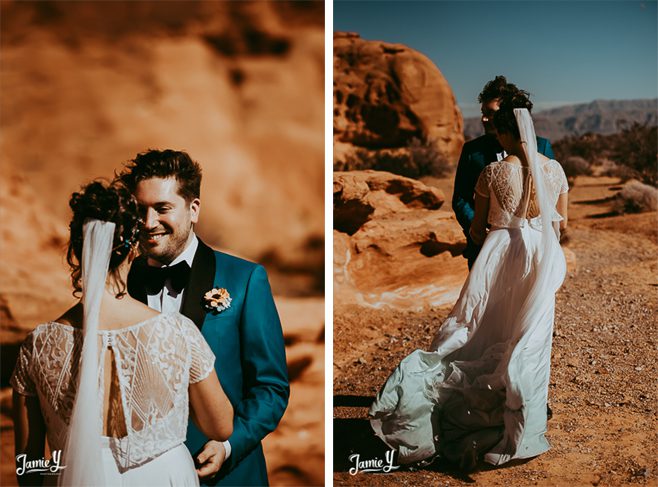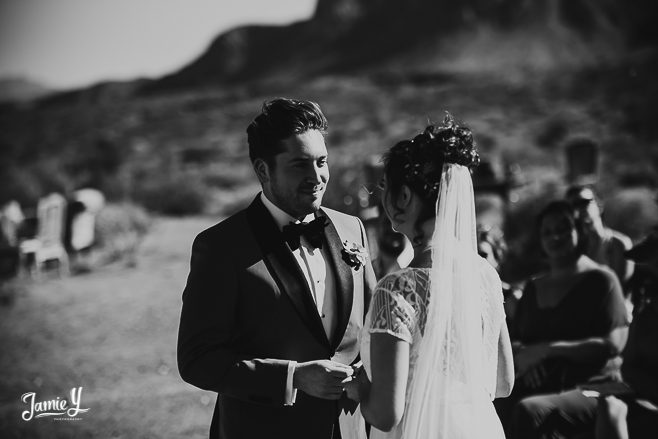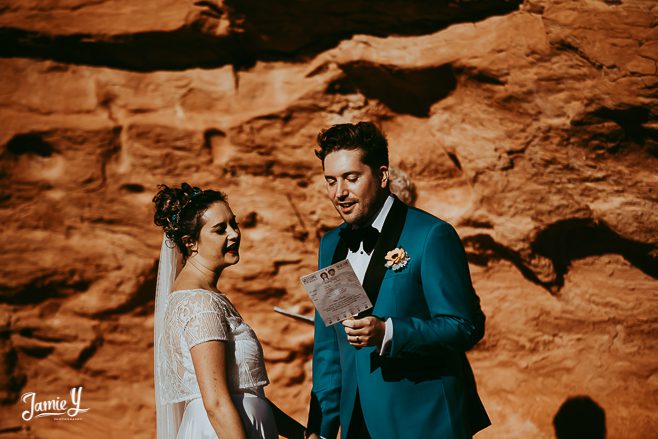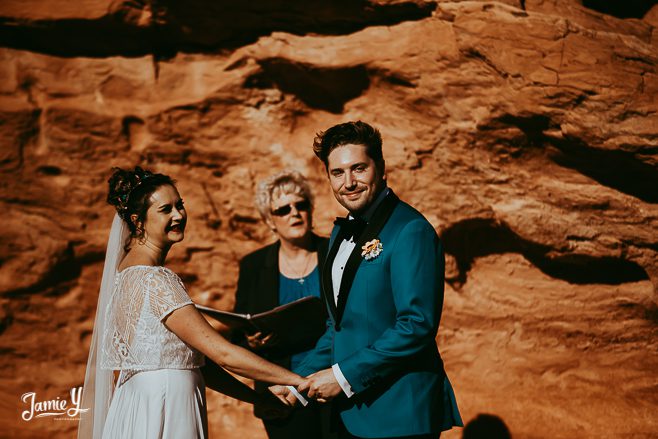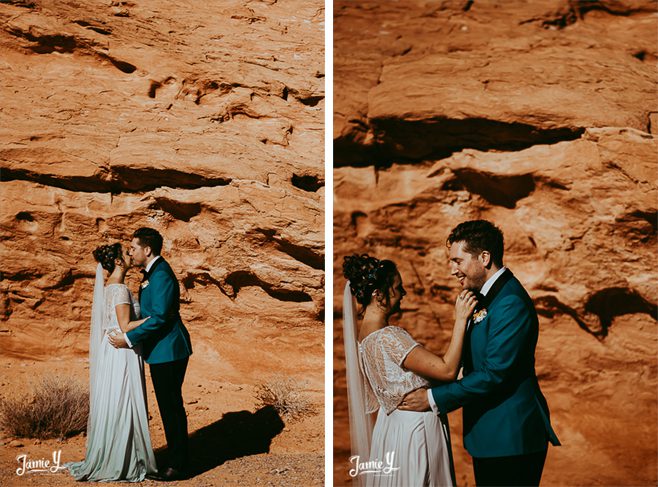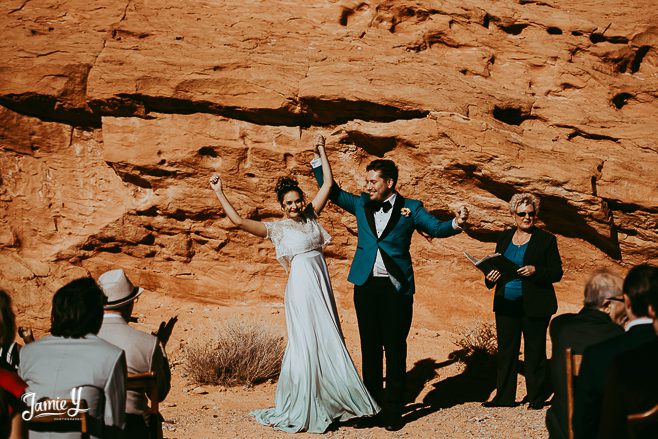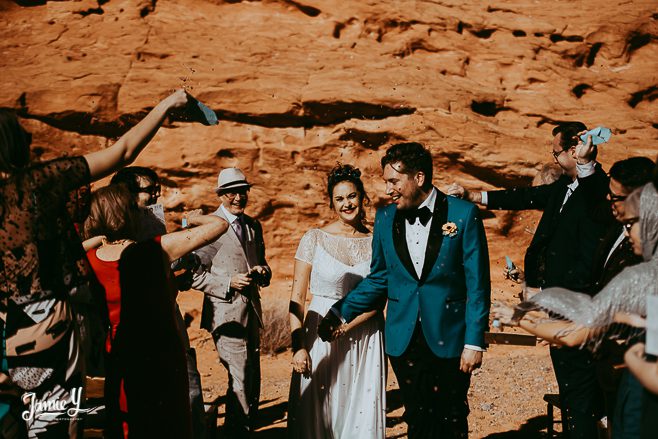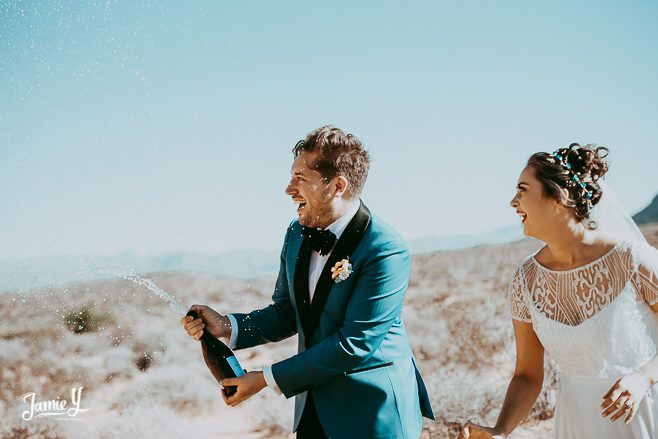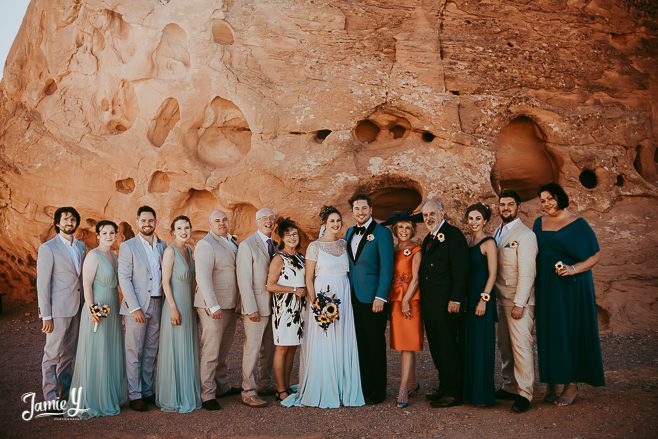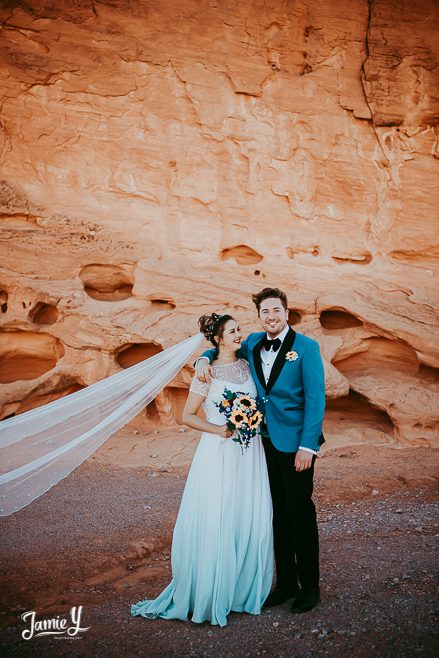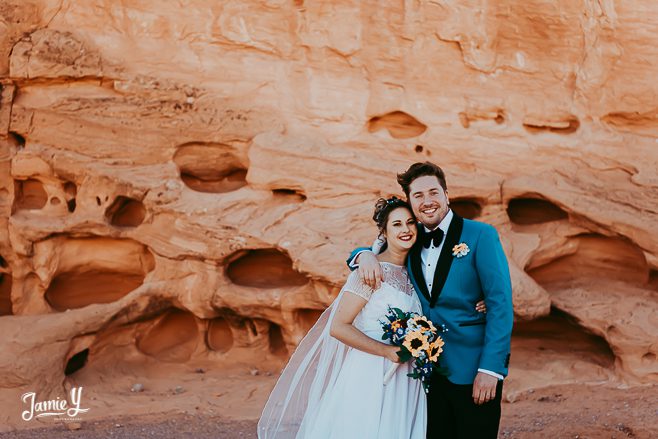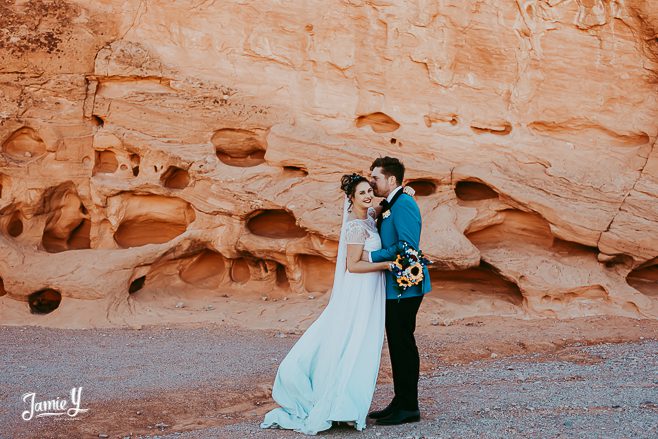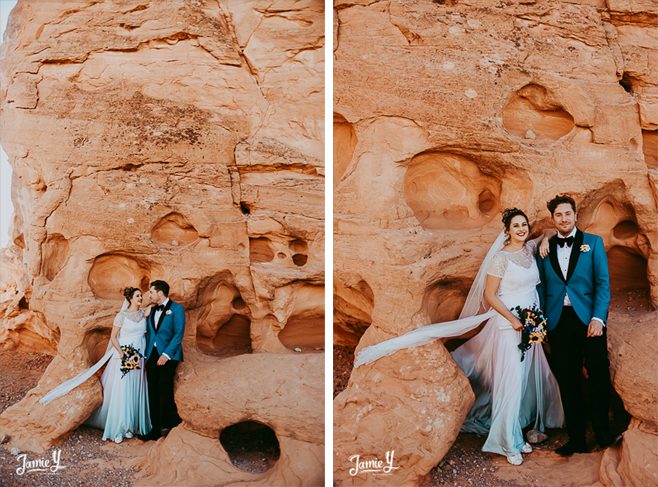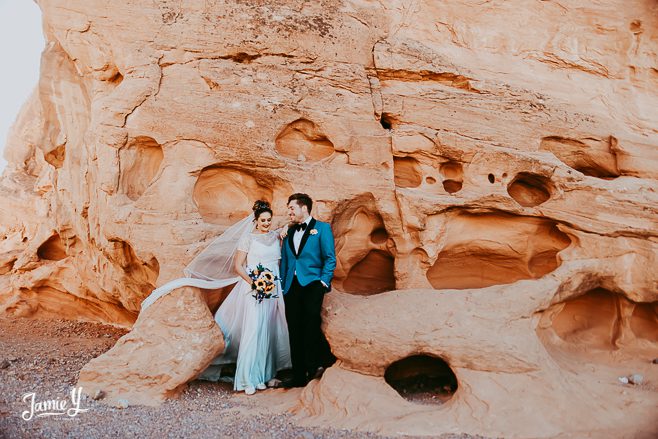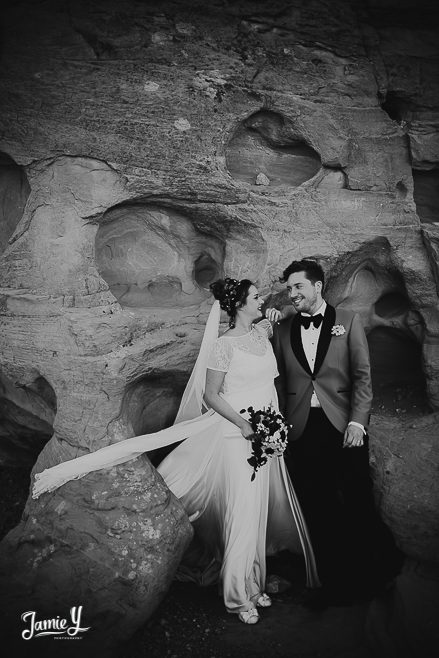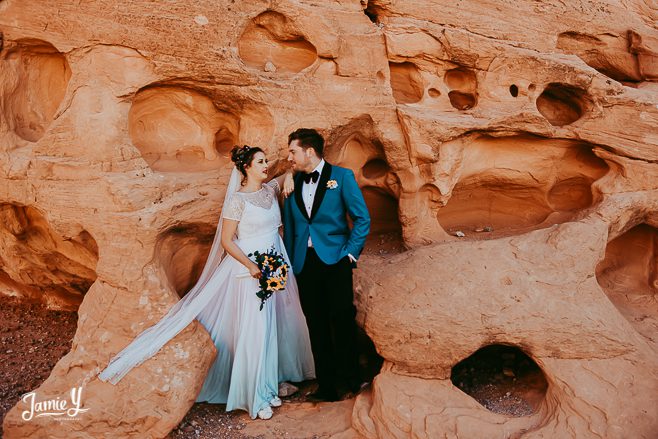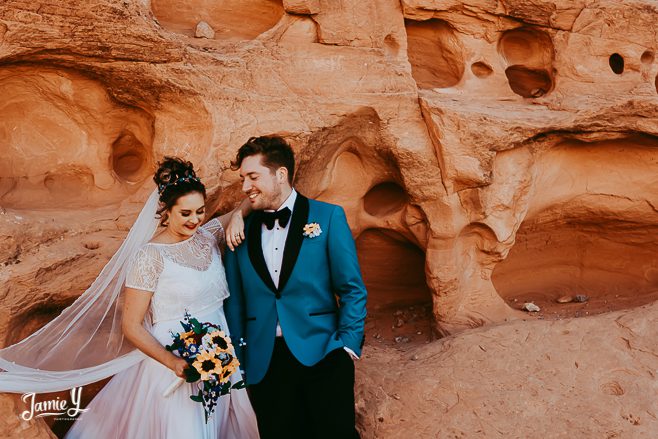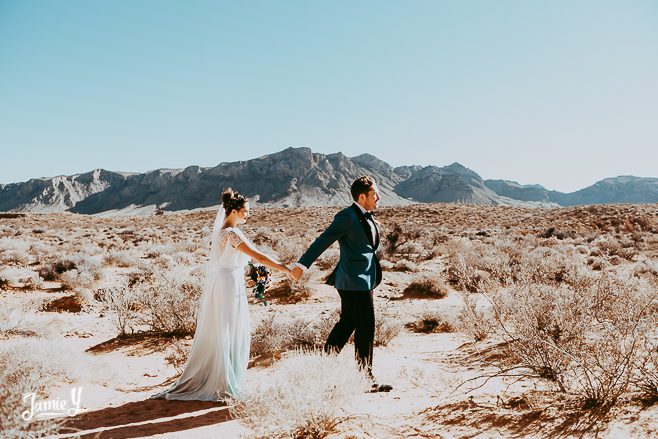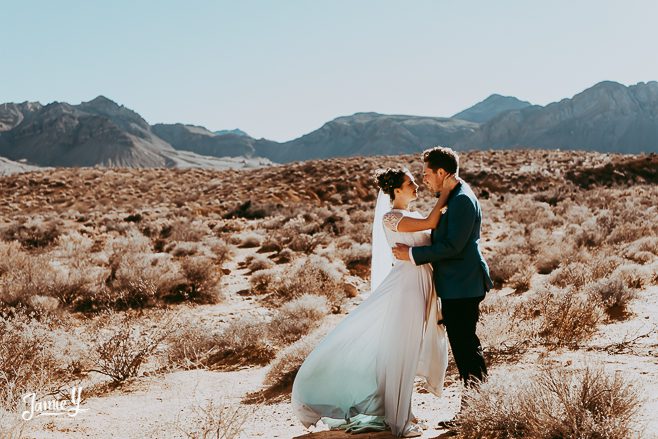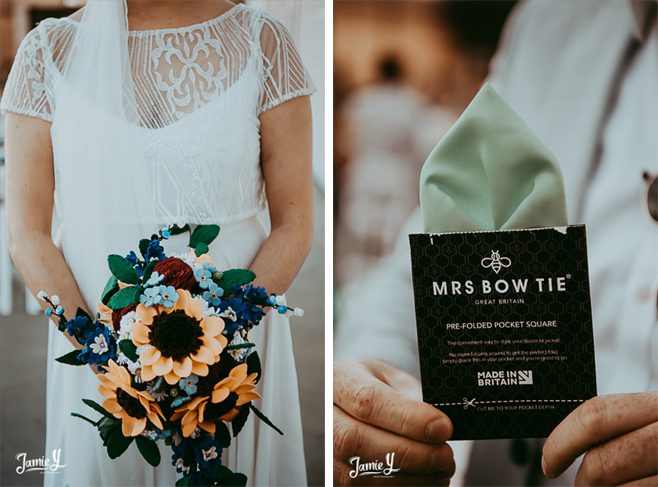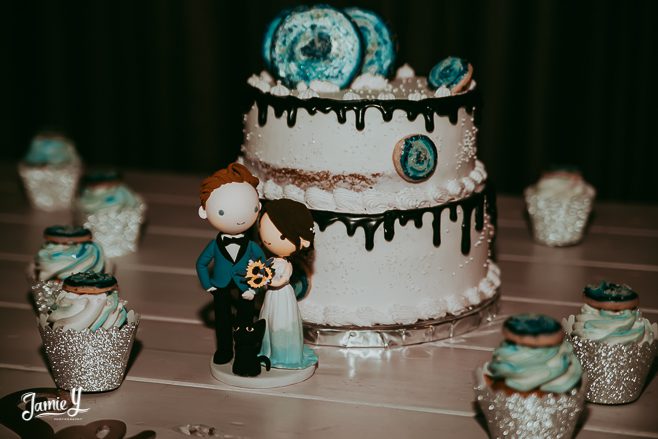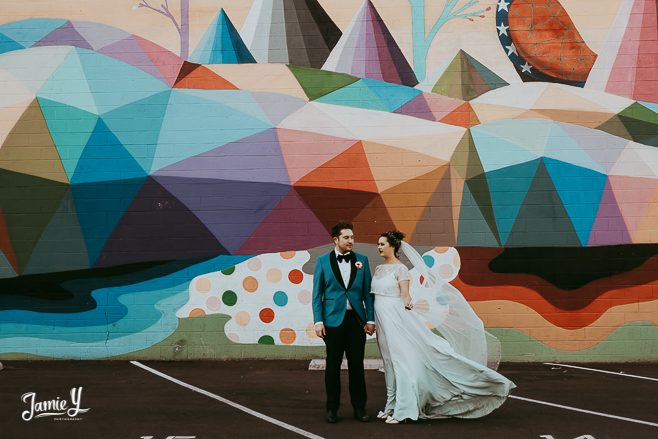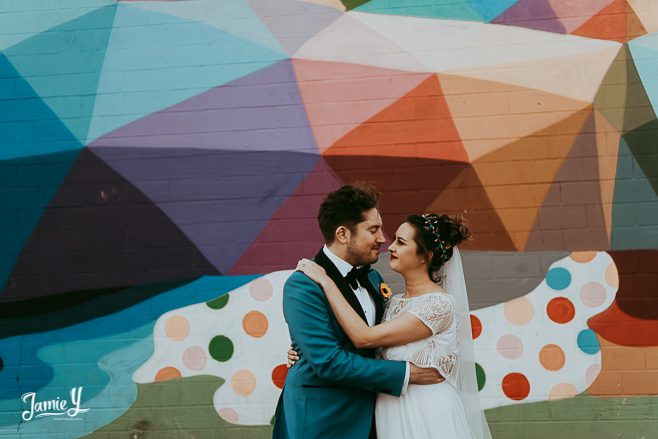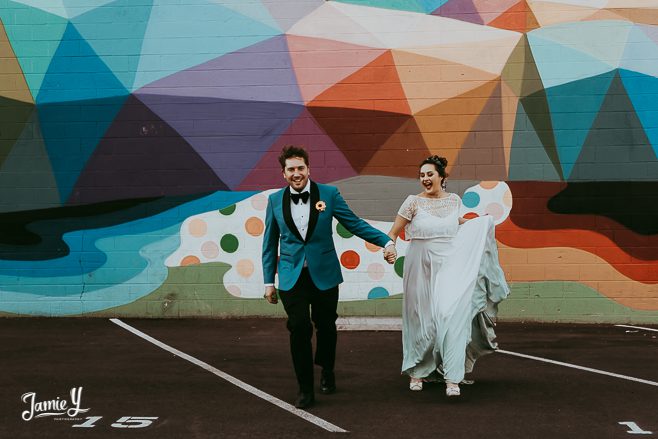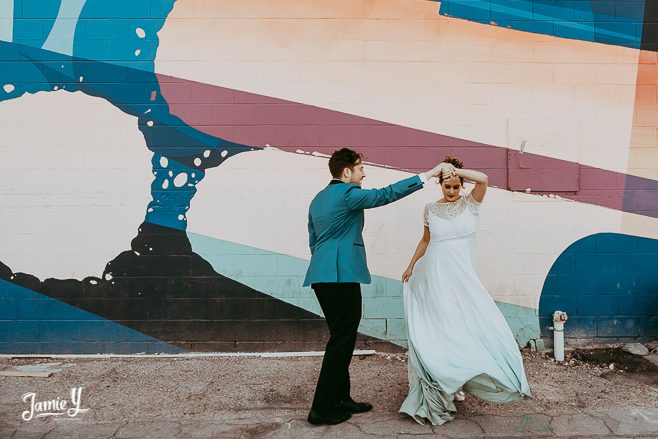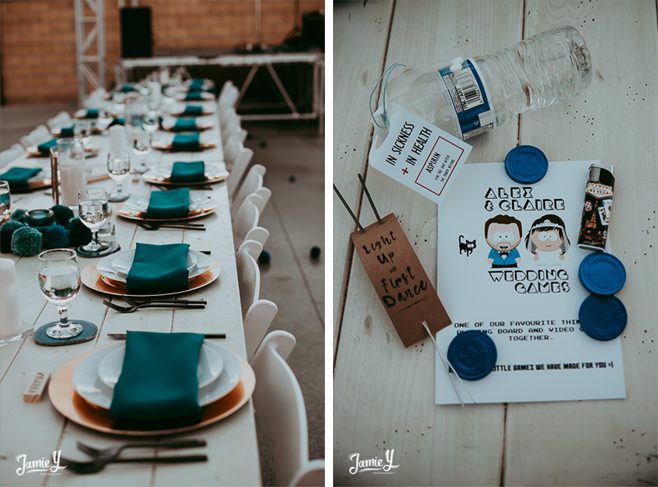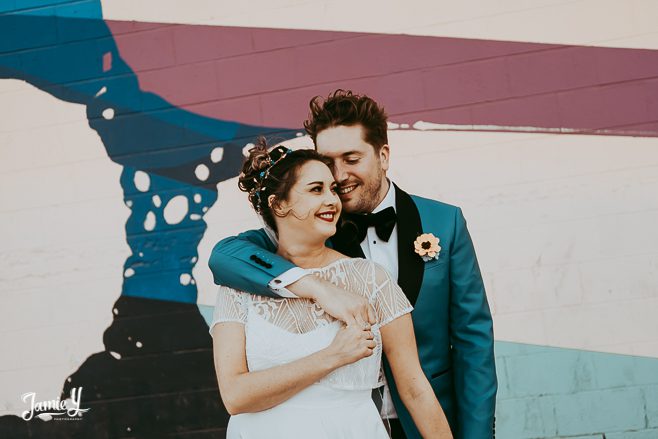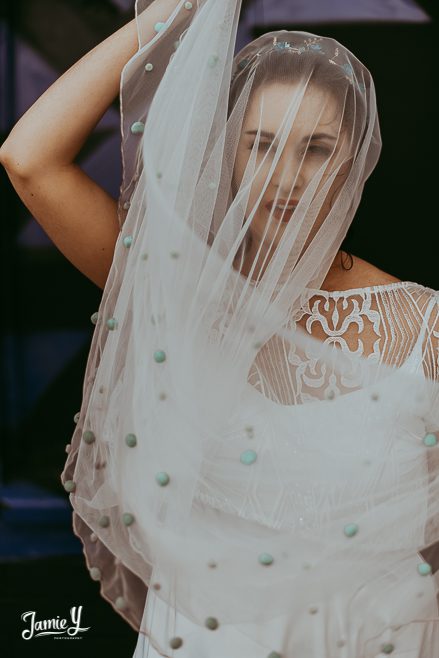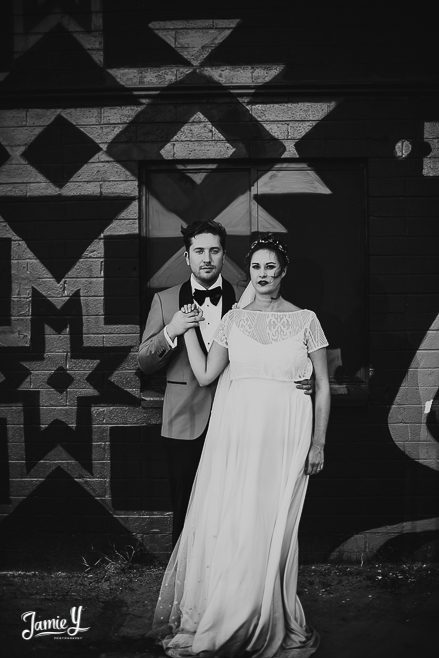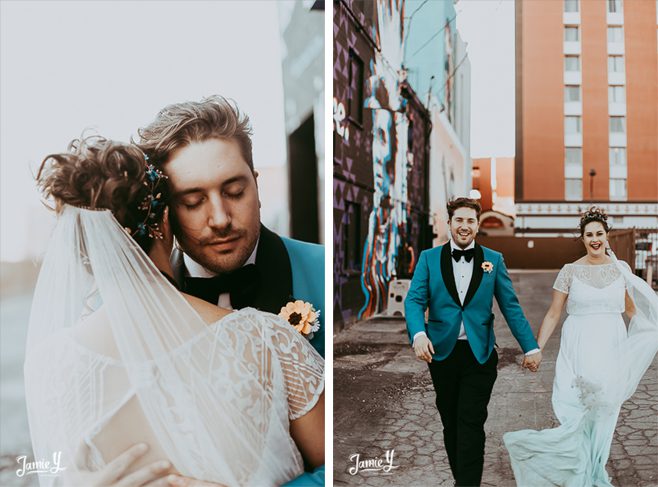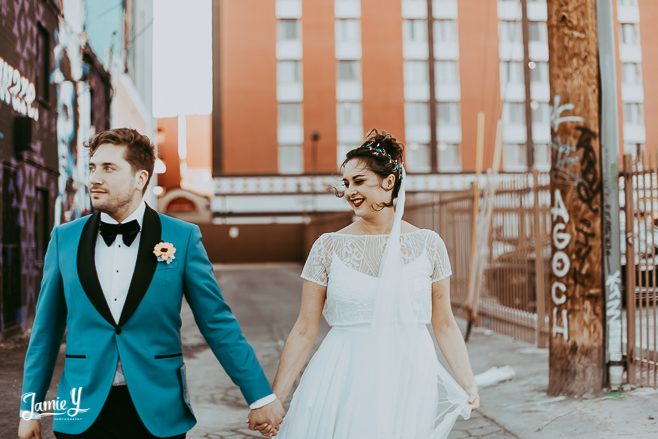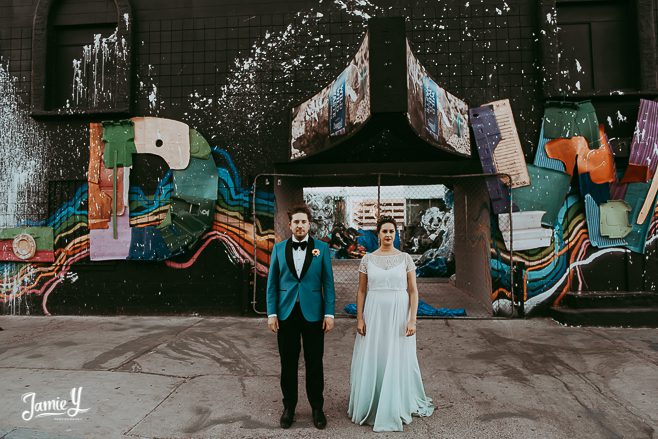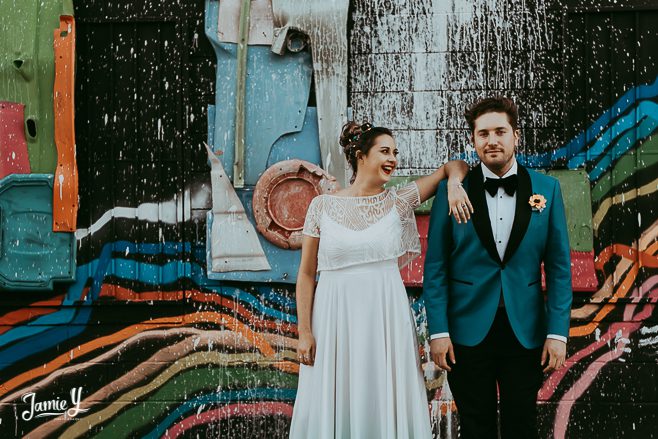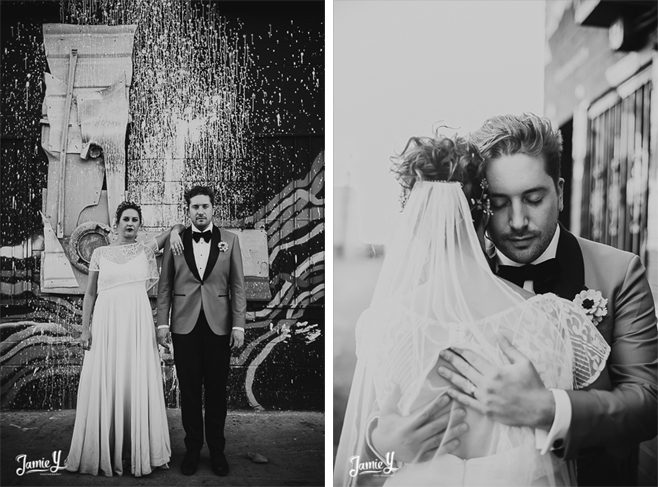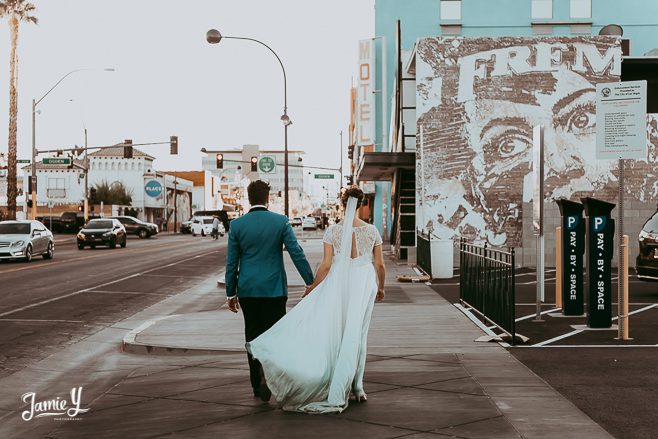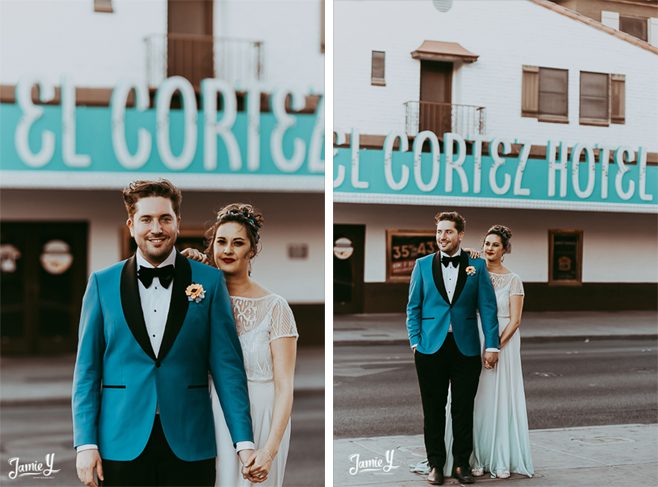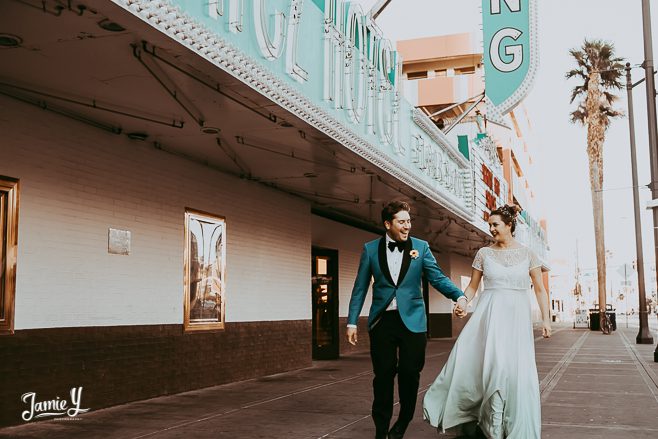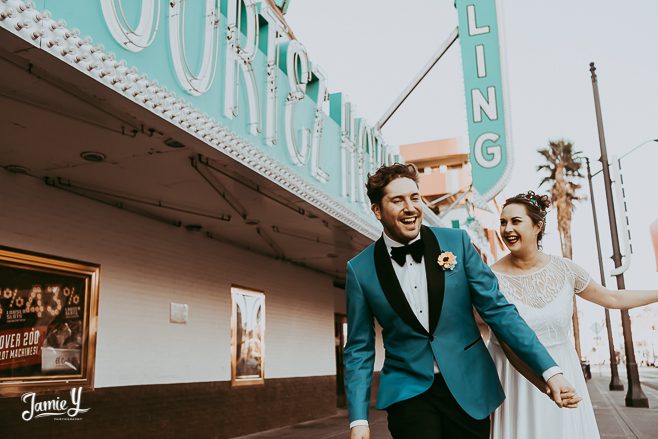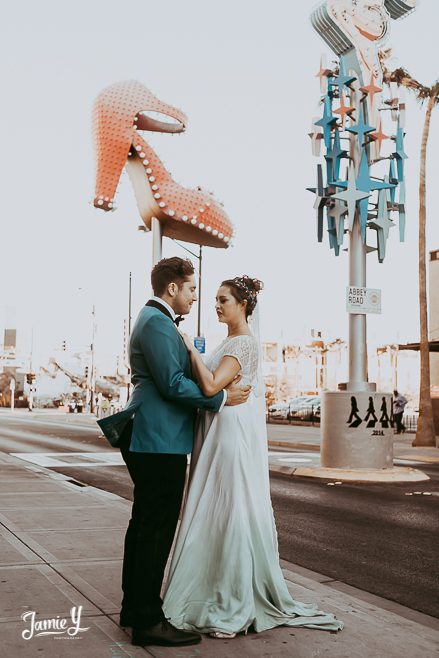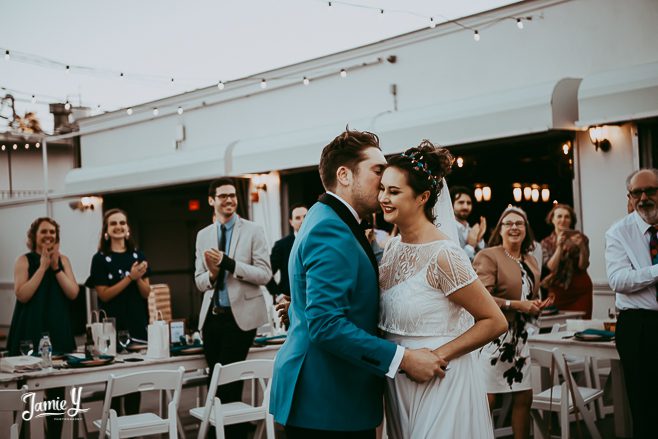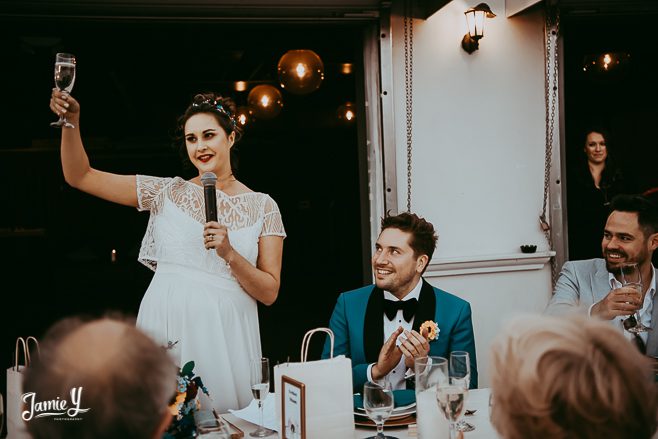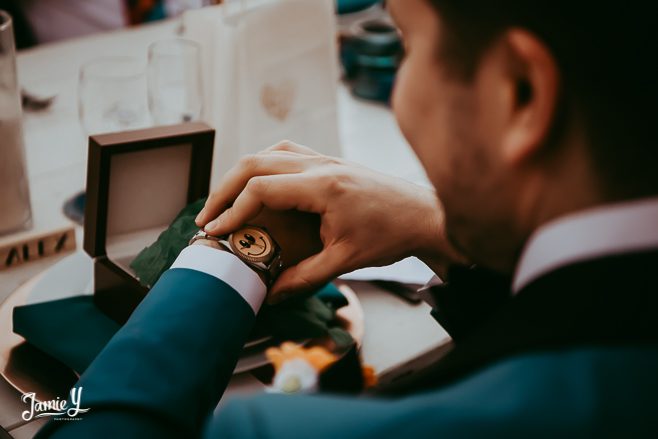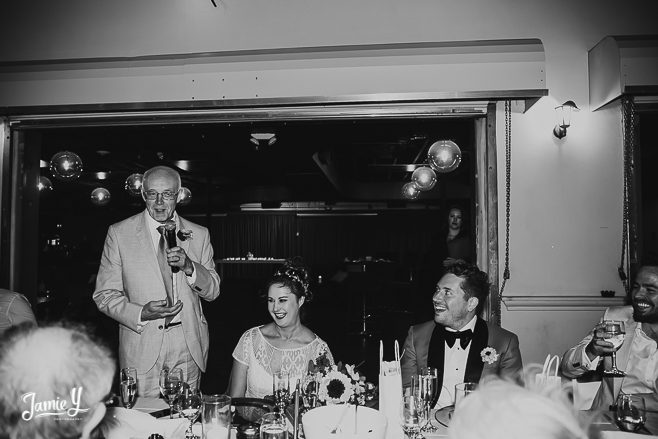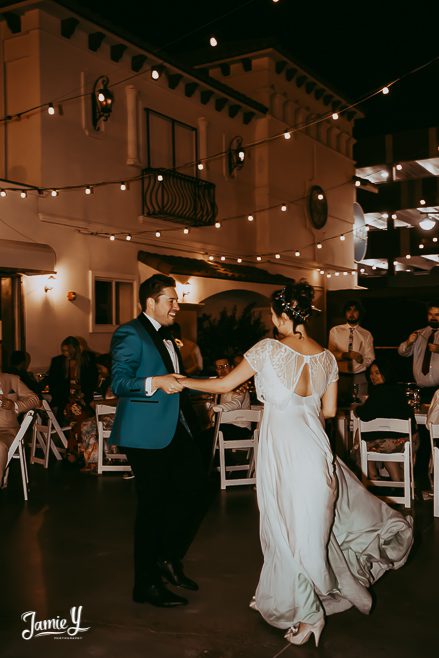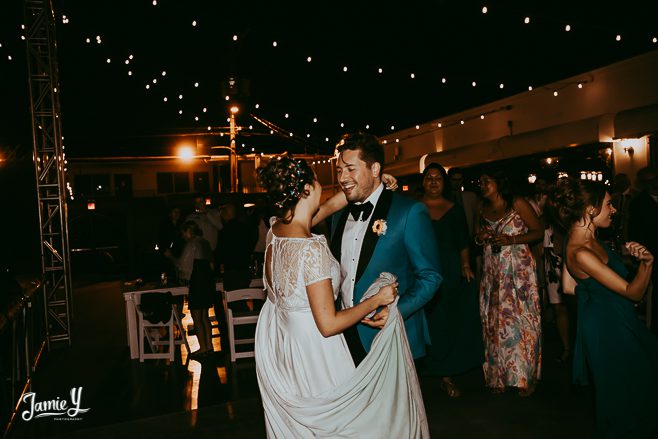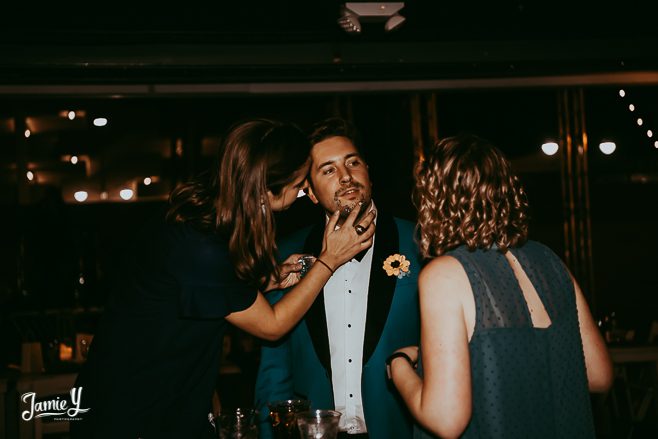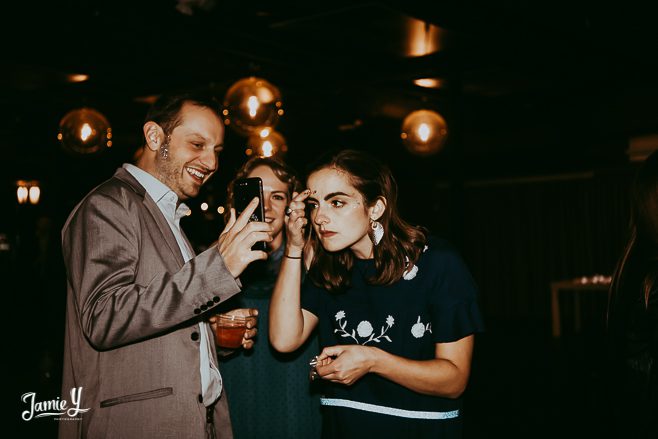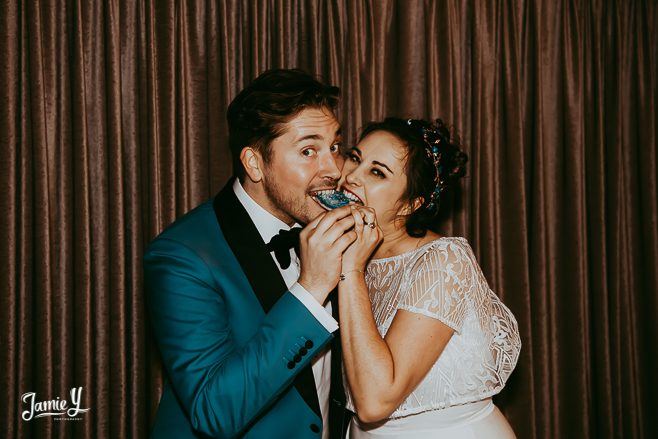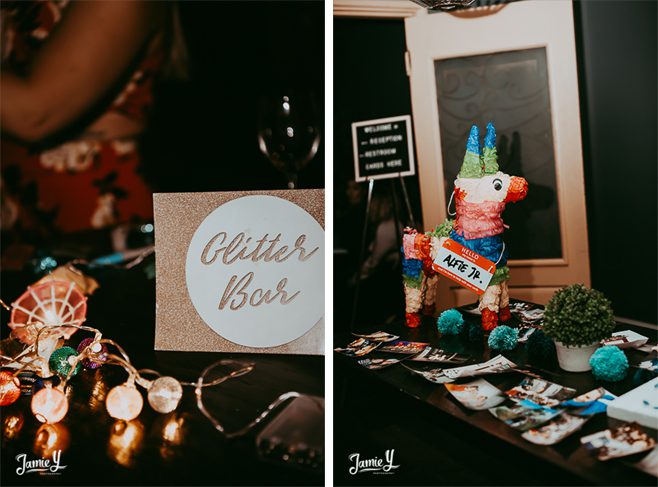 To see even more, watch the slideshow below.
Vendors:
Hair/Makeup: Atomic Style Lounge
Coordinator: Weddings & Events By Emily
Officiant/Permit: Weddings By Bonnie
Felt Florals: Charlotte Laurie
Men's Pocket Squares: Mrs Bow Tie
Cake: Bleu Moon Bakery
Catering: Simply Pure
Band/MC: Lucky Devils Band
Dress: Lucy Can't Dance
Shoes: Beyond Skin
Photography: Jamie Y Photography
Reception Venue: Place on 7th
Vintage Furniture Rentals: Dogwood Party Rentals
XO-Jamie
Valley Of Fire Wedding