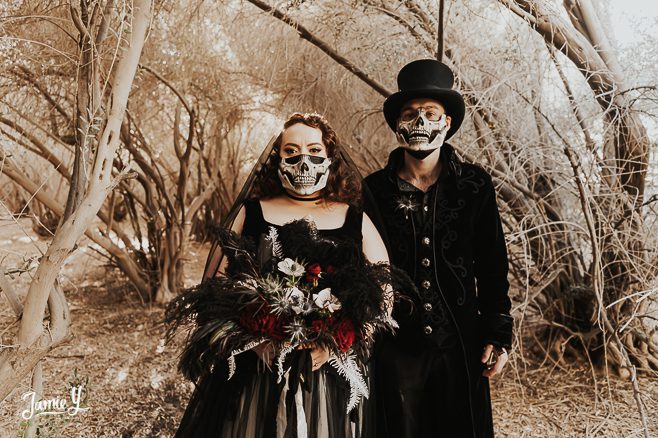 Wow, this wedding and couple was really amazing.  Before I share about the wedding day itself, here is their story:
"Our first time meeting was when we were 9 years old. We had a crush on each other as teenagers and he even wrote me a song when we were 13 called "forbidden". We didn't see each other for many years after high school until my birthday night in San Jose after a Sharks game. We met up for drinks at a bar, played pool, went to karaoke night, and it was history from there. After living in the city for a couple years we moved to Fresno to be closer to my family. Around this time, we both switched from our longtime restaurant careers into the mortuary industry. We thought it would be fitting to have a 'til death themed wedding and hope our guests have as much fun with it as we are. We're encouraging "gothic" attire and our ceremony is being performed by the grim reaper emerging from a coffin. "
Tarryn & Brandon's wedding was actually kind of a reverse wedding.  We started off the day at Greengale Farms for their portrait session and a private ceremony.  They brought some decor for the altar and said personal vows to each other in private.  This is only the second time in all of my years photographing weddings that both vows had a lot of matching wording.  It is always so special for the couple when they write something so similar.
After the farm, we all headed down to the Rio hotel where their dinner was taking place.  We took family and group photos outside before heading in for dinner.  The dinner took place in the Voodoo Steakhouse, which totally fit the theme.  Everyone enjoyed a delicious dinner and some even enjoyed the cannabis edibles provided as their wedding favor.
Lastly, the ceremony took place at midnight at the Viva Las Vegas chapel.  Officiated by the Grim Reaper.  The newlyweds headed off into the night in a hearse.  It was truly an amazing day full of love and family.
To see even more, check out the slideshow below.
Vendors:
Portrait Location: Greengale Farms
Flowers:  Roots, Flowers & Events
Hair/Makeup: Heads Will Roll Salon
Dress: Joli Barrios
Ceremony Venue: Viva Las Vegas Chapel
Reception Venue: Voodoo Steakhouse