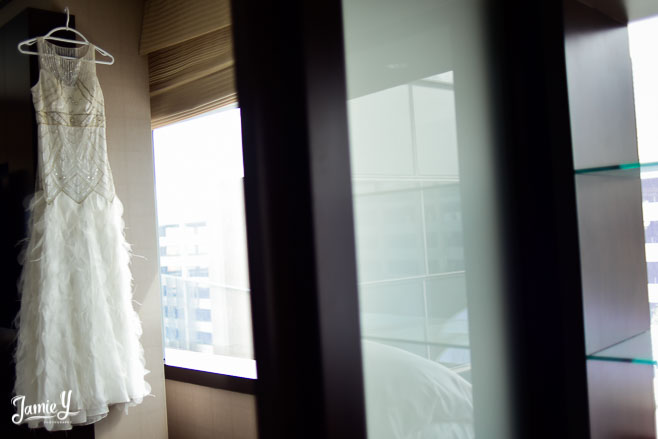 From the bride: "I was born and raised in Las Vegas, and Mark was stationed here in the Air Force for
seven years. We met and made our home here. We are temporarily on the East Coast in
Virginia for his work, which lets us travel to his hometown in Pennsylvania on the
weekends. It's like we live in three places at once! It sounds sappy but even with all the
traveling (me to the West Coast once a month to keep up with my client work, to PA on
the weekends, and earlier in our relationship when he was deployed twice to the Middle
East), it does seem like home is wherever we are together. It made sense to get married in
Las Vegas, where we met and where we have a house, even though most people think of
Elvis impersonators and little chapels on the Strip when they hear about a Las Vegas
wedding."
Valerie & Mark were married a few weeks ago in October.  Valerie got ready at the Vdara which is where I met up with her and her bridesmaids.  Valerie's wedding day style was pretty amazing.  Her art deco style Sue Wong dress looked like perfection on her.  Her hair was in a faux hawk style updo.  Valerie and all of her bridesmaids were so much fun and full of happiness for the day.  The reception was held at a unique location in Vegas, Three Square Food Bank.  The ceremony site was lined on one wall with a huge Las Vegas mural.  During cocktail hour they had live food stations.  Pretty great choice for a reception venue that not only holds your wedding but also supports such a great cause.
Often times at weddings I watch and wait for perfect moments to happen.  In the image above, I loved the silhouette being shown on that back wall from people on the dance floor.  I patiently waited for Valerie & Mark to be there at the same time looking at each other at the right angle.  Although I never got Mark in the exact spot, I kind of love just Valerie's silhouette.
To see even more from their wedding day, watch the slideshow below.
XO-Jamie

Valerie & Mark from JamieY Photography on Vimeo.