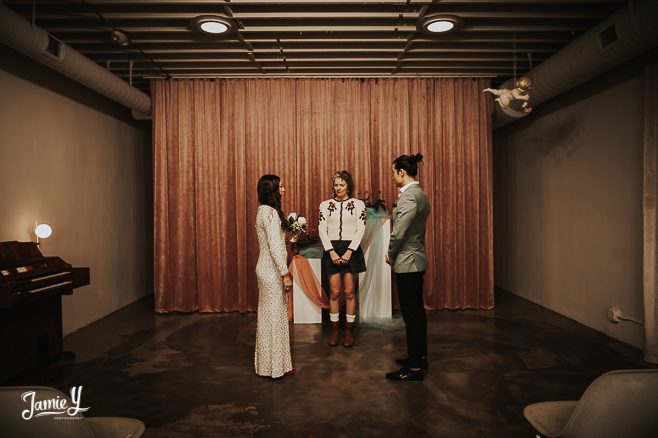 So excited to share this intimate Sure Thing Chapel Las Vegas elopement with everyone today.  But, before I do, just a few personal notes.  I know I have been absent on my blog and it has been months since I last posted a wedding or shoot.  This fall was one of the busiest wedding seasons to date.  Blogging takes up quite a bit of time, but I love keeping it up to date.  However, when I am super busy it just has to take a back seat.  For me to get everyone their gallery in time, I have to skip blogging.  I promise to catch up soon and post more.  I have so many great weddings to share.
I have been wanting to photograph a wedding at the Sure Thing Chapel since it recently opened.  Hillary & Ken were my first and I just want to thank them for hiring me to shoot it.
The Wedding Day
We met up downtown for their intimate ceremony.  Just the couple, me and the officiant.  Sure Thing chapel is very minimalistic, vintage, and has great light.  They even have a fun photo booth inside.  All of the decor is well thought out and they even have a record player to play a song.
The chapel is situated in the East end of Freemont with lots of Vegas style photo ops over there.  On this date, there just so happened to be a really big off road meet up expo thing taking up most of Freemont Street.  We went over by the El Cortez and then finished up at the Plaza for some of their neon lights.
I just loved photographing these two with their intimate love and impeccable style.
Thank you Hillary & Ken for trusting me to capture this special day in your lives.
To check out even more from this Sure Thing Chapel wedding, watch the slideshow below.
xo-Jamie
Sure Thing Chapel Las Vegas