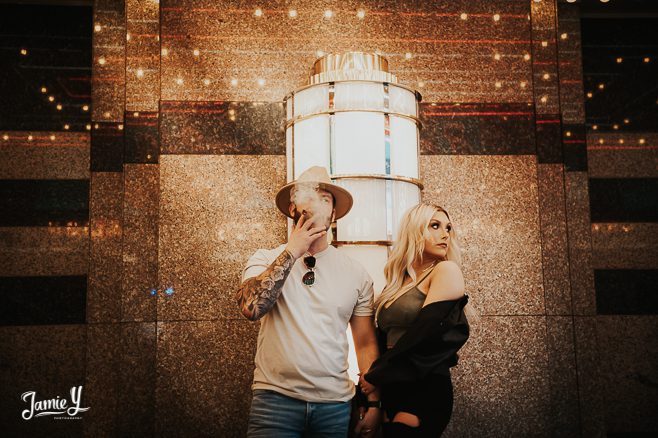 Gosh it has been a long time since I have blogged.  Happy to start with this Rock N Roll Engagement Photos Downtown Vegas.  I have just been so busy the last year and a half that blogging has taken a back seat in order to get everyone's images to them in time and also have any time to myself.  I want to blog more though and plan to.
This engagement shoot was one of my favorites.  Steven & Lyndsey came to Vegas from Canada.  They wanted a relaxed, candid, rock n roll vibe engagement shoot with a little cannabis mixed in.  They booked 2 hours, so we had time to walk around downtown, they got to smoke a little weed, and even were able to change into a second outfit.  We also got a few night time shots with the vegas lights.
It was so much fun photographing these two.  I always say, for candid shots, it is best to have something to do.  Pop some champagne, smoke a cigar, smoke a joint, whatever you like.
Downtown Vegas is a lot of fun for engagement photo shoots.  There are bars, fun art murals, old vegas neon lights, and just a fun celebratory vibe.
Rock N Roll Engagement Photos Downtown Vegas
XO-Jamie