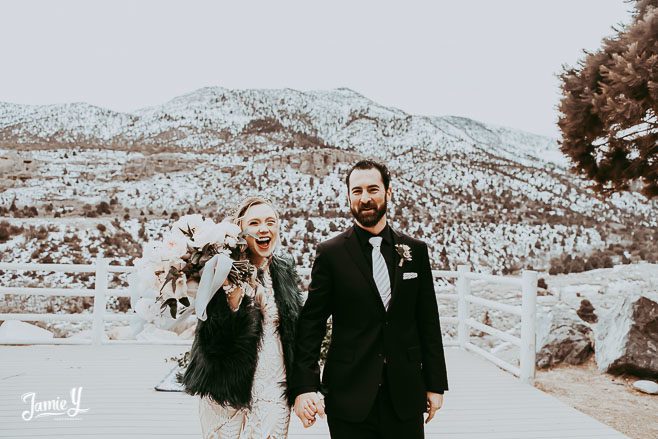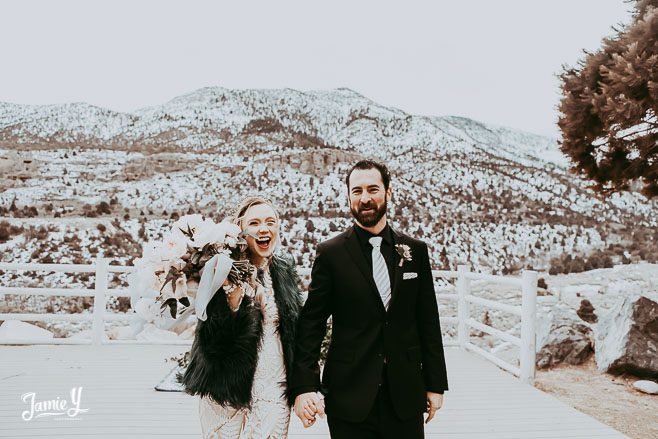 Mt Charleston Elopement Wedding. This whole shoot started with an Instagram post of me sharing this amazing dress by Rue De Seine. I have been in love with their modern bohemian dresses and was just dying to shoot one.
Planner extraordinaire, Emily, just so happened to have a friend that just got married in that exact dress, and everything was set in motion.
Since, the resort at Mt Charleston had recently been sold and was in the process of a remodel. Emily wanted to style an elopement up there, to showcase the new mountain top venue.
The location is now called Retreat At Charleston Peak. Most people associate Vegas with the desert only. Mt Charleston is about an hour from town and its a great escape from the heat or to see snow in the winter.
Emily, set up a styled shoot (faux elopement) to put it all together. Our bride, Ashlyn, is also a photographer and stylist who just moved back to town. We were all set to photograph her and her husband. However, he got sick right before the shoot so we ended up having Mike step in to the rescue.
It was cold and windy but it was magical non the less. We started off with a ceremony, performed by Angie with Peachy Keen Unions. With the snowy mountains as the backdrop.
Emily set up a cart with hot cocoa and pancakes. Such a great idea for a winter elopement or wedding.
There are a lot of images below but I just could not narrow it down any further. If you want something like this for your wedding, reach out to either Me or Emily below.
Above all, this shoot could not have been done without all the amazing vendors below.
Planning/Styling: Desert Elopements & Weddings & Events By Emily
Hair/Makeup: Brianna Michelle
Model/Styling: Ashlyn Savannah Creative
Officiant: Peachy Keen Unions
Location: Retreat on Charleston Peak
Florals: Layers of Lovely
Crown: Amaroq Designs
Dress: Rue De Seine
XO-Jamie
Retreat At Mt Charleston Elopement Wedding
Want to book an elopement, wedding, or photo shoot? Contact me here.