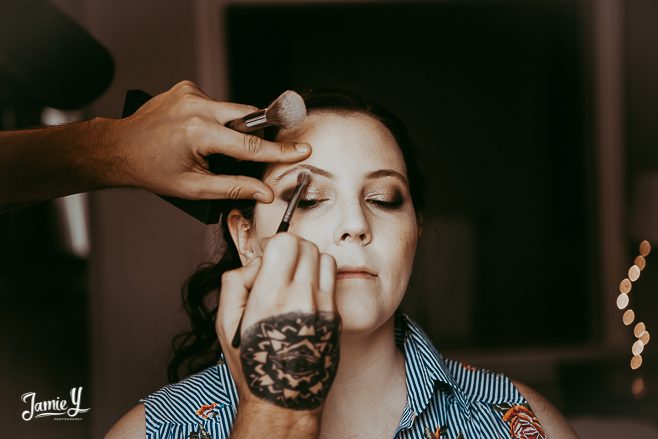 Today's wedding feature is a Nelson Ghost Town Wedding In Vegas.  Ronda & Adam traveled to Vegas with their closest friends and family from South Carolina.  Here is their story as told by Ronda:
"Once upon an online profile, I saw a hot guy with a beard on a motorcycle. I messaged him immediately. After a month or two of chatting back and forth, we decided to meet up with a group of friends and all go to the Renaissance Festival. At the last minute all the friends bailed. But Adam offered to make the trip up from Columbia, SC to go with me. We had a fun day and stayed until the festival closed. Before leaving to head back to Columbia, Adam just went for it and gave me a smooch!
After a year of long-distance dating, Adam relocated to Rock Hill to move in with me. We'd been living together about 8 months when I was out to dinner with my dad one night, and my dad accidentally let it slip that Adam had asked for my hand. (He thought we were already engaged!) So I knew a proposal was coming but couldn't say anything to anyone since I knew Adam wanted it to be a surprise. So for a month and half I pretended to know nothing! When Adam suggested a weekend in Asheville, NC (my favorite city) I took a wild guess that he might propose there. Adam did have one surprise I didn't know about though…he booked us a steampunk-styled suite! That night, on the deck facing the mountains, he asked if I wanted to make it forever. I shouted just a little too soon, "YES!" And we were engaged.
The decision to get married in Vegas started as a joke. Our first big trip as a couple had been to Vegas during DefCon a couple years ago and it's where the topic of marriage first came up for us. We had even joked back then about freaking out our families by posing outside a chapel as if we'd gotten hitched on a whim! This year, we were planning to attend DefCon again, and I joked that we could get married for real this time now that we were engaged. When I noticed that our trip was going to fall on the weekend of August 11 (811 is my family's lucky number), it started to click. Why not get married in Vegas, the marriage capital of the world? Some of our friends would already be out there for DefCon even. Vegas was one of the best trips of my life and it's part of our love story. So we wanted to share that with all our guests and invite them out for what will be another memorable trip!"
I started out with Ronda in her suite at the Wyndham Grand Desert capturing the finishing touches of hair and makeup and then her getting dressed and ready for the day.  After Ronda was ready for her wedding, we headed downstairs for a first look with Adam and then her dad to follow.  Ronda is a daddy's girl and wanted to capture that special moment.
The party bus then headed out for the hour long drive to Nelson ghost town where the ceremony took place.  Friends and family witnessed the ceremony in front of a beautiful cholla cactus garden.  We spent some time afterwards capturing couples portraits and family and friends.  We received an alert that a dust storm was headed our way but thankfully it skipped over us.  It did make for some dramatic skies at the end of the day.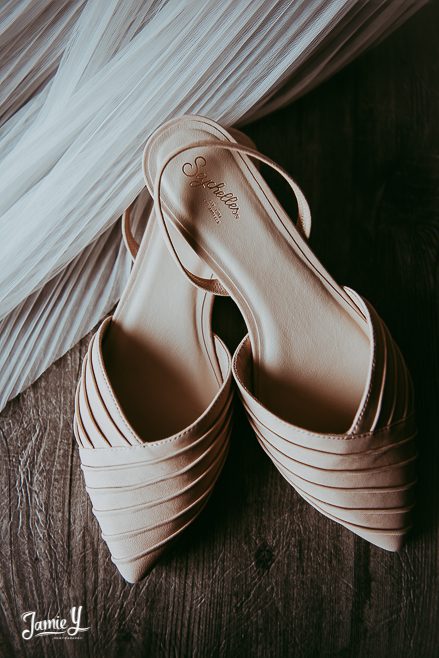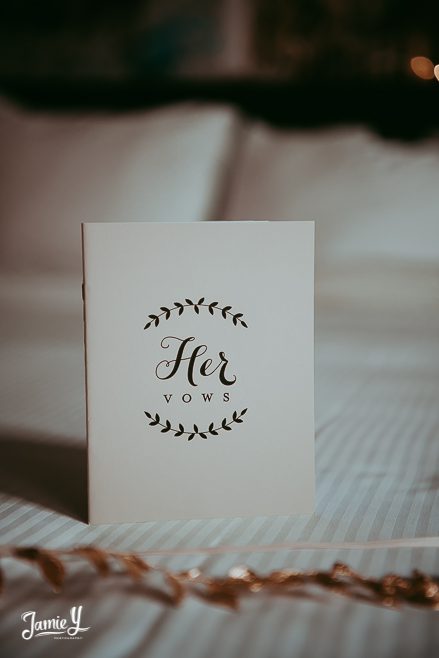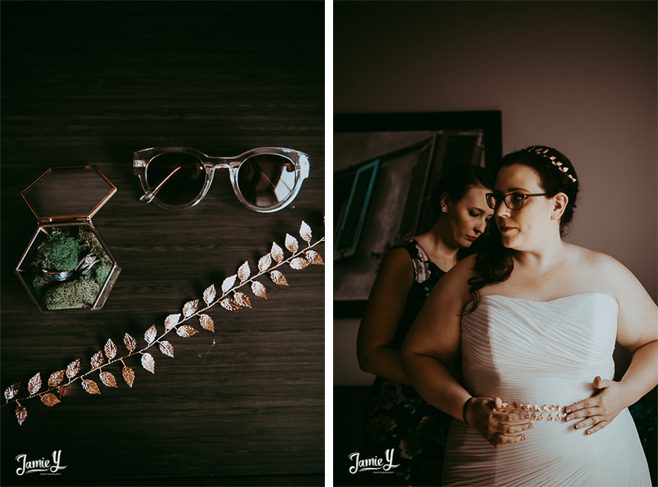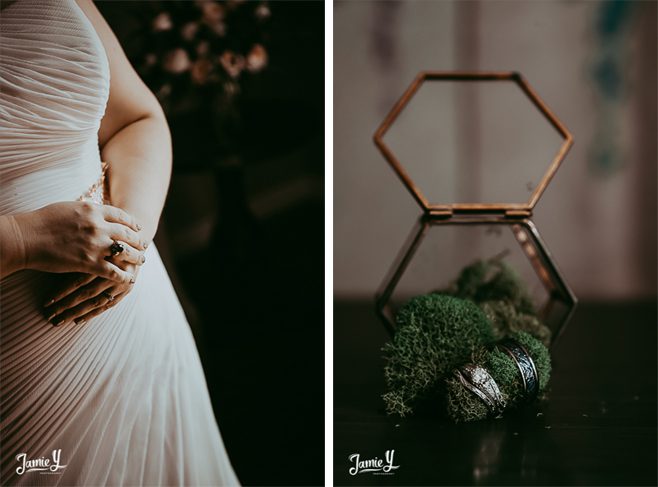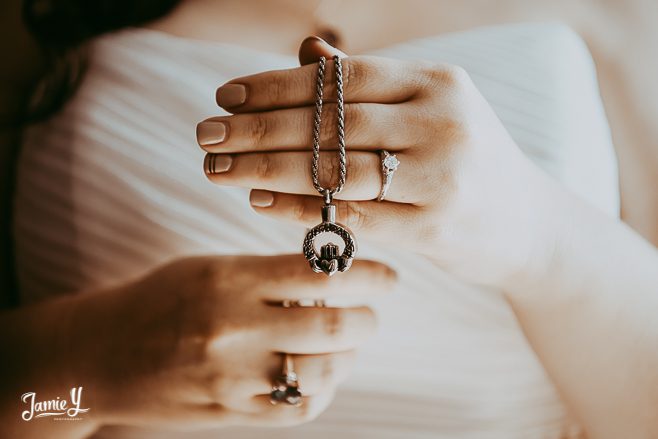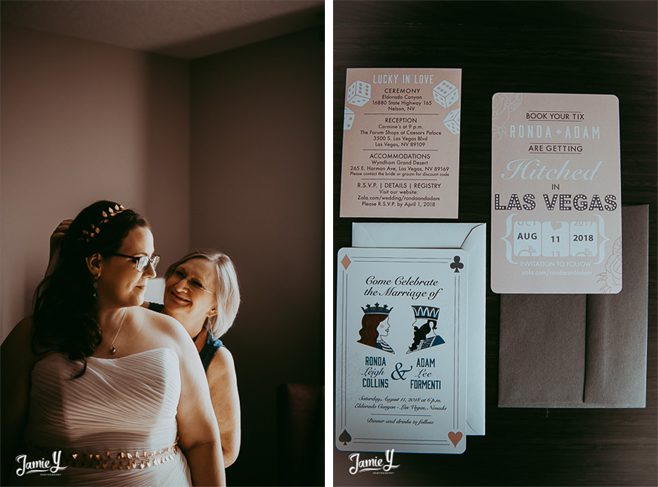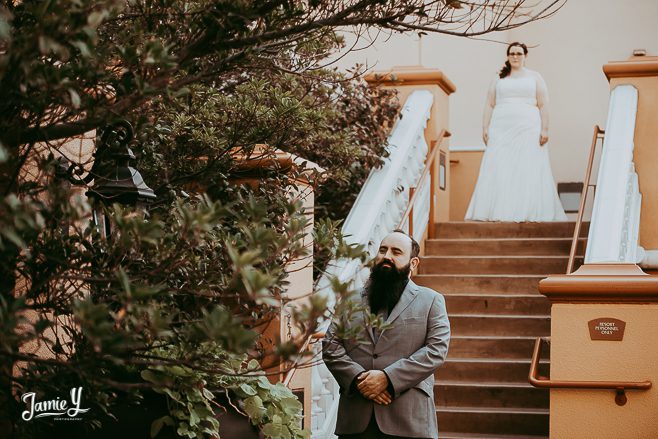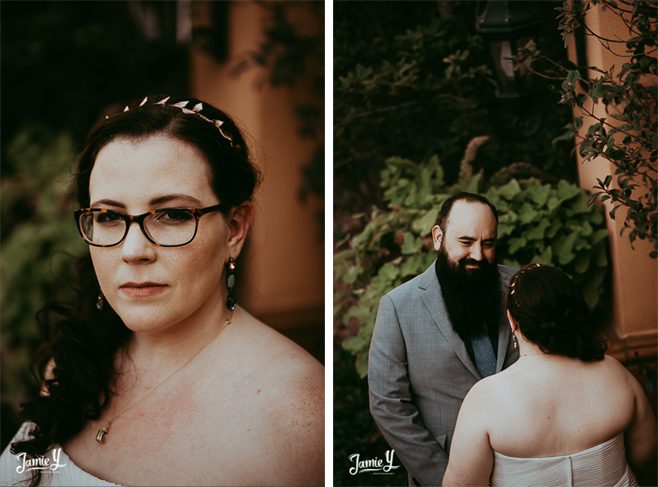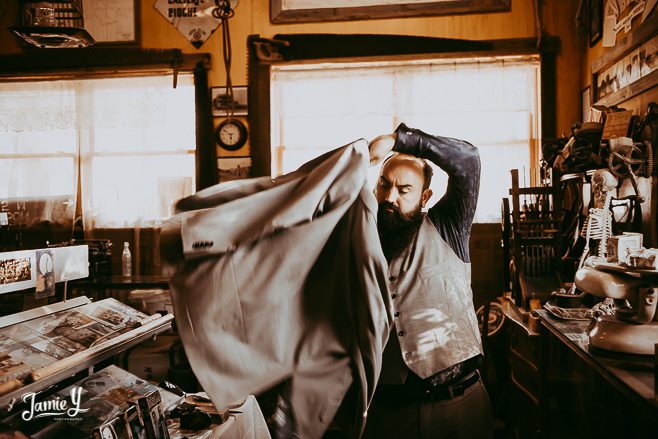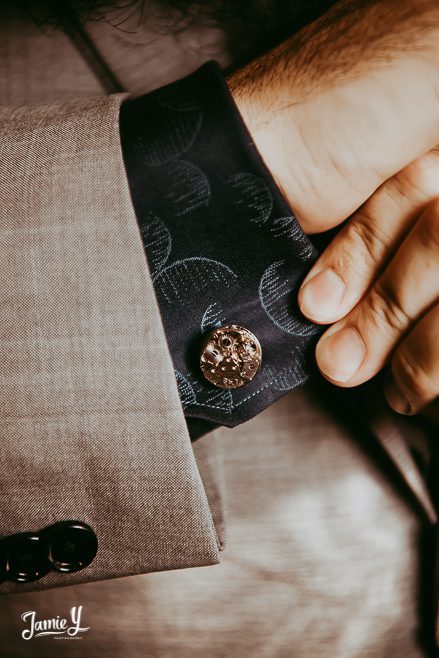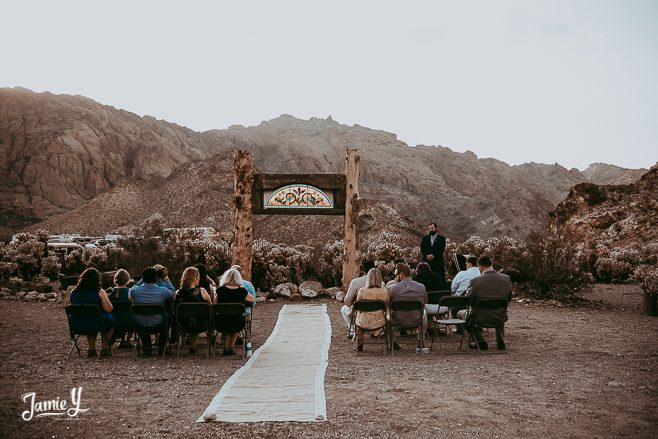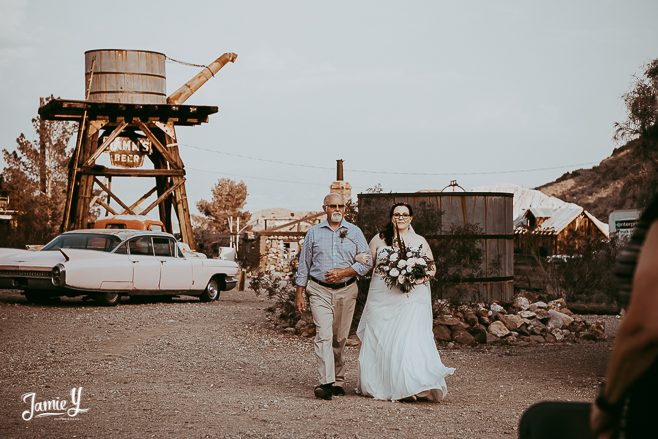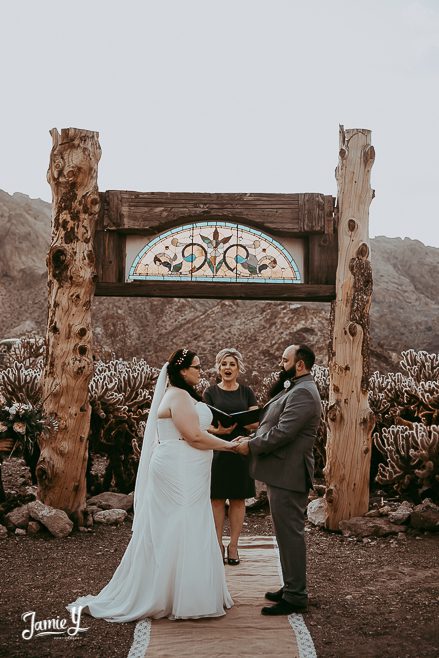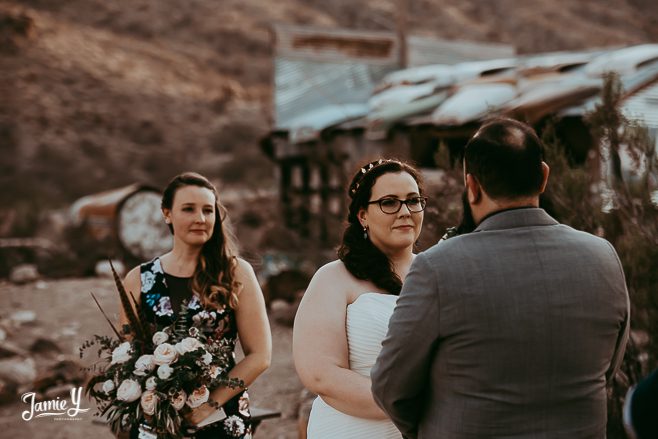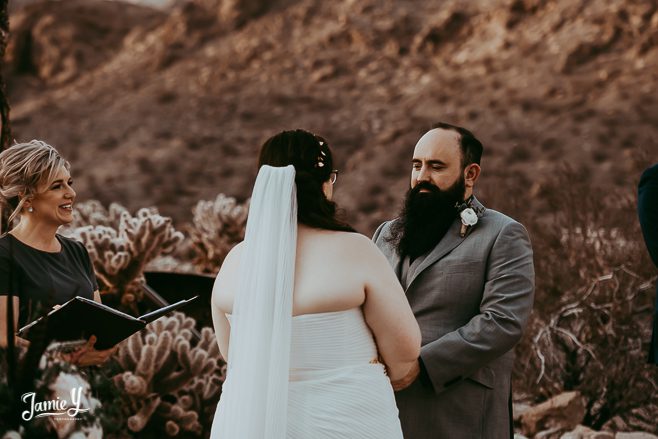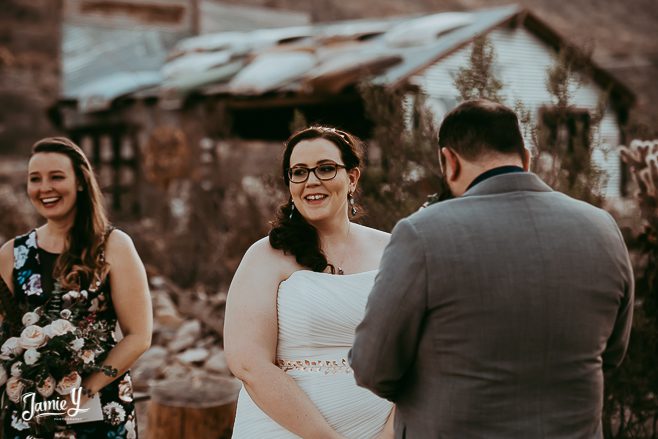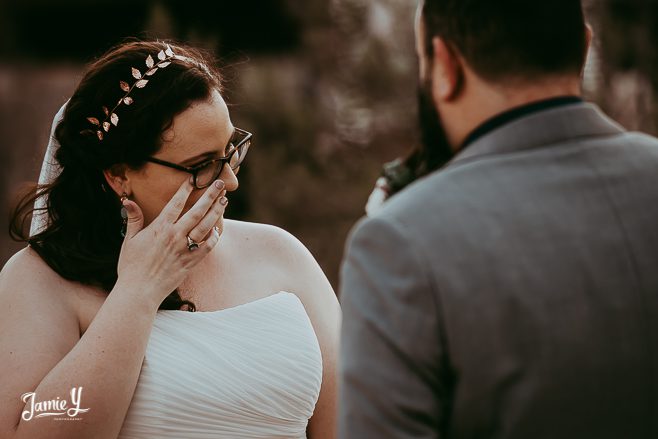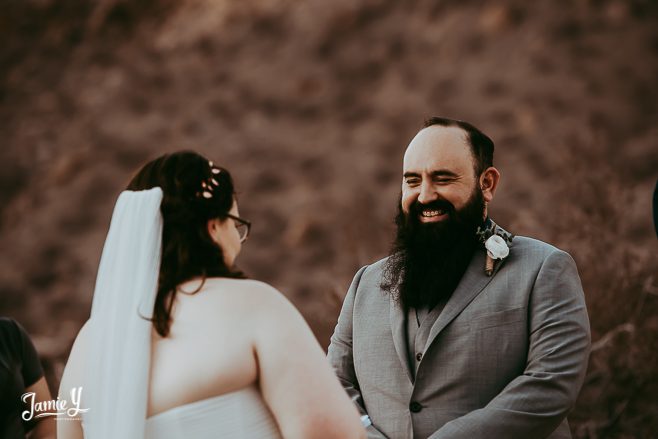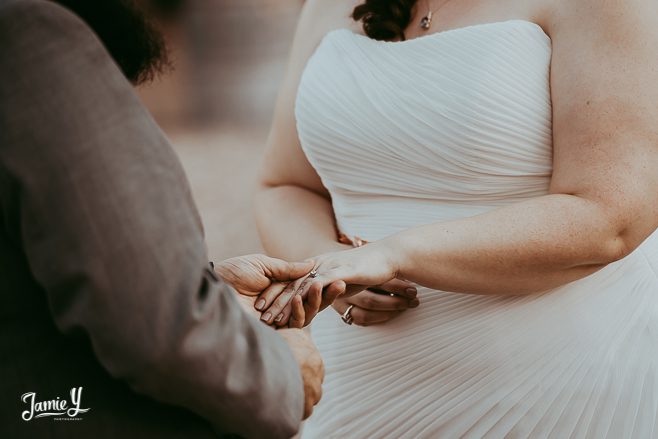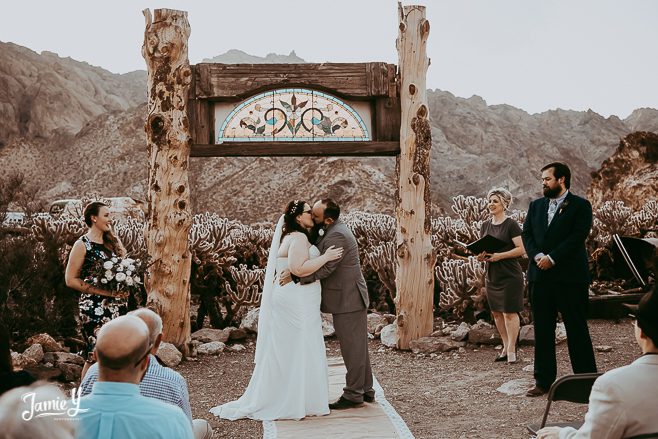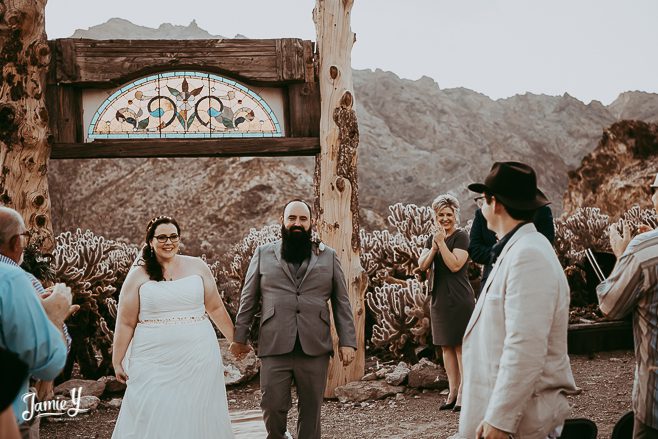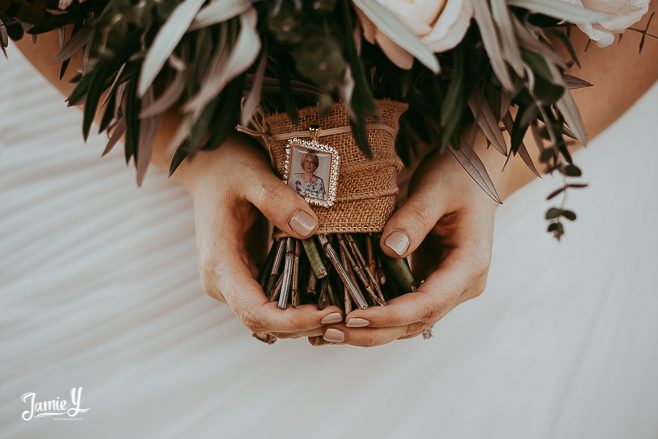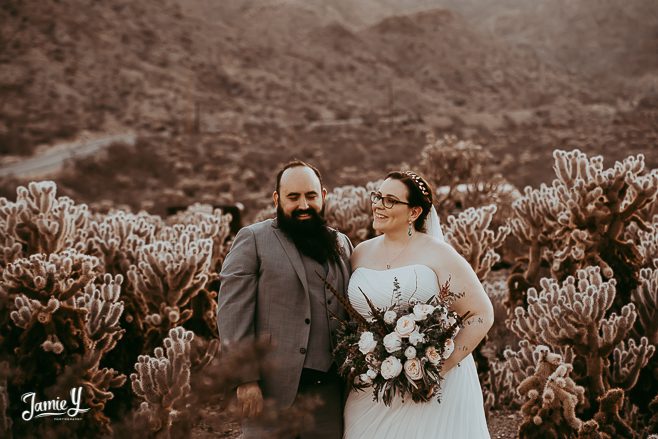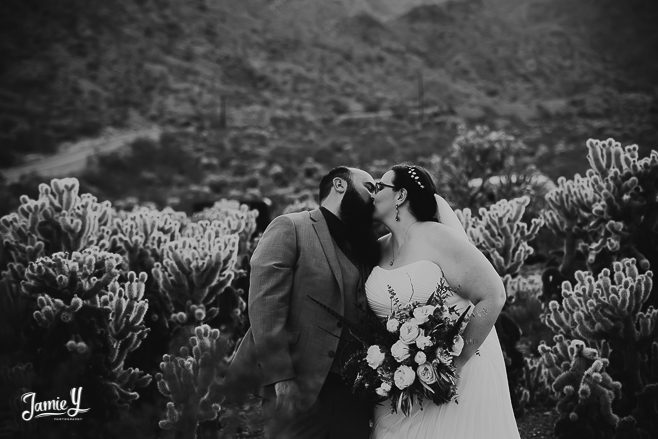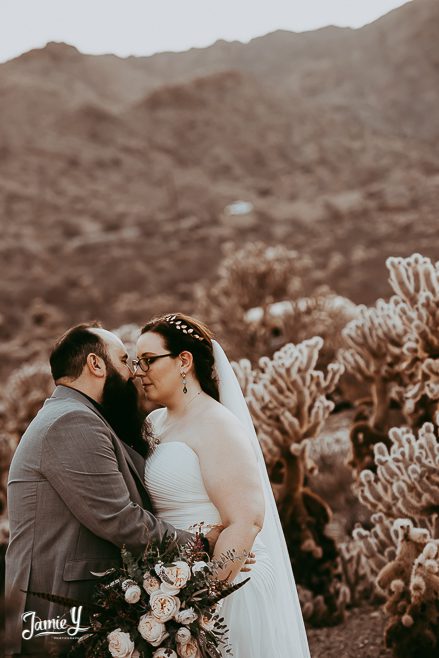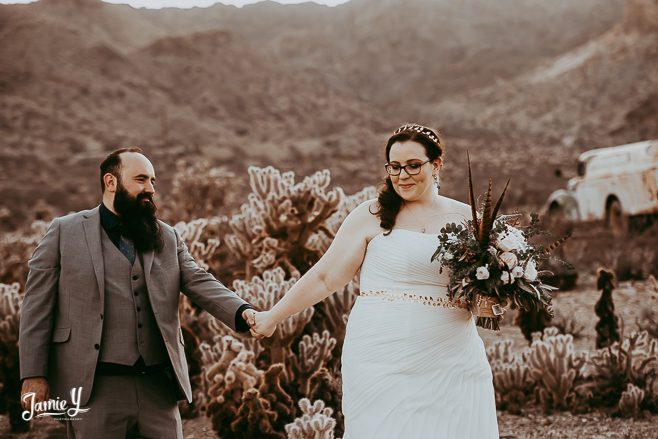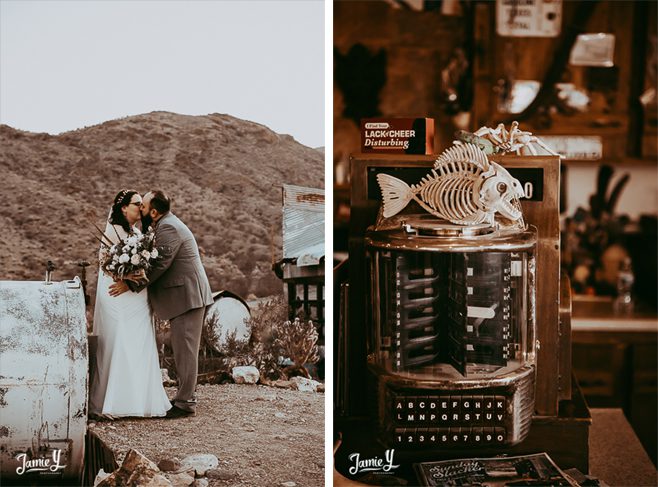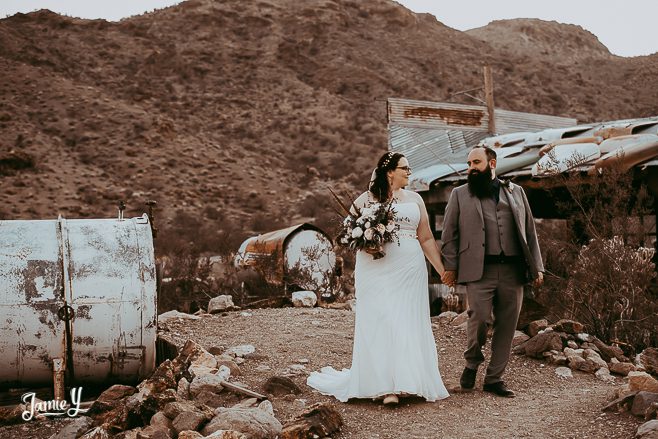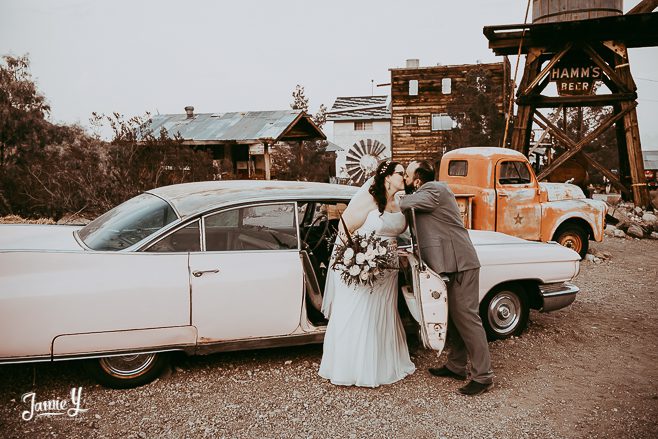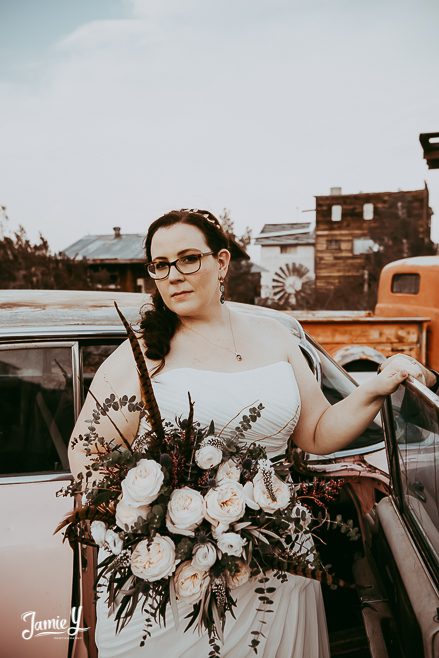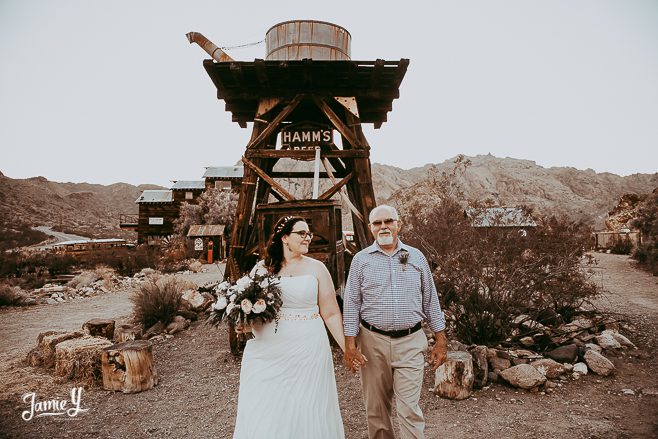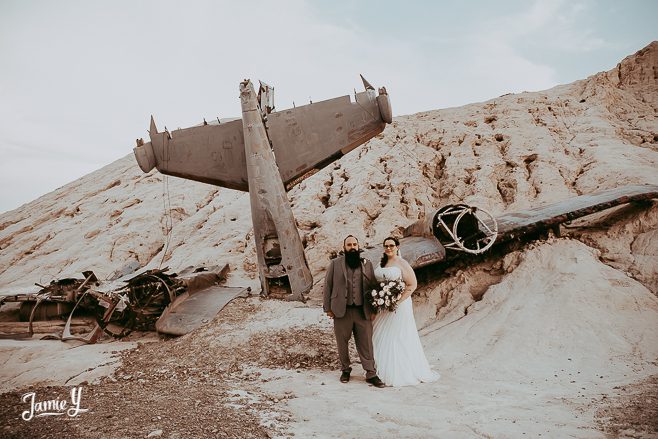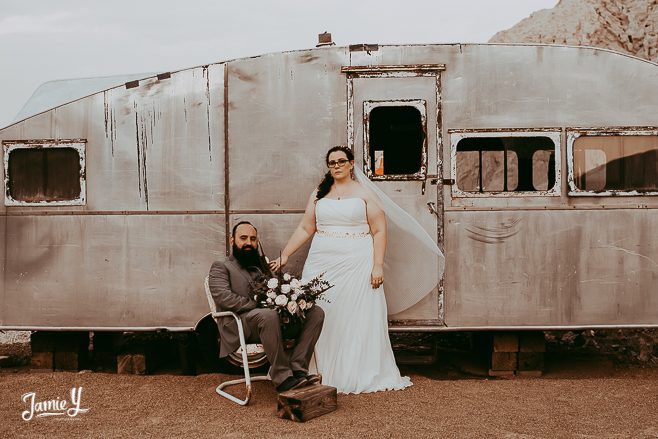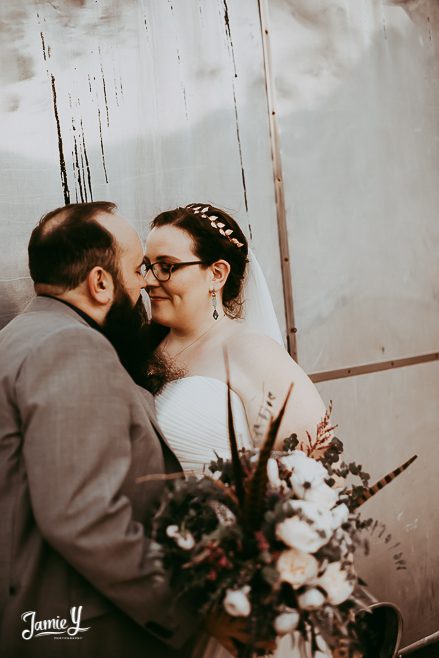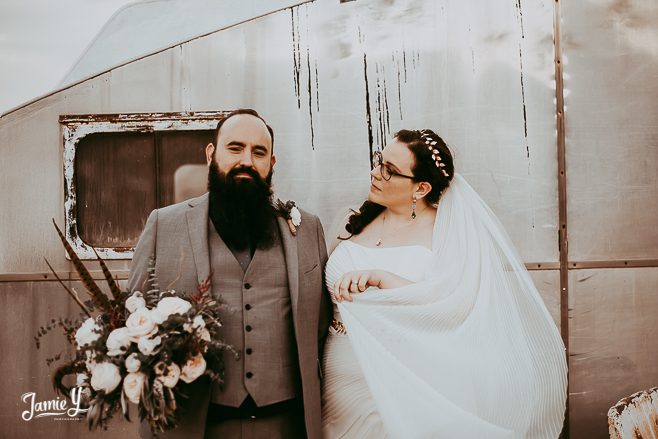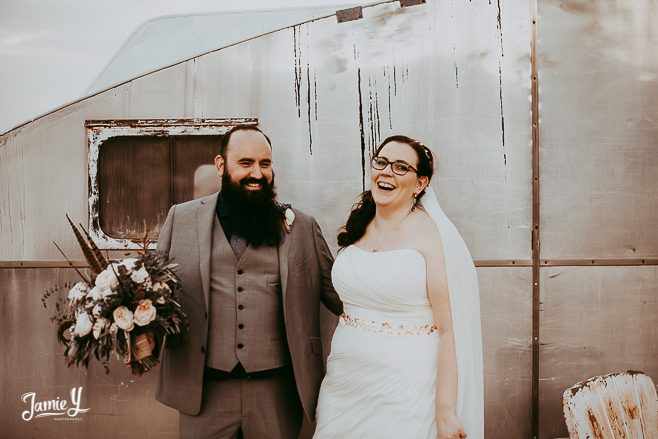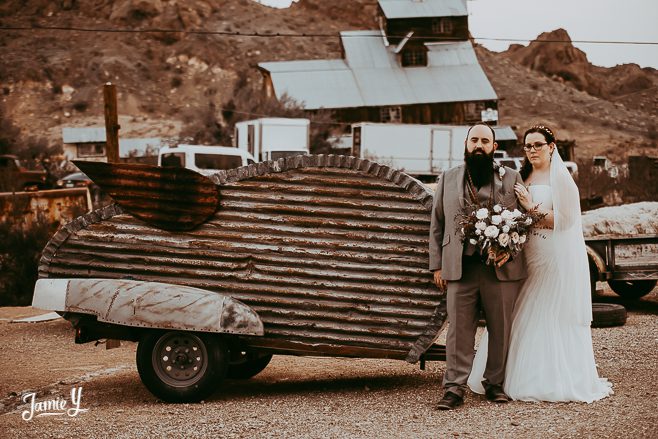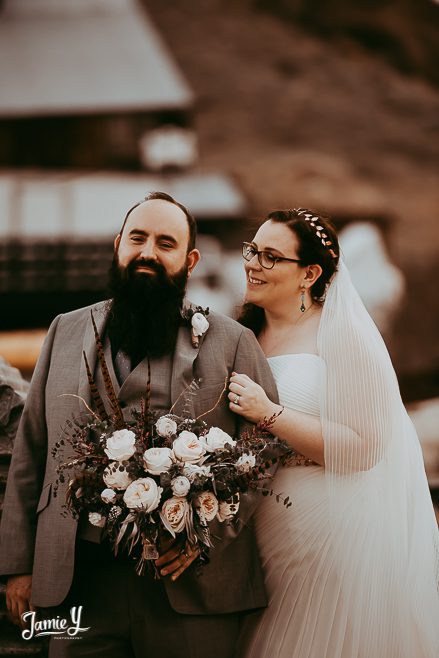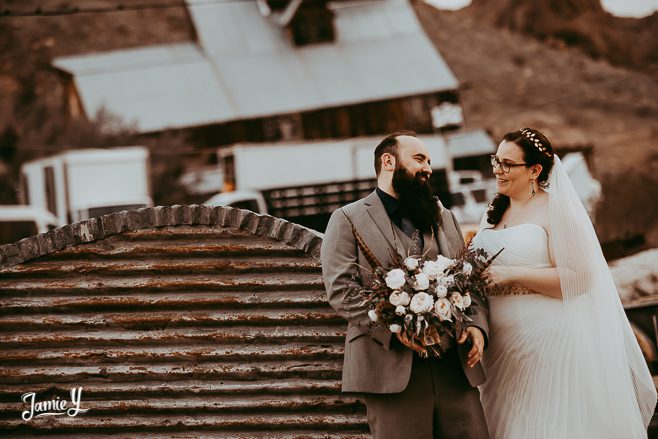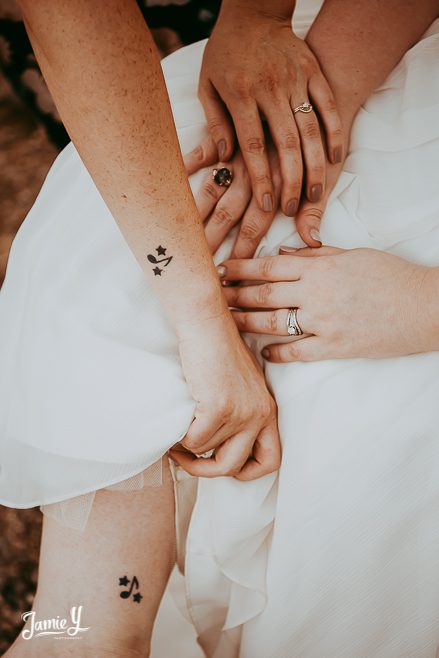 The image above is a special photo that Ronda requested.  Ronda's mother passed away a few years ago and her and hear sister got matching tattoos.  It is a similar tattoo to one that their mom had.  Ronda's mom had quite a few special places on this day.  A photo locket was attached to Ronda's flowers and a necklace of her's was included as well.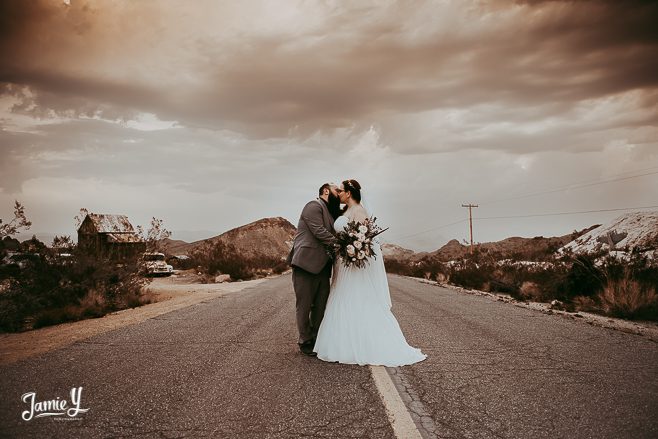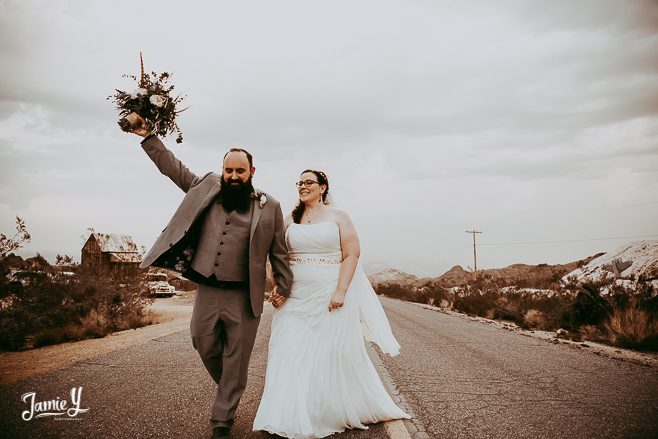 To see even more from this wedding, watch the slideshow below.
Vendors
Flowers: Roots Flowers & Events
Dress: Davids Bridal
Shoes: Seychelles
Venue: Nelson Ghost Town
Hotel: Wyndham Grand Desert
Officiant: Peachy Keen Unions
Hair & Makeup: Beauty Studio Inc.
Videographer: Swoon Creative
XO-Jamie
Nelson Ghost Town Wedding In Vegas