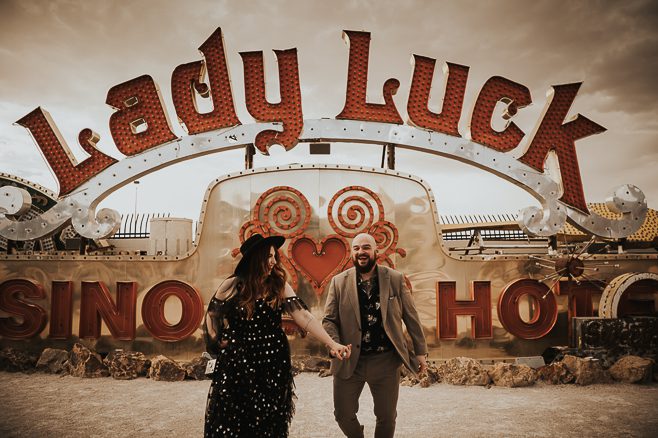 Today's blog post is this amazing Moody Rock N Roll Neon Museum Vegas Wedding.
Their Story:
"Me and Tom had originally planned a wedding in the UK with all of our friends and family. But, after being forced to postpone multiple times due to the pandemic, we soon realized that deep down a big, formal wedding wasn't what we wanted.   So, we decided to completely cancel our UK wedding and head over to Vegas to get married instead- just like my parents had done all the way back in 1987.
We were fully intending to elope, but after telling our friends and family about our new wedding plans, some of them just couldn't resist joining us for the ride. It means everything to us that we'll have some of our favorite people with us for our big day- especially as we've been waiting to get married for so long now. As soon as we saw photos of the Neon Museum online, we just knew it was the wedding venue for us. It suits our style perfectly and we love that we'll be surrounded by so much of Vegas' history during our special day. We also LOVE pizza so Evel Pie was the ideal place for us to go to celebrate afterwards."
The Wedding Day:
Scarlett and Tom booked 4 hours of coverage for their wedding day.  We set up a first look at one of the great parking garage roof tops in town.  Tom came with his friend, and Scarlett came a little later with her sister.  It was a beautiful moment.
These two had some amazing style for their wedding attire.  One of my favorite pieces, was Scarlett's custom black veil with black leopard print appliques along the rim.
After seeing each other, the rest of the day was a breeze.  We did a few photos among the neon lights downtown before heading to the ceremony venue, The Neon Museum.
After the ceremony, we took more photos and then headed downtown for some pizza at the infamous Evil Pie.  Their back patio has a mural with various Vegas themed cabbage patch dolls.  Super fun and intimate since nobody else was back there.
For those of you considering getting married at the Neon Museum, reach out to them ASAP.  They are fully booked for 2022 and several popular months in 2023 already.
Moody Rock N Roll Neon Museum Vegas Wedding
XO-Jamie