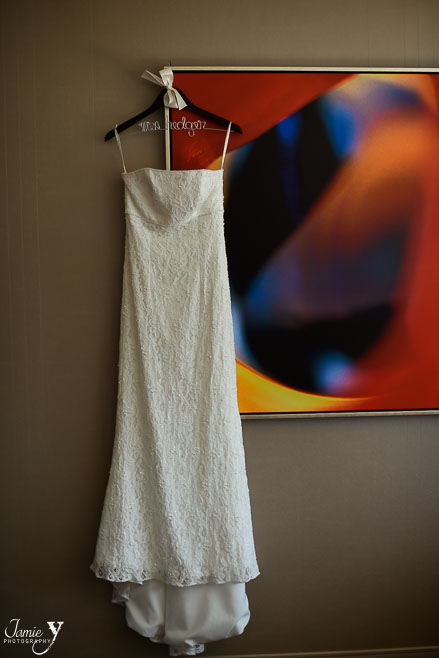 BJ & Mareesa traveled to the MGM Grand Hotel in Las Vegas for their destination wedding from Ohio with a group of close friends and family.  I met Mareesa in her room after she had her hair and makeup done at Christophe salon inside the hotel.  Her mother helped her put on her beautiful Galina dress.  As her father walked her down to the chapel, I met up with BJ and some of the other guests as they had a shot in the bar of the hotel.  The ceremony was photographed by the hotel's photographer and I met up with the group afterwards for photos.  The dinner reception was held in Fiamma.
BJ was childhood best friends with Mareesa's brother Matt.  BJ's family moved when he was 10 and the two friends lost contact for nearly 20 years.  Over the course of time and the travels of life, BJ and Matt reconnected in the spring of 2011 thanks to social media.  It was around that time that Matt reintroduced Mareesa and BJ.
Their engagement story:
The couple planned to host their second annual wine tasting on 12-27-2014.  BJ thought this would be a great opportunity to surprise Mareesa by proposing because she would be so busy planning and would not catch on to him.  He was right, it didn't even cross her mind.  The night of the party, their parents and some of their closest friends all crammed into their house to enjoy wine, appetizers, and good company.  Once the tasting was over, BJ thanked everyone for coming to the party and told everyone they planned to make it a yearly occurrence.  As he reached into his back pocket to pull out the ring, he said he thought she would kill him because her nails were not done and then he got down on one knee and popped the question as their friends and family screamed in excitement.
To see even more, watch the video below.
XO-Jamie
BJ & Mareesa from JamieY Photography on Vimeo.