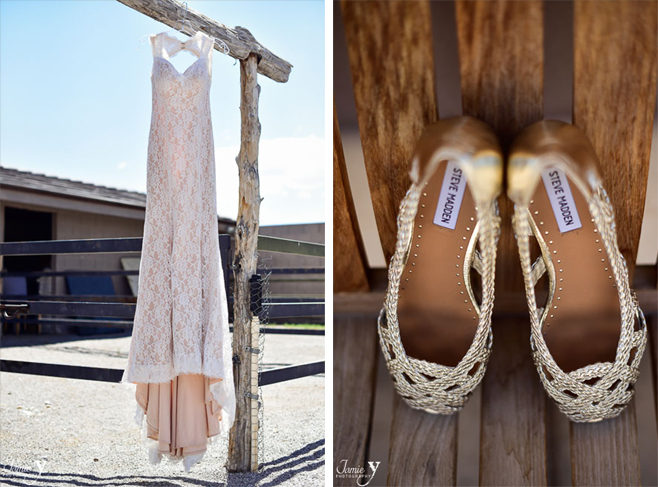 I am super excited to share Stephani & Todd's amazing wedding day with everyone.  This amazing couple lives in San Diego and chose Las Vegas for their destination wedding.  They wanted a location that was fun and easy to get to for their friends and family.  They chose a large rental home to hold their wedding as well as a weekend full of fun.  They filled the home with as many people as possible to share in the weekend festivities.  All of their friends were extremely helpful in getting the wedding set up.  The decorations, flowers, and more, were all pretty much DIY and lots of people pitched in with their talents to make bouquets, decorate the yard, cook food, and more.  The backyard was the perfect setting for their 80 person wedding, complete with a tree house, pool, stable, trampoline, swing set, and more.  They even brought their cat along and he posed for a few photos with us.
Stephani's friend did her hair and makeup and she looked stunning in her form fitting lace overlay vintage style gown.  Todd matched well with his suspenders, bow tie, and his sleeves rolled up to show off his tattoos and provide a little relief from the heat.  We set up a first look before the ceremony in the yard of the home.  After the first look we took some family photos and then got ready for the ceremony.  A friend of their's officiated the wedding and she looked amazing with her modern day Elvis inspired outfit.  Stephani & Todd walked down the aisle together and were full of smiles the whole way down.  The trampoline was on the path of the aisle and they jumped off after the ceremony was complete.
The backyard was set up with a tent and bistro lights across the tops.  The tables were decorated with various glass vases and bottles that Stephani's grandmother had collected.  The food was provided by Poppa Napp's bbq and even the Sno Ono Shaved Ice truck came for a special treat.  There were many special toasts as well as a special video that Todd made to show at the reception.  The night ended with lots of singing and dancing and it was clear that everyone had a great time.
To see even more from their amazing day, watch the slideshow below.
XO-Jamie
Stephanie & Todd from JamieY Photography on Vimeo.