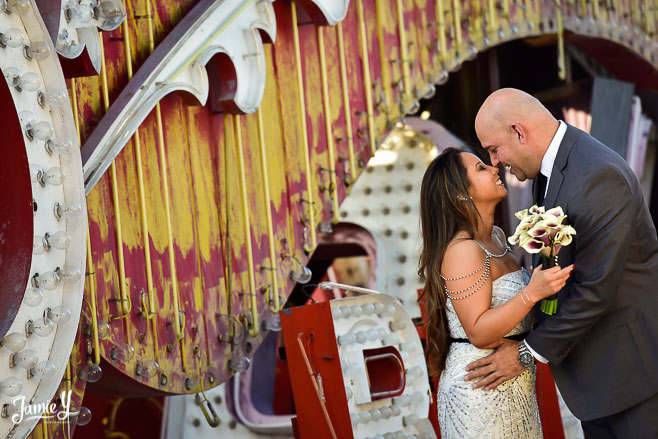 Simone & Josh are one of the funnest couples I have had the pleasure of photographing.  They were getting married on a Saturday at the Flamingo.  I met up with them the Thursday before to take some wedding portraits at the iconic Neon Boneyard Museum.  They both wore their stylish wedding day attire and even brought along elvis wigs and glasses.  Simone's dress had a great gatsby vibe and she wore a jeweled piece that she made to go over her shoulders and neck.  Halfway through our shoot, Josh grew a little tired of the heat, and rolled up his sleeves to expose his awesome tattoos.  They also brought along some gum for a few fun bubble gum pictures.  They were cracking me up the whole time.  Some gum is extremely hard to chew and doesn't give the best bubbles, unfortunately that is the exact gum they got.  Still not sure who got the biggest bubble but they both tried super hard.
To see more, check out the video below.
XO-Jamie
Simone & Josh from JamieY Photography on Vimeo.