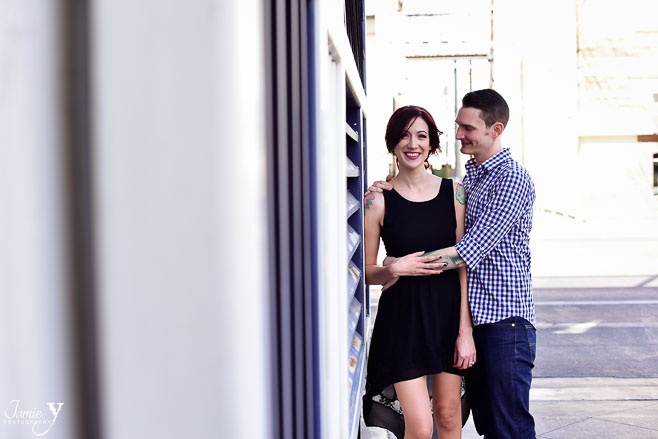 I met up with the beautiful Stephanie and her fiance Todd last weekend in DTLV, Downtown Las Vegas, for their engagement session.  Stephanie and Todd live in San Diego and came out to Vegas to work on some wedding stuff over the weekend.  Stephanie had her hair and makeup trial, the perfect day to also schedule your engagement photos, earlier in the day.  I met up with them for our photo shoot in the afternoon and we walked around to the various Vegas lights and artsy spots.
We talked a little about their bachelor and bachelorette parties coming up.  Todd is going to Reno and Lake Tahoe and Stephanie is going to Arizona and taking a rafting trip on a salt river.  Sounds so much more fun then a night in Vegas, that's for sure.  I cannot wait to photograph their wedding this June.  I can tell it is going to be pretty unforgettable.
To see even more from their engagement session, watch the video below.
XO-Jamie
Stephanie & Todd from JamieY Photography on Vimeo.