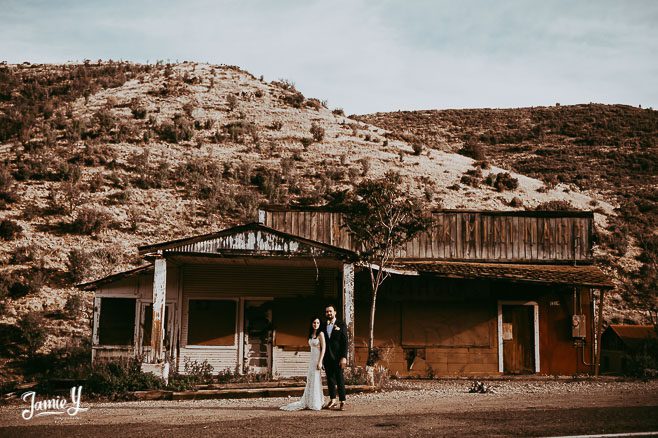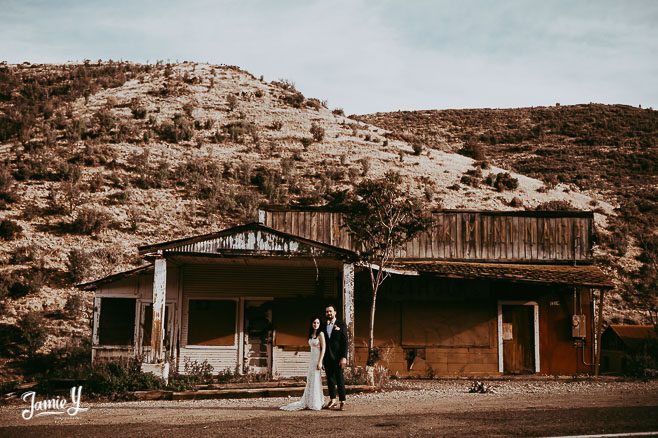 So excited to finally share this Jerome Arizona Wedding Photography. Samantha & Vincent contacted me about their destination elopement and where they planned to have it. In this little old town called Jerome in AZ. I immediately looked it up and fell in love.
Jerome is an old mining town situated between Prescott and Flagstaff. It is known to be haunted. Perched upon Cleopatra hill, it takes you back in time and you almost feel like you are in a different country. The windy roads are full of some houses and shops.
With a population of 500 people, it was still pretty busy with tourists. Tool frontman, Maynard James Keenan has a couple wineries and shops in town, and who knows, he may even live there.
Samantha & Vincent chose the super unique location, Surgeon's House Bed & Breakfast, as their location. They stayed there and were able to get ready on property. They both got ready at the same time in their suite. The room was full of kitschy decor and even had an old prostitution license framed above their bed.
Samantha & Vincent decided to elope. It was just them and their dog . After getting ready, we headed out to the gardens where the ceremony took place. So many cute garden areas overlooking the canyon below.
After their intimate ceremony, we headed out on foot to some of the nearby locations with their dog. We stopped by some of their favorite places that they go whenever they are in town. Next, we packed up the dog in the room and headed out in the car to a few further out spots. There is a really cool old run down gas station on the way up the hill. Both Samantha & I had that spot in our heads so we had to go.
We made a stop at the Asylum hotel where they typically visit to stay or eat. We ended at the old school. The school is open and has several artists studios and is even one of the stops for the ghost tour.
Lastly, we had such an amazing time together and I could have photographed there all day long with these two. There is so much to see and I don't think Samantha or Vincent can take a bad photo.
This Jerome Arizona Wedding was one of my favorites of all time.
Make sure to watch the slideshow below for even more photos of their day.
Vendors:
Getting Ready/Ceremony Venue: Surgeon's House Bed & Breakfast
Hair/Makeup: Sedona Beauty Team
Dress: BHLDN
Flowers: Sedona Mountain High Flowers
XO-Jamie
Jerome Arizona Wedding Photography
If you are interested in booking a wedding in Jerome Arizona or beyond, contact me here.