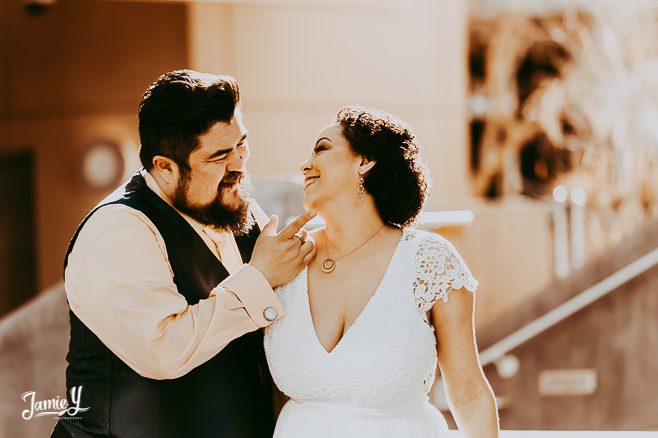 Check out this Henderson Convention Center Wedding. Val & Andy had a very special and personalized DIY wedding. Here is their story as told by Val:
" Background: We had known each other for 7 or 8 years before we started dating. Andy and I were acquaintances or friends all that while. After some life changes , some serendipitous timed encounters and lots of laughs, we went on our first first date (there were 3 lol).
The proposal: Andy knows me. He knows I do not like surprises or being put on the spot. So I knew he was going to propose. He told me he was, we even picked out the ring together. But I didn't know when or how. Only that it would be after our 1 year anniversary of dating in April . One night after a friends birthday (in March), we were driving home.
Andy was trying to be sweet and ask about our last 11 months together, bringing up memories, asking about the future. All very sweet. But I was in an awful mood because my friend's birthday was at an escape room and we didn't escape and my competitive heart was more than a little annoyed. But he persisted, took me to he place he first kissed me and got on his knee in the drizzling rain to ask if he could pick me for always .
The Wedding: Everything that was chosen for the wedding was because it was "us". All vendors are people we have known for 8 years at the least that we want to support and have with us (except me the photographer). The signage was made by a student that used to be in our youth group. The beers were brewed by local brewers who Andy visits and works with about once a week year round.
Our games are picked because they are some of our first or most memorable date nights. Beauty and the Beast because one of our first dates was to see the live action movie, and its been a running theme that he's big, hairy and beast like with most people thinking he's tough, but really quite a softy while I am somewhat of a quiet-ish girl that keeps to herself until she is comfortable with the people she's around (even if they seem a little odd themselves).
We included the Star Wars parts because the movies were some of Andy and his boys' favorites, but that Valarie and Mimi hadn't seen until Andy asked about it. Also, Han Solo and Princess Leia have the infamous "I love you"…"I know" exchange, and it has always been Val's personal belief that I love you is not a question so I know is a perfectly acceptable answer. And we use it often ourselves.
The Henderson Convention center is a great place for an outdoor wedding in the spring or fall. Their ceremony was held in the amphitheater area, which has lots of seats and covered from the weather. The outdoor patio is where the reception was held. Bistro lights lined the ceiling and everyone enjoyed the gorgeous weather.
There were so many personal details in their wedding that it is hard to list them all. You can see some via the slideshow as well as the images listed below. For the food, they had two food trucks. A local brewer even made them their own special brew for the night. A cigar roller was even on site.
Val & Andy have a blended family. During the ceremony, each of them read special vows to the other's children. Val read vows to Andy's 3 boys. Andy read vows to Mimi, Val's daughter. Mimi was very emotional and it was so touching. I definitely had to stop myself from bawling. At the end of the vows, Andy presented Mimi with a bracelet as a gift. Often during the ceremony I would catch Mimi admiring the bracelet.
Oh, and one more thing. Really there are a million special things that happened. But, one that stuck out was when the family did a sand ceremony and then afterwards they all held hands and did the wave. I have a photo of it below and now that you know, you can kind of tell what is happening there.
To see even more from their wedding day, watch the slideshow below..
Food Trucks: Strip Cheeze & Rolling Fusion
Venue: The Henderson Convention Center
Cake: Sin City Cakes
Hair/Makeup: Makeup In The 702
XO-Jamie
Henderson Convention Center Wedding
Getting married and want to chat? Contact me here.