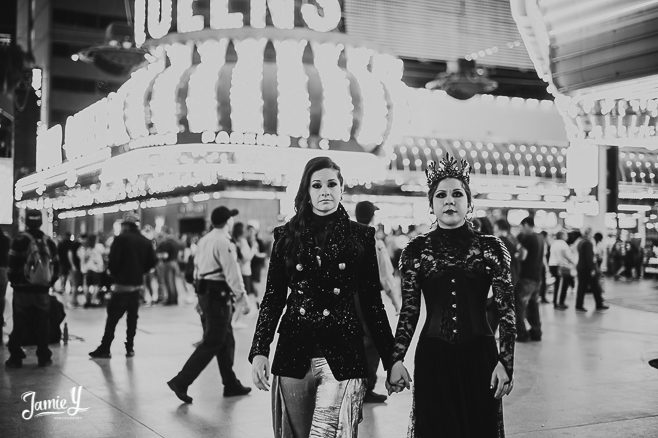 Today's real wedding feature is the Gothic Vegas Wedding of River & Raven. Such a fashionable couple!
River had mentioned in their questionnaire " Raven will be wearing black glittery jacket with glittery makeup. River will be wearing more gothic style clothing and makeup." After reading that I was so excited to see them and their attire for their wedding. It was more then I could have imagined.
Raven wore a black glittery Balmain jacket with silver metallic pants that flared out on the sides. River wore an amazing jeweled crown with lace, studded shoes, and the coolest metal shoulder accessories I have ever seen. People kept asking them where they were from, like their clothing made them from some exotic land far away. But these two live in Texas.
I met up with them in their hotel room at the Wynn. After getting dressed, we did a few photos with their cake. They had an amazing pink and floral cake that was the perfect juxtaposition to their dark clothing. They brought cute heart sparkler toppers for their cake as well.
We spent some time walking around in front of their hotel and then heading to the pipe sculpture at Symphony park before heading to our final destination downtown.
River & Raven had their ceremony inside the Little Neon Chapel which is right off of Freemont street downtown.
To see even more from their wedding day, watch the slideshow below.
xo-Jamie
Vendor Team:
Hair/Makeup: Amelia C & Co
Chapel: Little Neon Chapel
Getting Ready Hotel: The Wynn
Jacket: Balmain
Gothic Vegas Wedding