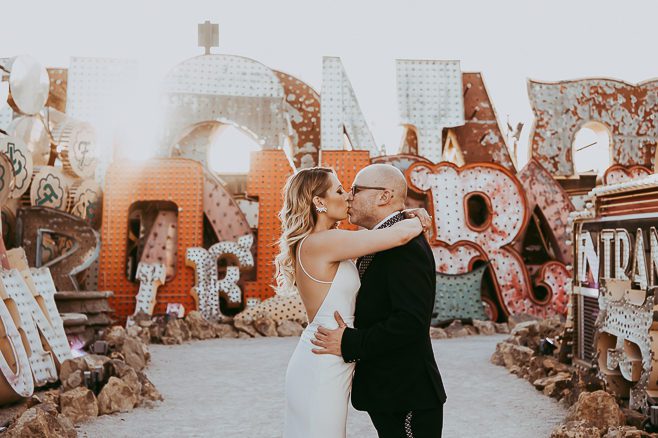 So happy to share Scott & Leah's wedding day on the blog today. This was a Full Wedding At Neon Museum. With ceremony held in the North Lot and wedding reception held in the main lot.
Their Story
" Timing is Everything
Scott and Leah met at UMass almost 19 years ago, to the day, in September 2000. They "dated" (using that term loosely) throughout their year at Umass. Leah returned to Minnesota that following summer and Scott graduated as a 5th year Senior. Note the 5th year … had Scott not extended his college years they would not have met.
Scott and Leah kept in touch throughout the years which is miraculous being social media and text messaging wasn't really a thing yet. Leah's work brought her to New York often and the two of them would meet up for dinner and drinks when they could. Funny how Scott's work never seemed to bring him to Minnesota – ha!
Eight years after they met, Leah and Scott both found themselves single in late 2008. Scott rolled out the red carpet, flew Leah to New York and they took a limo to Atlantic City for a romantic fun-filled weekend. However, timing wasn't just right, quite yet. So in 2017 Leah and Scott found themselves single yet again. In the summer of 2017 Scott reached out to Leah but instead of Atlantic City, this time it was Las Vegas. In typical Scott fashion, the red carpet was rolled out yet again. And in typical Leah fashion, she loved every minute. But something was just different this time. Maybe it was the years of knowing each other, maybe it was the past lives they had each lived, or maybe it was just so easy and so fun to be around one another that just felt so right … finally.
After the Vegas trip, the two quickly became inseparable and managed a long distance relationship for one year. Leah, excitingly, took the plunge and moved to New York City in 2018 and now here we are almost 19 years to the day that they met and back in the city that re-sparked it all, watching them get married. "
The Wedding Day
There wedding was fun, funny, emotional, and everything in between. To start, we did a first look downtown near the art murals. Since this is only about 5 minutes from the neon museum, it was perfect. During the first look, Scott had a surprise for Leah. He had told me a few days prior, about a photo of Leah that she hated. With glasses and pigtails, it was not her favorite. So, Scott got socks made with that picture. He had all the groomsmen wear them and even the dads. Leah was surprised, as you can tell in the series of photos when he shows her his and then his best man's standing nearby.
Lastly, we headed over to the Neon Museum where the rest of the day and night ensued.
Finally, one thing that stood out to me from the day, was how excited Scott was to marry Leah. He kept saying "this is crazy" over and over when he would look at her. Like he was almost in disbelief that he was finally marrying the girl of his dreams.
To see even more from their wedding, watch the slideshow below.
Creative Team:
Ceremony & Reception Venue: The Neon Museum
Flowers: Flora Couture
Hair/Makeup: Rouge Hair & Makeup
Catering: Divine Events
Cake: Freeds Bakery
Full Wedding At Neon Museum