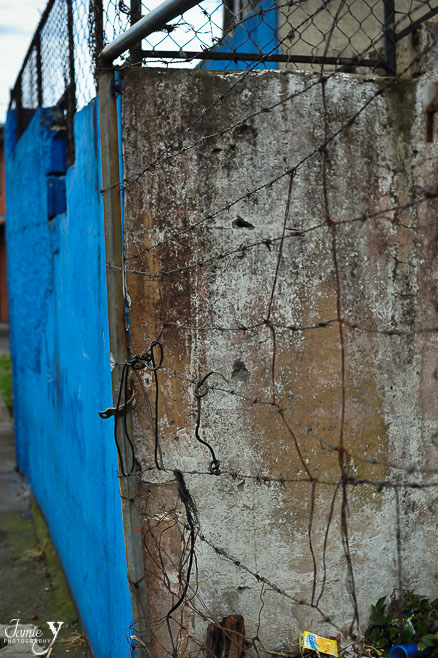 If you follow me at all on social media then you probably know that me and my family took a vacation to Costa Rica in August.  Lucky for us my father lives out there so it makes the trip a little bit easier.  I was super nervous about taking Mylo the 2 year old for many reasons.  I am not going to lie, it was hard travelling with him.  Overall we had a great time though and it was something we desperately needed.  I don't even remember the last time we all flew somewhere for a vacation.  We also happened to be there for my dad's 75th birthday which was pretty special.
My dad lives in a town called San Isidro about an hour from the pacific side of Costa Rica.  We made the plane, taxi, bus, taxi day long trip to his house on the first day.  We spent a few days there and then made a trip to one of my favorite places, Manuel Antonio park.  I will explain a little below each picture further down in the blog post.
One of my favorite things this visit  was all of the colors and textures of the walls and structures.  It is so wet all the time, so there are all kinds of life growing on the walls and basically any surface available.  So many things to look at besides your typical tropical plants and flowers.  I definitely did not get to take near as many photos as I would have liked to.  Watching a 2 year old to make sure they don't get bitten by ants and don't go places they are not supposed to takes up most of your time and makes it a little bit hard to carry around the camera.
Image above: Road by my dad's house leading up the mountain.
Image above: The little walking path up to my dad's house.  We stayed in a similar house right next door.  My dad has worked very hard on his front yard/garden and it is full of life and fruits and all kinds of things.
Image above: My dad's little rock sculptures he put together in his garden.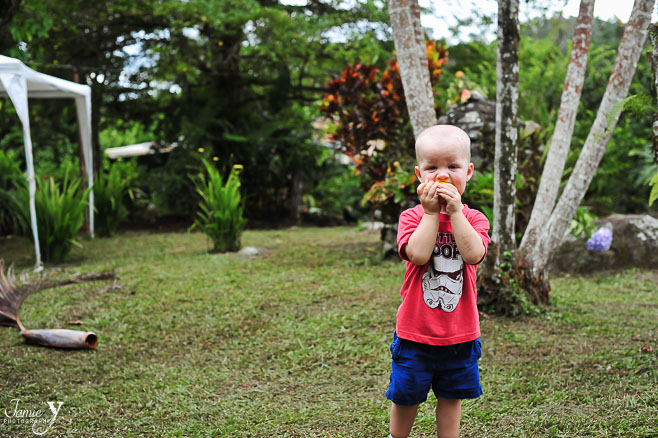 Image above: Mylo eating one of the oranges from my dad's front yard.  The oranges are a little different.  You basically peel off some of the rind and squeeze the juice into your mouth.  Mylo could not get enough.
Image above: People sell these lottery things from these small desks.  I don't know how they work but I like the desk.
Image above:  Mylo's favorite toy on the trip was the coin money.  He kept asking us for big money big money.  He held them in his pocket of his shirt.
We went fishing at this cool spot with talapia ponds and then were able to eat the fish afterwards in the restaurant.  Me and Madi both caught the most fish.  Mylo was a little freaked out by it.
Image above:  The sunsets are gorgeous and people line up outside to watch the sun go down into the ocean.  This particular sunset looked so much like a pyramid.
This is the little jerk raccoon that bit Madi's foot.  I had no idea raccoon's were so mean and I watched the whole thing happen.  Apparently they like hot pink stuff and he tried to steal her flip flop.
Image above:  If you look at that grey blob right in the center you will see the back of a sloth.  Sloth's are my favorite animals and this was the closest I have ever seen one there.  It moved from one tree to another and was amazing to watch.
Image above:  It was raining like crazy on our drive back to my dad's from the beach.  So, I shot this out of the car window.  It doesn't show the whole field but these are all over the place out there.  Little banana plantation towns.  A big soccer field in the middle with houses all around it.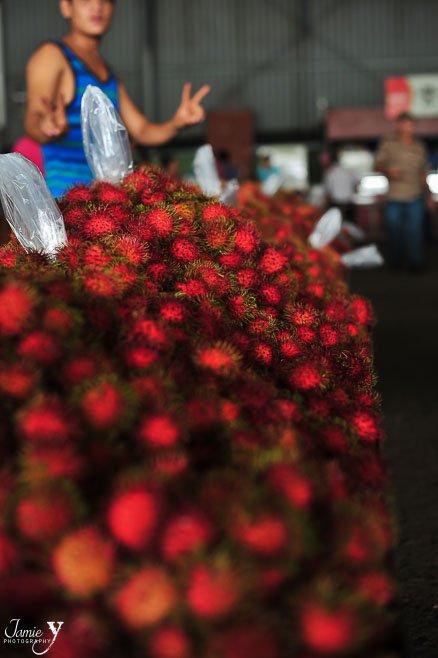 Image above:  One of my favorite fruits ever, rambutans, until I found this one below which is now my all time favorite, a cape gooseberry.
So, those are all my favorite pictures from this trip.  It was an awesome time and something we will always remember.
XO-Jamie