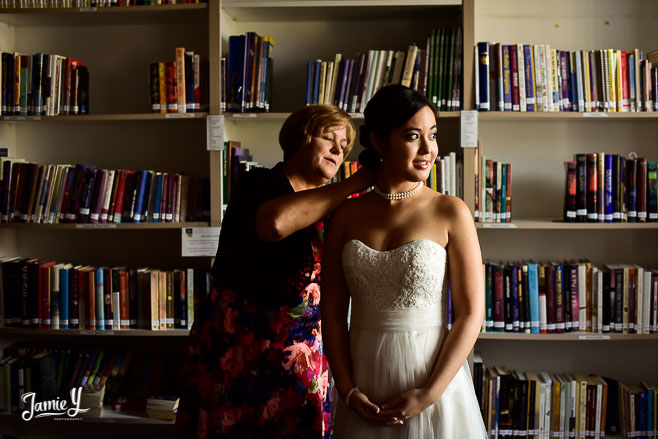 While everyone, including me,  is going through Christmas withdrawals, it is the perfect time to share this lovely Christmas wedding of Sarah & Harrison at Faith Community Lutheran Church in Las Vegas.
Sarah and Harrison met in Denver Colorado and bonded instantly.  They became immediate best friends and enjoyed beer tasting, playing pool, and going to baseball and basketball games together.  They spontaneously decided to move to Las Vegas together but didn't start actually dating until a year and a half after that.  Harrison proposed in April of this year (2015) and they quickly and diligently worked to plan their special day.  They chose to have a small wedding to focus on the really important parts of their wedding: their love, family, and faith.  They held their ceremony in the Lutheran church that they have attended for the past two years together, and by the same pastor who baptized Harrison last year.  A morning wedding seemed like a natural fit as well.  The couple are both morning people who love brunch food and brunch libations, so they jumped at the chance to cater the wedding themselves (Sarah cooked most of the food herself!).  Plus, she promised Harrison that they could have Bloody Marys at their wedding when they first started talking about the wedding.  The chalkboard and lace theme came about to juxtapose the casual brunch atmosphere with the traditional elegance of a Christmas wedding (also Sarah is an elementary school teacher, so she jumps at any apportunity to write on "old school" chalkboards).  After their wedding they planned a winter wonderland honeymoon in Denver on Christmas day.
The day started with Sarah & Harrison both arriving to their church, Faith Community Lutheran, to finish getting ready for the ceremony.  Sarah put on her beautiful dress in the meeting room of the church with her mother and friend.  After a special reveal to her father, the ceremony was about to begin.  It was a very intimate ceremony full of those near and dear to the couple.  After family portraits, Sarah's family rushed home to set up for the fabulous brunch set up.  Sarah is quite an amazing woman in the fact that she wanted to cook food for her guests on her wedding day.  It looked amazing!  Different flavors of mini pancakes, bacon jam, little jars of yogurt with granola, and much much more.  They had a mimosa and Bloody Mary bar as well.  Everything was adorable and DIY.  For their favors, Sarah decorated keepsake ornaments which were hung on the Christmas tree.  Everyone sat around enjoying their delicious food and watching slideshows of the couple on the TV.  The house was warm and full of love.
Venue: Faith Community Lutheran Church
Florals: Desert Rose Florist
Cake: Nothing Bundt Cakes
To see even more, make sure to watch the video below.
XO-Jamie
Sarah & Harrison from JamieY Photography on Vimeo.