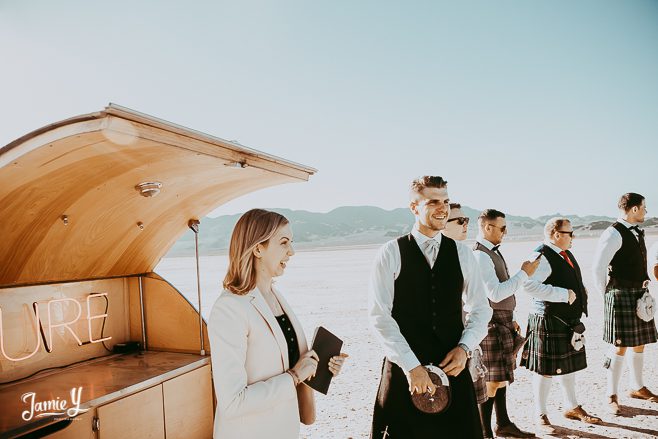 Jenny, Calum, and their closest friends and family had a Dry Lake Bed Wedding In Las Vegas just a few weeks ago.
Here is their story: "We chose to get married in Vegas as we loved it so much from holidays there, we also don't like too much fuss and this was ideal. Then our son came along meaning we had to move our wedding date, he was due a week before we were supposed to fly, bad planning. So we are now having an even more unconventional Vegas wedding by including a 5 month old baby, but we can't wait to experience this with him now. This will be the 3rd time we have tried to plan a wedding after 8 years together so hopefully the third time is lucky."
The day started with everyone arriving out in the middle of the dry lake bed in limos.  The boys and guests came first.  A bit later the bride and her girls pulled up.  It was quite a site to watch all of the men depart the limo in their kilts.  Jenny & Calum are from Scotland and all of the men wore the traditional garb.  I could tell right away that they were going to be a fun group.  The limo driver was pretty smitten with all the guys and insisted on getting a few photos with them.
The wedding was officiated by Flora Pop and her adorable teardrop trailer provided the backdrop as well as home to the donuts and champagne.  Jenny stayed in the limo until it was time to walk down the aisle.  Once everyone was in position, she emerged from the limo and walked down her desert aisle.  The ceremony was intimate and beautiful.  Afterwards everyone had champagne and donuts and we took group photos and couples photos.
Their son Jacob slept much of the time but emerged from his naps happy and ready for photos.  He was the easiest baby to photograph ever.  Looked right into the camera almost every time.
After the dry lake bed, everyone headed down to Freemont Street to party.  Jenny & Calum wanted a few night time shots on Freemont street and their friends and family just hung out and had some drinks while we did that.  Freemont street is pretty busy at night and there are a lot of street performers.  There was people coming up to the group sometimes curious if they were all performers in their kilts.  All the tourists just loved all the Scottish men and the guests.  One lady said "I'm going to Scotland, everyone there is gorgeous!"  I have to agree with her.  Everyone was beautiful.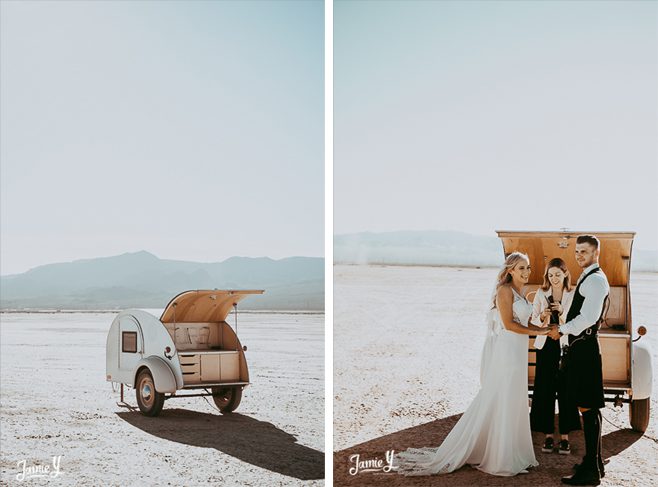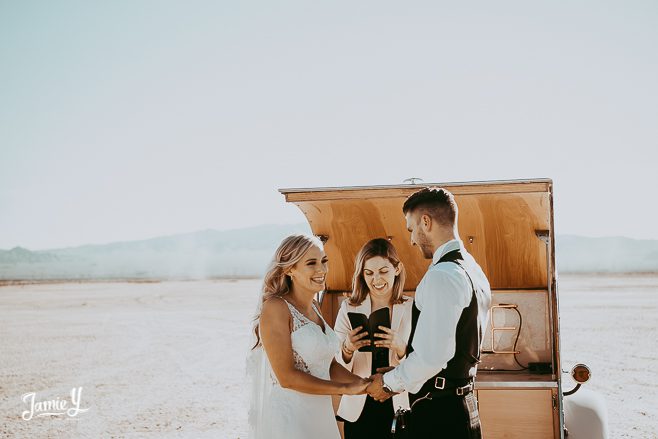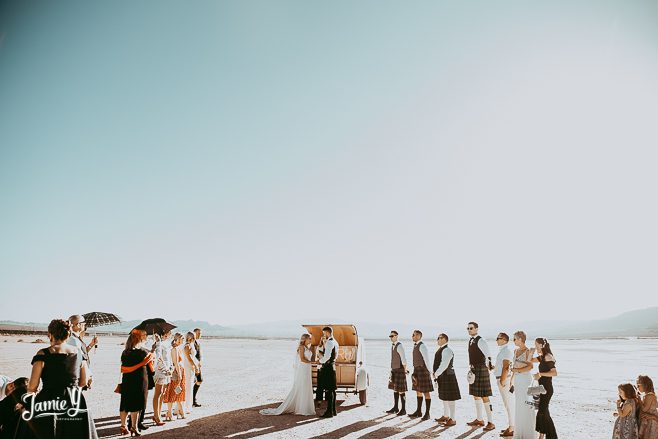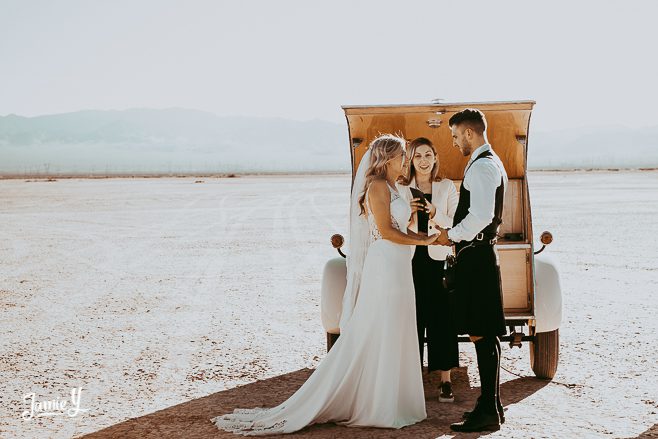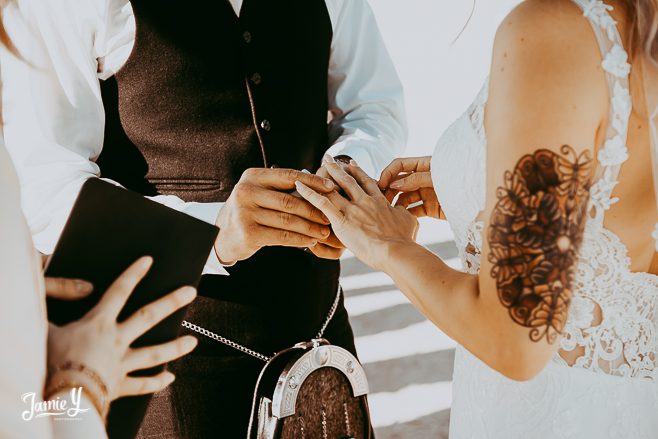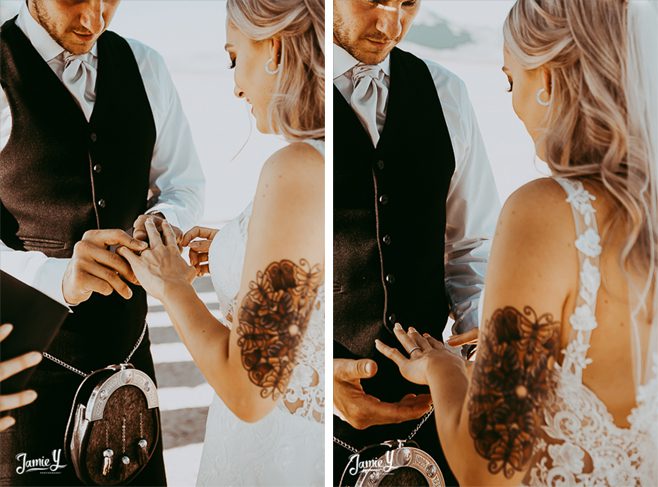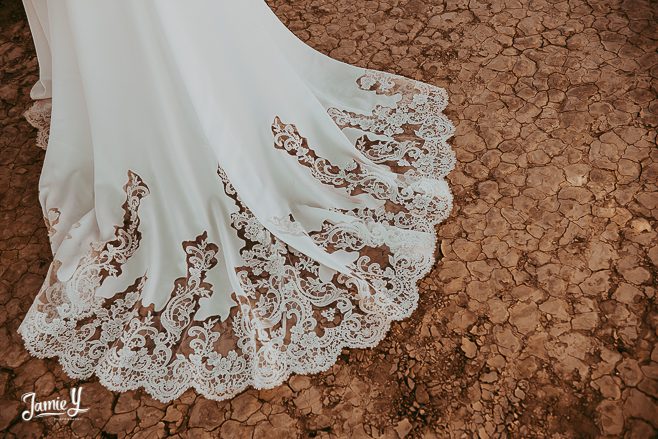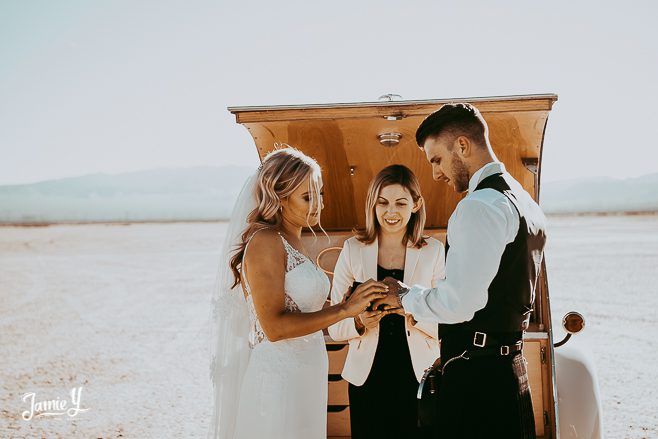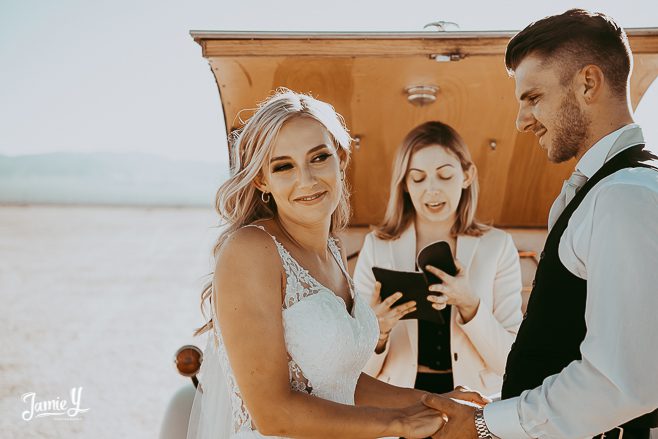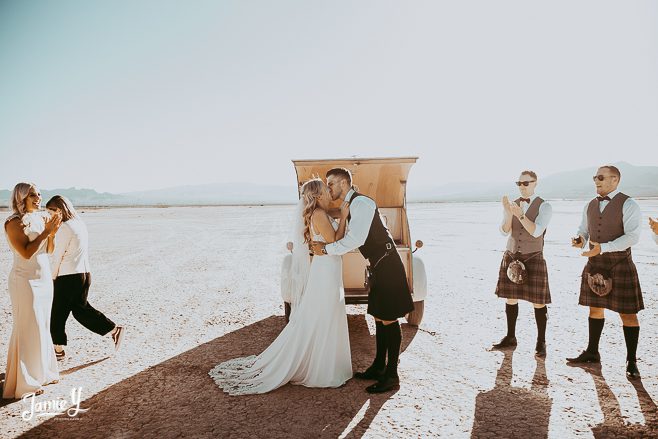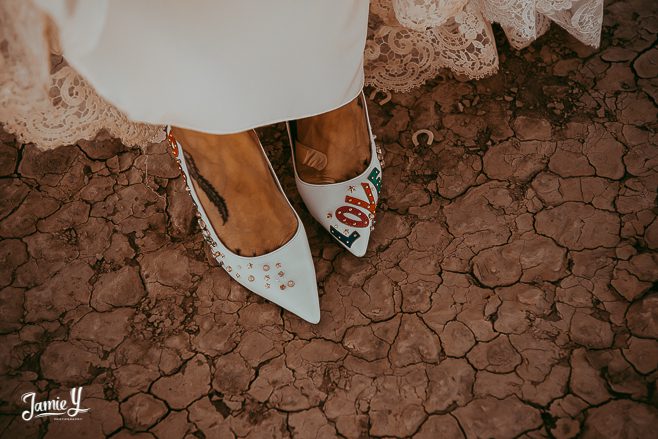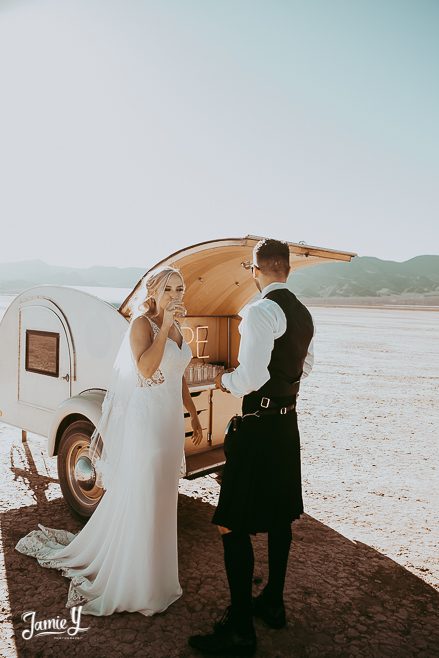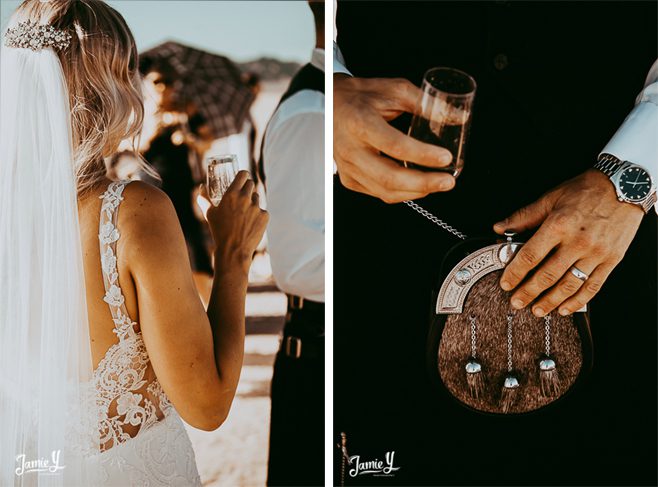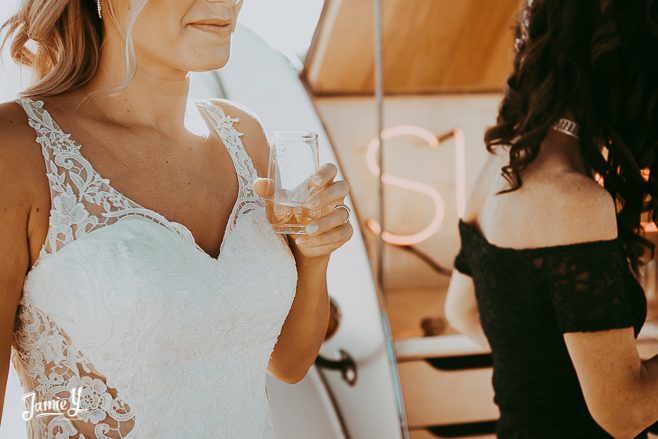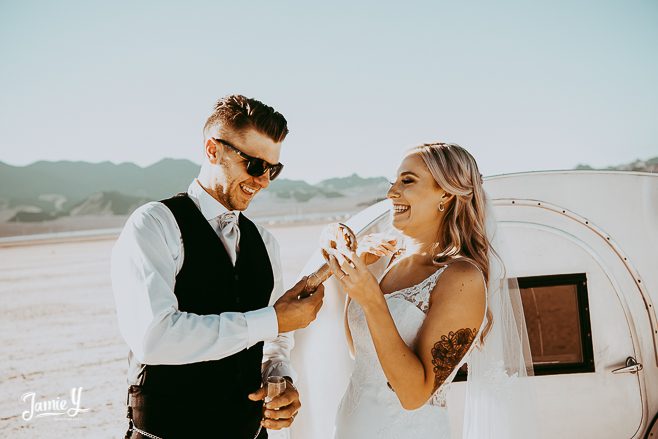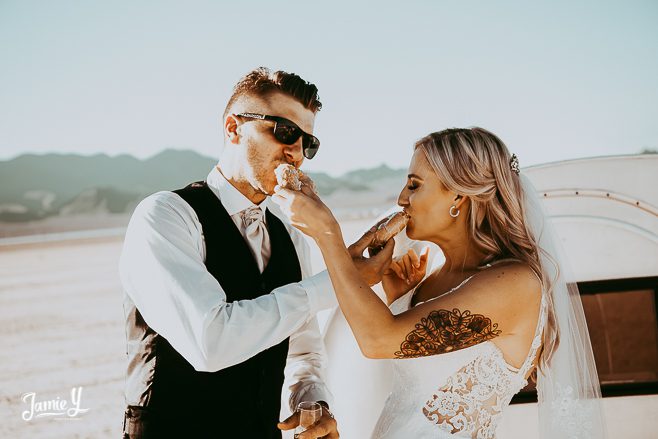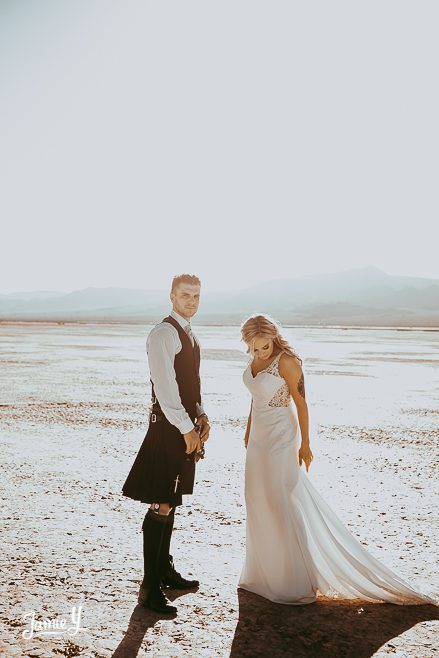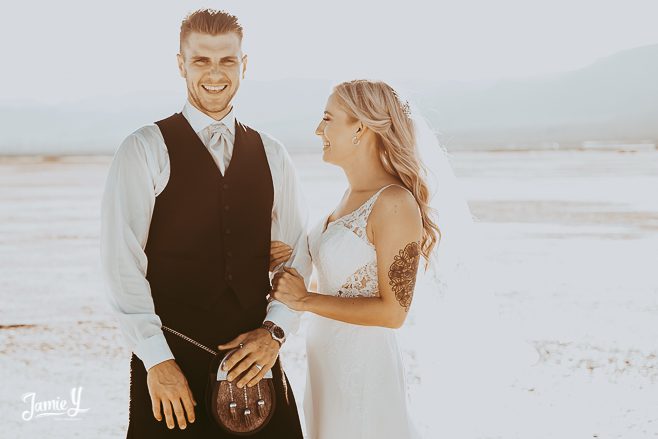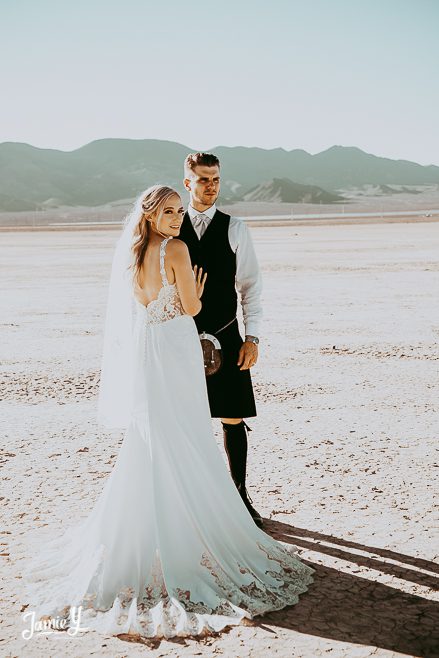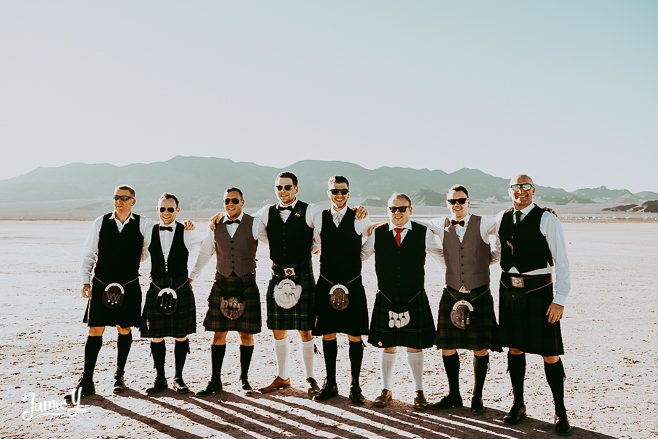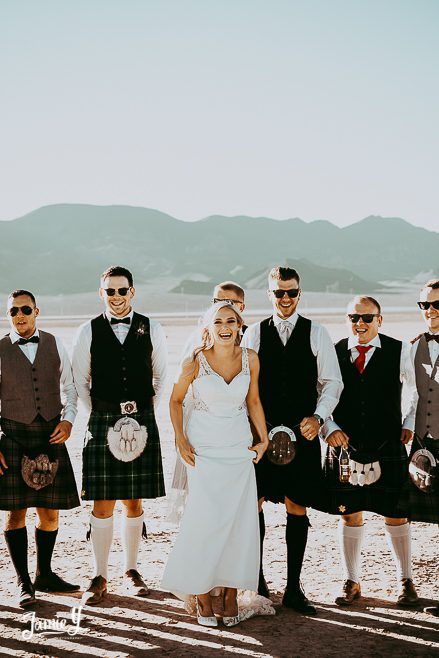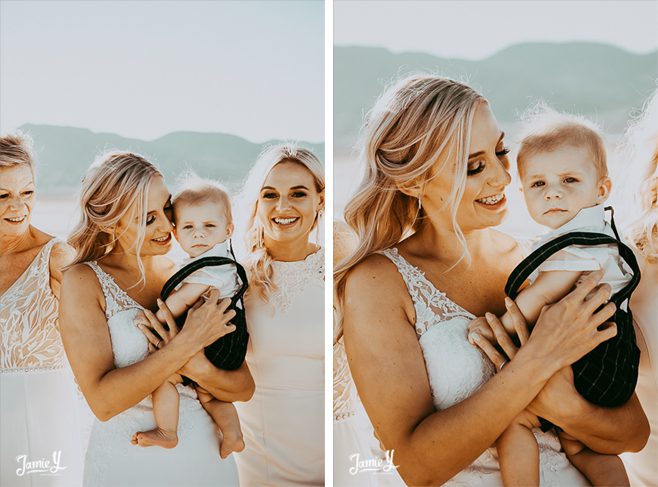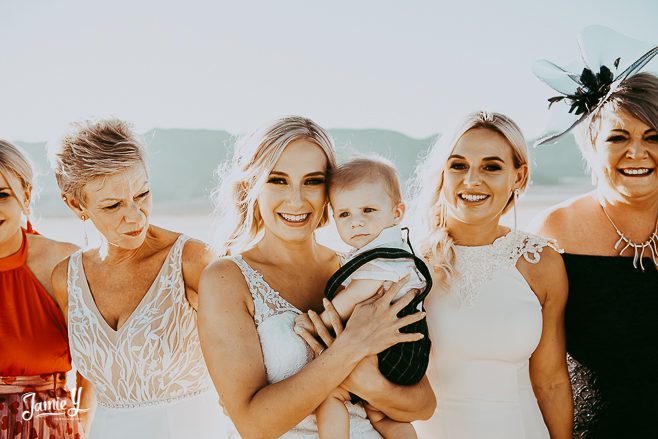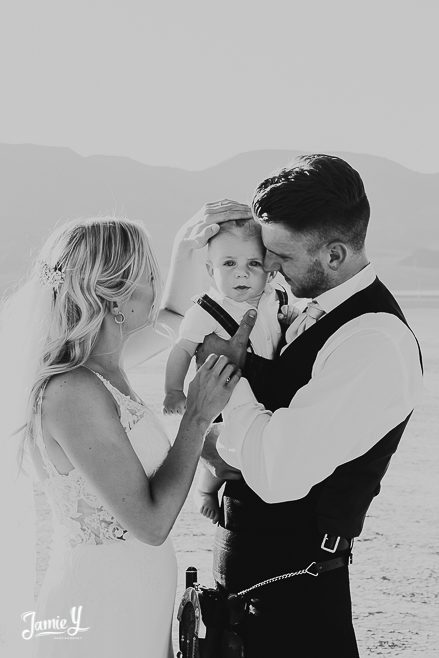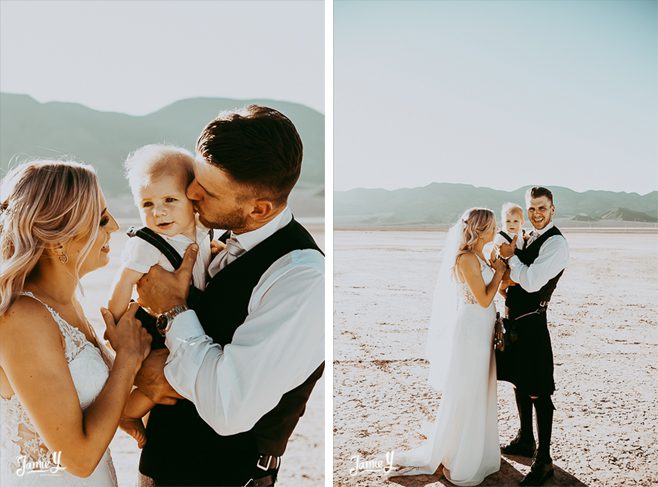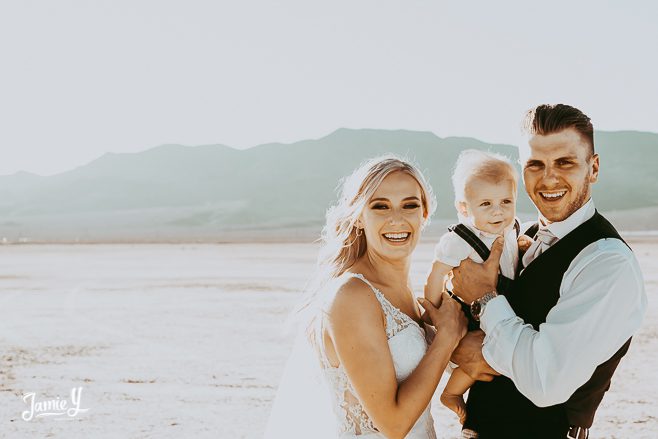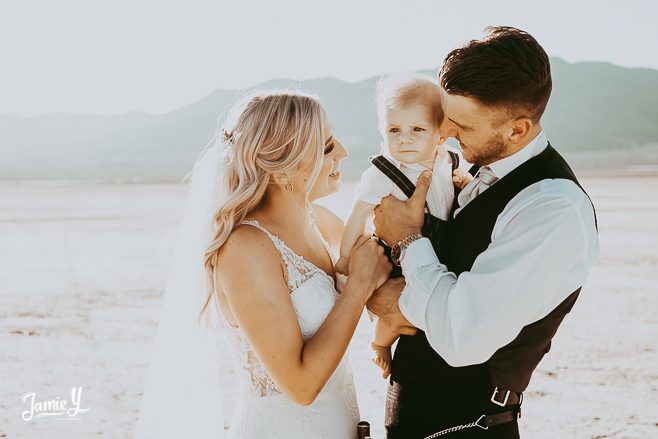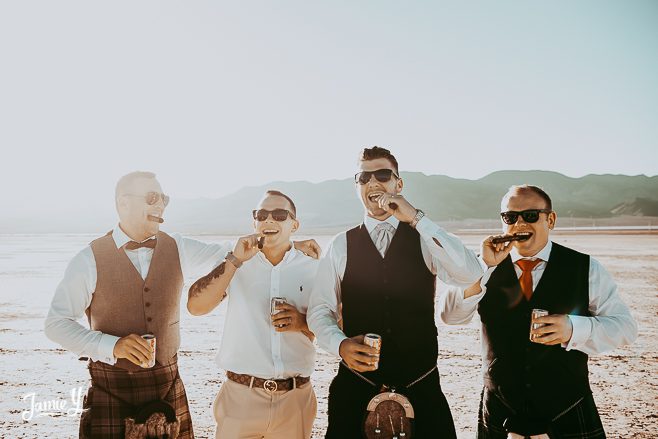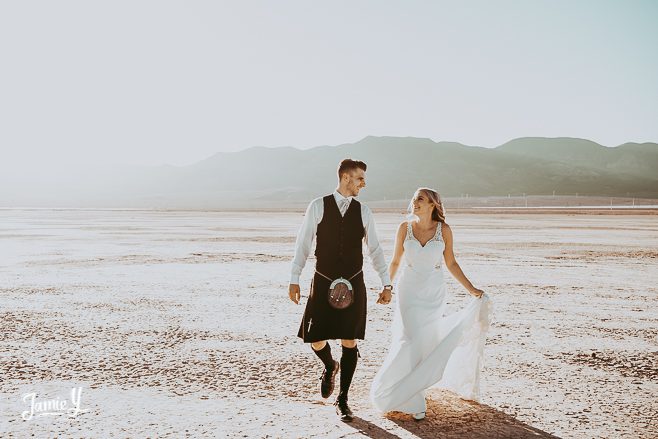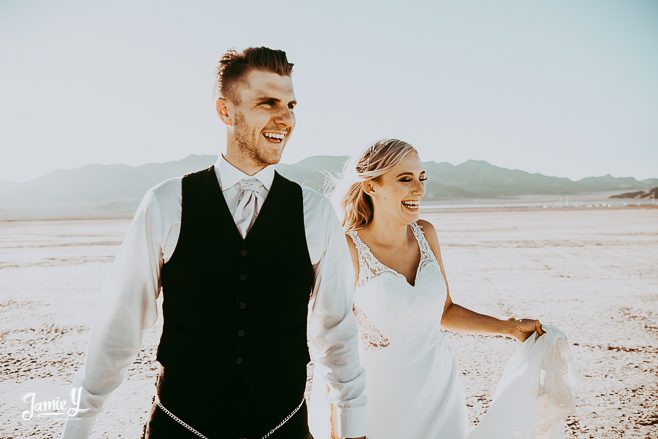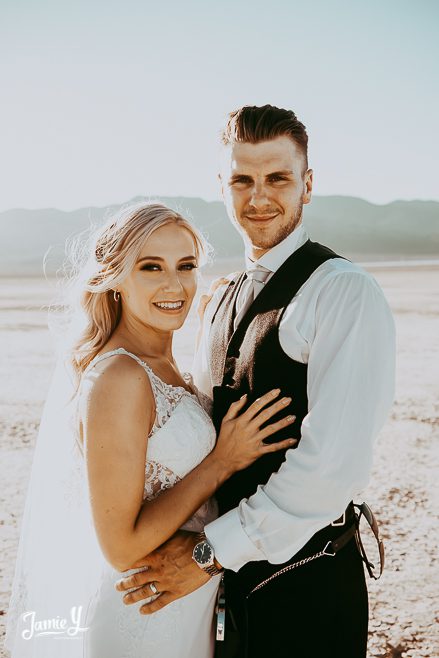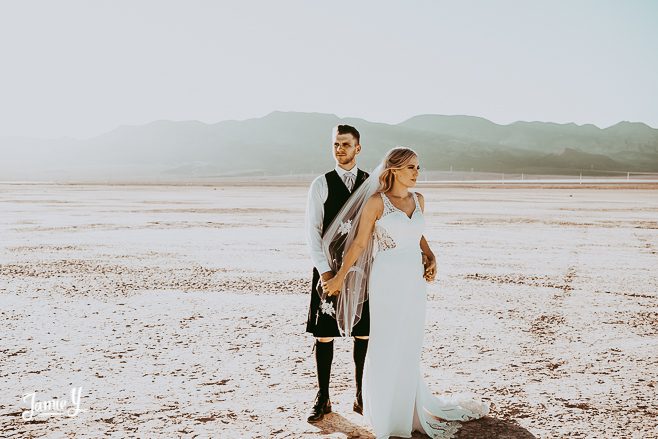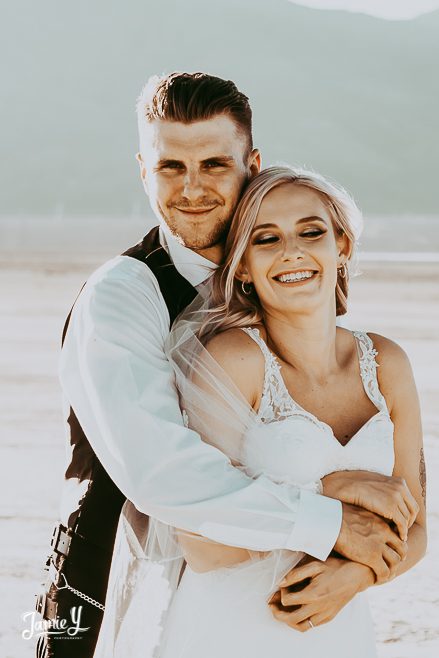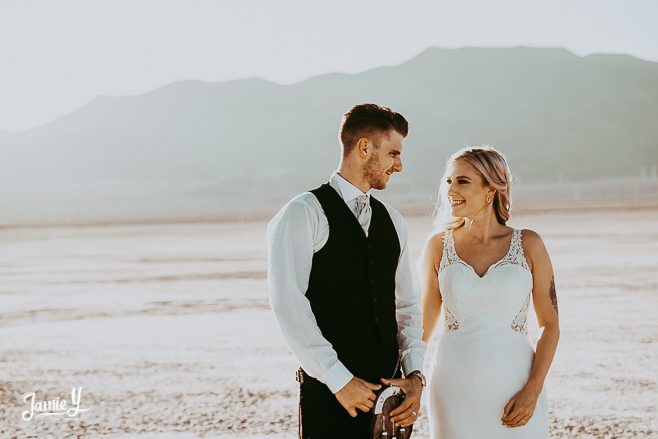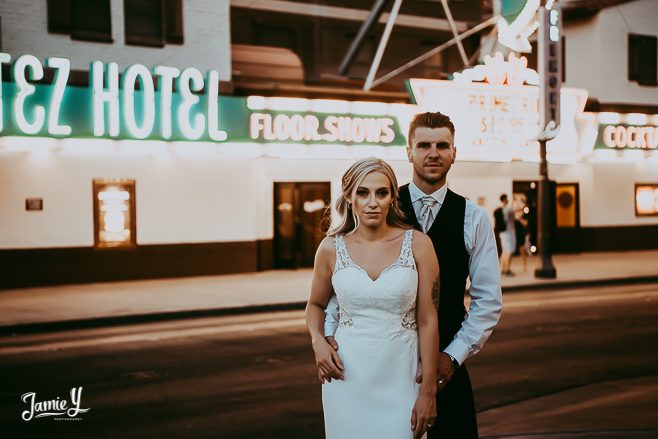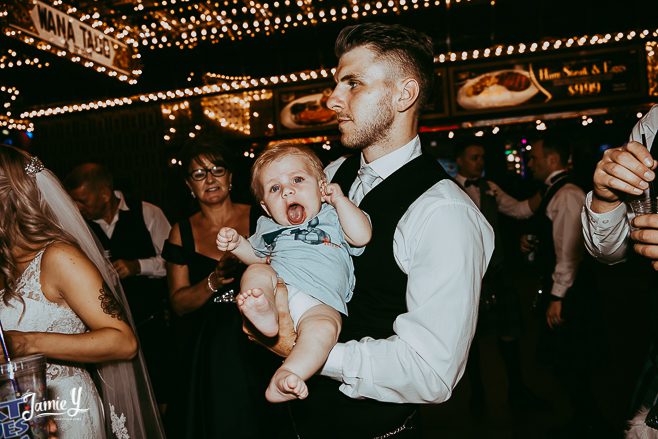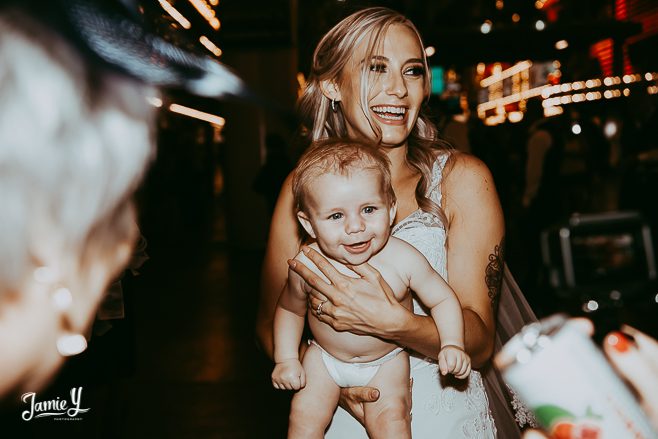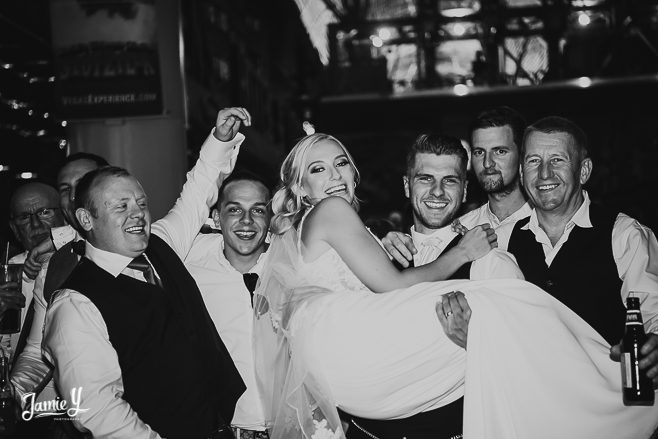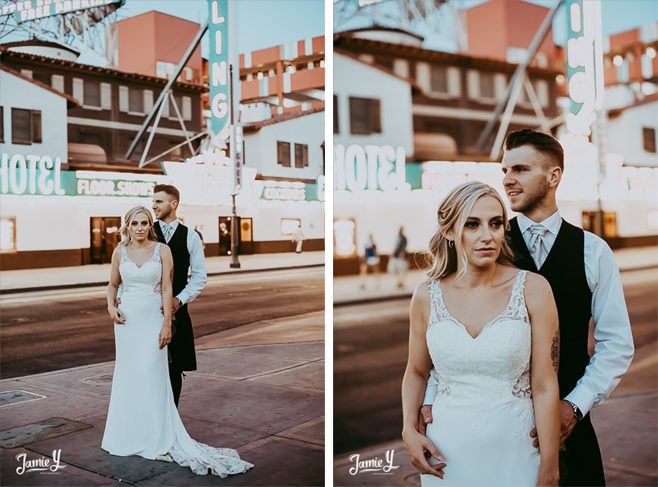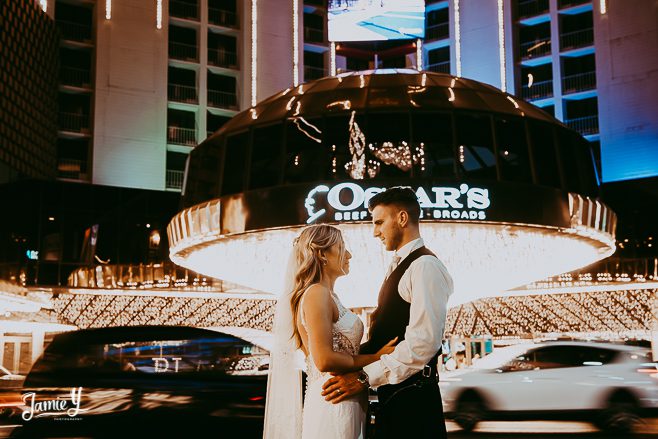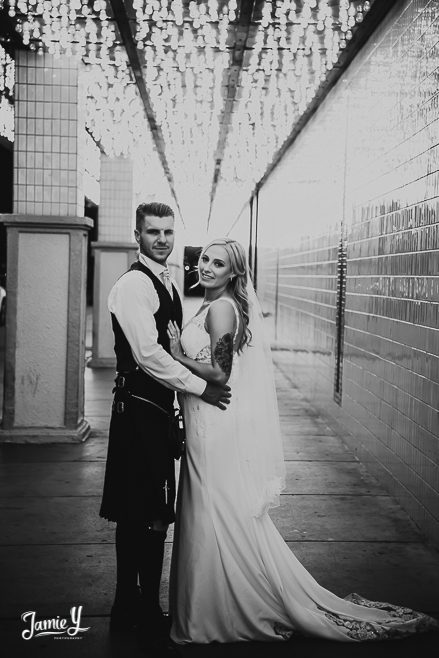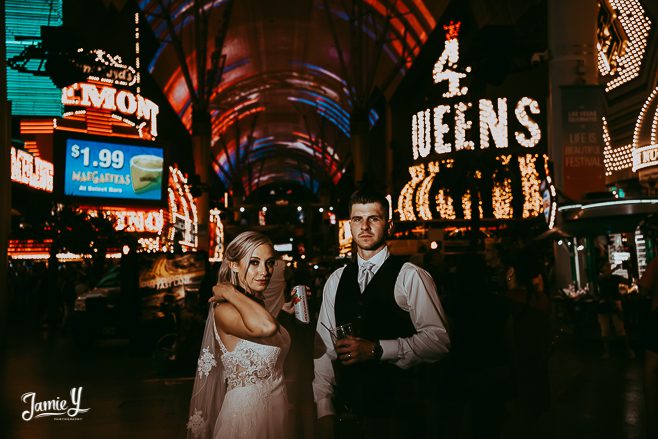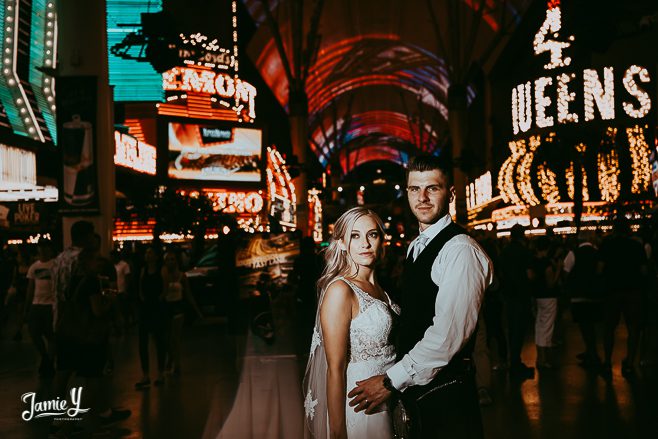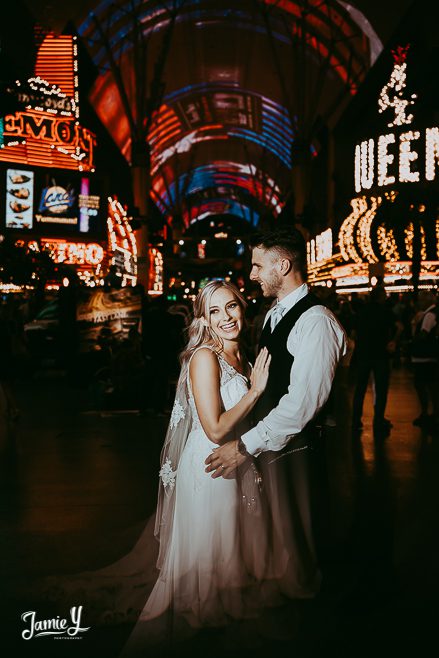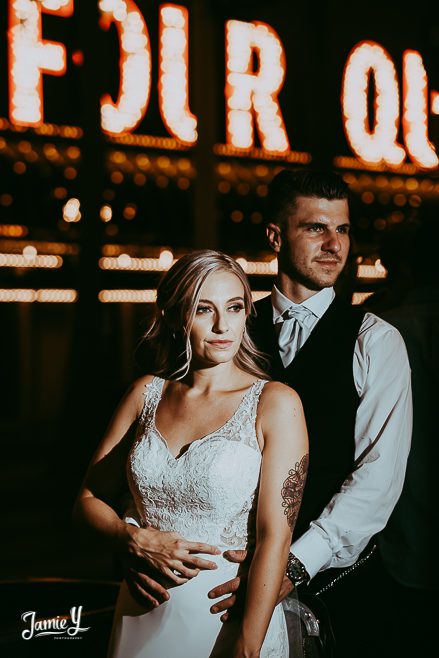 To see even more from their special day, watch the slideshow below.
Wedding Vendors:
Officiant/Teardrop Trailor: Flora Pop
Dress: Romantica of Devon
Shoes: Dune
XO-Jamie
Dry Lake Bed Wedding Las Vegas