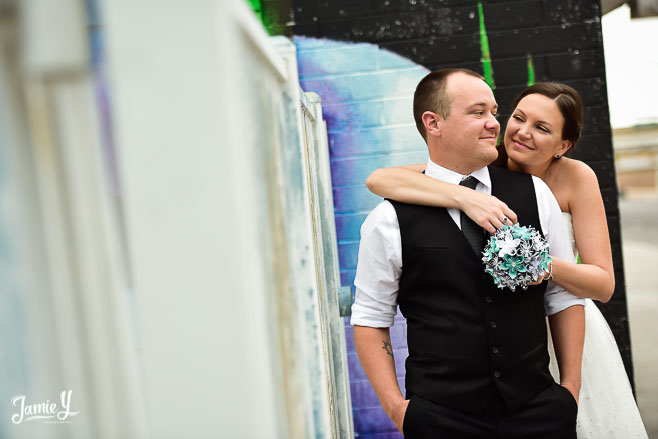 Megan and Brett met at a bar in college.  She stole Brett's hat at the end of the night and gave him her number and told him that if he wanted it back, he had to call her. They went on their first date at a hockey bar called Lord Stanley's. Brett is a huge hockey fan, specifically a Blackhawks fan and this bar has the best pizza and beer in town. They dated for a while and he eventually proposed in the parking lot of that bar where they had their first date(the bar was closed that day). They put off getting married for a while because a month after they got engaged they found out they were having baby. Now they have a 4 1/2 year old awesome kid named Ben. It's been 5+ years now since they got engaged, and they decided to finally do it, but wanted to do something fun, and just for them. Brett has never been to Vegas, and Megan loves it there, so they decided to make a trip out of it.  After they get home, they are having a reception with friends and family in a really cool bar (since their love story started in a bar).
I met up with the newlyweds after their chapel ceremony and we did some fun portraits downtown with all the cool new art murals from the Life Is Beautiful festival.  After that, we headed to the Neon Museum for a half day and half night photo shoot in the main lot.
To see even more, watch the video below.
XO-Jamie

Megan & Brett from JamieY Photography on Vimeo.