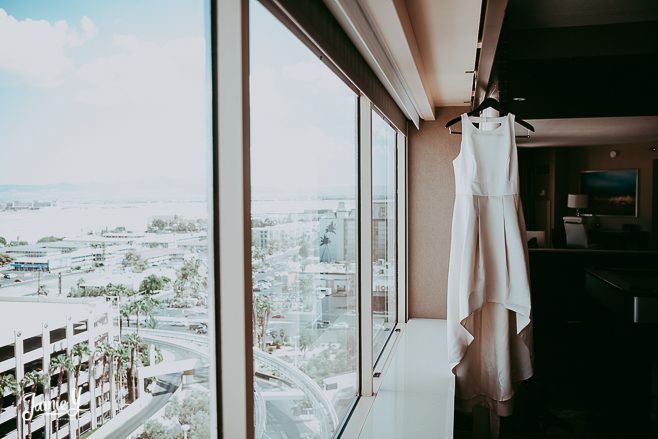 Today's blog post is a Destination Wedding At The Neon Museum Las Vegas.  Lora & Jon came to Vegas from Indiana to wed at the iconic Vegas location.
Their story as told by Lora: "Jon and Lora met in August 2010 while Lora was an undergraduate student at Appalachian State University in North Carolina. Jon, who had already graduated from school was in town visiting a friend. Fate struck when the two were at a Fraternity party and all of the alcohol ran out. Lora being sober, and Jon being of age went to the nearest gas station to refuel. In short, the party got busted, so Lora and Jon needed to find a place to lay low and of course, Lora's apartment was the place to go. There, they ate cookout (a fast food spot in NC) and made awkward small talk. Eventually, Jon worked up the nerve to take Lora's phone and add his number. Jon texted Lora daily for several years and occasionally they would see each other in passing at football games.
However, in 2014, when Lora needed a date to a wedding that she was in, she believed Jon would be the perfect choice. Surprisingly, he drove all the way from Atlanta to attend a wedding back in the town that they met. This is when they officially started dating. They realized that they had a lot in common and shared a love for adventure, travel and food. They traveled to Michigan, Miami, Florida, Las Vegas and explored all kinds of oddities in their current respective states of Indiana and Georgia. Jon proposed to Lora on Christmas Eve 2015 in Lora's parents kitchen. He attached the ring to his dog Hank. Lora's dad noticed that something was on Hank, and Lora went to go look. That is when Jon asked Lora to marry him, to which Lora who was crying out of shock, replied "okay". With Lora finishing her Ph.D, the plan was to delay the official marriage until 2018.
Long engagements are cool, right? Feeling incredibly overwhelmed with initial wedding planning, they decided that Las Vegas was the perfect place. This was already a city that they visited 2-3 times a year so it felt like home. The Neon Museum is a place they love because it is filled with rich history and they decided to have a low-key dinner at the Bellagio buffet, one of their favorite resorts with endless food options."
I met up with the bride as she was getting ready in her suite at the MGM Grand.  After finishing up, her mother helped her into her dress.  Jon was waiting in one of the rooms with the door closed.  As soon as Lora was ready for the big day, Jon came out for a first look in their room.  We then all headed down to the Freemont East part of downtown for some portraits with the art murals.  Lastly, we headed to the Neon Museum for the wedding ceremony in the North Lot.  40-50 of their closest friends and family filled in to the area to watch the entertaining ceremony.
In true Vegas form, Elvis officiated the wedding and provided some comedy as well as singing a few songs.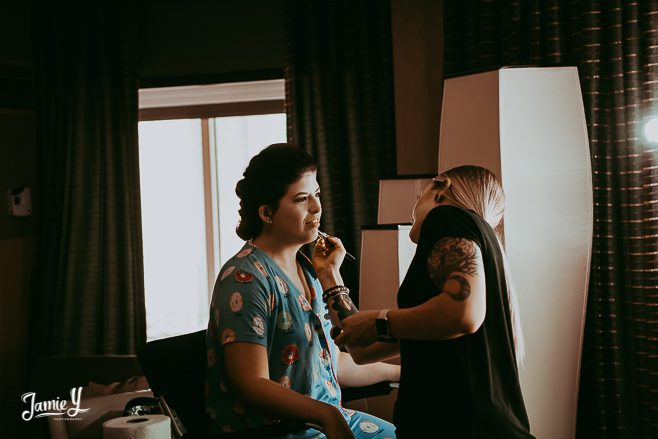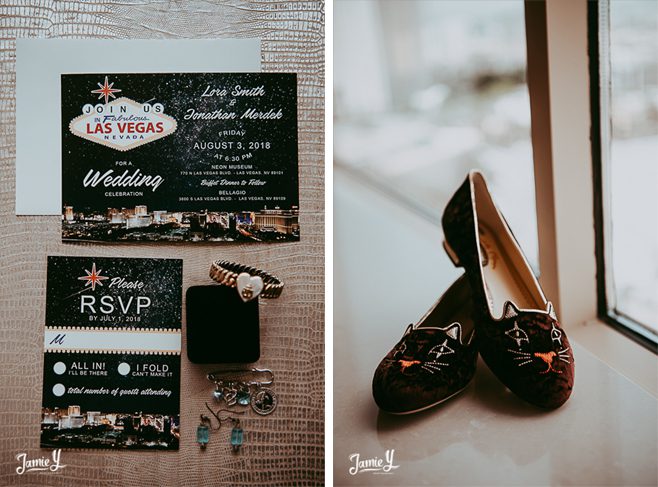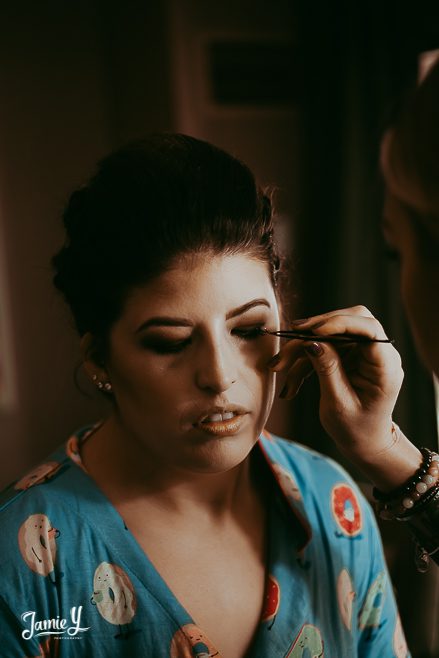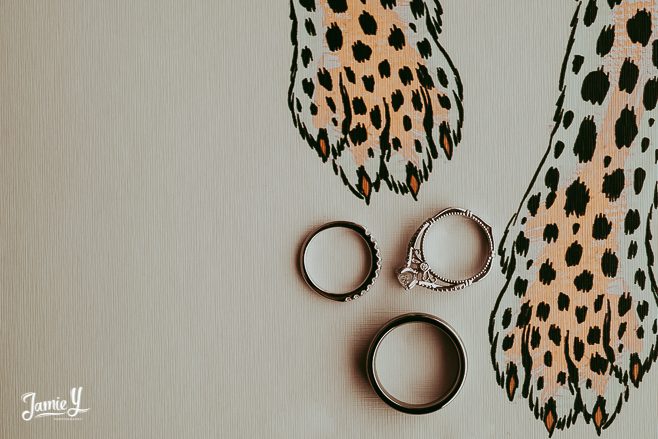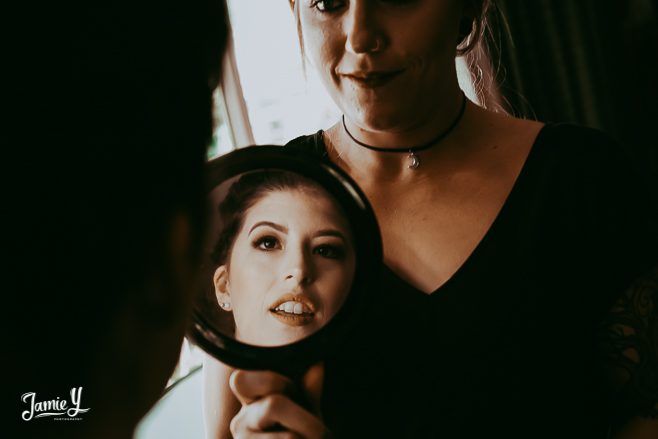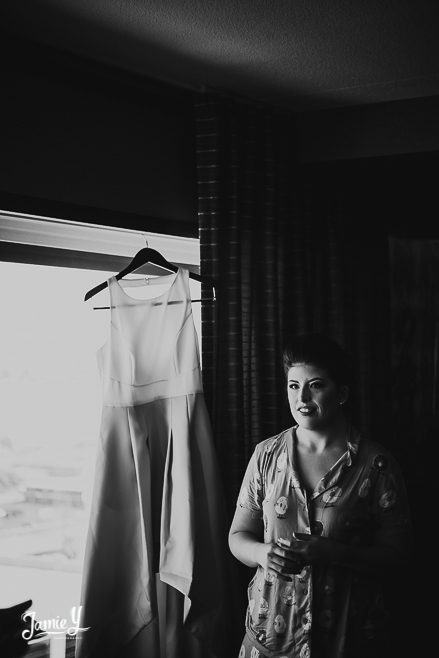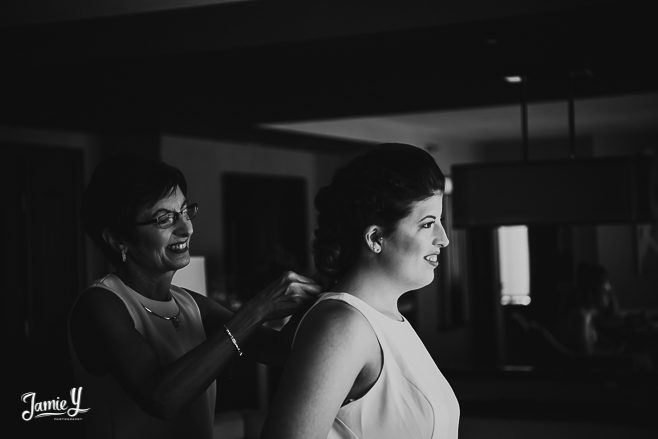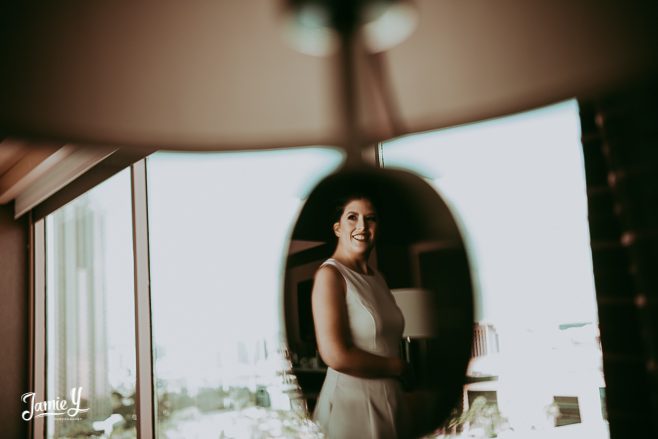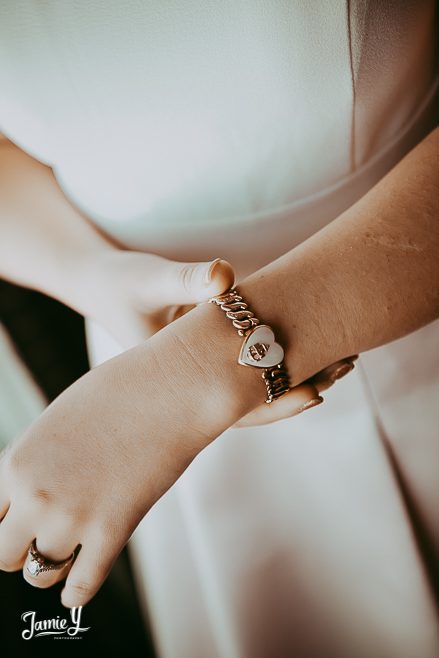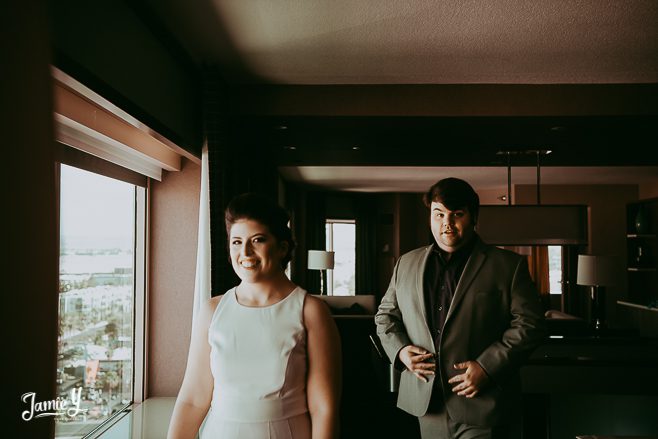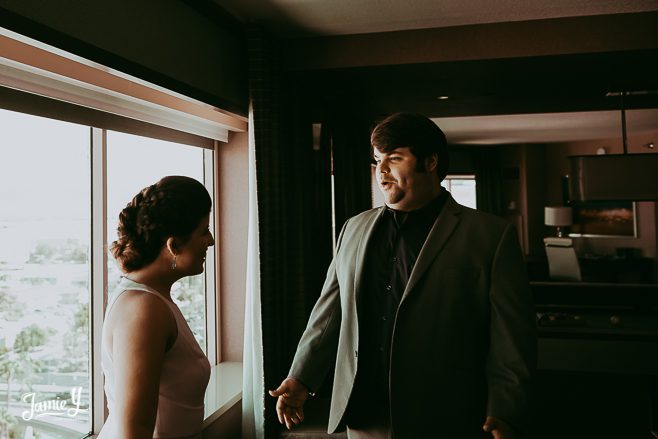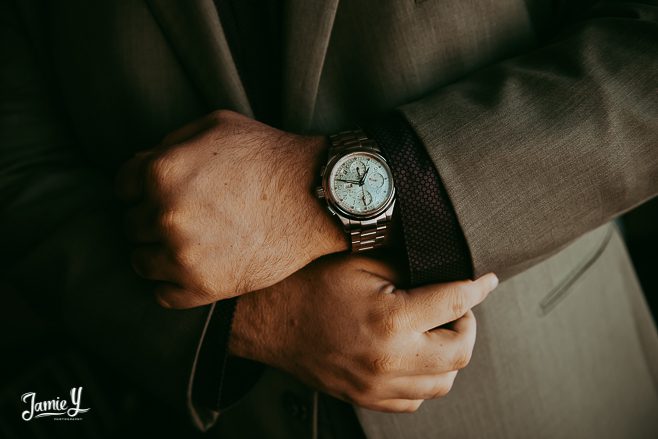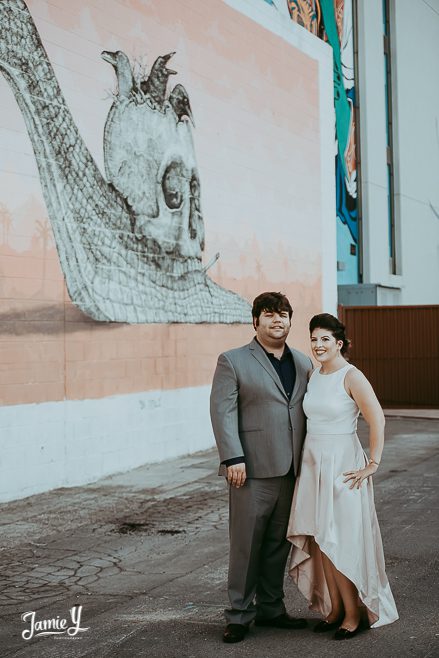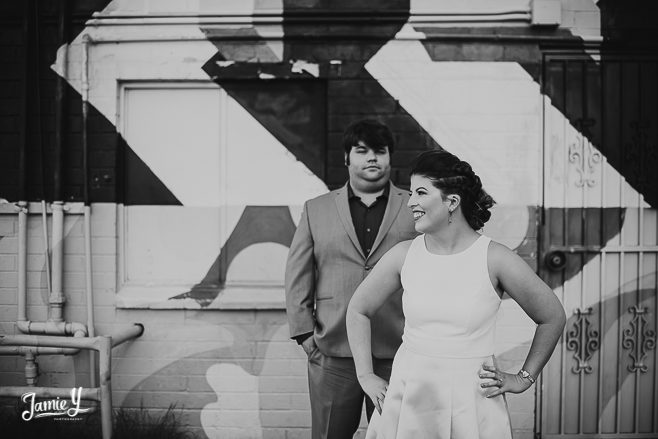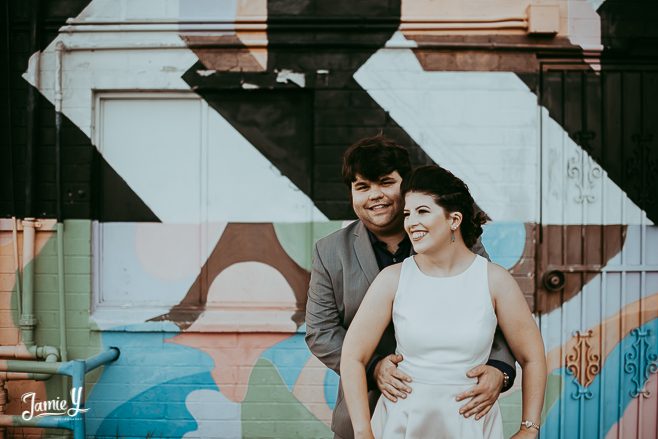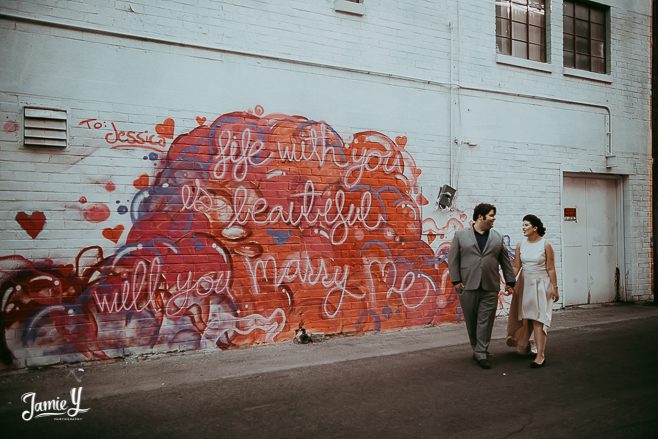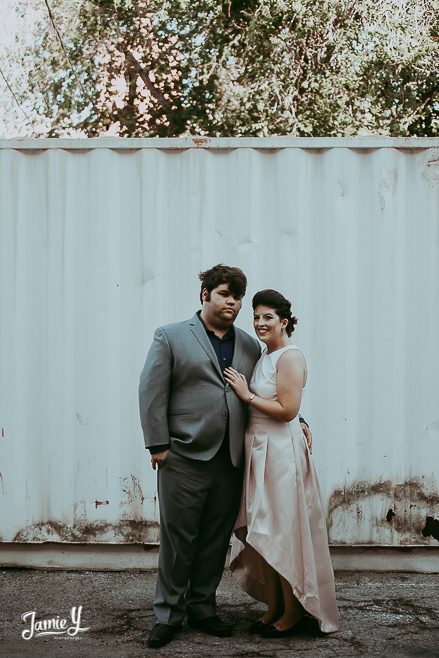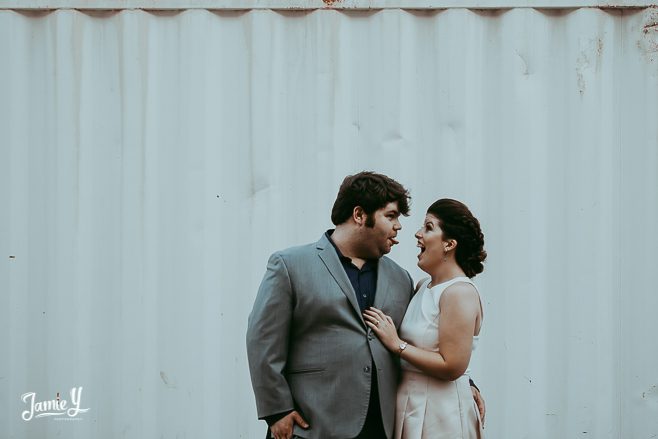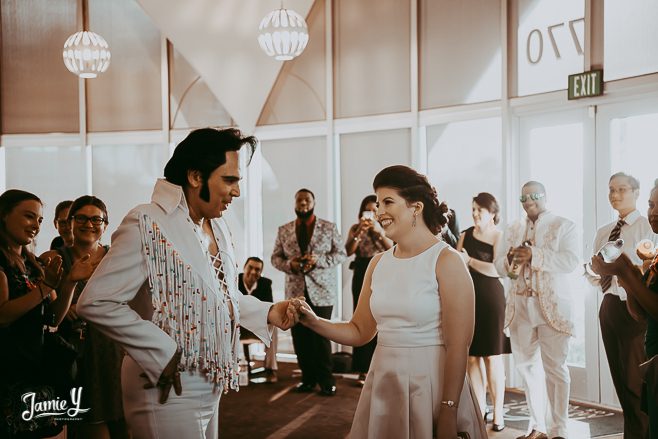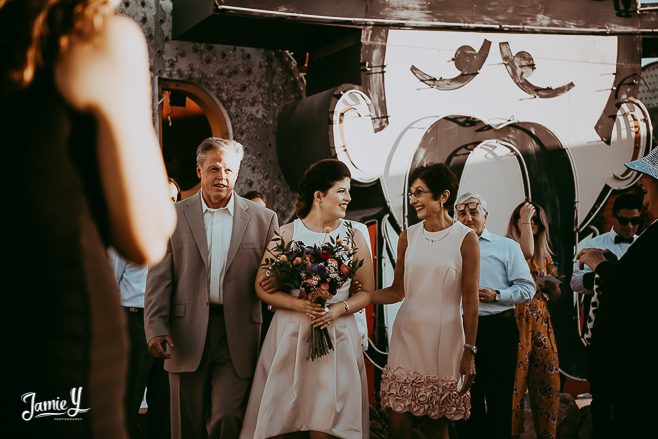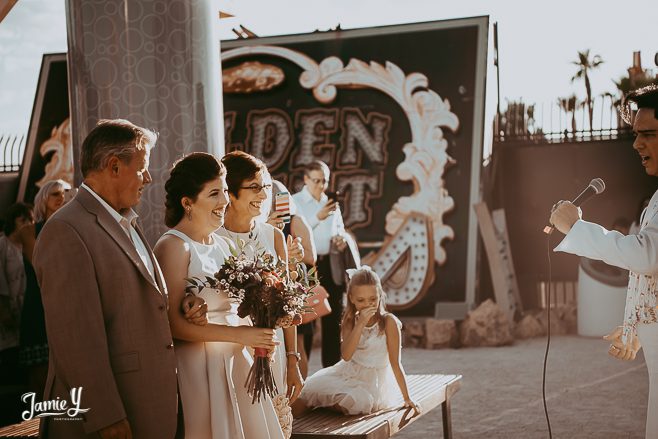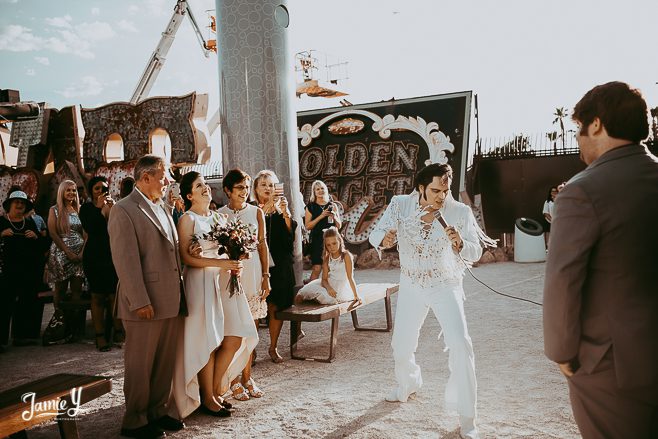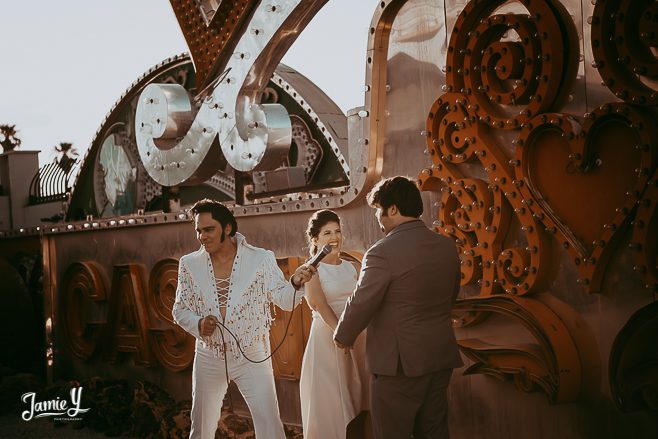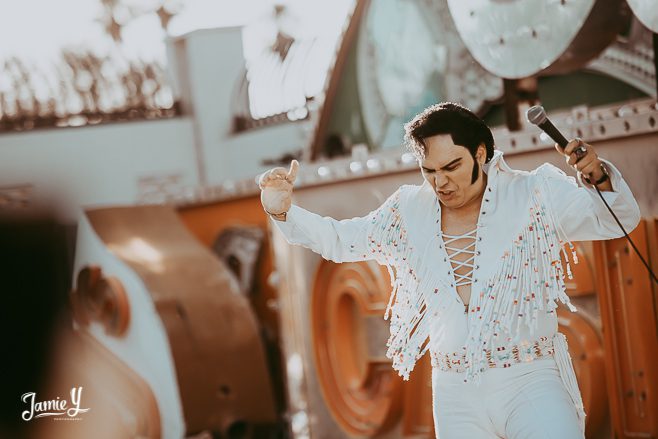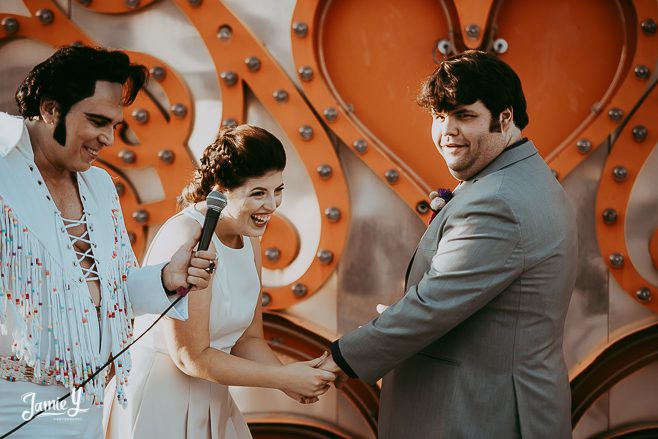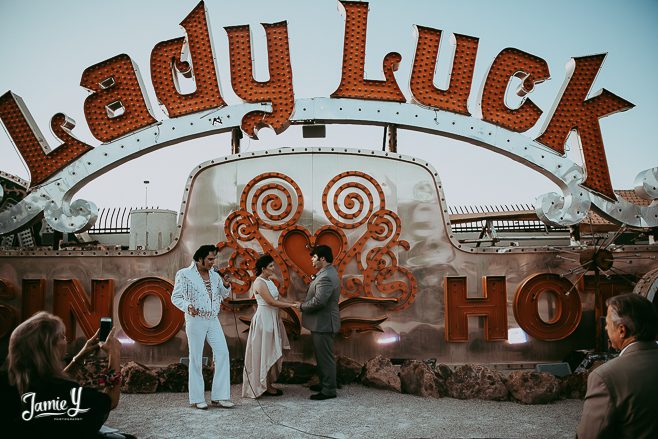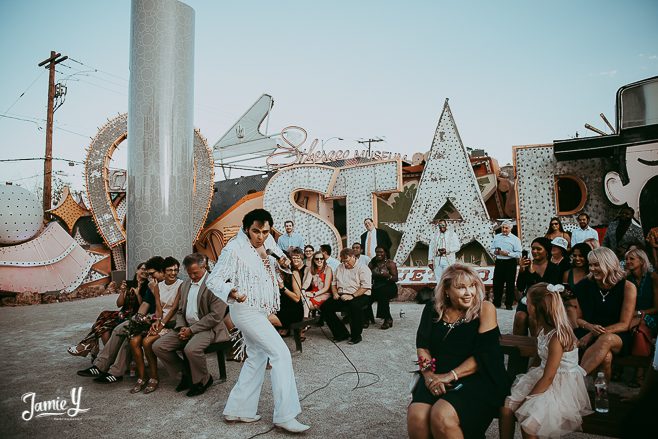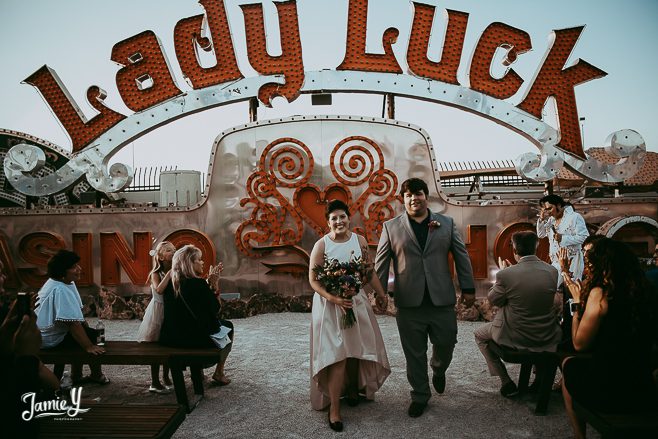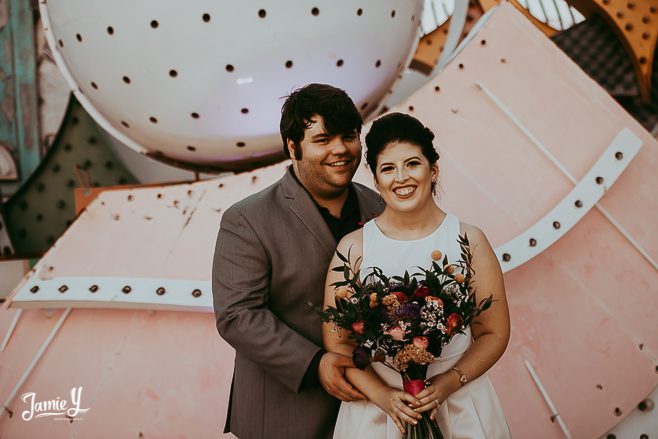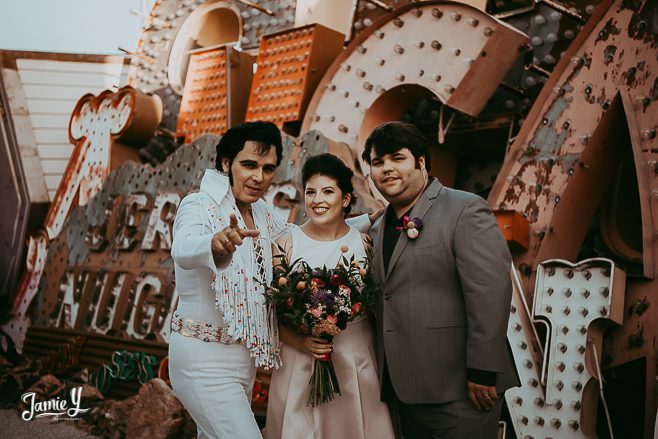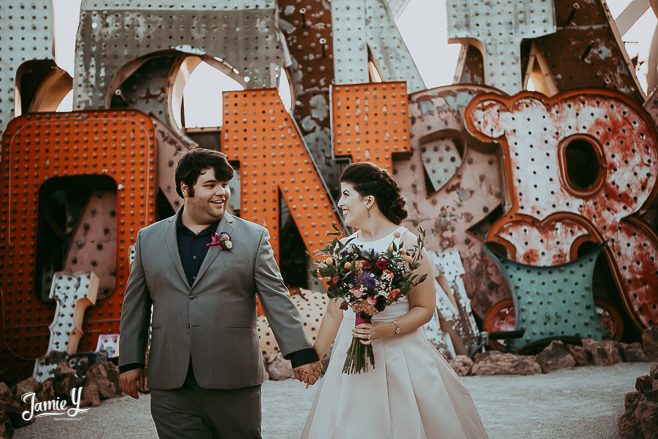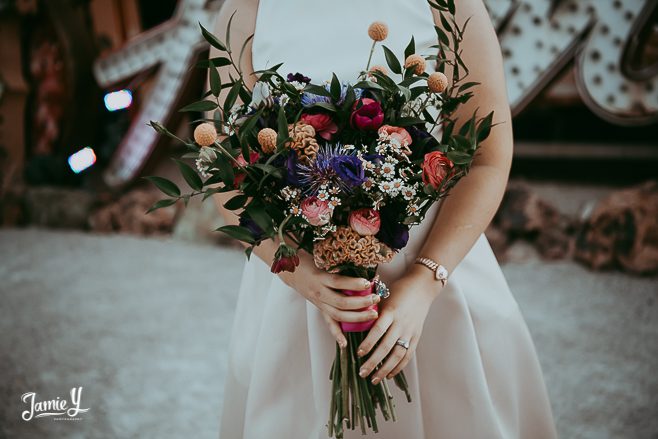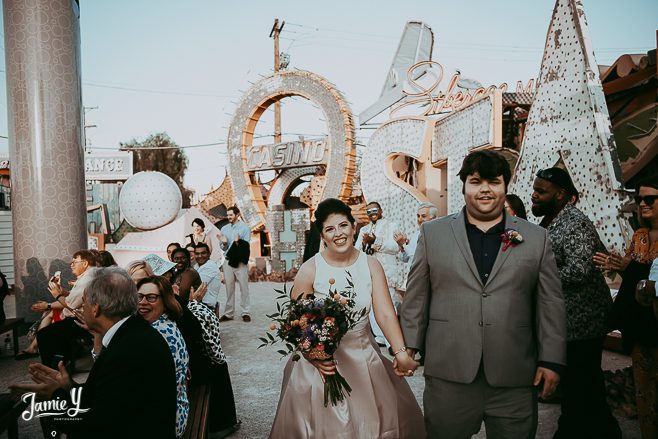 To see even more, watch the slideshow below.
Vendor Team:
Hair & Makeup: Amelia C & Co
Flowers: Miss Daisy
Venue: Neon Museum North Lot
Shoes: Charlotte Olympia
Dress: Eliza J
XO-Jamie
Destination Wedding At The Neon Museum Las Vegas