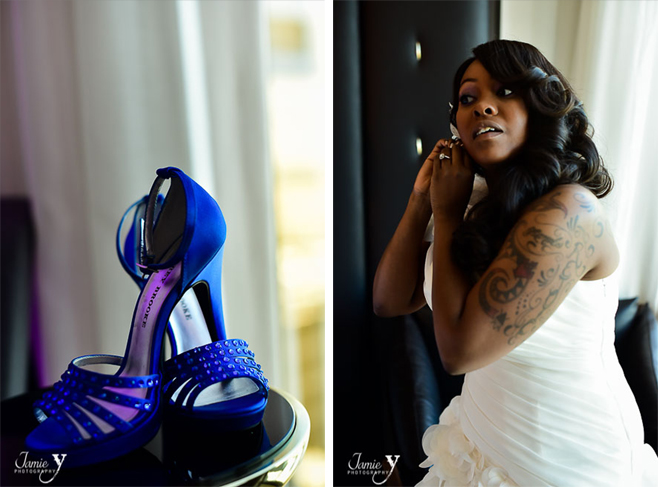 I had the absolute honor of photographing Yetha & Tyler's wedding day a few weeks ago.  It was filled with so many special details and emotions, I truly felt honored to be a part of it.  We started off with Yetha gettting ready in their suite at The Delano hotel.  Yetha had all her girls with her to get ready.  She did her own makeup with a little help from her friend and did a fabulous job.  She wore Vera Wang and it looked amazing.
Yetha is quite impressive.  She made the paper flower bouquets for her girls and the reception decor as well as the mens boutonnieres.  The bridesmaids gifts were also made by Yetha and they were beautiful necklaces to wear.  The cake topper has a pretty amazing story behind it, I just have to share.  In 1997 Tyler's maternal grandmother, a ceramics artist, had a secret.  2 years before she had made a cake topper figurine for Tyler's older brother's wedding.  But now, with her health failing, she worried she wouldn't live to see the other siblings grow up and would miss her oppurtunity to create wedding cake toppers for them.  Then she had the idea to paint 3 identical ceramic figureines for each sibling.  She painted the representations of her grandchildren, but left the spouses to be completed later.  She wrapped and boxed the figurines carefully and included notes to her three grandchildren and gave them to her daughter for safekeeping.  It just so happened that all 3 siblings became engaged to be married within one years time of each other.  Their mother had the spouses painted on the figurines and on Christmas morning of last year all 3 couples had identical boxes to open underneath the tree.
Yetha & Tyler's ceremony was held at the Chapel at Mandalay Bay.  I reunited with them again afterwards for some quick photos as the sun went down and then we all went up to the beautiful Penthouse Superior Suite at the Delano where the reception was held.  The room had floor to ceiling windows with breathtaking views of the Las Vegas strip.
During my short time at the reception there were several amazing speeches which created tears, smiles, and lots of laughs.  After the last speech, Tyler had a surprise for Yetha.  She had wanted a brooch boquet but was not able to have one.  Tyler secretly arranged for all of the family and friends to bring a special brooch just for Yetha so that she could in fact have her boquet.  What an amazing surprise for Yetha.
Such an amazing couple and an amazing wedding!
To see more from their day, watch the video below.
XO-Jamie
Yetha & Tyler from JamieY Photography on Vimeo.