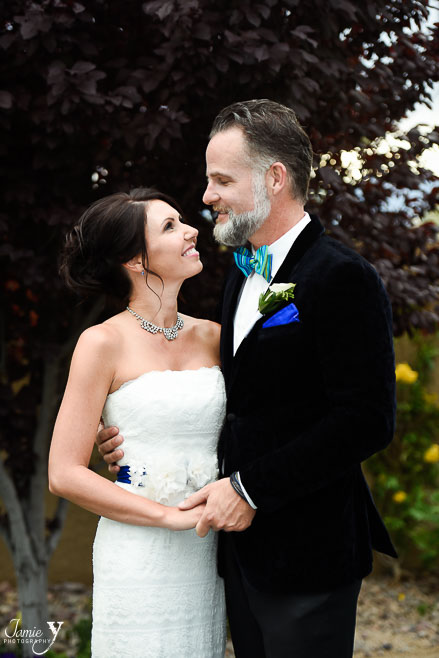 Christina & Steve were married a few weeks ago in their amazing backyard at their beautiful home that they share with 6 of their 7 children.  When I arrived at the home I was blown away by how beautiful everything looked.  Steve's sister planned and coordinated the wedding and she did amazing.  Inside the house was a fully stocked candy bar.  Outside was a beautiful altar at the end of the yard with many round tables set up with beautiful vintage style candle holders.  There was a kids table with crayons and fun stuff for them to play with.  There was a face painter for the kids, photo booth, glow sticks and more.
I met Christina in their bedroom where she was calm as could be while she had her hair and makeup done.  Her mother came and helped her put on her beautiful Vera Wang dress and her hand jeweled blue shoes.  As the ceremony started, each of their kids walked the aisle alone as the DJ told a funny story about each of them.  The ceremony itself was beautiful and Steve & Christina were smiling from ear to ear.
I truly could not decide between these ring shots, I loved them both.  Her ring was so pretty it has it's own picture and then the both of them together get one as well.
To see even more from their big day, watch the video below.
XO-Jamie
Steve & Christina from JamieY Photography on Vimeo.