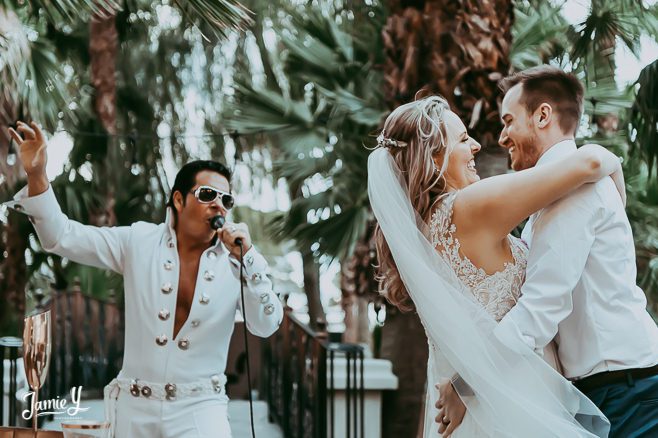 Excited to be sharing this 2810 Residence Wedding in Vegas. Michelle & Neil were married at this private mansion home surrounded by friends and family. They traveled from Seattle with quite an epic road trip before and after. Friends and family from all over the world were in attendance.
Their story as told by Michelle: " My friend had convinced me to download Bumble and we were playing while I was on vacation in Australia. I had just got done dating a real weirdo and was not really looking for anything and had planned on deleting the app but found myself swiping when I was jet lagged the week after I came back home from vacation. We matched and we ended up having a week long dialogue going back and forth quoting everything from Salt n Pepa to Eminem lyrics.
I was smitten. But not until the second date, the first date involved teeth bumping and an awkward jog and luckily I let him make up for it! Fast forward 7 months and we go on a 3 week road trip through Europe. It was definitely one of those sink or swim moments and it brought us closer. There is nothing like being stuck in a car together and experiencing the worst food poisoning imaginable to bring you together. The noises that came out of that bathroom were not easy to ignore and being able to laugh and take care of each other as we took turns, got us past that getting to know you stage to the next level.
In March of 2018, we went to Australia for a friend's wedding. I was excited to show Neil the country since this is where I have felt more at home than anywhere else in the world. We had planned to stay at Hamilton Island and see the Great Barrier Reef and Whitehaven Beach, two places that I had never been and always wanted to go! Hamilton Island is amazing, you fly in and get picked up by a golf cart which is the main source of transportation around the island.
The weather was a little stormy so we pushed our Whitehaven trip out a few days. I was sooo excited to see Whitehaven, it is one of the most beautiful beaches in the world and he waited until the end of the day before the ferry picked us up. When he told me to put down my red bull, I nearly got annoyed until I saw a box in his hand. I froze, I dont remember anything he said but for some reason kept repeating "Be cool, Michelle" in my head which ended up being the first words out of my mouth. I finally said yes!!!!!
I never dreamed about a wedding, just knew that I wanted a fun gathering of our friends and family. I searched for a big house with a fun pool and ultimately found our venue. I am the one who plans most vacations, Neil is easy going and luckily approves of most of my choices. We are excited to spend 3 nights with some of our closest friends and family and celebrate with tacos, pina coladas and a ton of pool floats!
Neil – I couldn't picture myself getting married in a traditional sense. Michelle's vision of the wedding is exactly how I saw it , times 10. I just wanted to be surrounded by my friends and family and have fun. "
As you can tell from their story, they are super fun to be around. I had the best time with both of them and Michelle just brings an instant smile to my face.
The cool thing about getting married in a huge house, is that you don't ever have to leave. They both got ready and tried to not see each other beforehand. The ceremony was held on a sandy beach area next to the pool. They had a personalized arch with their last name on one side, and love on the other. The wedding party was small, with one standing on each side as well as an adult flower girl.
After the ceremony, guests enjoyed tacos and frozen drinks as we walked around the grounds for photos. Elvis surprised everyone and showed up later in the evening for the legal ceremony.
The plan was supposed to be that Michelle would jump in the pool before I left. It was surprisingly super cold and very windy and we weren't sure if it was going to happen. But both Neil & Michelle ended up in the pool before I left.
To see even more from their epic day, watch the slideshow below.
Vendors:
Hair/Makeup: Beauty Studio Inc.
Dress: BHLDN
Cakes: Nothing Bundt Cakes
Venue: 2810 House
2810 Residence Wedding Vegas
Check out their engagement photos here.
XO-Jamie