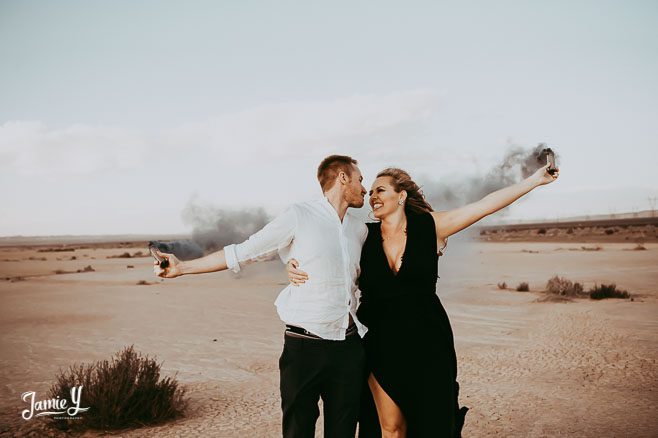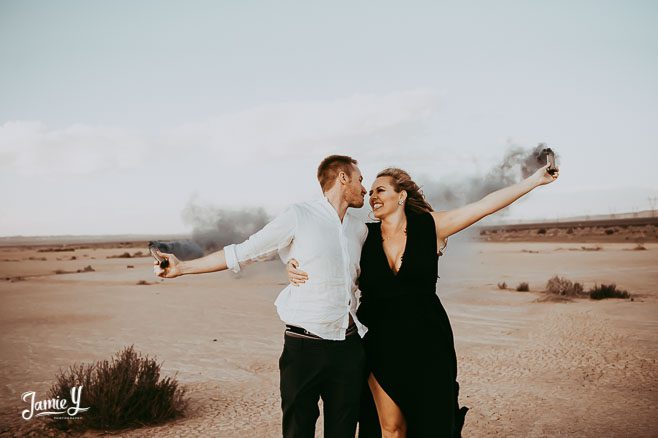 Stoked to share today's Engagement Photos Dry Lake Bed session. It's funny, if you look at my last post, it was in this exact same location but looks worlds apart. When this place gets rained on, it turns into a lake.
Michelle & Neil live in Seattle. Their wedding was a few days after this engagement session. We met up at the dry lake bed. When we arrived, it was so windy I could barely open my car door. We drove up the road a bit to get some shield in the mountains.
We were able to get enough of a break from the winds that we could get some photos while they had champagne. Then we embraced the winds and headed back out to the dry lake bed.
With Michelle's flowy dress and long hair, the wind really add some fun elements of movement to the photos. We tried using some smoke bombs, but wind is the worst for those. They were not too noticeable at all, so we only used a couple.
It was so great to meet them before their actual wedding day. Michelle has the best smile and I can't look at her without smiling myself. Such an amazing couple and their wedding post will be coming up shortly.
To see even more from this Engagement Photos Dry Lake Bed shoot, check out the slideshow below.
Hair/Makeup: Beauty Studio Inc.
XO-Jamie
Engagement Photos Dry Lake Bed
To book me for an engagement session, or anything else, contact me here.