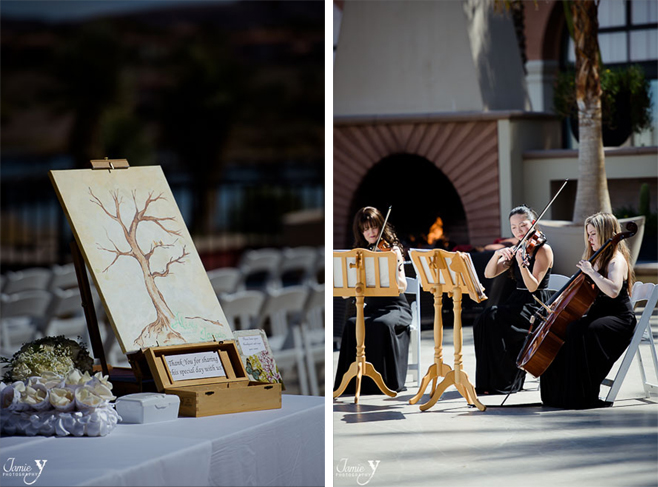 I am so excited to share the beautiful wedding of Alisa & Jared from last weekend at the Lotus Court area of the hotel.  Such a fabulous couple, fabulous guests, venue, and lots and lots of fabulous details.  The ceremony took place overlooking the Lake at the Westin.  There was a 3 piece orchestra playing upon guests arrival as well as Alisa's walk down the aisle.  For her bouquet, she had her ladies waiting for her in a line and they each had a piece of the bouquet that she gathered to make one piece at the end.  The ceremony was held in front of about 30 of their closest friends and family.  Alisa had painted some canvases as decor for the ceremony as well as the cocktail hour.  Alisa pretty much made almost everything at the wedding except her shoes and the food.  She made her dress!  So beautiful, very impressive.  She also hand made the favors for each guest.  For the men there was a glass bottle of bacon salt and for the women there was hand made lip balm as well as hand made potpourri satchels.  At the cocktail hour, they had a souvenir table set up with a cut out of each country or state that the guests were visiting from, a souvenir was to be brought and set on the table for the couple.  Such a great idea!
Instead of a typical wedding reception with lots of dancing and average food, Alisa & Jared surprised their guests with an amazing 12 course tasting menu.  The dinner was held at Marssa inside the Westin and all of the guests were seated in one long table with the couple at the head of the table.  All of the food looked absolutely amazing, I was a little jealous that I wasn't a guest.  They also had a candy bar, a beautiful classic white cake, and a pound cake bar with toppings.  Everyone had a great time enjoying the food, drinks, and each others company.
Venue: The Westin Lake Las Vegas
Planner:  Faithfully Yours Events
Cake: Retro Bakery
To see even more from this beautiful wedding, watch the slideshow below.
XO-Jamie
Alisa & Jared from JamieY Photography on Vimeo.