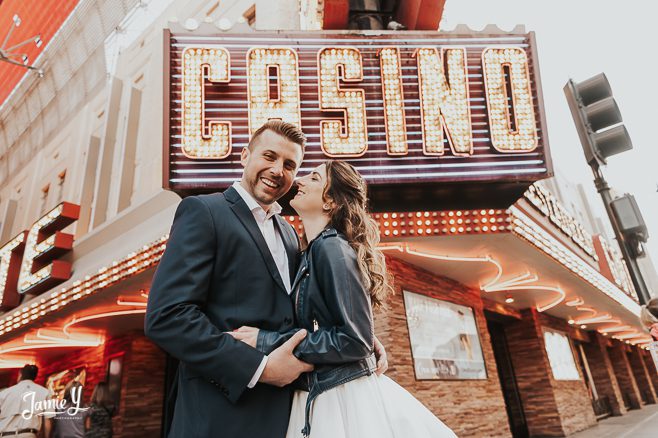 Very excited to be sharing this Tunnel of Love Elopement today. Michelle & Aaron had their small elopement ceremony inside the tunnel of love at the little white chapel in downtown Las Vegas. Prior to the ceremony, we walked around in downtown Freemont street for some Vegas style photos.
Their story
"How we met – It was a Wednesday. I will never forget Aaron walking in to my new hire orientation, late, and sitting at my table. I remember thinking he was so darn cute, and I was upset that I chose to wear my (big square) purple glasses.
Later that day Aaron messaged me privately on the work's chat, apologizing for not inviting me to get a coffee with him, and I knew from that moment that something good was about to start. When orientation was done for the day, I procrastinated packing my bag in hopes of talking to him some more, and it worked!
We talked all the way back to the garage, and he stopped by the stairs/elevators to talk to me, but I thought he was waiting for the elevator, so I left (and in my mind I thought, how lazy is he waiting for the elevator with another 50 people in line hehe).
We chatted again the next day, and that's when he invited me out Friday night to meet him and friends (what I didn't know is that he just ruined guys night, oops). But the night was perfect, and he invited me to go watch some NFL Playoffs on Sunday. I thought, this guy is just drunk, he'll forget. But Sunday morning he texted, making sure we're still on, and now here we are 3 years later, getting married in Vegas!
After a bit of dating I remember bringing up how embarrassed I was about my glasses that day we met, but he confessed and said he sat at my table because he saw me in my glasses, and loved them. Also, he said he had stopped by the elevator to talk to me some more, that he was parked on the 1st floor, but oh well, I guess we didn't need those extra 5 minutes so still have our fairy tale <3 "
Had such an amazing day with these two sweethearts. Their semi casual wedding attire fit in perfect with the fun vibe of the day. A bride in a leather jacket always makes me smile.
Ceremony Venue: Little White Chapel
A little side note if you are considering this chapel. Have wiggle room of probably 45 minutes in your timeline for the ceremony. My last few weddings here were late by at least 30 minutes. I don't remember that happening before, but it seems to be occurring lately. We often schedule a pretty tight timeline with photos, so keep it in mind.
XO-Jamie
Tunnel of Love Elopement