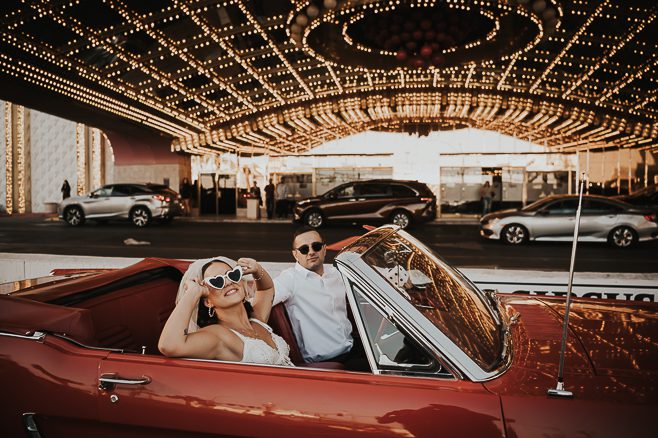 Excited to share this Rock N Roll Vegas Wedding with you all.  Aiden & Adelina's wedding was a long time coming.  They live in Singapore and were on lockdown for basically 2 years so they had to postpone their wedding several times.  But boy was it worth the wait.
Their Story:
We've been together for almost 8 years. We met at the gym and it took a while for Aidan to get the courage to ask me out. Prior me moving to Singapore, Aidan proposed to me. He told me he got me a gift voucher for skydiving so I can see beautiful New Zealand before making the big move.
While I was gliding down after a thrilling experience, the sky diving guide asked said "Omg what does that sign over there say !!!!"  I didn't have my glasses on, so I honestly thought there was going to be an emergency landing or something. I started to panic .. but luckily we got closer and in a few seconds I saw the sign properly .  It said "will you marry me". Once I landed, I said of course yes! Sharing the rest of my life with Aidan is honestly the easiest decision I have ever made . 🙂
The Wedding Day:
Adelina booked me for 8 hours so we had the whole entire day to spend together which allowed lots of fun, different areas, getting ready images and more.
Hair and makeup started in her hotel room with some of her friends.  Once that was finished up, we headed to the Little White Chapel for their Elvis ceremony.  The chapel was packed with their friends and family while Elvis helped do their vows and sang a few songs which the bride and groom had a great time dancing to.
Once that ceremony finished up, we headed downtown for some wedding day Pizza and photos downtown.
Next, the bride went back to her room, changed into a second dress, jumped into their vintage mustang and headed for more photos at Circus Circus and downtown.
After popping some champagne, they headed to their reception dinner at La Comida for cake and food with their friends.
To see more, watch the slideshow below.
Ceremony Venue: Little White Chapel
Hair/Makeup: Andie P Artistry
Florals: Bloomsday Floral
Rock N Roll Vegas Wedding