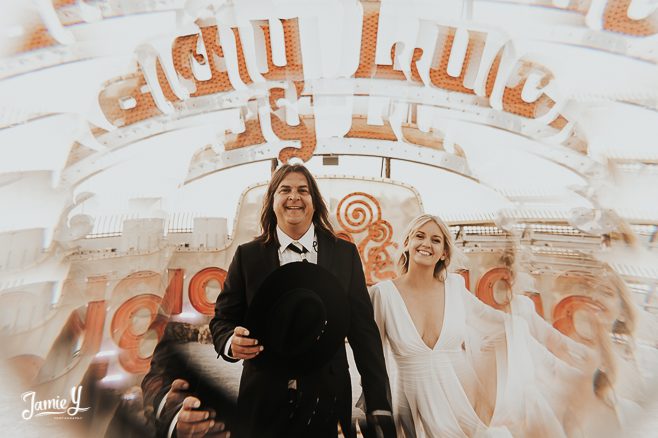 Today's real wedding feature is Sarah & Merritt's Rock N Roll Vegas Elopement.
Sarah & Merritt described their day as "Just two music lovers finally tying the knot."  They arrived to town a few days before their wedding to attend Psychofest at Mandalay Bay.
We started off the day at the Little White Chapel downtown.  Lately, there has been quite a few delays there for ceremonies, so we headed outside for some portraits before the ceremony took place.  Once they were ready, Sarah & Merritt said their vows in the pink Cadillac in the Tunnel of Love.
We hurried to the Neon Museum afterwards to make our photo shoot appointment time.  Had fun dancing around the museum with the fringe that Sarah added to her dress.
Lastly, we headed around the corner to celebrate with some champagne.  Sarah had a cape/duster/robe thing that she had embellished with her new last name and some ruffles and bling.  They popped the champagne and celebrated in the street before we headed our separate ways.
To check out more from their Rock N Roll Vegas Elopement, watch the slideshow below
XO-Jamie