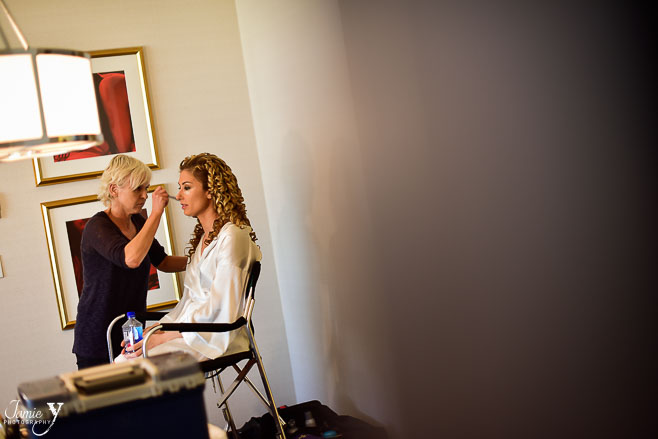 Nick & Andrea first met on a boat July 6, 2013 on Lake Michigan in Chicago where they live.  There was an instant attraction between them, but they actually left without exchanging any information.  Andrea was bummed!  Two days later she was at the Chicago Cubs game at Wrigley Field with some clients of hers from work, when she got up to head to the bathroom, and there was Nick waiting for her.  He had noticed her curly ponytail under her cubs hat sitting a few sections in front of him.  He explained he didn't get the chance to ask her to dinner on the boat, and would love to take her out.  They have been inseperable ever since.  It was truly serendipitous and meant to be.  The stars aligned that summer and Andrea says she finally found her soulmate.
A year later, they were out on a sailboat with a few close friends and her brother Adam who happened to be in town.  It had been storming all day and they had this sunset sail lined up for quite some time.  The sun came out that evening and they sailed out on lake Michicgan and Nick popped the question.  They have the whole thing on video and drone shots.  Afterwards, they went to their favorite local bar to get a drink and celebrate and Surprise!! all their family and friends were there to celebrate with them.  On their wedding day it actually was looking very stormy all day and had some rain but it all cleared away just in time for the ceremony.
Andrea & Nick came to Las Vegas for their wedding and chose the beautiful Red Rock Country Club for their location.  They had about 50 guests and it was perfect.  The wedding was officiated by Nick's uncle which made it very personal.  There was lots of emotion and lots of Love that day.
Some of the great vendors that helped make this wedding look amazing:
Venue: Red Rock Country Club
Hair/Makeup Artist: Christine Copeland
Cake: Las Vegas Custom Cakes
Florals: Layers of Lovely
Dress: Allure
To see even more images from their amazing wedding, watch the slideshow below.
XO-Jamie
Andrea & Nick from JamieY Photography on Vimeo.