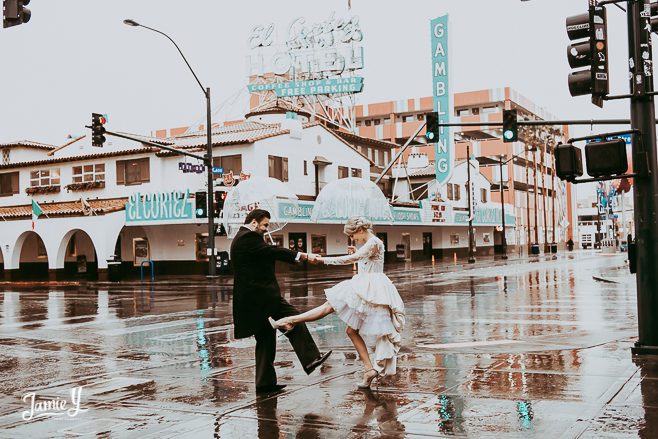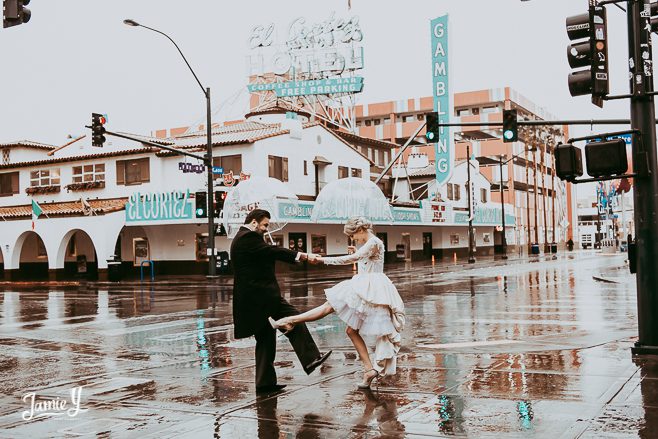 So excited to be sharing this Rainy Day Elopement Las Vegas today.
Ella & Charles live in Croatia. According to Instagram, Ella is a professional vacationer, mom, shoe addict, trend unsetter, award winning hedonist, and now wife. Her and Charles met about 5 years ago, and he knew right away that he wanted to take her away to Vegas to marry her.
The past 3 years they had been trying to organize a wedding, but having families split between Croatia and England made it very difficult. A trip was planned to Mexico in February of this year and they decided, lets get married now. Traveling to Mexico was about as close to Vegas as they would be going any time soon, so it made perfect sense.
Ella had a custom dress designed by Zigman. Zigman is a croatian designer who has dressed people like Niki Minaj among others. So of course the dress was out of this world spectacular. Her dress was a unique post modern victorian dress and it was a work of art.
Ella & Charles are easy going and like to be spontaneous and their wedding day was just that. We didn't have too many set plans, which actually was a plus since it rained the entire day. Vegas doesn't rain that often. But, this year has been a bit of a different story. This was one of several days where it rained pretty hard for the entire day.
I loaded up the car with two clear umbrellas and set off for the day. We started in their hotel room at the Venetian. Charles helped Ella into her dress and off we went. Our first stop was the Welcome to Las Vegas sign. Thanks to the rain, it was pretty empty. We had the whole place to ourselves. Typically there are long lines, but not on their day. Next, we headed down to Freemont Street.
Even with umbrellas, rain can be a challenge. Streets are slippery, clothes get water spots, my rain coat doesn't keep the rain from my lens and view finder. Everything becomes much more complicated. But, the rain also comes with some positives. The streets are pretty empty, not many people walking around. The wet ground also has fun reflections from the lights and surroundings. We definitely made the most of it and shot as much as we could outdoors.
After our photo shoot, they headed to their chapel to make it official.
These two were so much fun to photograph and the photographs are some of my all time favorites.
To see even more, check out the slideshow below.
Vendors:
Hair/Makeup: Get Ready Agency
Dress: Zigman
Shoes: Jimmy Choo
XO-Jamie
Rainy Day Elopement Las Vegas