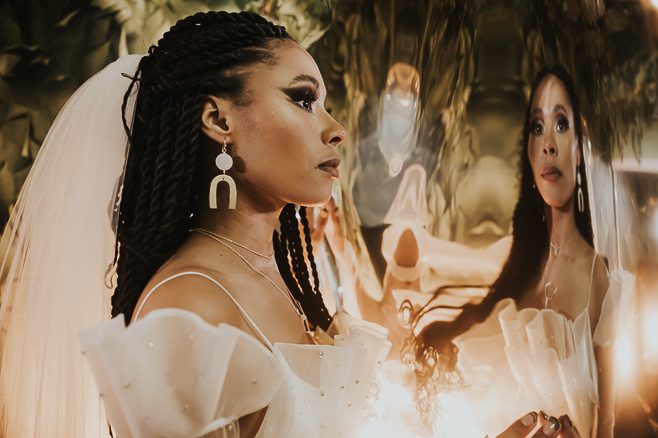 Loved this Moody Palm Springs Wedding Photography session with Amarie.  This bridal wedding shoot took place in a rented Airbnb in Palm Springs.
The room where most of the photography took place was decked out in greens and faux plants.  It was like a little jungle in there.  We also took photos in a few of the other themed rooms at the home.
Loved the styling on Amarie.  Her dress was so delicate and fit with the way she moved and posed so well.  Such a magical shoot.
When planning your photography timeline on your wedding, if you want a lot of bridals and shots like this, you need to have extra time booked with your photographer.  I tend to find the most creative freedom when I have a lot of extra time in the day with you.  Getting ready and room shots can be some of my favorite, but it helps when the room is awesome and there is some good lighting.
The rock star vendor team:
AIRBNB – BRIDE
retreat: @rideordieretreats
floral + event design: @flowerdisco_
lead photographers: @itsmelrey @rachelartimephoto
styling: @natalieejogray
model: @amarielondon
dress designer: @rimearodaky
dress shop: @lovelybridela
hair/makeup: @radical.ritual
veils: @janerhyanthecollection
jewelry: @threearrowsboutique
officiant: @ladylovebandit
Moody Palm Springs Wedding Photography